Plus a recipe for Oaxacan-Style Peanuts with Chile and Garlic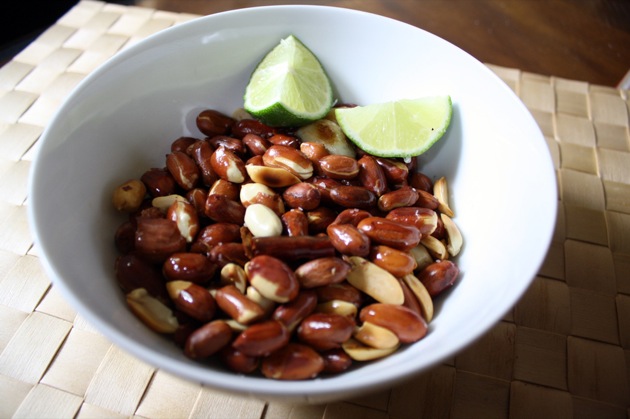 Forget the chips.
You know the drill. You walk into a Mexican restaurant anywhere in the country. You sit down. Within moments -often before drink orders are taken- a bowl of tortilla chips and salsa are rushed out to the table. You immediately dig in. Time disappears. Before you order, before you even think about ordering, salsa stains the tablecloth and all the chips are mysteriously gone. That's just how it goes. Right?
So imagine my astonishment when I visited Mexico City and Oaxaca and never encountered that bowl of chips. Ever. And those salsas on the table aren't meant for polite dipping. They are so fierce and fiery, no one would brazeningly dip anything into them. I wrote about this fact a couple weeks ago . But perhaps the strangest fact is that I didn't mind. In fact, I was happy. Without the chips, I didn't feel full of fried corn before the meal even started. Plus, the other snacks I recieved more than made up for the absence of chips.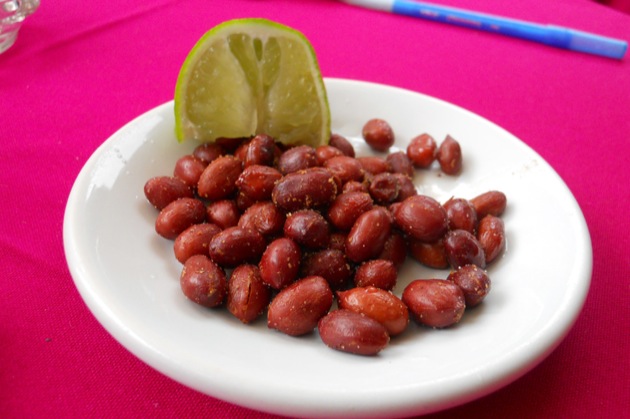 Imagine a cold beer next to this.
I remember the peanuts well. At various cantinas around Oaxaca, I'd get this small little bowl of peanuts hit with lime juice and a heavy sprinkling of chili powder. Talk about bar snacks. Each bite made me want to take another long swig of beer. But those were just the start.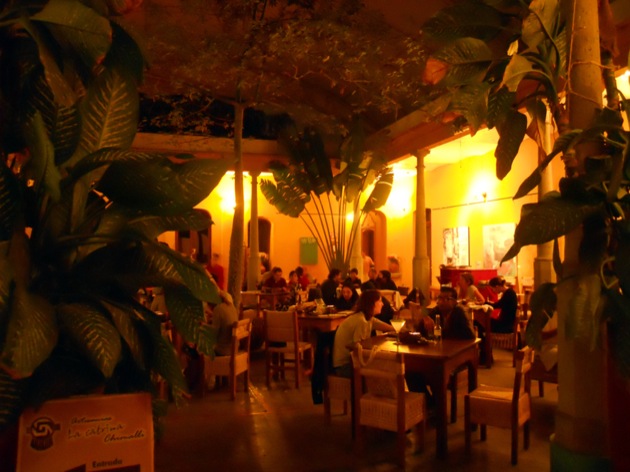 La Biznaga
Some were dead simple. La Biznaga in Oaxaca certainly wasn't the most authentic restaurant on my trip, but it had a gorgeous covered patio and a menu chock full of vegetables, which were kind of hard to find on many of the menus in the city center. We went often.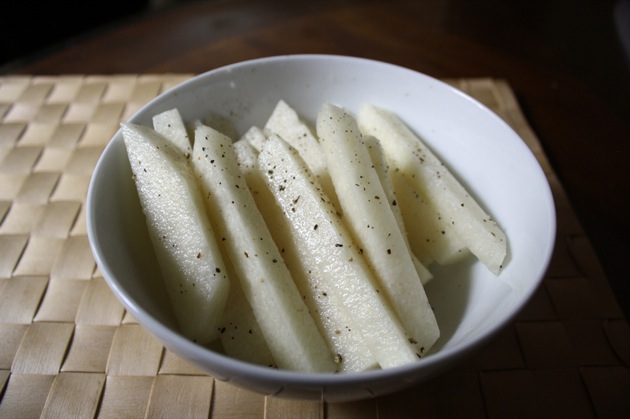 These are homemade. Easy.
When my wife and I sat down, we were given a clay pot filled with raw jicama tossed with lime juice, salt, and loads of black pepper. Each bite was crisp and acidic, with a spicy punch from the heaps of black pepper. Instead of a belly full of fried chips, we felt calm and ready to attack. Not a bad deal.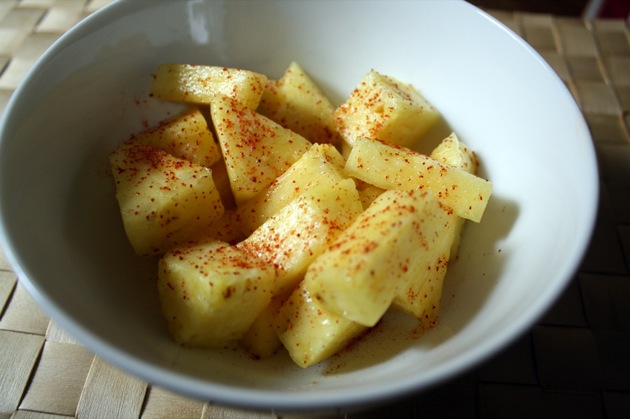 These are my favorite.
At another spot, which I can't seem to remember, we were served freshly cut pineapple, doused in more lime juice, salt, and a heavy sprinkling of chile powder. That's never a bad thing. Though a tad messy, they were sweet, spicy, acidic, and just slightly salty. Plus they weren't fried.
But back to those peanuts. I imagined that they were as simple as tossing some roasted peanuts with lime juice and salt, but they didn't work out that way when I tried them at home. Fortunately I came across this recipe in Rick Bayless's new cookbook, Fiesta at Rick's . They require a tad bit more work, but these are peanuts with attitude. They have a deep funky punch of garlic, along with a subtle spice that only gets to you at the end.
Try these out at your next Mexican meal. You may be surprised at what you don't miss.
Oaxacan-Style Peanuts with Chile and Garlic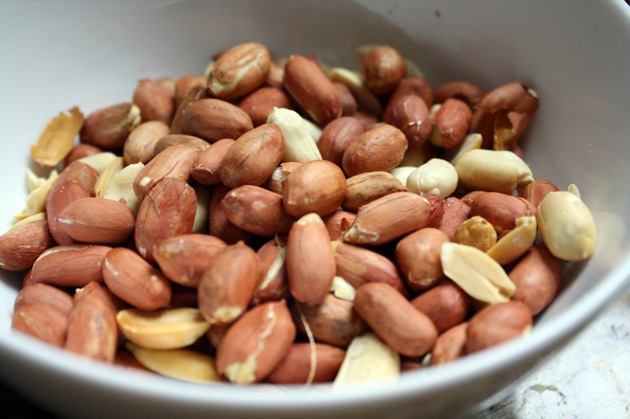 These aren't quite perfect, but they'll work.
1/2 tablespoon olive oil
2 dried arbol chiles
4 garlic cloves, peeled and cut in half
12 ounces toasted peanuts (preferably Spanish ones with the skin still on)
1 lime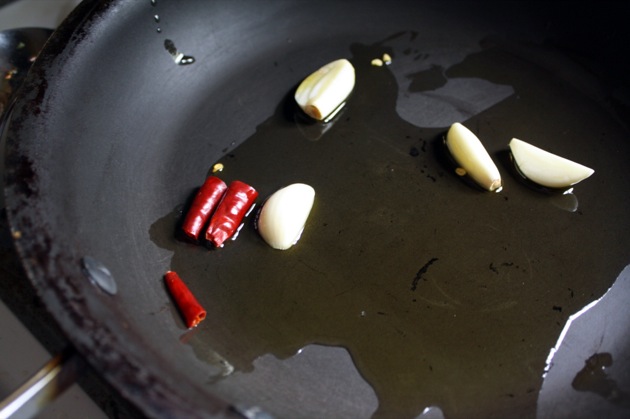 Pour the oil into a large skillet set over medium heat. Add the garlic and chiles. Cook for about 3 minutes, stirring occassionally, until the garlic is very aromatic.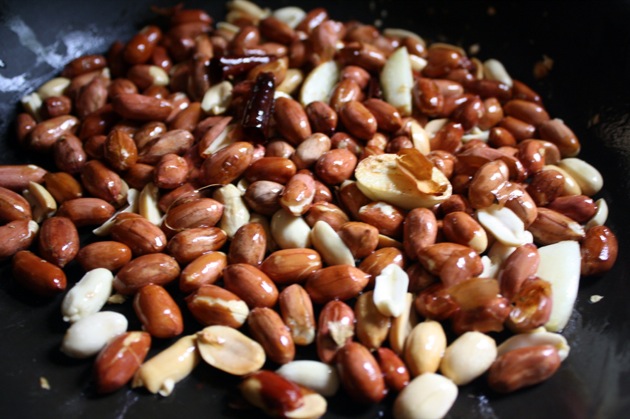 Some of the skins will come off...
Reduce the heat to medium-low and add the peanuts. Stir gently and cook for about 10 minutes.
Season with lots of salt to taste. Serve with lime wedges.
Food,
Vegetarian,
Appetizer,
Appetizers,
Corn tortilla,
Cuisine of the Southwestern United States,
Dip,
Flatbreads,
Food and drink,
Human Interest,
Jicama,
Mexican,
Mexican cuisine,
Mexico,
Mexico City,
Mexico City,
Oaxaca,
Peanuts,
Pineapple,
Potato chip,
Rick Bayless,
Snack foods,
Tortilla,
Tortilla chip,
Travel,
Vegetables