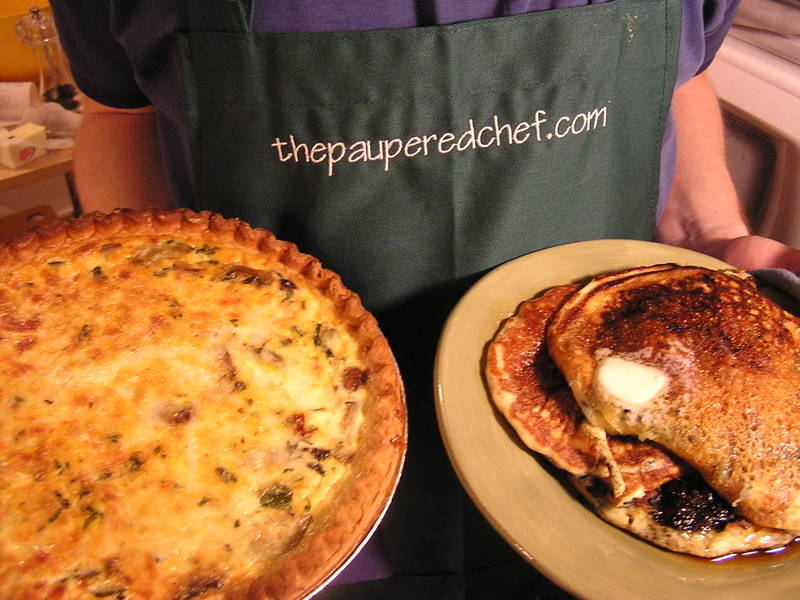 Happy Mother's Day, Mom.  We know we might not be lawyers, stock brokers, or those people that have "money" or whatever that's called.  But we can cook.  And had we been able to be with you today, and, had we awoken (most likely by you) at the absolutely absurd hour that you rise, this is what we would have done.  So, please.  Stay in bed, read some of that paper and enjoy a full menu dedicated to you and all you've done for us.  Someday, when a plane ticket is within a reasonable budget, this will all be a reality.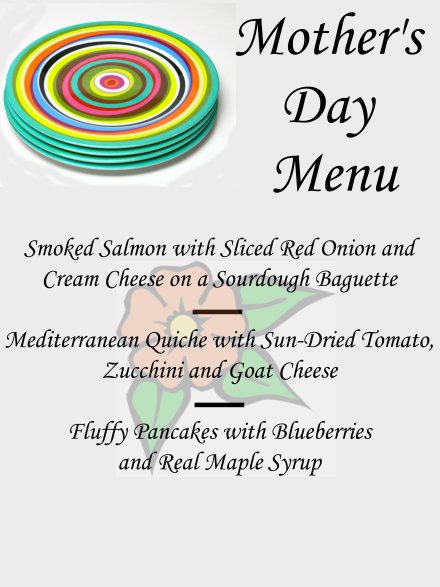 Smoked Salmon, Chopped Red Onion, and Cream Cheese on a Sourdough Baguette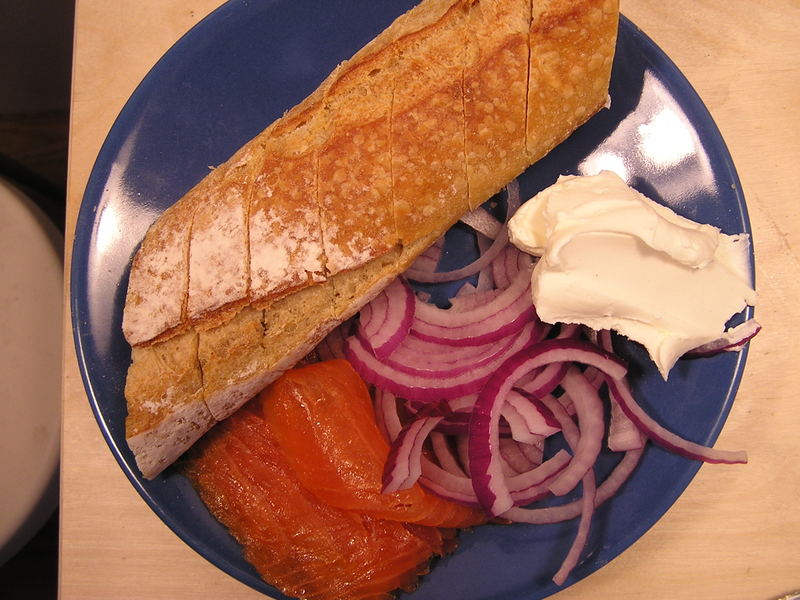 1 4 oz package Smoked Salmon cut into 2-3 inch strips
1 small red onion
1 baguette, sliced
cream cheese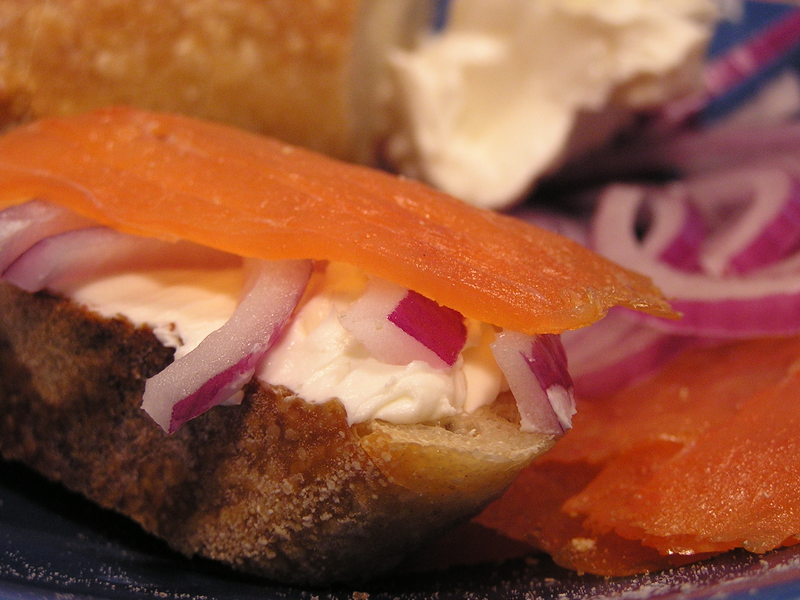 Mom, the menu would begin with a light affair which is reminiscent of lox and bagels.  We would slice a freshly baked baguette on a diagonal and arrange it on a plate with thinly-sliced sharp-yet-sweet red onion, a large dollop of fresh cream cheese, and the subtly wondrous taste of uncooked smoked salmon.  If desired, we would personally spread the cream cheese on the sliced bread, top the red onion (so it sticks well to the bread) and the finish with the salmon.  What's that smell, you would ask?  Please, don't get out of bed.  That's simply our... Mediterranean Quiche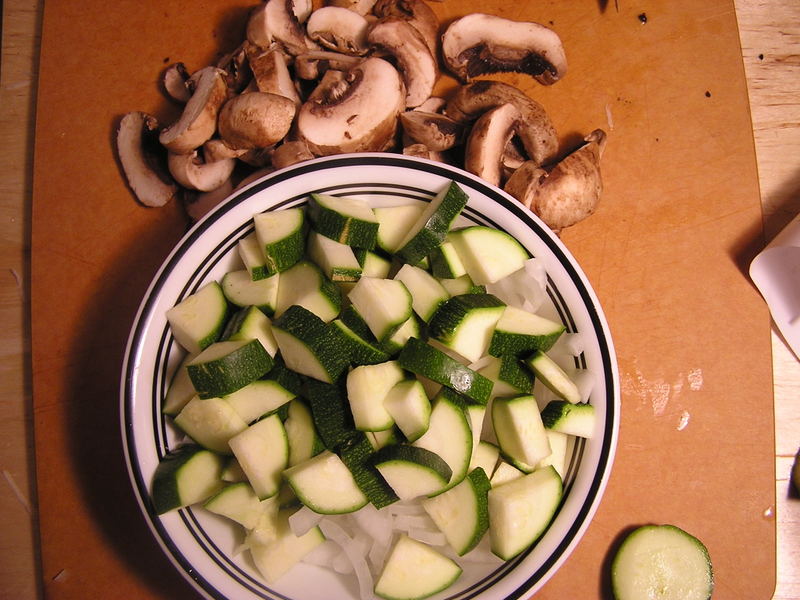 Which contains...
2 tablespoons butter
1 cup sliced onions
1 medium zucchini, chopped
1/4 pound mushrooms, sliced
2 cloves garlic, minced
4 ounces sun-dried tomatoes, drained and chopped
3 tablespoons basil, chopped
2 teaspoons thyme, chopped
1/2 teaspoon salt
1/4 teaspoon black pepper
3 large eggs
1 1/4 cups half and half
3/4 cups Goat Gouda
1 pie crust
Which is adapted from BAM! spouting Emeril Lagasse. Earlier, when you were having your well-deserved beauty sleep, we would have preheated oven to 375 degrees.  Then we would have gently sauted the sliced onion and chopped zucchini for about 6 minutes until they began to soften.  After that we would add the sliced mushrooms and cook until they released water, about 10 minutes.  Things would begin to smell quite wonderful at that point.  Then we'd throw in the minced garlic and cook for 1 minute and follow with the herbs and sun-dried tomatoes and cook for another minute.  We would remove from heat and let it cool.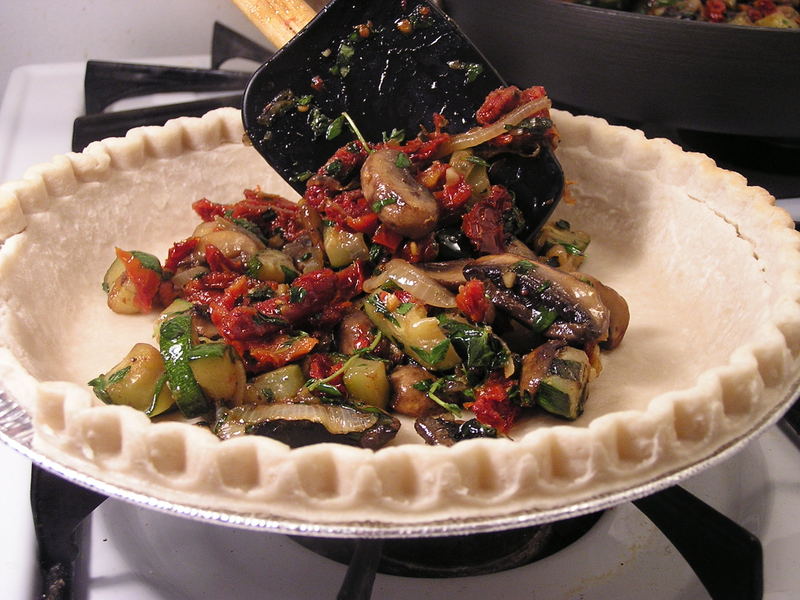 Next in a bowl, we would mix the eggs and the half and half and then add the shredded cheese.  Just before, we would heat the pie crust in the oven for about 5 minutes, then remove.  Next, we would have dumped the vegetables in and poured the egg mixture on top.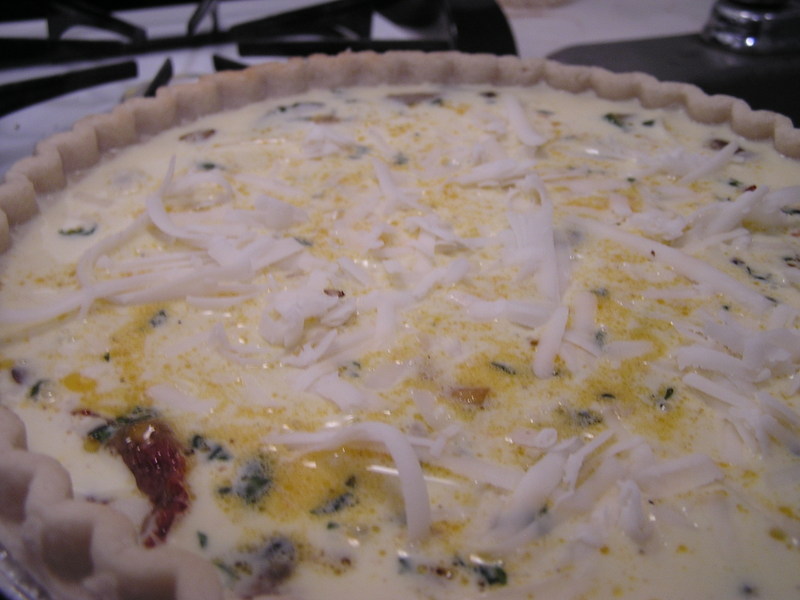 It would go in the oven for 30-40 minutes, and you would begin smelling it near the end.  It would come out to rest, and it would be delivered on a gold-inlaid, fragile tray, to you in your bed.  And then we would rush off to prepare your dessert, the... Fluffy Blueberry Pancakes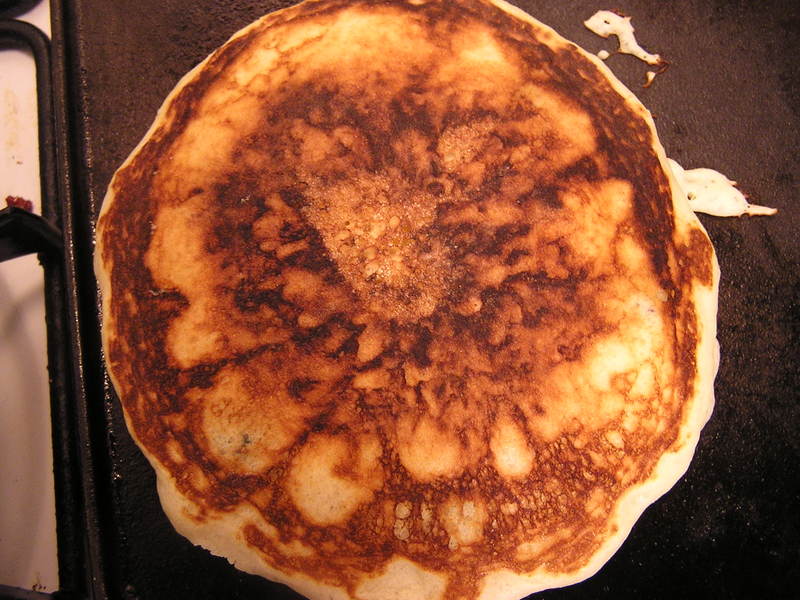 Which contain...
1 1/2 cups white flour
1 1/2 tablespoons sugar
1 1/2 teaspoons salt
1 1/2 teaspoons baking powder
1 teaspoon baking soda
2 eggs, separated
2 cups buttermilk
1/4 cup butter, melted and cooled
2 cups frozen berries
The recipe is taken from from Morning Food, Cafe Beaujolais . Long ago, we would have mixed all the dry ingredients into a bowl, separated the egg (saving both parts), and put the egg yolks, buttermilk, and butter into another bowl to mix.  Then, as you enjoyed your Mediterranean Quiche, we would combine the two bowls and blend.  With the hot griddle ready, we would beat the egg whites until frothy and, (this is the SECRET) gently fold them into the batter just moments before.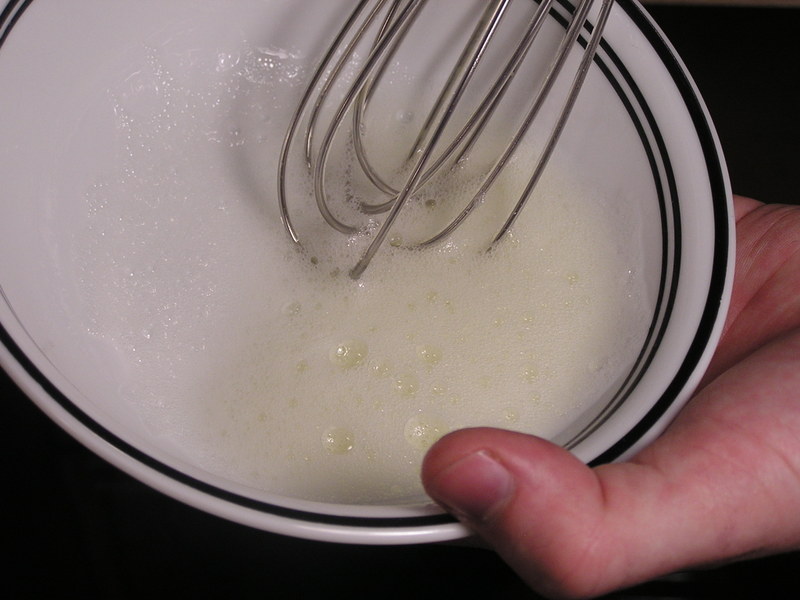 Onto the griddle the batter would go...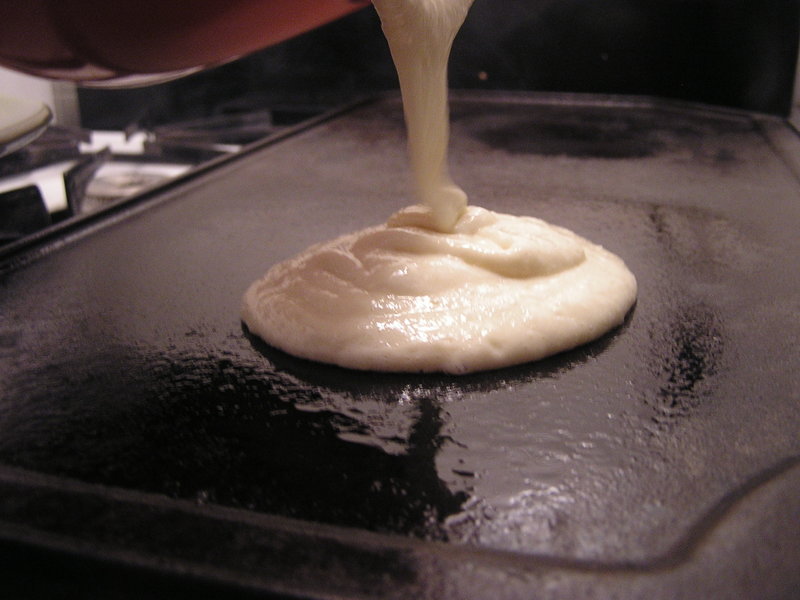 We would remember, of course, to use frozen blueberries, since fresh ones would bleed into the batter and turn it an unpleasant gray...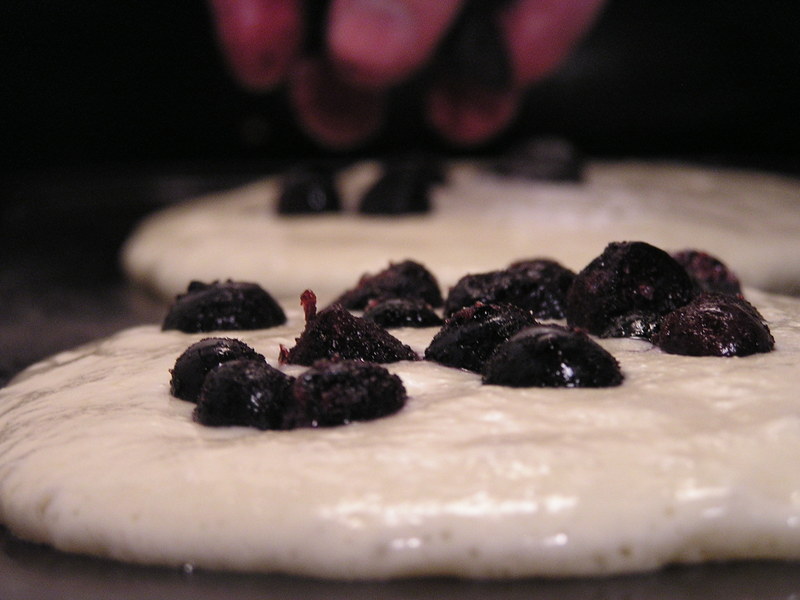 We would cook them until golden on the underside, then flip to finish...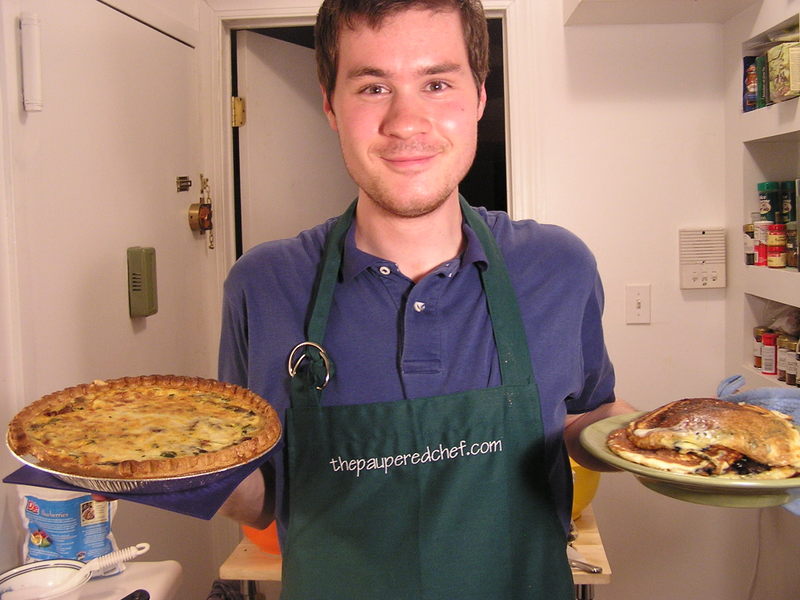 And it's ready!  Look, here is the beautiful child you brought into the world, who would have made you breakfast in bed!  Happy Mother's Day!
Cheese,
Cream Cheese,
Eggs,
Goat Cheese,
Pancakes,
Quiche,
Salmon,
Seafood