Possibly the easiest corn chowder recipe on the planet
A warm comfort food that, in this case, is remarkably easy to make. Generally chowder is thick and hearty with bacon and potatoes and thick creamy base, but this version instead goes for elegant. It's almost (but not) too thin, almost silky, surprisingly tasty considering the lack of any complicated seasoning.
By Blake Royer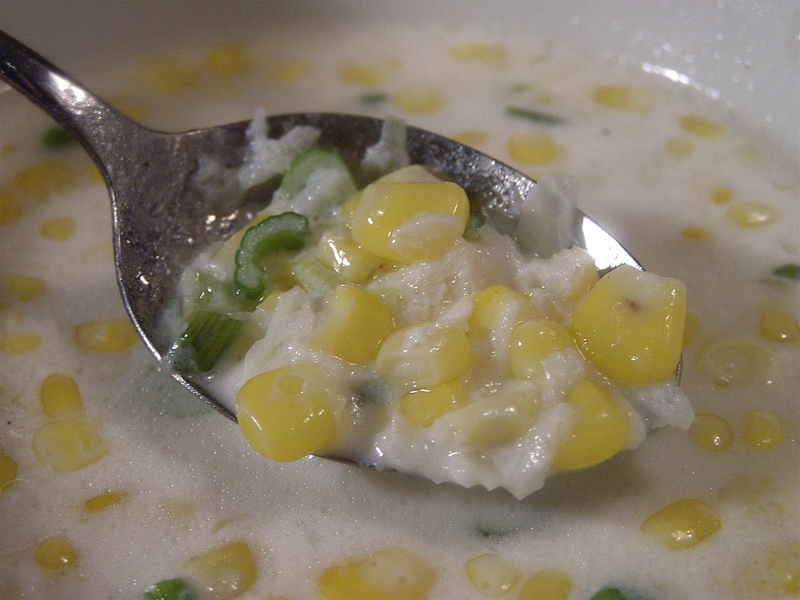 On a Sunday afternoon, corn chowder is the idea.  A soup both hearty and light, filling and healthy, milky and smooth while sharp with a hint of cayenne.  A warm comfort food that, in this case, is remarkably easy to make.  Often chowder is thick and hearty with bacon and potatoes and thick creamy base, which has its place, but this version instead goes for elegant.  It's almost (but not) too thin, silky, surprisingly tasty considering the lack of any complicated seasoning.
Basically, this is a French milk soup (" Soupe au Lait ") with corn thrown in near the end.  While corn off the cob would have been best, I had a bag of frozen and it turned out fine.  But with the simplicity of this recipe, what you have to rely on is the highest quality ingredients, so go with real cobs if possible.  Just cut them off with a knife.
The Pepin recipe didn't call for potatoes, but potatoes are often found in Soup au Lait and they would have been welcome.  Just throw them raw into the soup and they need about 20 minutes of simmering.
The key to this recipe is the grated onions, which you simply do with a hand or box grater on the large holes.  Be careful not to gouge your hand (like I did).  What happens is they impart this wonderfully gutsy onion essence, which you wouldn't get if the onions were simply diced.  It also changes the texture of the soup—the onions are not in pieces but instead blend more into the milky broth.
Without the potatoes, this recipe is total time around ten minutes.
Jacques Pepin Corn Chowder
Available online at jacquespepin.net
3 cups fresh corn kernels (approximately 5 ears of corn) [I used a bag of frozen corn]
1/2 cup grated onion
2 tablespoons butter
1/2 cup sliced scallions (including green)
4 cups milk
1 teaspoon salt
1/2 teaspoon freshly ground black pepper
Toasts for garnish (see recipe below)
Husk the corn. Lay each ear flat on the table and separate the kernels from the cob with a long knife. OR: pull your frozen corn out of the freezer and put it in a bowl.
Grate the onion on the large holes of a hand grater.  This is interesting, how the onions turn into a kind of paste.  Seriously, don't gouge your hand—onions are cheap and you don't have to insist on grating the entire thing down until your fingertips can barely get a grip on the slippery stub, which I did and which resulted in band-aids.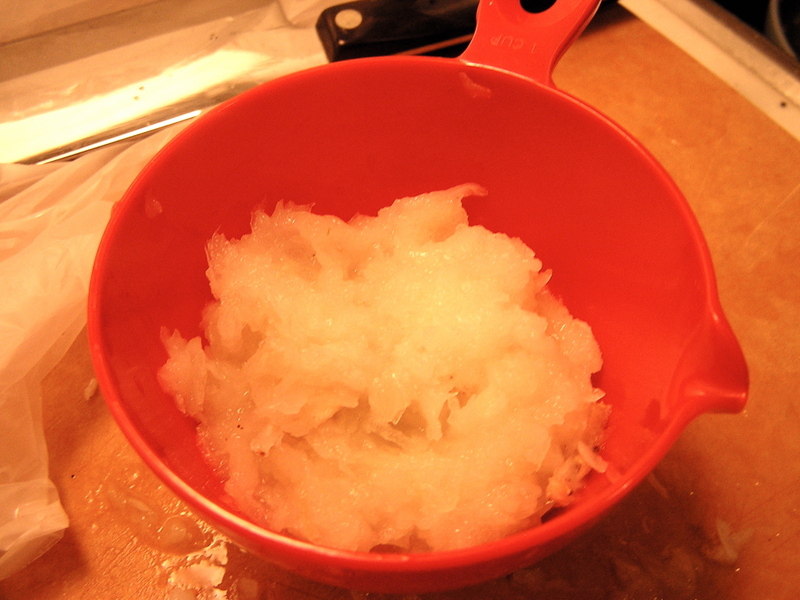 Chop your scallions (also called green onions) into little hoops.  Melt the butter in a pot and add them with the onions.   Keep the heat medium—I let the onions brown just a bit to allow for some robust flavor in the soup.  About two to three minutes.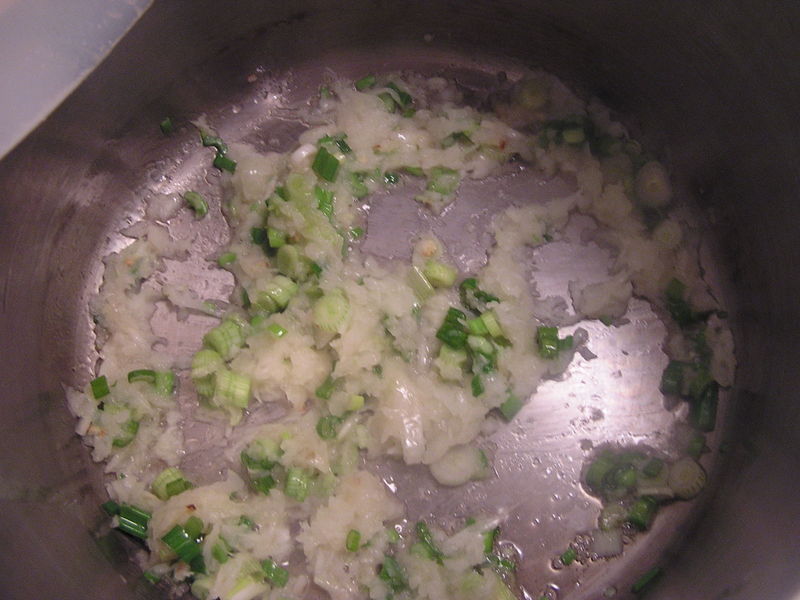 Add the milk, salt, and pepper, and bring to a boil. When the soup reaches the boiling point, add the corn and stir.  Or, if you're using potatoes, put them in now and lower the heat to cook them gently for twenty minutes.  When they're near-soft and almost done, add the corn, turn the heat back to high, and continue.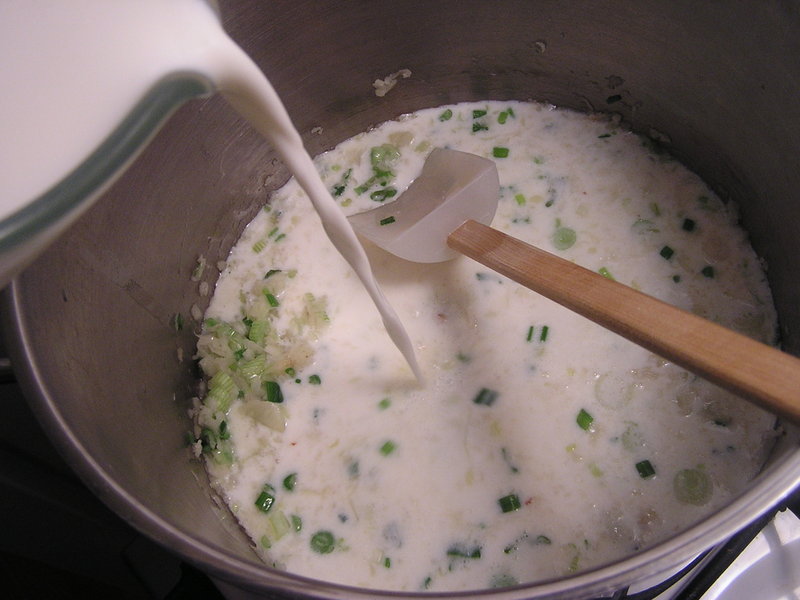 When the soup reaches a boil again, take it off the heat and put a lid on it, allowing it to "steep" for two or three more minutes.  This lets the whole thing congeal slightly.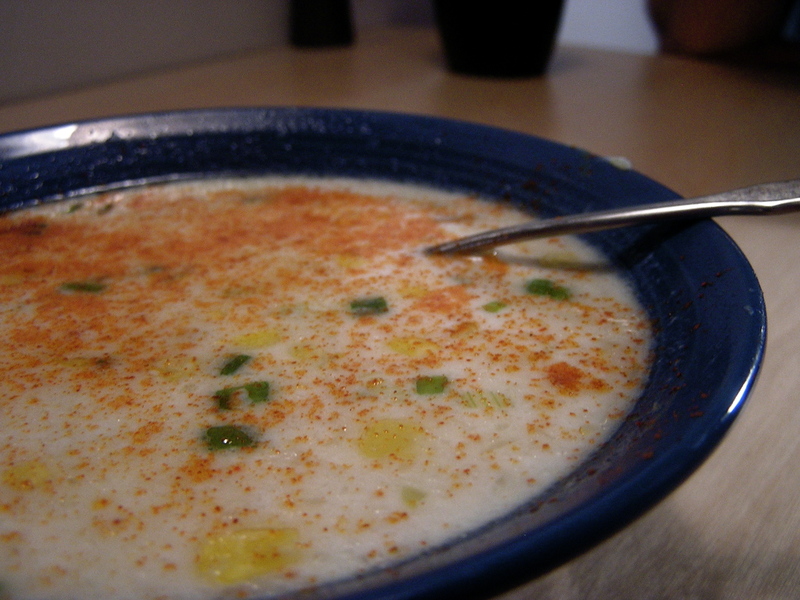 Serve immediately—I sprinkled cayenne on top to give it some kick, but this isn't apart of the original recipe.
Link: Jacques Pepin Corn Chowder
Food,
Vegetarian,
Soup-Stew,
American cuisine,
Blake Royer,
Chowder,
Chowder,
cob,
Corn,
Corn chowder,
Cuisine,
food,
Food and drink,
French,
Jacques Pepin Corn,
Milk,
New England cuisine,
Social Issues,
Soups,
Sweet corn,
Vegetables