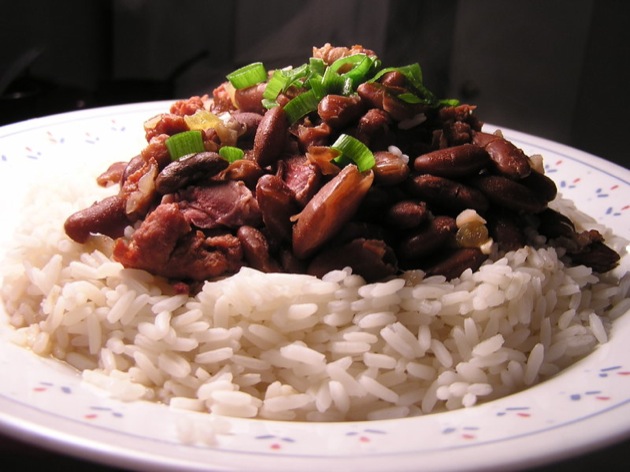 After four days of intense bonding with my 10 pound ham , the meat stopped magically improving in the fridge, and started instead to develop what could best be described as a funk.  Not necessarily revolting, and I'm sure perfectly edible, the smell was offending enough.  And with something less than a pound left, I didn't feel too bad chucking the slimy, sour-smelling flesh into the garbage and calling it a job well done.  It's not easy eating a 10 pound ham mostly by yourself, and I had managed to eat most of it before it turned against me.
That wasn't the end of the story, though.  At the beginning of this great ham adventure, I had frozen the large bone jutting through the center, knowing full well that I'd return to it at a later date.  So, with it's flavor still somewhat locked in, I defrosted it and tried to think of one more ham infused meal before I kissed this whole pork episode goodbye.
A nice bean soup is what first crossed my mind.  I could imagine all that ham flavor seeping into cannellini beans, making for a nice autumn soup.  But the more I thought of that bean laden soup, the more I realized I just wanted those beans.  Those cannellini beans transformed into big red ones, and the soup was replaced by a plateful of rice.
I don't know where my rice and beans passion came from, but I usually indulge my tendencies once a week at the Puerto Rican lunch option, La Taza de Oro, where a big plateful of black beans and yellow rice straddle every meal.  But for this meal was thinking a little more of New Orleans, where red beans and white rice rule.
My first stop was the excellent New Orleans based food site, the aptly titled New Orleans Cuisine , whose Shrimp Etouffee is definitely worth trying.  But this delicious sounding recipe looked a little too long and didn't really require a ham bone.  So I searched for the red beans and rice recipe that would use my ham bone to the fullest potential, and the one that kept appearing was Emeril's.
Emeril's recipe is ridiculous.  I'm still not quite sure why I needed both a ham bone and 8 cups of chicken stock for flavor--not to mention the "Essence of Emeril" spice concoction I just decided to leave out.  What resulted was a bunch of intense little beans, and after a plate full of them you'll have no right to complain about boring rice and beans.  Bam, indeed.   You will relish the respite of white rice like never before.  I suppose that's the first time that's ever happened to me, and should be taken as a compliment.
Red Beans and Rice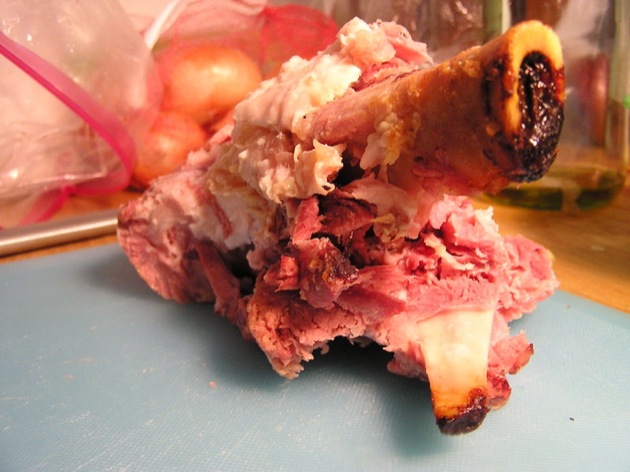 1 small onion, chopped
1 stalk of celery, chopped
2 cloves garlic, minced
1/4 cup olive oil
1 link of spicy sausage, sliced
2 bay leaves
1/4 teaspoon black pepper
1 teaspoon dried thyme
1/2 teaspoon cayenne
1 teaspoon salt
1 ham hock, about 1 pound
1 pound red beans, soaked and drained
8 to 10 cups chicken stock
2 cups cooked white long grain rice, warm
Adapted from the Food Network and Mr. Emeril
Serves a whole lot of people.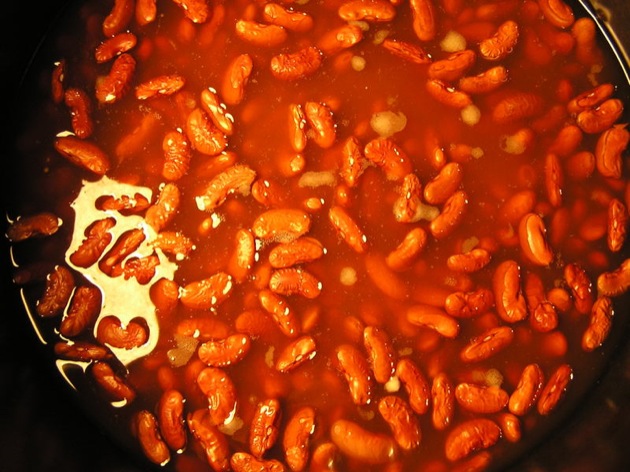 Soak the beans. You may just buy canned red beans, but the dried ones will really suck up all the flavor.  Soaking them all night is the preferred method, but if you forget-I did-then just dump the beans in a large pot, fill with water and bring it to a boil.  Then reduce the temperature and simmer for two hours.  It also helps if you have a girlfriend who can do this before you get home.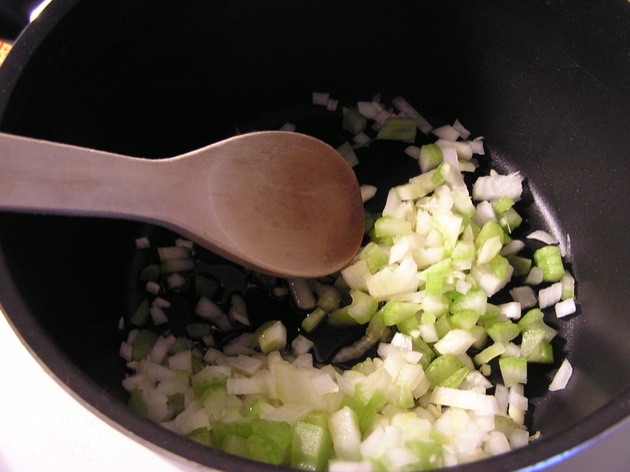 In a large pot, toss in the onion, celery, and garlic and saute over medium to medium low heat until soft.  About 4-5 minutes.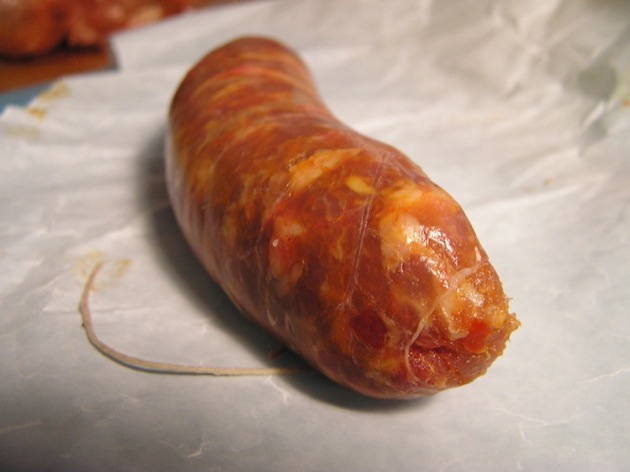 Emeril is all about his andouille sausage, but at G. Esposito and Sons Pork Store , the Italian sausage shop on Court Street, they haven't heard of it.  "We don't sell andouille sausage, we sell Esposito Sausage."  Fair enough.  So here is some spicy Esposito sausage.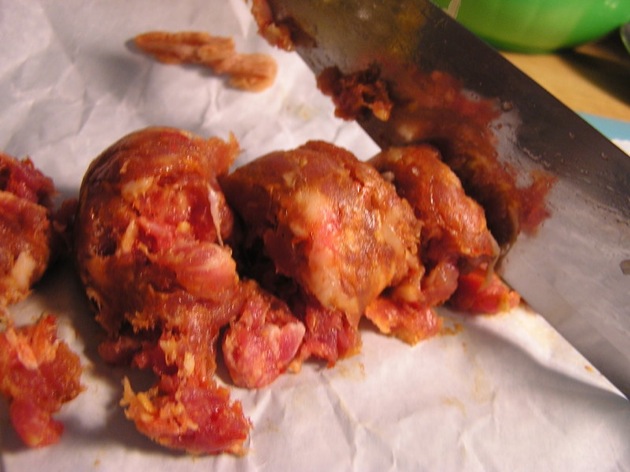 Slice in one inch sections, or if it just all falls apart like mine did here, just mangle it till you can't recognize it anymore.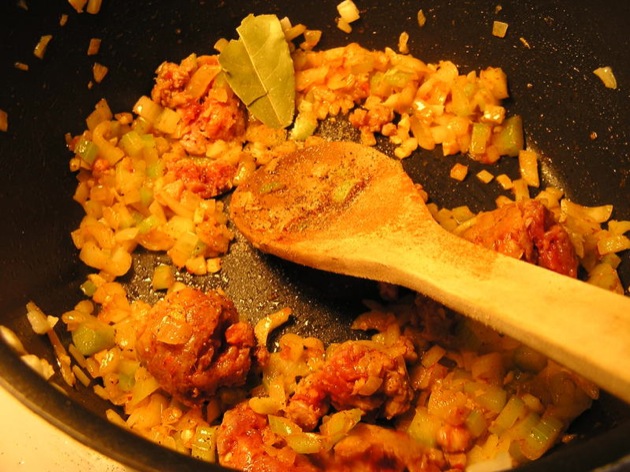 Add the pepper, salt, cayenne, thyme, sausage, and bay leaves.  Saute everything for a couple minutes stirring regularly.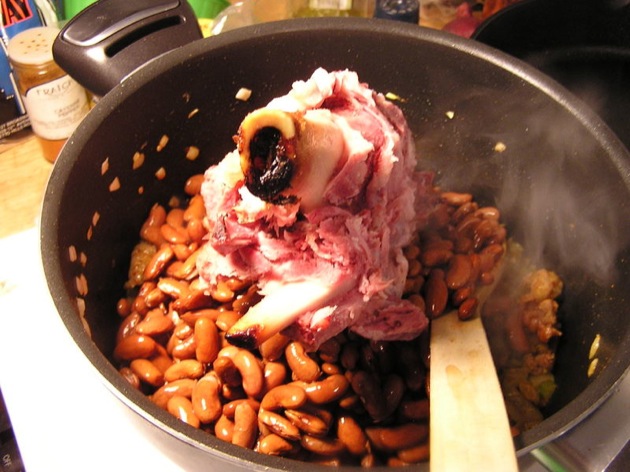 Add the ham bone and beans.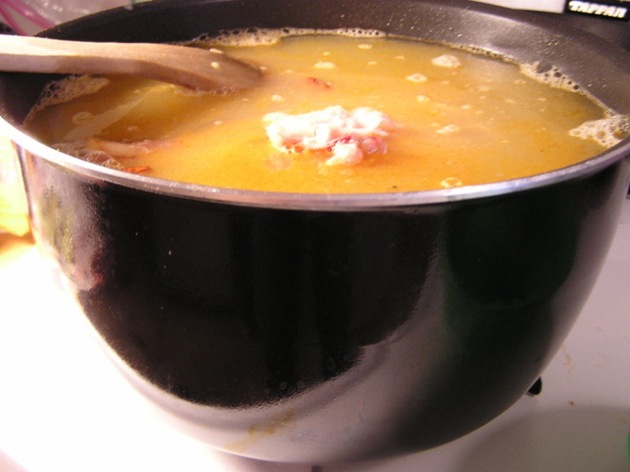 Pour the chicken stock in and bring the whole thing to a boil, then reduce to a simmer.  Cook uncovered for about 2 hours.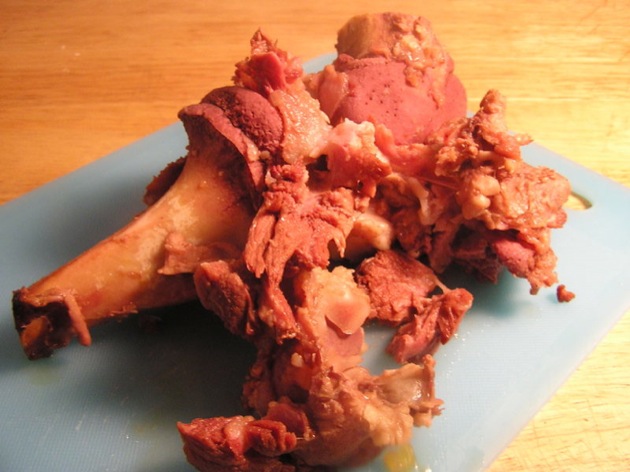 After the 2 hours, remove the bone.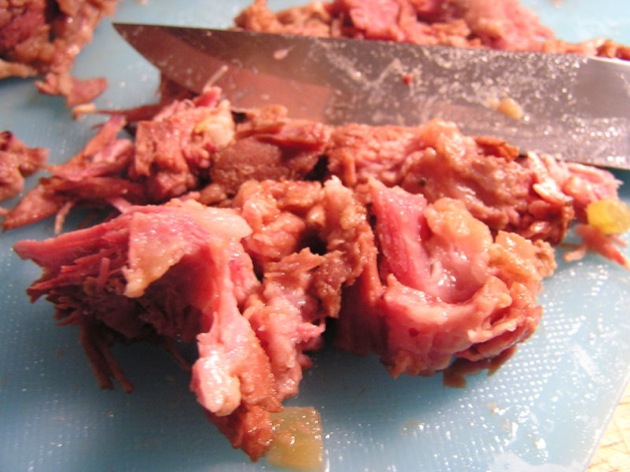 Cut any meat off the bone.  Chop it up into small hunks and return it back to the pot.  Let it reincorporate with the beans while you begin the rice.  When the rice is done, about 20 minutes, construct your rice and beans.  Some prefer the side-by-side approach, while I'm a beans on top of the rice kind of guy.  Top with the scallions, hot sauce, and sour cream if you so dare.
Beans,
Beans,
Ham,
Ham Week,
New Orleans,
Pork,
Pork,
Rice