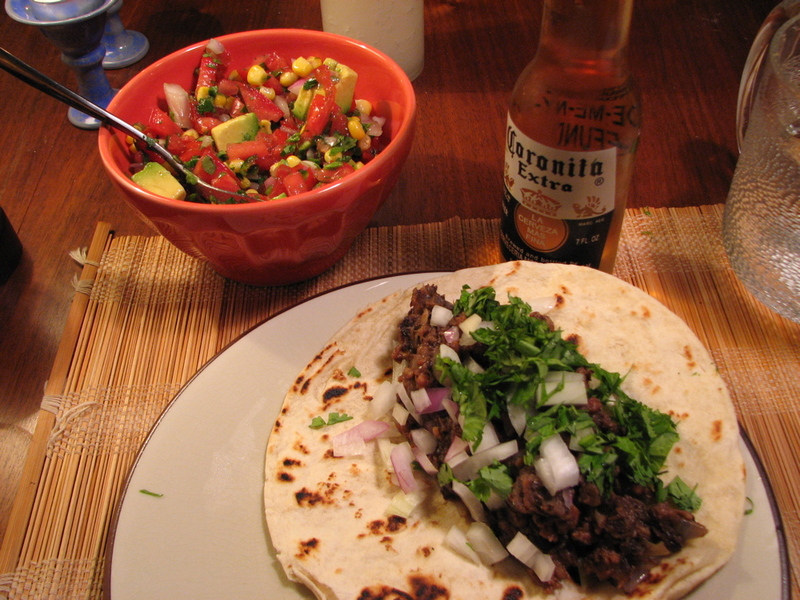 First off, a language lesson: refried beans are not fried twice.  It's understandable that most people, myself included until I started writing this, assume a literal translation of the word "refried" and, employing razor-sharp detective skills, deduce that the beans are fried, let rest, and then fried again. But the word refried is actually an approximation of the Spanish word refrito , meaning "over-fried."  The prefix re- in Spanish is a sort of emphatic qualifier, when something deserves an extra umph and we really mean it.  Something " retebien " is very good. In theory, the beans are indeed cooked twice--one part is the boiling process, turning hard beans into cooked and soft, and the second part fried and mashed in the skillet.  But what the term actually refers to is the process by which the beans are cooked, "over-fried" until they become dry enough to shape--so they're not soupy and don't leak into all the rest of the stuff on your plate. But that's not the point of this post.  The point of this post is to provide, with thanks to Leite's Culinaria , the greatest recipe for refried beans that I've yet tasted. Unfortunately, this isn't for vegetarians--but I think it's generally agreed that good refritos require the use of lard or bacon fat for the best outcome, so they're disqualified already as it is.  The secret to this is using Mexican (not Spanish) chorizo, which is not cured and smoked like it's European cousin--it's uncooked, coming in links just like Italian sausage.  The Spanish stuff is more like a salami and won't do the fundamental job of releasing the paprika-chili infused pork fats into the beans. That is what gives them the marvelous flavor that they will eventually have.  I found Mexican chorizo at Whole Foods but call around. The recipe from Leite's Culinaria took advantage of the "over-fried" aspect of the beans, using them to shape croquettes which are then stuffed with chorizo and topped with a smoky chipotle salsa.  We decided instead to combine the chorizo with the beans, stuffing it into tortillas with cilantro, sour cream, and a citrusy salsa with avocado and corn. A couple days later, the same ingredients came in handy to make huevos rancheros , the Mexican breakfast that has become an American brunch staple. Chorizo Refried Bean Tacos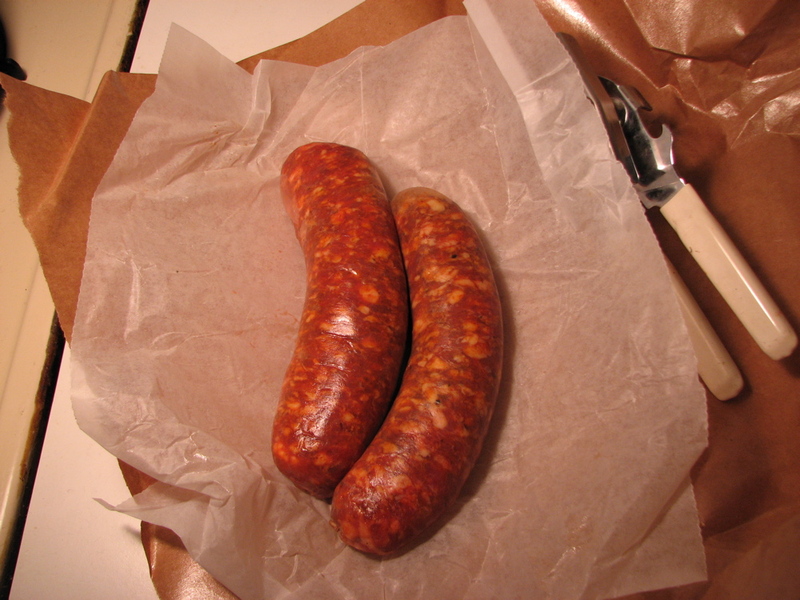 2 tablespoons lard or vegetable oil
1/2 to 3/4 pound uncooked Mexican chorizo sausage
2 cans black beans
1 large or 2 medium white onions, chopped
handful chopped cilantro
sour cream
1 medium tomato, chopped
1/2 avocado, cut into chunks
1 ear fresh corn, kernals sliced off, or 1/2 cup frozen
1 jalepeno, finely diced
juice of 1 lime
2 tablespoons olive oil
salt to taste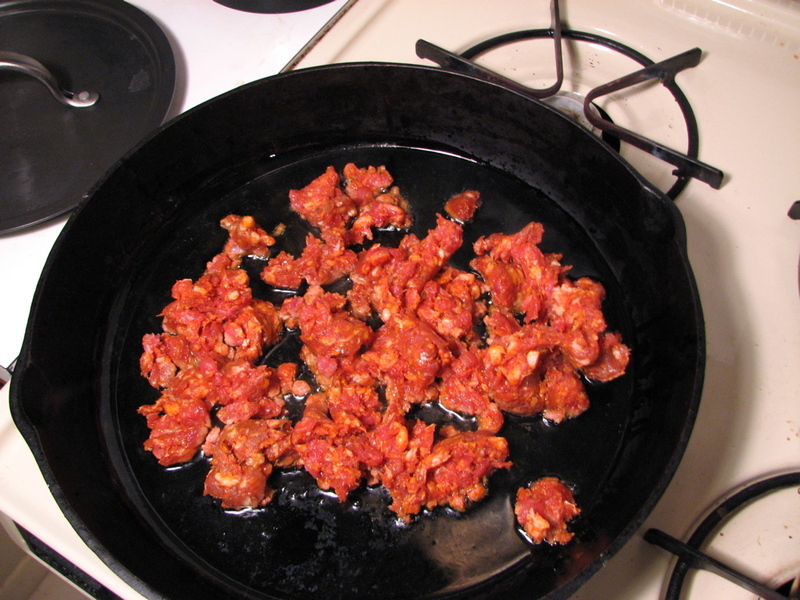 Heat the vegetable oil or lard in a heavy skillet that's not non-stick (you'll be mashing things up and you don't want to scratch it--cast iron works best) over medium heat.  Add chorizo and break up with a wooden spoon, frying until cooked and golden.  Remove the meat with a slotted spoon, leaving the oil in the pan.  Add 3/4 of the onions (the rest is for the salsa) and saute very briefly before adding the beans, which should be dumped into a colander first and rinsed of all that gooey liquid they arrive in.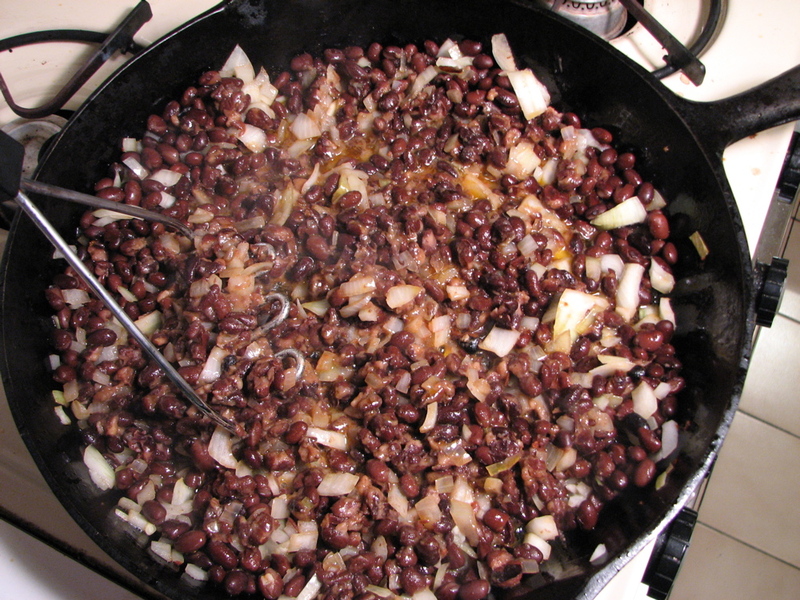 Using a potato masher or fork or the back of a wooden spoon (I've known those who use the bottom of the bean can), mash the beans into a paste with the onions.  Leave it just a bit chunky, because the difference in texture is nice.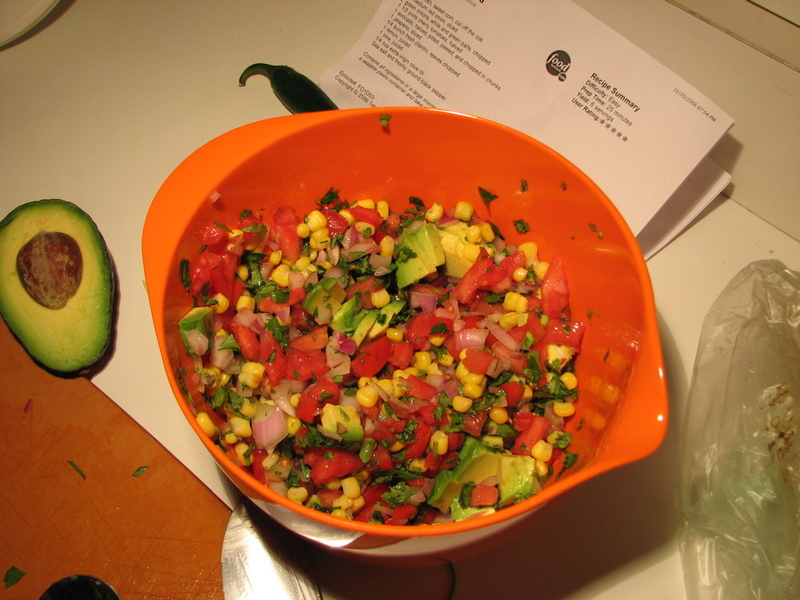 In the meantime, combine the remaining ingredients except the sour cream and half the cilantro in a bowl.  Once the beans have just begun to dry out, heat the tortillas in a separate skillet with a few drops of oil until warmed and just starting to blister.  Fill them with the bean mixture and top with cilantro and sour cream.  Add the salsa if you wish, or serve on the side with chips. And... A couple mornings later, pull the salsa out of the fridge until room temperature, warm the beans in a skillet, fry up another tortilla, and chop some fresh cilantro.  Into a small pot of water with 2 tablespoons vinegar, heated until just simmering, slide an egg.  It helps if you break the egg into a large serving spoon first, rather than trying to dump it into the water from the shell.  Poach until yolks are still slightly runny. Here's a nice extensive tutorial on poaching eggs. Serve with the salsa.  It may look a bit overwhelming, but trust me, it tastes fantastic.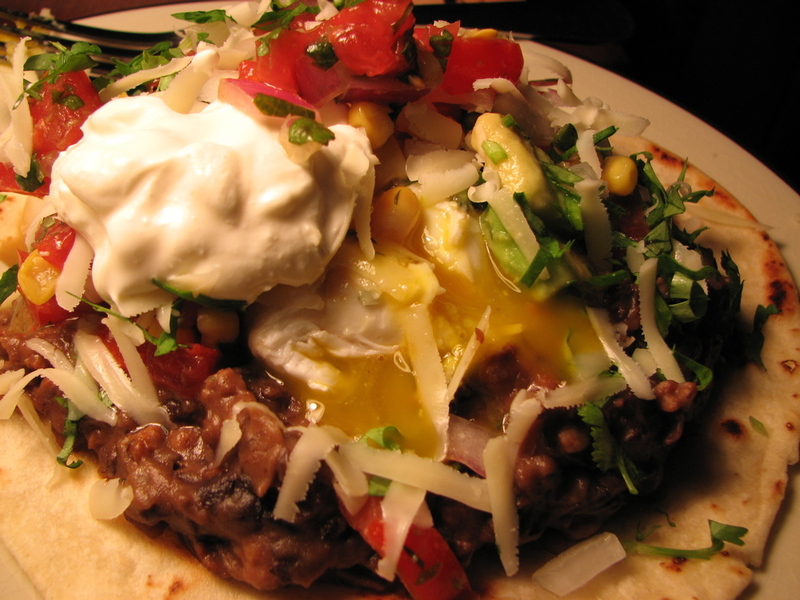 Avocado,
Beans,
Beans,
Black Beans,
Chorizo,
Corn,
Lard,
Mexican,
Pork,
Tomatoes