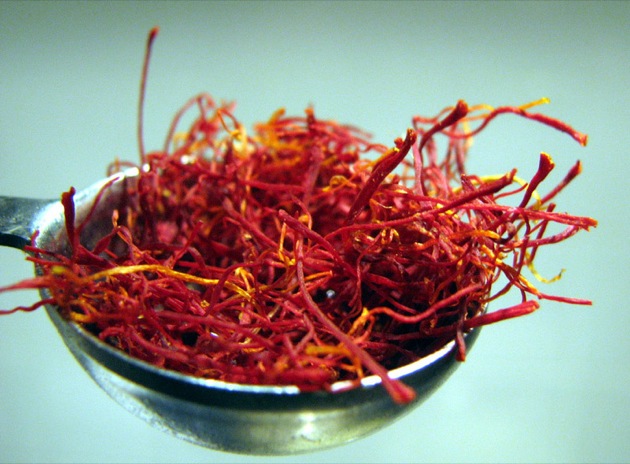 Back when I was writing about corn risotto and the magical risotto pancake , I was kicking around the Internet trying to discover exactly how to make one correctly.  Recipe after recipe called for a very specific risotto preparation, one I'd never even heard of, something called Risotto alla Milanese, or Milan-style Risotto.  It's flavored with chicken or beef stock, a simplified base of only sauteed onions and olive oil, and this magical spice called saffron , which is, by weight, the most expensive spice in the world.
It is derived from a certain flower called Safron Crocus, which grows the thin, fragile red stems from its purple bloom. It takes hundreds of these flowers to create just an ounce of the stuff, and it must be hand-harvested.  Yet you only need a pinch for a whole dish to take on its mellow, yellow essence.  It's one of the most difficult flavors to describe --I've heard the phrase "burnt flowers" and the word "medicinal", and those are both accurate but incomplete.  It tasted to me both heady and earthy, honey-like but just a bit bitter, subtle yet unmistakable.
Risotto alla Milanese seems to be one of the first, most traditional preparations of risotto, and given the expense of saffron, one of the most prized.  It was originally used for only its pigment, but when just a teaspoon was thrown into a risotto stock one day in 1574 , it resulted in a potful of kernels so bright and deeply-colored they seemed gilded.  Nobody has looked back
After tasting this dish, its powerful simplicity, I suddenly thought that all this time I've been stuffing all sorts of non-essential ingredients in.  This is an expression of risotto as a concept.  A pile of rice, some stock, and a pinch of the stems of some fancy flower.  There's nothing to obscure, and also, of course, nothing to hide behind.  The skill of the risotto cooker is revealed in this dish--whether that's a good or bad thing.
I think I was quite successful.  It had that characteristic al dente bite under a blanket of creaminess.  That overwhelming richness.   An all-over texture contrasted with the distinctness of each individual kernel.
It also has a very calming effect on the palate, which makes it a traditional accompaniment to Osso Bucco, and suggests that it would work better a    s a side dish or complement to a more assertive dish.  I was thinking it would go well with some grilled merguez or garlic sausages.  Or shellfish, or something gamey like rabbit, cooked separately and mixed into the risotto at the last moment.  These ideas would begin to move the dish in a Spanish direction, towards Paella , a dish that uses rice and saffron as a base for various meats and seafood.  It's very contested what goes into an authentic Paella-- arroz con cosas , "rice with things," is the only agreed-upon definition--but the point is that the saffron rice serves as a wonderful base for other assertive flavors to emerge.  Adding these things to my Risotto alla Milanese would have elevated it into a main course.
Either way, it was a dish of gorgeous simplicity.
Risotto alla Milanese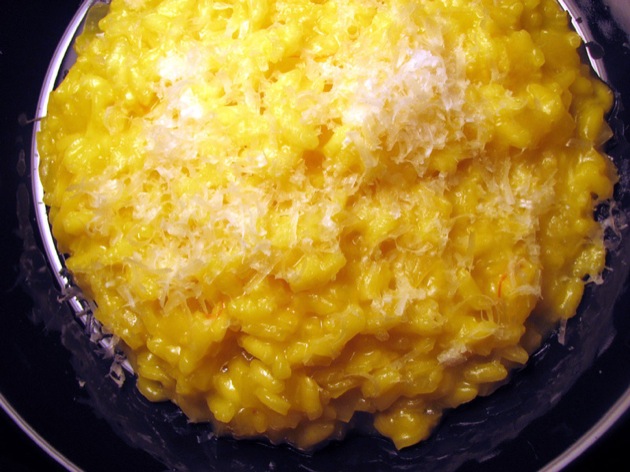 ¼ cup extra-virgin olive oil
1 medium onion, cut into 1/4-inch dice
1 teaspoon saffron threads
5 cups chicken stock, hot
2 cups arborio rice
½ cup white wine
4 tablespoons (1/2 stick) unsalted butter
½ cup freshly grated Parmigiano-Reggiano, plus more for sprinkling.
(I used half Parmigiano and half Pecorino, which is sharper)
Adapted from Mario Batali's Molto Italiano.
Heat the chicken stock until gently simmering, then add the saffron threads to steep.  In the meantime, heat the olive oil over medium until it's quite hot, just before smoking, then add the onion.  Saute for 8-10 minutes until very soft but not brown.  Add the rice and stir constantly for 3-4 minutes, until it begins to toast and turns translucent.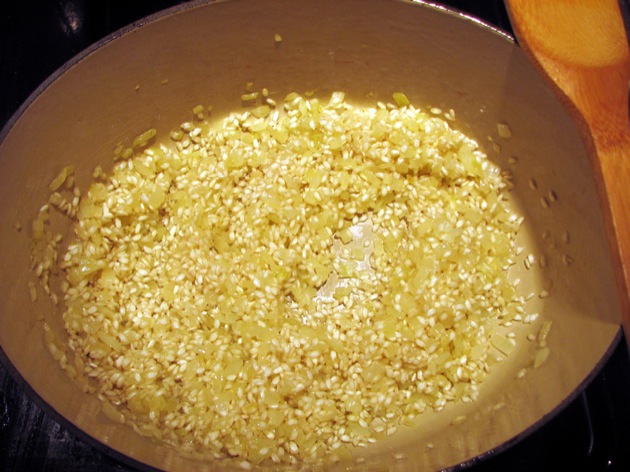 Add the wine and allow it to absorb for a moment, then add a ladleful of the hot stock.  Stir to combine well, turn the heat to medium-low, and allow the rice to absorb the stock.  Continue adding the stock ladle-by-ladle, waiting for it to be absorbed before adding more.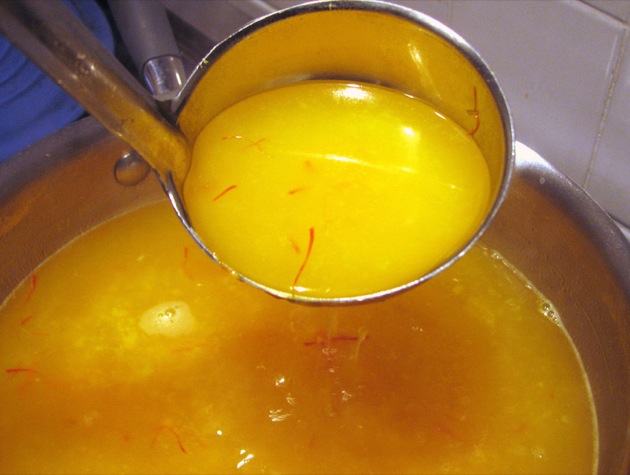 If you run very low on stock and the rice is still too hard, add some hot water to the stock pot.  Cook until the rice is creamy yet still with a slight al dente bite, about 15-25 minutes depending on heat.
Once it's cooked through, remove from the heat, add the butter and cheese, and stir well.  Cover, and allow to sit untouched for 1 full minute (I find this "steeping" period makes for superior flavor).  Serve immediately with more cheese for topping.

Cheese,
Chicken S,
Parmesan,
Risotto,
Saffron,
Uncategorized,
White Wine,
Wine