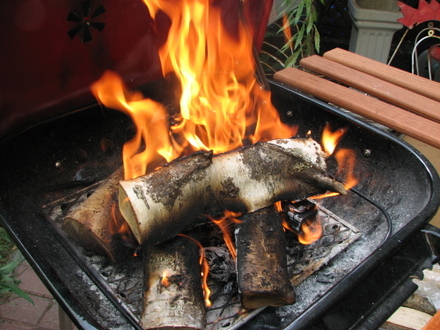 Last weekend, some of Elin's friends that she met while getting her master's degree in England came for a visit.  Max and Chris are both from South Africa.  They spent a long weekend with us and we did our best to show them our way of life in New York—playing the good hosts.  Often, guests find New York overwhelming, or they find the idea of it overwhelming.  "Where do I start?" they ask.  "What should I see, and in what order?" We offer them a street map, some ideas for places to visit, a bottle of water for the trip.  But it's really hard to get them to go.  It's somewhat bizarre.
I think what it boils down to is they're interested in seeing how we live our lives, how it works in Brooklyn.  They want some sort of inside scoop.  And as we've had various friends come to stay with us over the last few months, we've noticed that what we're most capable of as hosts is foisting our love of food on unsuspecting guests.
Granted, it is the perfect tool with which to explore an unknown city.  Looking for good food gives you a purpose, and a reward waiting.  Just as you're nearing the sort of exhaustion that only trekking around a hot city can give you, you finally find that hallway of a store in Chinatown, the one that sells flattened squares of salty, spicy, homemade pork jerky.  You sit down in a chair, take a deep breath.  The food rejuvenates you.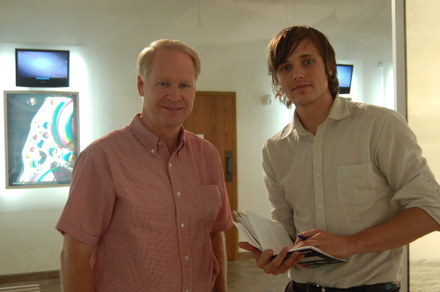 That's Max, with a guy from the infamous Creation Museum in Kentucky (Max and Chris visited during their roadtrip across the Midwest, posing as earnest young Christians taking notes).  We took Max to the Red Hook Ballfields for quesadillas, pupusas, and grilled corn; we tried to take him to Lucali , but they closed because the oven wasn't hot enough, or something ( Bar Tabac was our alternative, and we got to sit outside on the sidewalk with our own bottle of wine, dining on Merguez sausage and mussels).   The all had a burger at Corner Bistro, and towering sandwiches at Katz's deli.
Gracefully, the favor was returned, when they offered to teach us how to "Braai" (rhymes with "cry"), the traditional South African way of barbecuing.  Braai, a word from Afrikaans meaning roast or barbecue, can be used as a noun or verb, just the same as barbecue can.  Elin participated in one of these meat fests with this couple of rowdy fellows in England, and has talked about it a lot ever since.  In the late afternoon, Chris and his brother, Simon, rolled in from Whole Foods with more friends and bags of vegetables and meat, and began taking over the kitchen, cutting meat, asking for spices, sharp knives.  Max and I and gathered armfuls of firewood and lit it in the base of the grill like a campfire.  Then I stood back and watched it all unfold.  That's Chris, below, with a characteristic look of intense concentration.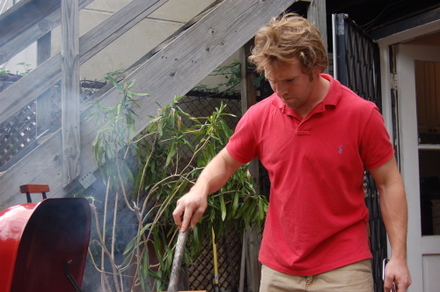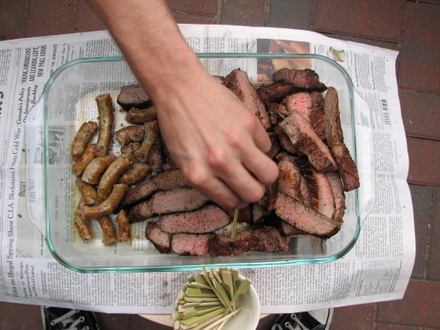 I did a bit of research on Braais , but the majority of definitions just call it a South African barbecue, with not much discussion of technique.  It's very carnivorous--the emphasis is on copious amounts of meat.  Steak, chicken, lamb, sausages; it doesn't seem to matter.  You also have sides like salad, and kebabs are also popular.  It's a social tradition , definitely male-centric as this humorous video explains .  It reminds me quite a lot of the very same American cliché—man in front of a grill, poking meat, drinking beer.  It was strangely comforting to see this cross-cultural phenomenon in action.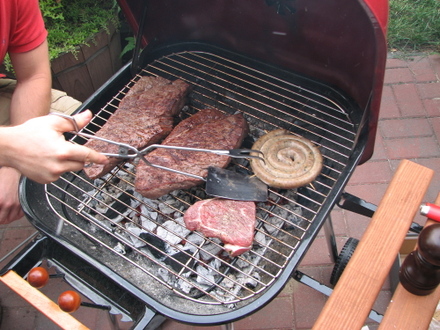 There's one important difference I noticed, which was the use of real wood that you light, then burn down into embers, using the embers to do the cooking.  That seems to be the most traditional way, and the results give more flavor than simple high-heat grilling, much of the flavor coming from the smoke of the
wood.  It also allows for a longer cooking time as the embers aren't as intense as charcoal.   The longer time in the heat toughens the meat somewhat, but makes everything taste heartier.  The technique is something of a halfway point between grilling and smoking.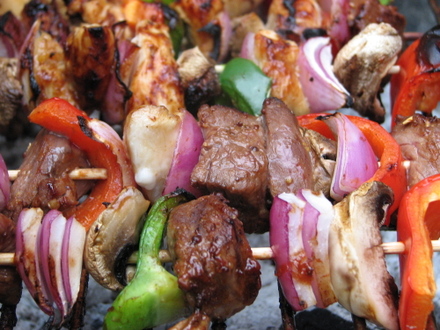 The best braai woods are dense enough to have a long coal time as embers, and don't burn out too
quickly.  All we had was some birch firewood , which did the trick (though we added charcoal to supplement).  Other helpful tips about how to Braai are here , including kinds of spices and types of meats.
What's essential to this scenario is the longer time one has to mingle, watch the meat, tinker, enjoy the weather.  It's very much a take-all-afternoon affair, with food coming off and going on the Braai all the time, and many beers being drunk.
As the coals were slowly burning away, I showed them one of my own family traditions, the cooking of clams directly on a grill.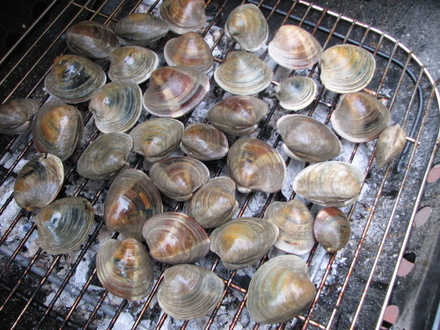 We used to do this in North Carolina every summer—just eat endless clams off a hot grill, tossing the hot shells hand-to-hand until you could peel them open and tear the clam off with your teeth.  Then we'd have contests for who could toss the empty shells farther from the third-floor deck.
All in all, the summer grilling season is off to a good start.  Thanks Simon, Chris, and Max for the lesson!  And let me know if I got anything terribly wrong about the Braai technique.
Barbecue,
Beef,
Clams,
Seafood,
South Africa