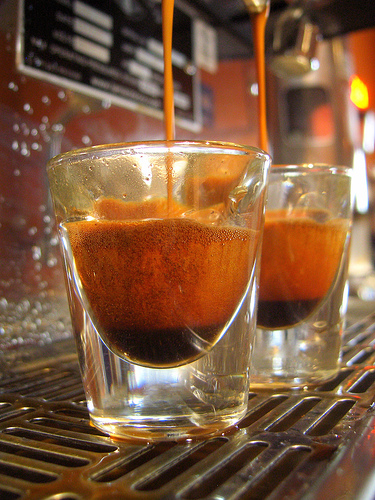 From Jeffrey Steingarten's essay "Explaining Espresso," via his collection It Must Have Been Something I Ate :
It's no wonder that humankind's most persistent activity over the past few hundred years has been inventing new ways of making coffee.  How many coffeemakers you have at home depends on 1) your age 2) your love of coffee 3) your love of toys, and 4) your total inability to throw anything out.  I get high scores in all four.  But most important is factor number five--call it the spiritual factor, if you must.  Have you ever felt that coffee--in the roaster or the grinder, in the can or in the bag, in the coffemaker or the cup-- nearly always smells better than it tastes ?  This is the cause of our eternal torment and discontent, us coffee lovers.  We never stop searching for the impossible, for a way to drink the heady, complex, incomparable aroma of coffee. That is why we buy 18 coffeepots and are always ready to buy another.  And why so many of us turn to espresso...A dark, smooth, almost syrupy liquid covered with a thick, fine-grained, reddish-brown foam called crema .  The taste of espresso is bittersweet, with no intial impression of acidity.  From your first sip, the aroma is intense and explosive.  Afterward, you are left with a very pleasurable coffee taste that can last for half an hour.
Because it's all I can afford, I've started to begin my mornings with espresso out of a stovetop machine, a Bialetti stainless steel model (I melted the rubber gasket on my first, the original aluminum, after putting it on the heat with no water).  For 35 bucks it makes some pretty dark, rich, heady stuff, so I'm relatively happy, and I haven't had drip or french press coffee for weeks.  But I recently read this Steingarten essay and, as is usual when I read his essays, realized I'm missing out on all kinds of pleasurable experiences to be had via my tongue.  Currently saving up for a decent home machine, in the meantime I've been visiting New York artisinal coffee spots ( add Joe the Art of Coffee to that NYTimes list), and sneaking peeks at espresso porn while in the office.  That stuff could really get you in trouble. Photo via Tonx on Flickr.
Coffee,
Espresso,
Jeffrey Steingarten,
Uncategorized