The Thai salad is bracingly good, a dish to banish all memory of bad takeout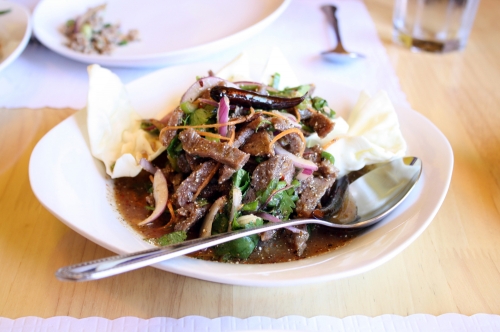 Joe said we should meet for dinner at Thai Aree . You may all remember Joe for his helpful advice on J. P. Graziano's , but I still wasn't sure whether I trusted him completely. l rattled off a few alternatives, slyly attempting to change his mind, but he insisted. "The food is wonderful and the prices are great too." Fine, whatever. I didn't really have the courage to admit that I didn't really much care for Thai food.
Thai food and I have a boring history. Much like bad buffets ruined my introduction to Chinese food , I OD'd on syrupy pad thai and thick coconut curries before I reached the age of 23. I'm just not very excited about the stuff.
So imagine my surprise when we start ordering things, and the majority of the dishes are cool salads. A dish called nam tok contained beef grilled over charcoal served on a bed of cabbage with a tart lime dressing and loads of mint. It tasted almost like sipping on a mojito while eating steak on a July 4th weekend.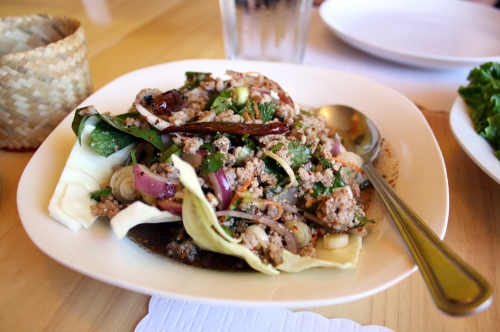 Even better was a dish called pork larb, which combined minced pork, cool lettuce, singeing chiles, mint, and lime. I lost it. It was cool and quick, and yet made me start sweating almost immediately (which ultimately cooled me down even more). These two dishes erased dozens of bad Thai meals away from my brain in the span of one minute.
I can't get these dishes out of my mind. When I learned that Thai Aree was closed for lunch on Saturday, I braved horrific traffic from a Cubs game to make my way to Sticky Rice in North Center, which is where all the pictures are from. While it wasn't as brazeningly hot as Thai Aree's, it was still all there. What it honestly reminded me of was the great balance of Mexican cuisine. Spice was balanced with acidity, raw vegetables were added for crunch, and the meat helped give it body. I can't imagine a better dish for summer.
It's all magic and wonder at this moment. Much like an innocent crush, I don't really know the person and right now she can do no wrong. So I wanted to write about the first rush of inspiraration, and then come back to actually getting to know the dish to see if we have that much in common. Plus I need some help. I think I'm going to start with pork larb, but I worried about finding toasted rice powder, or something like that, for the dish. Any help, or links to good sources would be much appreciated.
Food,
Salad,
Asian cuisine,
Asian culture,
Cuisine,
Curry,
food,
Indian cuisine,
Joe,
Lao cuisine,
Larb,
Meat,
nam tok,
Nam tok,
Pad Thai,
Pork,
pork larb,
Salads,
Salads,
Thai,
Thai,
Thai cuisine,
Thai Salads