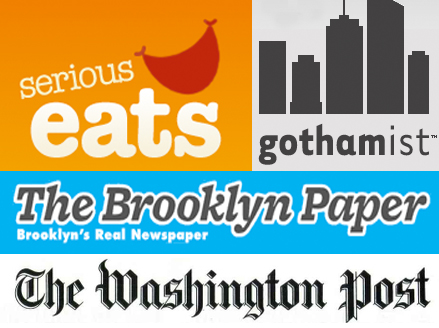 As a new year begins, we mostly try to think forward to what's to come.  But January is also the time for us to look fondly back, to two years ago this month, when we started this website with very little idea of what we were doing.  Though our last year-in-review-posts didn't make it up onto the site until March , this time we're on the ball.  It's been a very interesting year, with many changes, and more than anything else we've gotten more and more ambitious (you could also say absurd) with the stuff we tackle on this site: making traditional cassoulet with pig skin , exploring meat curing and confiting , making cheese , cooking fish in bags , becoming a locavore .
But we've also been posting less here than we used to, or at least less regularly.
Part of it is that Nick moved to Ohio , and we no longer collaborate on posts, and no longer meet for long nights of drinking whiskey and scrawling out ideas for culinary experiments.  The element of collaboration has always been essential fuel for this blog--it was the reason, at the very start, that a couple of young pups in New York City ended up cooking in a 400 square foot, 3 bedroom apartment.  What were we doing, working temp jobs and spending all our free weeknights in a tiny, grubby, ill-equiped kitchen, reading Jamie Oliver books and frequenting snooty grocers on the Upper East Side?  We were falling in love with food, and the magic of cooking, its adventure and its revelations.
But the truth is that we haven't at all stopped writing, or written less.  Together, we've written over 140 articles elsewhere that have been published on other blogs and in some newspapers.  For example, there's a column on Serious Eats that we do called Dinner Tonight , published 5 days a week, that features a recipe with 10 ingredients or less and is cookable in an hour or so.  That's a lot of cooking, and a lot of time.  And since blogging is not quite so lucrative that it lets you quit your day job, we have those, too.
What does that mean for this site?  We have no interest in stopping writing here.  We actually have some relatively ambitious plans for 2008.  We're also working on a site redesign and more organized archives.  All the writing we've done elsewhere has given us the impetus to figure out what exactly what we'd like to write about here.
But a year wrap-up wouldn't be complete without linking to some of that writing we've done elsewhere.  Some of this may be old or new to you, but at any rate, these are some of our favorite articles that haven't
been on The Paupered Chef.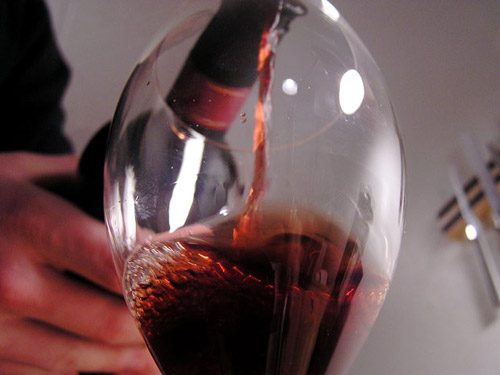 When Serious Eats began, it was less of a continuous blog than it is now, and they would publish roughly one feature article a day.  We were honored that they asked us to write for them a few times a month.  We
ended up writing a series of in-depth articles about, essentially, anything we wanted.  Once a week we had to dream up some absurd topic, research it fully, and then sit down and write everything we could,
with as much enthusiasm as possible.  We had some hits, some misses, but it was always a challenge and a great exercise in longer-form writing.  The best of these ( Pizza Hack: Broil Your Pies , Wine By Any Other Name , Breakfast Bars ) are among the best things we've written.  But pumping them out every week was a race against time, and some of them didn't turn out as well-formed as they could be ( French Fries , Celery ).  And after ten or so , we stopped, and Serious Eats morphed into a website that looks more like it looks today.
At roughly the same time, Nick began writing for Gothamist , which he wrote for twice a week. In all there were about 40 articles, most about eating cheaply ( Coupon Clipper ) and drinking in Brooklyn ( Brooklyn Drinks ). The Coupon Clipper was built on a simple premise: find the best deal on a single grocery item in New York, and cook a dish with it.  It led him to buy cheap cuts of meat at far flung grocery stores , which produced a few funny accounts.  The Brooklyn Drinks column led to many fantastic evenings at great bars ( Fette Sau , Jack the Horse Tavern , Royal's Downtown ) and just as many a lonely nights sitting by himself in an unknown neighborhood trying to quickly finish his drink ( MiniBar , The Hope Lounge ).
All the bar writing caught the eye of an editor at The Brooklyn Paper, which led to a couple articles about some emerging Brooklyn neighborhoods ( Fort Greene's Myrtle Avenue and Bushwick ) and their local nightlife.
The Gothamist gig ended in July, when Nick moved to Ohio.  But around the same time, the Dinner Tonight column was born.  It was later expanded from three nights/week to five, and Blake picked up the slack.  It's now published every weekday.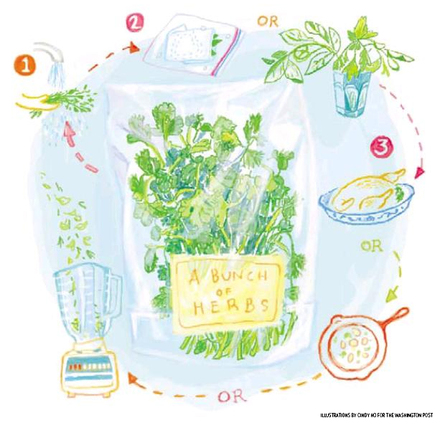 But perhaps the most exciting development of all was being contacted by the Washington Post, who asked us to pitch an article for the food section.  It took quite awhile for us to come up with an idea that was compelling enough, but we finally saw it published in July.  " Sagging Sage? Blotchy Basil? Try These Herbal Remedies " was among our proudest moments.
We'll be spending the rest of the week exploring some of 2007's posts on this blog, and end by highlighting our favorites.  Stay tuned!
Best of 2007,
Best of 2007,
Gothamist,
Serious Eats,
The Brooklyn Paper,
Washington Post