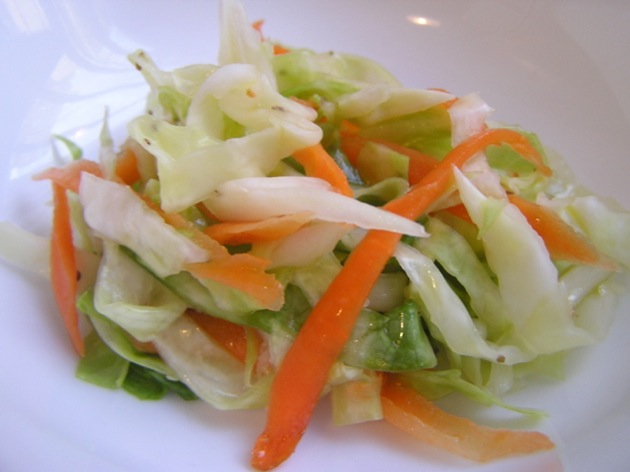 It's the food I never really think about, yet can't help but order.  While everyone else is thinking about fries or onion rings, whenever I hit a diner for some reason the one thing I want is coleslaw.  Maybe it just has the appearance of being a vegetable dish in a fried food haven, but it seems a cool retreat for all the hot food.
The problem with coleslaw is that it can often feel like the least healthy thing in the world.  Sure most diner food suffers from an excess of grease, but slaw can literally be taking a bath in mayonnaise sometimes.  Like playing Russian roulette, I occasionally order it just to see what I'll be brought.  It will either be tangy, crisp, and refreshing--or absolute mush.
It never really occurred to me to make my own.  I recently made a big pot of posole , a Mexican soup that called for a sprinkling of cabbage thrown on top.  I was leery at first, but the cabbage worked really well, adding a nice crunch to what ended up being a rather bland soup.  Anyway, I had about 7/8s of a cabbage head left and for one of the first times in my life, I had a chance to choose my own fate, and create the coleslaw that I had always dreamed about.
For help I consulted Cooks Illustrated.  They had a whole section on how to make coleslaw the way I'd always liked.  The most important step, one that had for some reason never occurred to me, was to mix the cabbage with salt and let it drain for a few hours.  This drew out the excess moisture, and made it more toothsome.  The next step they recommended was to forgo mayonnaise all together.  This was hard to let go.  Sure, I've loved many vinegar based coleslaws in my days, but my favorites always had mayonnaise in there somewhere.  That always seemed part of the challenge.  Make a crisp, healthy tasting dish despite lots of mayo.
What did I learn?  I missed the mayo, but definitely liked the texture of this method.  Cooks Illustrated recommended a few other variations that I'll get to someday.   If anyone has a recipe they think is failsafe, I'd love to see it.
Coleslaw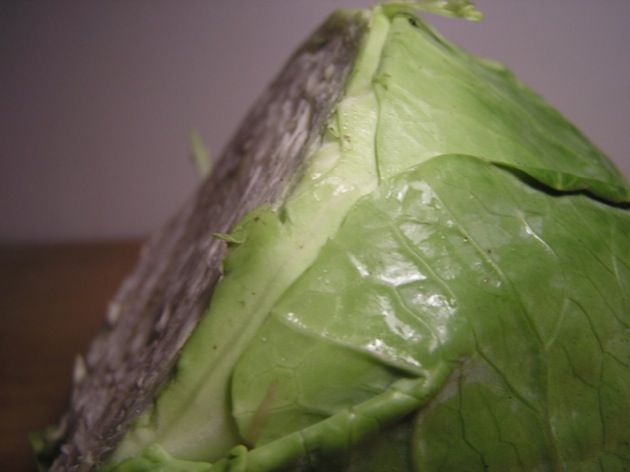 1/2 head cabbage
1 large carrot
1/2 cup sugar
2 teaspoons salt
1/4 teaspoon celery salt
5 tablespoons canola oil
1/4 cup white vinegar
Adapted from the Cooks Illustrated .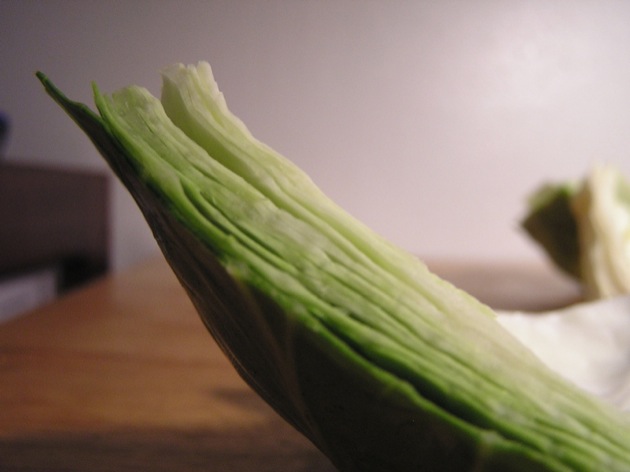 Quarter the cabbage and remove the hard core.  It doesn't taste all that well.  Lay the leaves flat on the table and cut diagonally into fine shreds.  I found it easier to break up each quarter into two layers.   Toss in a colander.  Peel the carrot, and grate into strands, much the same as the cabbage.  Dump in the cabbage.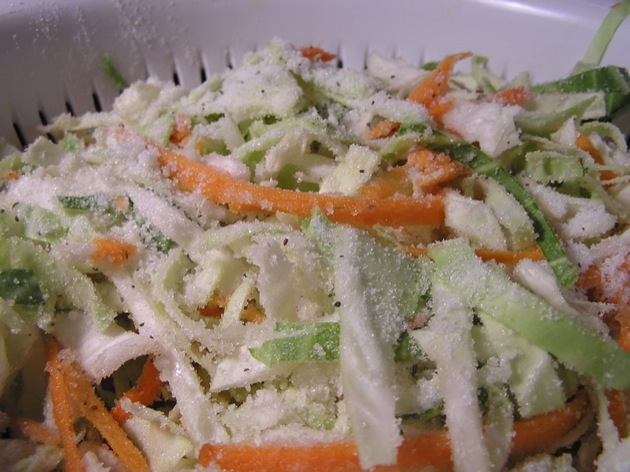 Sprinkle with the sugar, salt and celery seed, mix together, and then place the colander over bowl.  Let it sit for at least an hour, or up to four.  I lasted approximately two and half hours before the hunger pangs started.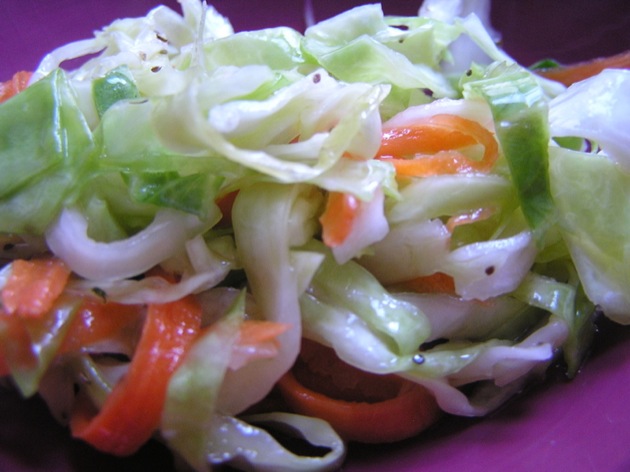 Remove the colander from the bowl.  Rinse the bowl and dry.  Lightly rinse the cabbage/carrot mixture and pat dry with some paper towels.  Add the vinegar and oil and mix thoroughly.  It's good as is, but better cooled in the fridge.  But that's if you can stand to wait longer.  I couldn't.
Cabbage,
Coleslaw,
Vegetables