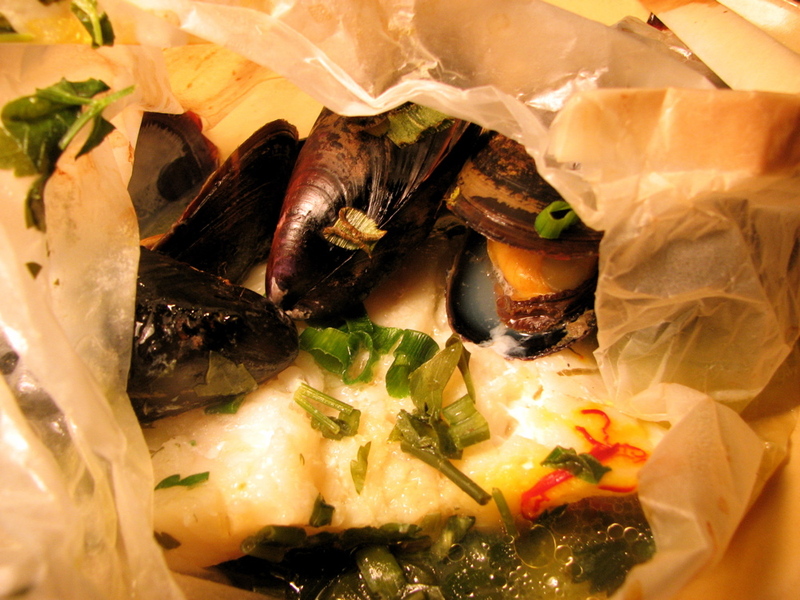 I've only recently reached a point where I'm ever so slightly bored with cooking. Don't worry--it's only a very subtle, mild boredom, easily fixed. But it's there, and it's a stage I'm sure many cooks experience periodically. What compels me to make the same old dish again? And even if I use new ingredients, isn't it still the same technique? I'm a qualified saute-er, I can braise successfully , I know my basic vegetables. I've only been cooking seriously for a year and a half, and I feel like I'm already getting to be masterful at the basics.
Many would say that this calls for a reaffirmation of cooking's pleasures. A time to remember to savor small things, to rekindle the senses, to revel in the peacefulness of a cooking routine.   Or perhaps to delve into one subject thoroughly, like cooking only from recipes from the Piedmont region of Italy.  There are many ways to remind oneself that boredom is a state of being for which there is no excuse.  If you're bored, you're not tuned in enough to the magic of experience.  As your mother told you: read a book!
And it's not that I don't agree. I'm continually reminding myself of the wonders that occur when raw ingredients are poked, flipped, heated or rubbed, and something delicious results. But I think that my reaction instead is to find cooking techniques of ever-increasing risk and adventure, to blaze new trails even faster than I'm probably allowed to. One way to satiate boredom is to up the ante, repeatedly.  For some, this would mean dangerous physical stunts, or skydiving, or hard drugs.  I cooked something in a wax paper bag.
Lately, we've messed around with techniques for cooking: our tried-and-true staple of Pasta Carbonara got turned upside-down ; we've broiled pizza to astoundingly good results; we've cooked a fried egg for ten minutes ; and we've stuck a chicken in a 140 degree crock pot in search of the most tender, succulent flesh.  Cooking really can make you feel like a rock star.
This bag technique, what the French call en papillote, is not groundbreaking but very elegant. And
it's very easy, quick, healthy, and flavorful. Besides learning how to make the paper bag, there is hardly any cooking skill involved at all. You simply put uncooked ingredients in, bake for less than ten minutes, and serve. Meanwhile, in the bag in the oven, the ingredients steam and bake and mix and infuse and generally turn themselves from ordinary
to remarkable.
Cod and Mussels en Papillotes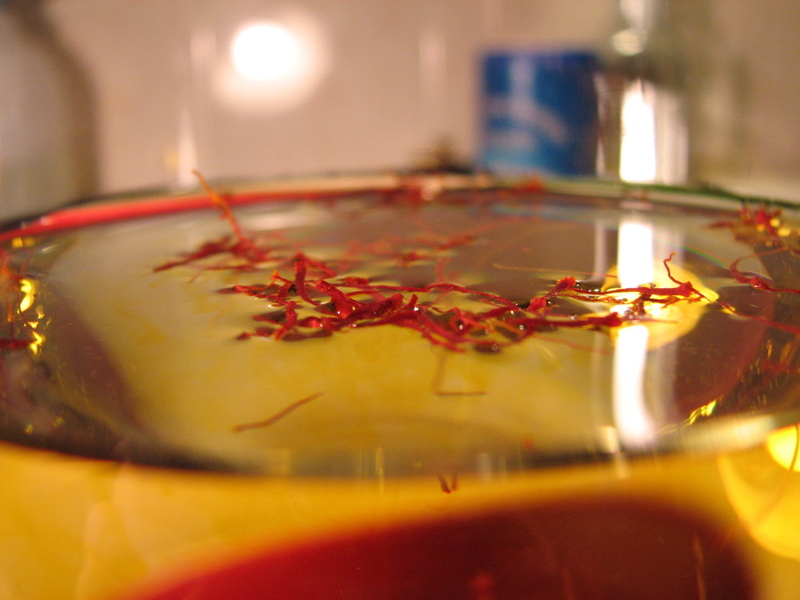 2 wineglasses of Chardonnay
Large pinch of saffron
A handful of roughly chopped parsley
4 8 oz. cod or haddock fillets
8 tablespoons butter, divided into 4 pieces
1 bunch scallions, trimmed and finely sliced
2 large handfuls of mussels, bearded and cleaned (about 1 1/2 to 2 pounds)
Adapted from Jamie Oliver's Jamie's Kitchen
Preheat the oven to 475 with a shallow baking dish or roasting pan large enough to hold all the ingredients inside. Put the wine into a bowl and add the saffron, letting it infuse for five minutes or so. In the meantime, chop your parsley, slice your scallions, debeard your mussels, portion your butter. In other words, get your mise-en-place ready.
Here's the hard part. Take a 12-inch square piece of wax paper or tin foil and fold it in half.  Next, fold the two sides like an accordion, creasing very tightly. It's very important that no liquid can escape the bag, so  you must have a seal.   You could staple the sides if you like.  In goes the parsley, and the fish on top
of that.  Put a piece of butter on the fillet, then pack the rest of the bag with mussels.  Toss in some scallions.  Repeat with the other bags.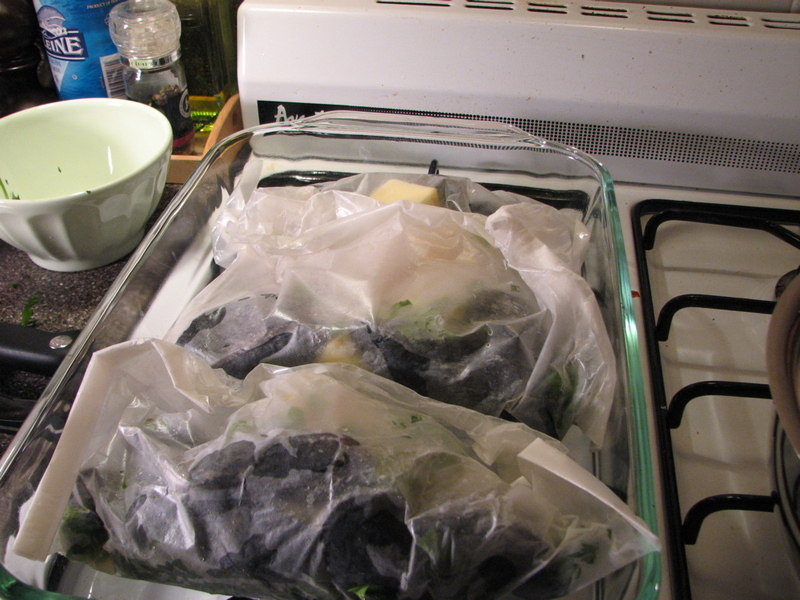 Once your baking dish is preheated in the oven, pull it out.  Now carefully pour in equal amounts of wine with saffron into each bag, taking care not to spill.  Seal the last side of the bag and place into the preheated dish--it should steam a little bit.
Bake for 8 minutes or so, then remove and allow to finish cooking outside the oven for another 2 or 3 minutes.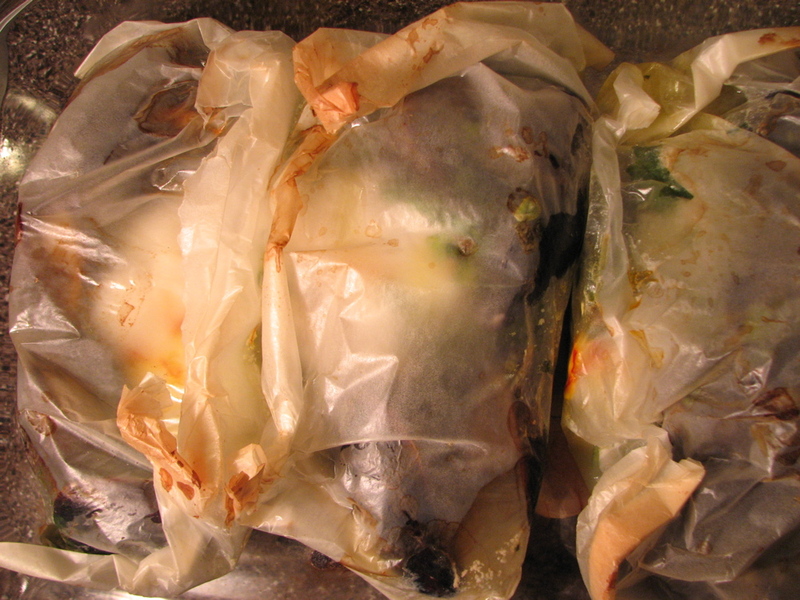 Either open the bags and slide the results into 4 shallow bowls, or put the bags right into bowls and allow people to tear open the bags themselves (the aromas that are released when this happens are  heavenly).  Serve with something green like a salad, perhaps.  We quickly boiled some string beans and tossed with olive oil, white wine vinegar, and leftover parsley and scallions from the fish.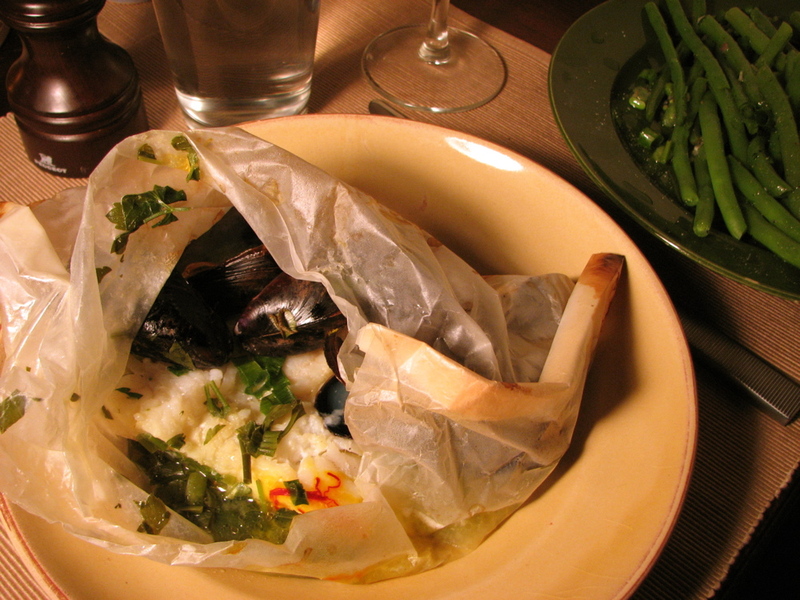 Cod,
Fish,
Jamie Oliver,
Mussels,
Seafood,
White Wine,
Wine