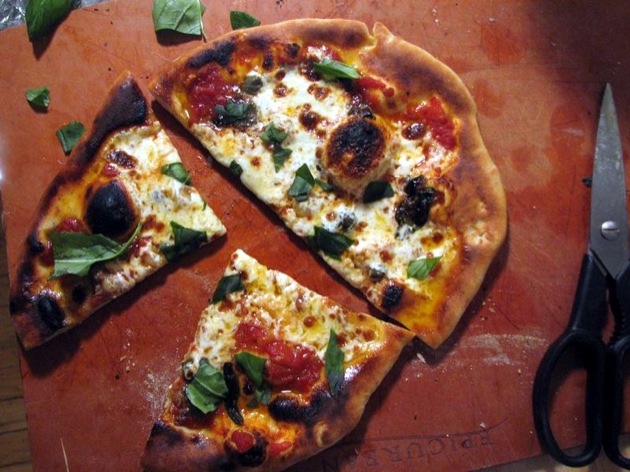 What's more fun than a make-your-own-pizza party?  Not much.  My friend Austin was in town from Providence, Rhode Island, where he teaches Spanish, Latin, and mythology.  Often when we get together it's an excuse to do a lot of cooking.  Throughout college he would make Nick and me ridiculously good brunches with fresh chorizo, eggs, and breakfast potatoes, and occasionally expose us to his Texas chili, which has an entire cup of chili powder, a can of chipotle peppers, and some jalapenos for freshness.  Last time, however, when Elin and I were visiting Providence, we made carnitas out of a pork shoulder, which ended up being the saltiest, most unpalatable shreds of meat that have ever passed through my lips (we confused the very coarse blocks of sea salt with the finely ground stuff).  This time, we planned to redeem ourselves.
By this time, the pizza broiling is old news: it is without a doubt the greatest way to make thin, crispy pizzas at home, in the style of a real pizzerias where the ovens are upwards of 900 degrees.  By blasting an upside-down cast iron skillet or a baking stone with the broiler, then cooking the pizza on top of it inches from the flame, extreme high temperatures are mimicked and chewy, charred crust is possible.  Since my cast iron skillet is currently neglected with a rusty bottom, I went the pizza stone route.
We also decided to make our own dough, rather than getting it from a pizzeria.  Along with a recipe, Jamie Oliver's book Jamie's Italy provided a number of inspired ideas for toppings beyond the usuals.  We ended up with a smattering of ideas and a loose outline of what would go where.
This isn't dinner party food, because it involves a lot of standing around and teamwork and eating one small pizza at a time, just when it gets out of the oven, right off a cutting board.  The size of the broiler limits the size of the pie.  But if you're with a few people who care as much as you do about really fantastic pizza at home, then this is one of the more fun ways to spend an evening.
Part 1: Pizza Dough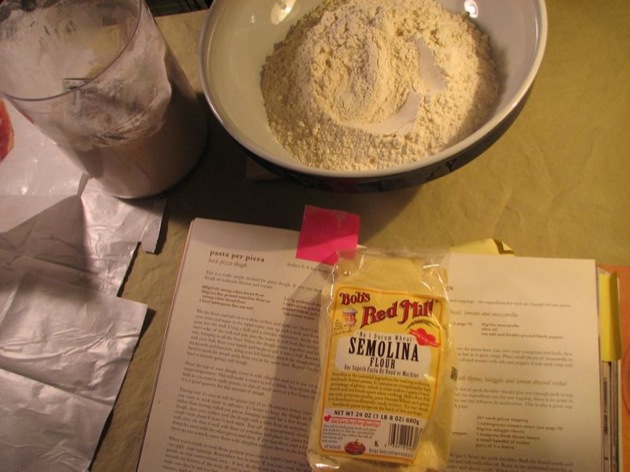 I was very surprised how simple and quick the pizza dough was to make--just a few minutes, really, plus a little kneading.  The best dough, apparently, is a combination of regular good bread flour and a little semolina flour, the more yellow-colored, very fine variety that is often used for making pasta.  It has a very high gluten content, which ends up giving the dough more elasticity.  A little yeast is dissolved in tepid water with sugar, then poured into the mixed flours with salt, and worked slowly in.  At first it looks like hot breakfast cereal, then it comes to resemble a shaggy ball.  A quick ten minutes of kneading (you could use a mixer for this), and the dough becomes springy and soft.  Then it rests for 15 minutes while you prepare the other ingredients.
I'm sure there are other, more complex doughs out there, but I found the result to be quite good.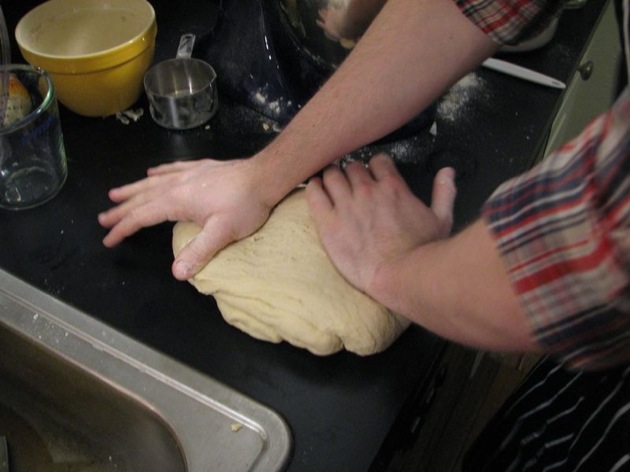 1 3/4 pounds strong white bread flour
1/2 pound fine semolina flour (or more white flour)
1 tablespoon fine sea salt
2 packets dried yeast
1 tablespoon sugar
2 cups lukewarm water
Mix the flours together with the salt and pile the mixture on a large, clean working surface.  Mix the yeast, water, and sugar and let stand a few minutes (the water should feel neither warm nor cold to your finger).  Create a well in the middle of the pile, add the water, then begin incorporating the flour into it.  When you can't stir easily with the fork, switch to hands until you have a shaggy ball.  Knead by hand, or in a stand mixer, for about ten minutes.  Cover with saran wrap and allow to rest for 15 minutes.
Part II: Pizzas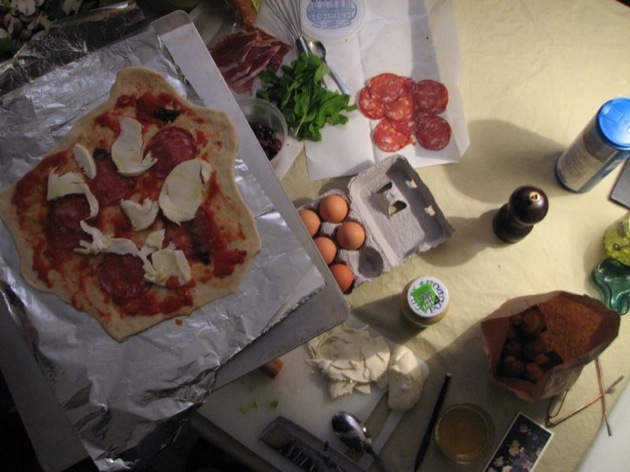 For detailed instructions about the broiler setup, consult these earlier posts .  I ended up putting my rack at the very top under the broiler at the top of my oven, with the pizza stone directly under it. The broiler was on for a long time, throughout the evening, over 2 hours probably.  I wanted everything to be as hot as possible at all times.  Extreme heat is the secret to crispy crust that's not dried out.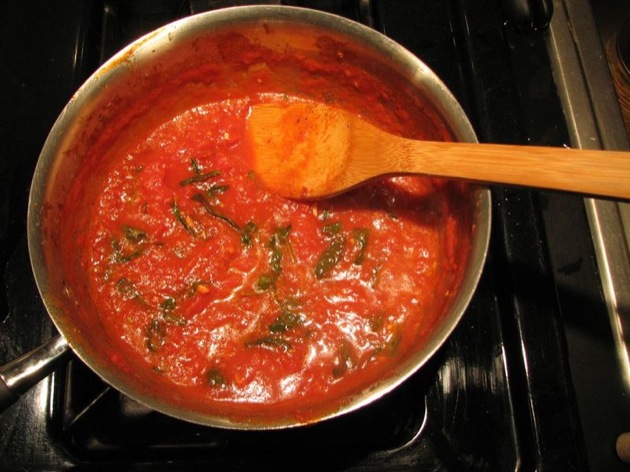 Our sauce was simply a little olive oil, 2 cloves of minced garlic sauteed in it, then a 28 ounce can of whole tomatoes and a handful of basil leaves added.  It simmered for the time it took us to make the
dough.
To make a pizza, take a small amount of dough (less than you think you'll need), and begin rolling it flat.  Once it's halfway there, pick it up and start to stretch it carefully by hand.  A good technique is to hold on to the edges where it's thicker and let the dough hang.  It will stretch out on its own due to the weight.
After some very mangled pizzas (I don't have a pizza peel , an essential item I'm learning), we finally had luck with a piece of floured cardboard to slide the pizzas onto the stone.  The first pizza was a spicy sopresetta, fresh mozzarella, sauce, olive oil, with some fresh basil and grated Parmesan post-cooking.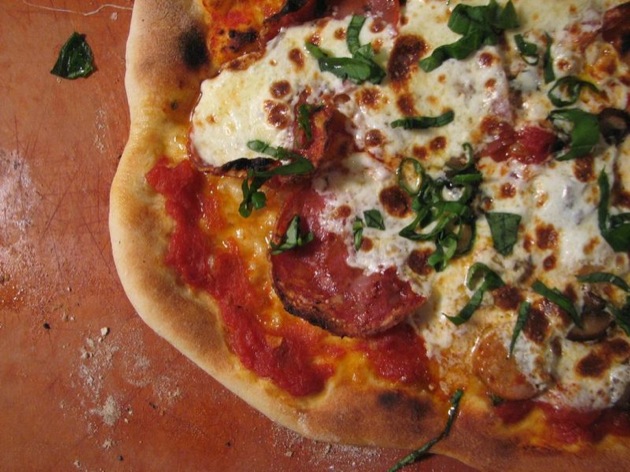 Our second was a little sauteed mushroom with sliced pre-cooked chicken sausage, and fresh arugula on top after it came out of the oven.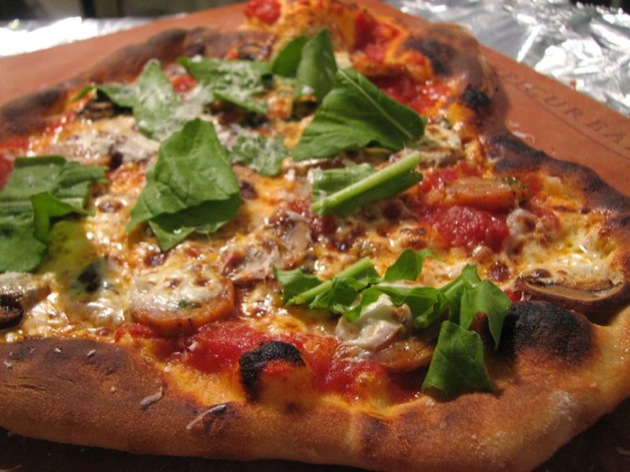 The third was from Jamie Oliver's cookbook--sauce, mozzarella, jarred artichoke hearts, chopped olives, thinly sliced proscuitto, and an egg cracked on top.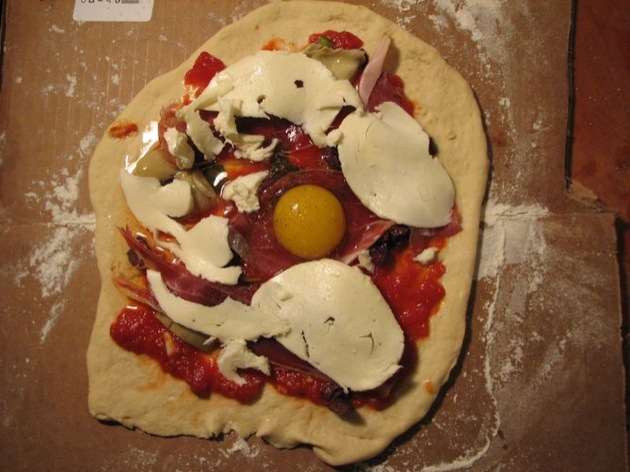 It came out of the oven a total mess--the egg white had kind of covered everything and taken over.  It was tasty, but I wouldn't make it again.
I was actually inspired by the failure to make something similar, but different: what about a carbonara pizza ?  No tomato sauce, just olive oil, mozzarella, loads of grated Parmesan, and sauteed bacon (or guanciale ) strips.  Then right when it came out of the oven, an egg yolk would be dropped on top and stirred around.  This could be genius, and it's on my list of things to do soon.
The rest of the night we cycled through these options with a little tinkering here and there.  My favorite was the spicy soppresseta, which picked up sharper flavors of the tomato and was a nice foil to creamy
mozzarella and soft basil.
After hours of abuse, while we were making our very last pizza, disaster struck: my pizza stone cracked in half.  I'm not surprised, the thing was basically getting re-kilned with hot-cold temperature changes constantly.  But it was sad nonetheless.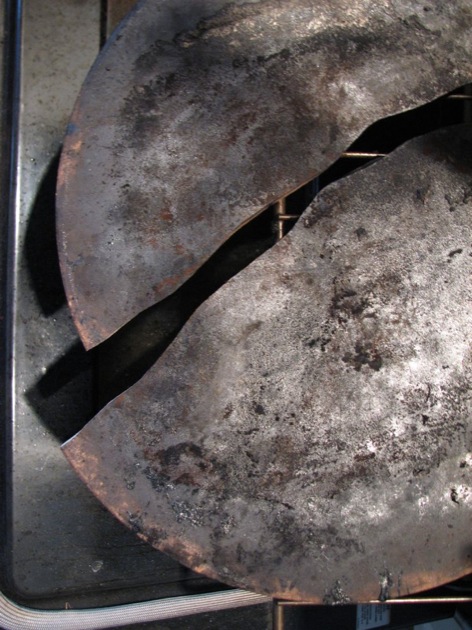 I've heard it's possible to walk into a Home Depot and buy unglossed tiles for very cheap that can be used as baking stones.  Anyone have any intelligence on this rumor?
Go forth and make pizzas!
Artichoke,
Cheese,
Dough,
Mozzarella,
Olives,
Parmesan,
Pizza,
Pizza,
Tomatoes