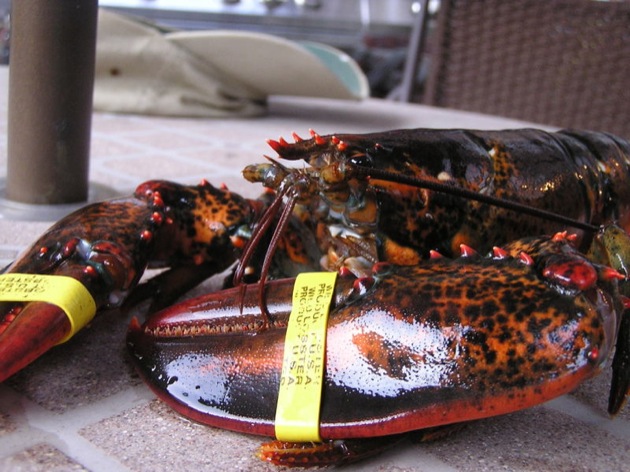 We christened him Kurt and set about trying in vain to keep him alive.  The ride back from Fairway was not long, but we needed some wine, and the car was quite stuffy and hot.  Blake, strangely, began developing an affection for the creature, and cared for him so deeply he wouldn't leave him in the car alone. So we carried him into our liquor store, LeNell's , and asked the owners what wine would best go with him.  And with two bottles of wine, a lobster, and some more ingredients, we set off to boil him before he died , replete with David Foster Wallace-esque guilt .
It's hard to explain why exactly we were cooking a lobster in the first place.  We usually know what we're getting ourselves into.  Blake and I can spend a good amount of our evening with our noses buried in a cookbooks, discarding uninspiring ones across the apartment on tables, chairs, and the floor, before we call out a recipe to our general liking, quickly write it down, and set out, commando-style, to secure all the elements needed to create the feast from our friendly neighborhood grocer.
Last Tuesday we walked into Fairway without the slightest idea except that we had a grill and we wanted to use it.  Blake wanted something to do with jerk pork chops.  We sauntered down the long meat counter looking for a nice cut, maybe some vegetables, nothing fancy.  It was time to revel in the pleasures of the summer, to drink chilled rosé outside, and step away from our frying pans and heat filled apartment for the night.
We quickly found the sale of the century was happening with sirloin, which we snagged for around $5 a pound (that sale ended on Friday, but serendipitously, this week's sale is on fillet mignon and lobster), and took home a monster fillet.  This thing was over two pounds.  But then our inspiration fell.  What could we do besides just plop it on the grill and chow down on huge portions of it?  Should we try to do something different with it?  Is eating an enormous steak really that boring?
Blake looked for rubs, I looked for vegetables, we met in the middle of the store with heads down unsure about what to do next.  There we stood next to the fish section and I casually, and without thinking much about it, asked, "What's in surf and turf exactly?"
I originally thought of shrimp, but before long both of our heads were around the lobster tank poking the plexiglass, and wandering what on earth we had gotten ourselves into.  Sure, we'd chopped up whole chickens and massacred pounds of mussels , but here was a fully functional member of the animal kingdom, and had we taken the yellow bands off his huge claws, he would have defended himself.  Which, oddly enough, made killing him seem that much more legitimate.
This was our first lobster, and if it weren't for the Joy of Cooking, we would have been completely lost.  I'm still not convinced we knew exactly what was going on and we might have undercooked the meat a little.  As well, one lobster isn't near enough for three people, but that's where the 2 and half pounds of steak came in real handy.
Surf and Turf might be the kitschiest meal this side of your local corporate steakhouse, but it was quite fun, and quite cheap in this case.  After the $5.99/lb sirloin, everything just happened so fast, and there was little time to "consider the lobster."
Surf and Turf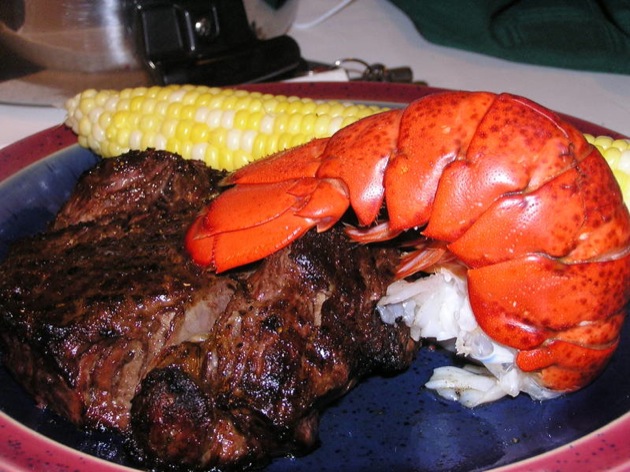 1 Lobster
1 huge piece of sirloin (2 pounds or more)
4 ears of corn
Salt and pepper
butter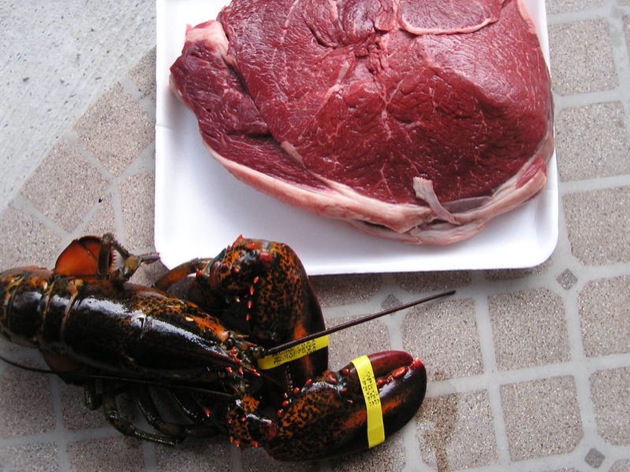 Season the steak with salt and pepper, about two teaspoons of salt and one teaspoon of pepper.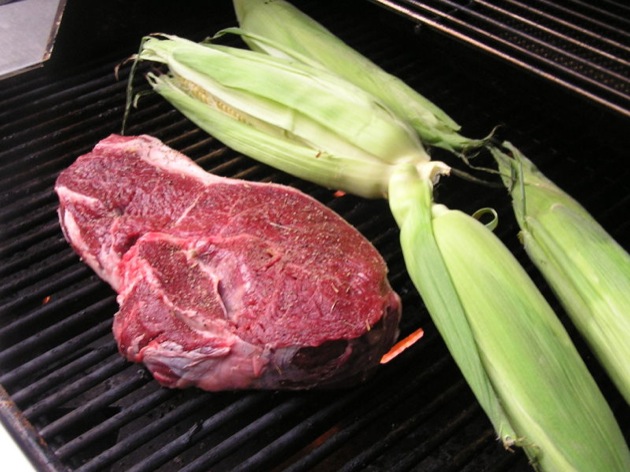 Turn the grill up to medium high and let it warm up for about 10 minutes.  Place the corn on first and cook for about 8-10 minutes on each half.  Cook the steak to medium, about 5 minutes per side.  This all depends on the size of the steaks, and what doneness is to your liking.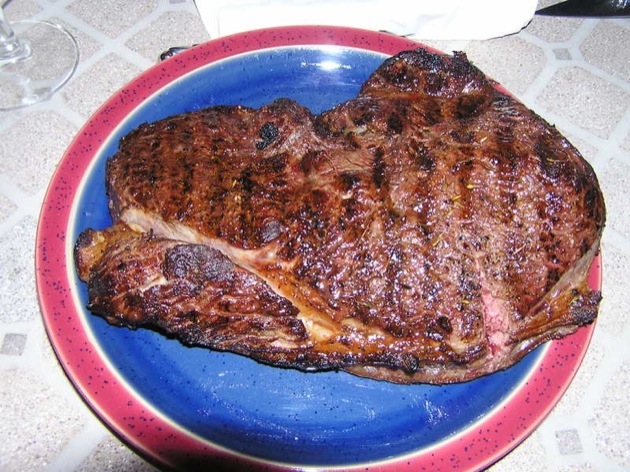 Now is time for the main show.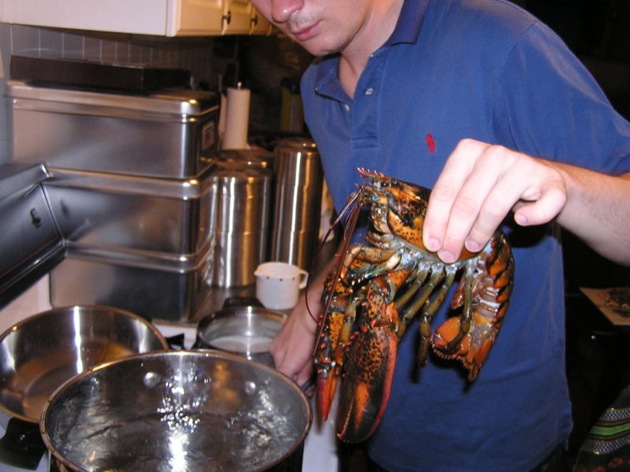 Bring a large pot of water to boil and grab Kurt.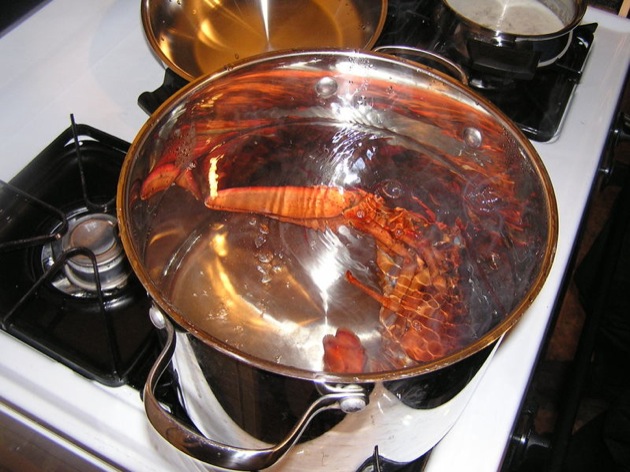 Toss him in the pot.  The Joy of Cooking says to cook the lobster for 3 minutes per pound, and since Kurt was just a little over 1.5 pounds, was around 4-5 minutes.  Researching this further, some sites suggest cooking it a full ten minutes more.  The truth is probably buried somewhere in there.  If you've cooked one before, it would be helpful to know.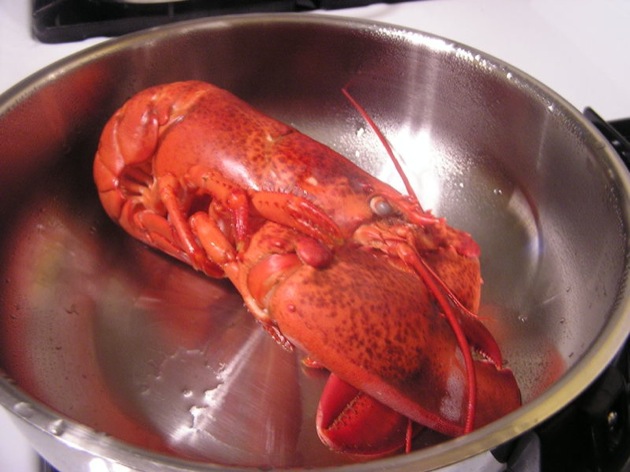 Remove him from the water and let him sit for a few minutes until you can pick him up without burning your hand.
Removing the meat from lobster sounds like a terribly complex ordeal, and many publications, including the Joy of Cooking, will tell you to make precise incisions with sharp knives.  While Blake and I were busily studying the diagrams, Jason simply grabed the lobster, pulled off the arms, the tail, and got rid of the body.
I'm sure we might have wasted an ounce meat hidden inside the stomach cavity, but this was quick and easy and we were sitting down to eat before we probably would have made the first insision.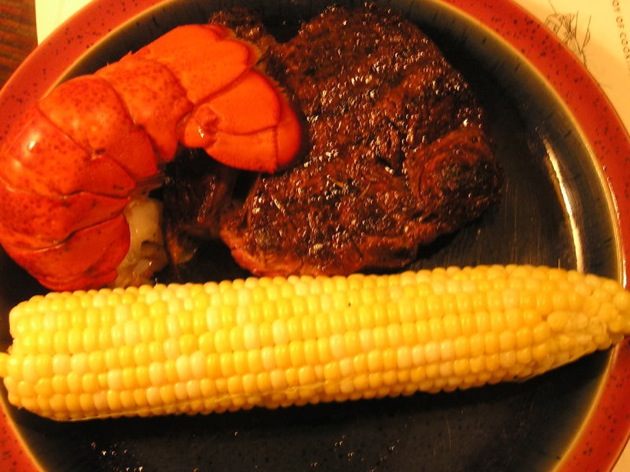 Beef,
Brooklyn,
Corn,
Lobster,
Red Hook,
Sirloin,
Steak,
Uncategorized