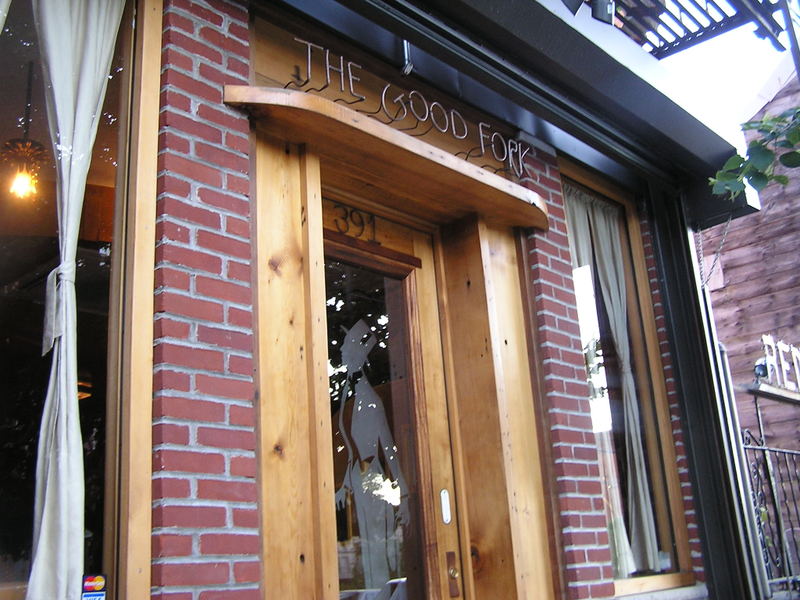 I was out for a "guys night," which is what happens when your girlfriend goes out with her friends and you're expected to go out with exact same people you always do.  But when your friends are a fellow paupered chef and Jason, guys night doesn't quite mean poker and beer.  Instead, we all met at the little restaurant that was getting some big press: the Good Fork. There is a top-hatted fellow outlined in the door, which is probably the last sort of person you'll ever see carousing around inside this new Red Hook stop.  There is no faint trace of cigar smoke blackened into the ceiling or draped into the upholstery.  The Good Fork is a tad too new for that, nor is it exactly a haunt for pompous pricks--though I'm sure at some point in the history of Brooklyn a person donning a top hat has strutted around Van Brunt Street in Red Hook, but not many can be seen now.  And much like the door and our ridiculous guys night, nothing at the Good Fork makes complete sense.  And I was okay with that. The inside resembles a ship that's been capsized and left as is.  Beautiful wood arches reach toward the center of the main dinning room, and cover nearly all available walls (The bathroom is either unnecessarily ridiculous, or one of the single greatest engineering feats done to a bathroom door). And what about the food?  It's as schizophrenic as the surroundings.  They have a burger (apparently a good one), gumbo, Korean Steak and Eggs, risotto, dumplings, and hot wings all on the same menu, and it's all high class.  Deciding what food you want here sets your mind off in disparate directions and is akin to choosing whether you prefer the Beatles or beautiful women.  You'll want it all. So it feels like a boat, there are dandies on the door, and it's in Red Hook, so we did what any sensible person would do at a confusing moment like this and ordered some cocktails.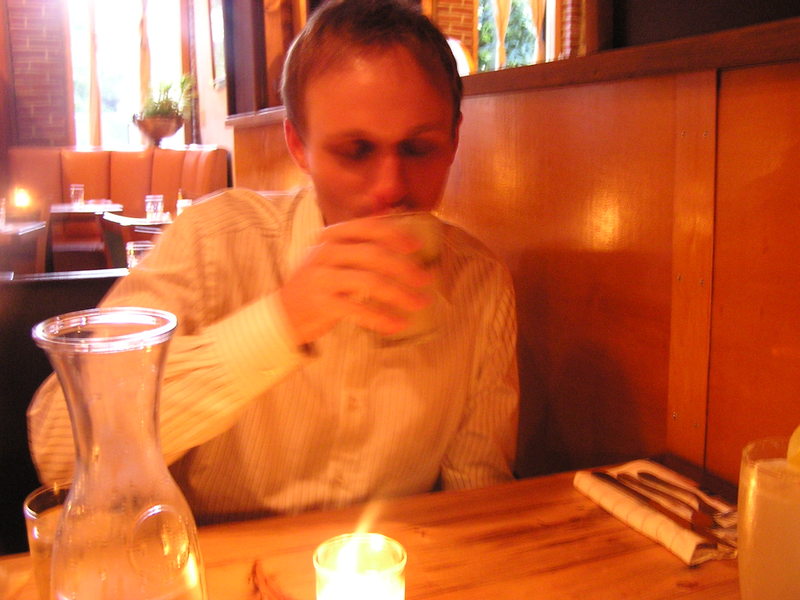 They were rather stiff, and consequently drunk very slowly, which gave us plenty of time to pore over the menu again and again. We decided to split a couple appetizers.  Blake and I picked out the pork and chive dumplings, which we'd both read about in the numerous reviews about this place.  Better than any dumplings I've been shoveling down at Rickshaw (or even Chinatown for that matter), these were outstanding.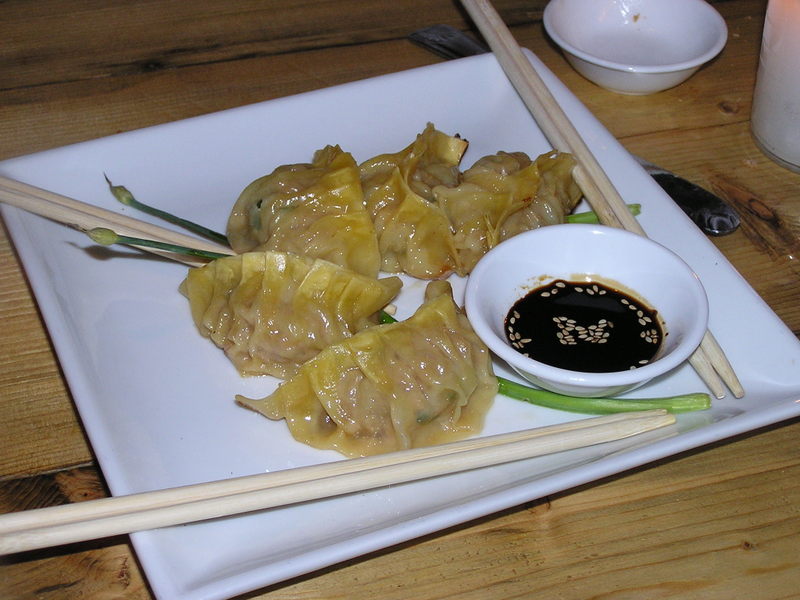 Jason picked the crab cake with chili aioli, radish sprouts, endives.  The meat was fresh and flavorful with a nice little spicy kick, and absolutely chock-full of crab meat.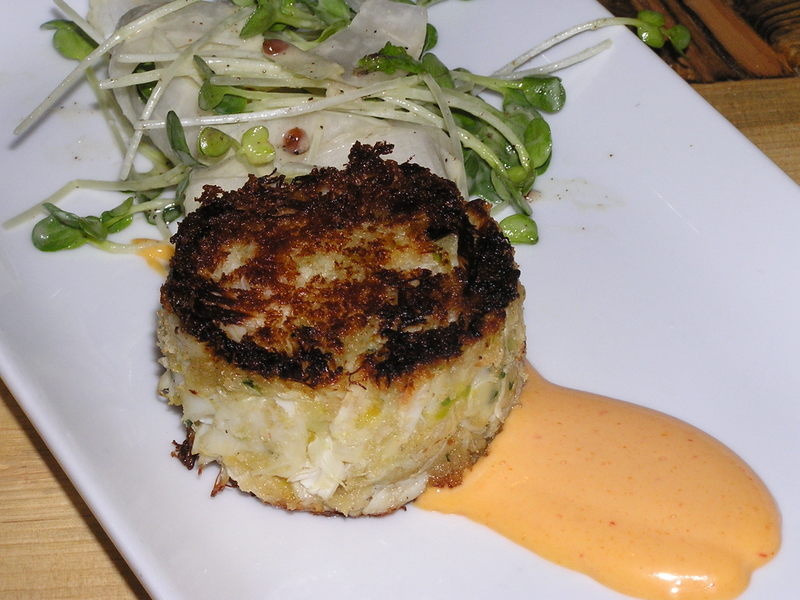 So we'd dispensed with chopsticks and forks and moved on to the the equally hard to choose entrees.  Blake decided on the special, grilled shrimp over risotto rice with peas and other vegetables, which was perfect for the hot summer day.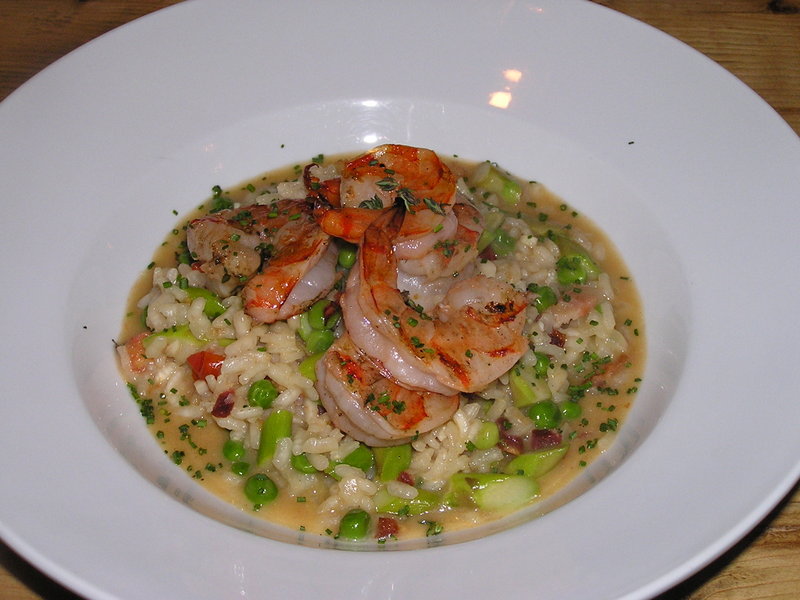 Jason was excited about the scallops the moment he saw them on the menu, and settled on the pan-seared scallops with shrimp scallion pancakes, asparagus, and soy vinaigrette.  This was also a perfect hot summer dish.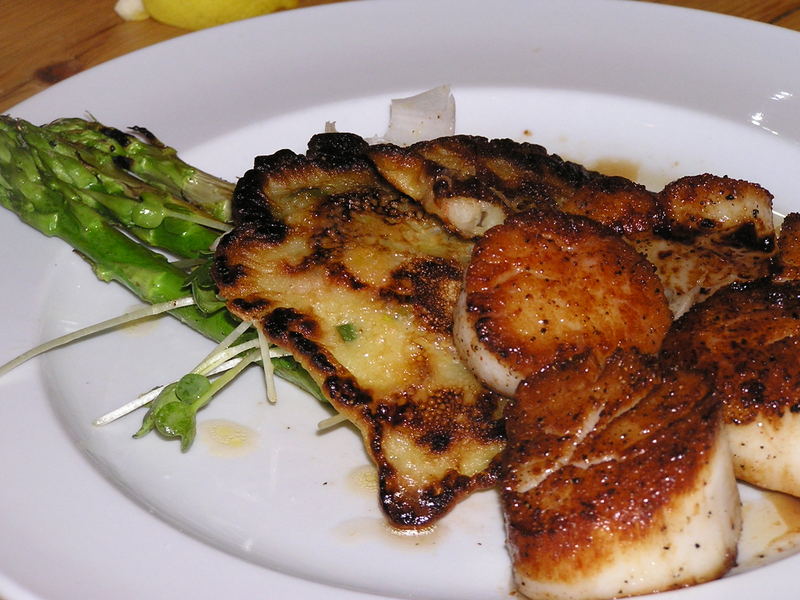 I picked the Korean style Steak and Eggs with kimchi rice, because of the many rave reviews that the dish had received and my own lustful desire for kimchi.  I'd always had the pickled substance amongst Korean style dishes, noodles, or cold as a side.  But this laid underneath the steak and seeped in the juices when I started cutting.  Needless to say, this wasn't your typical greasy steak and eggs.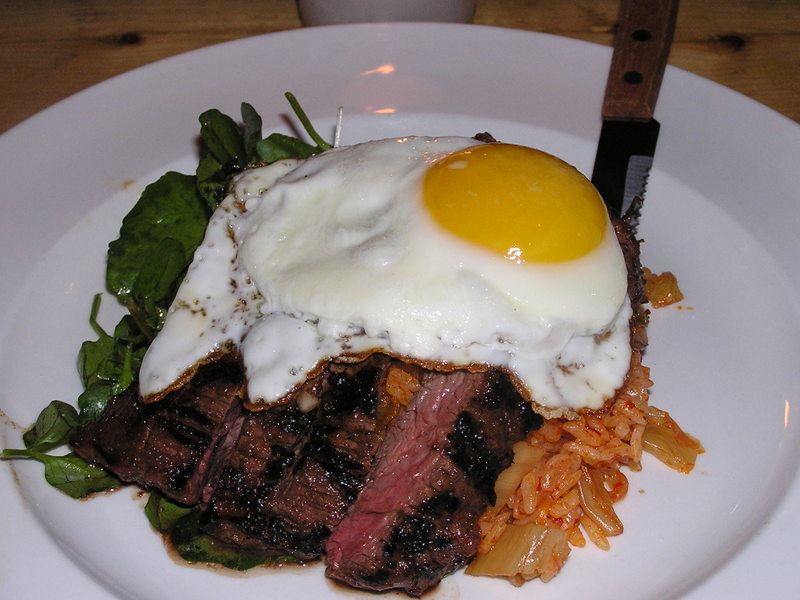 After the excellent mains done we moved on to dessert.  Luckily, the Good Fork knows when to keep it simple.  There were only three to choose from--flourless chocolate cake, an apple tart, and key lime pie--so we decided on the lot and passed each one around.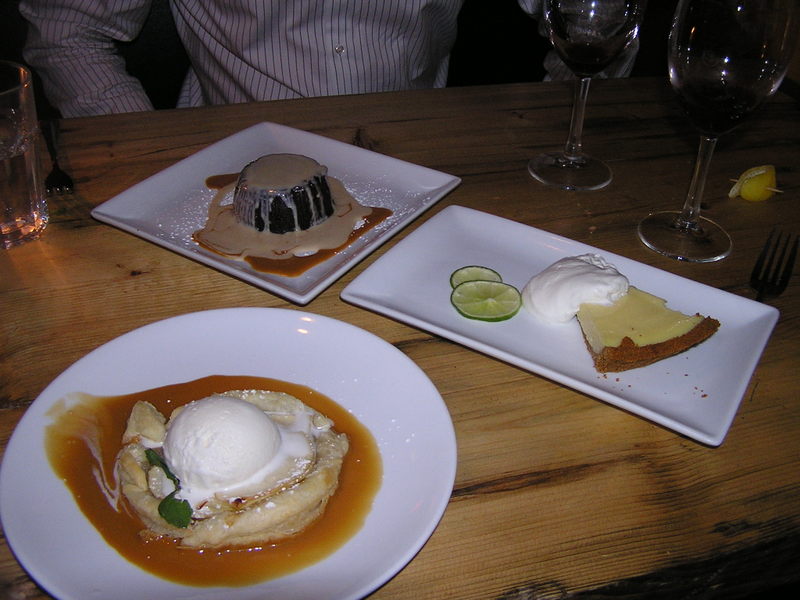 The Good Fork 391 Van Brunt Street Red Hook, Brooklyn (718) 643-6636.
Brooklyn,
Crab,
Crab Cake,
Dumplings,
Kimchi,
Red Hook,
Restaurants,
Scallops,
Shrimp,
Skirt Steak