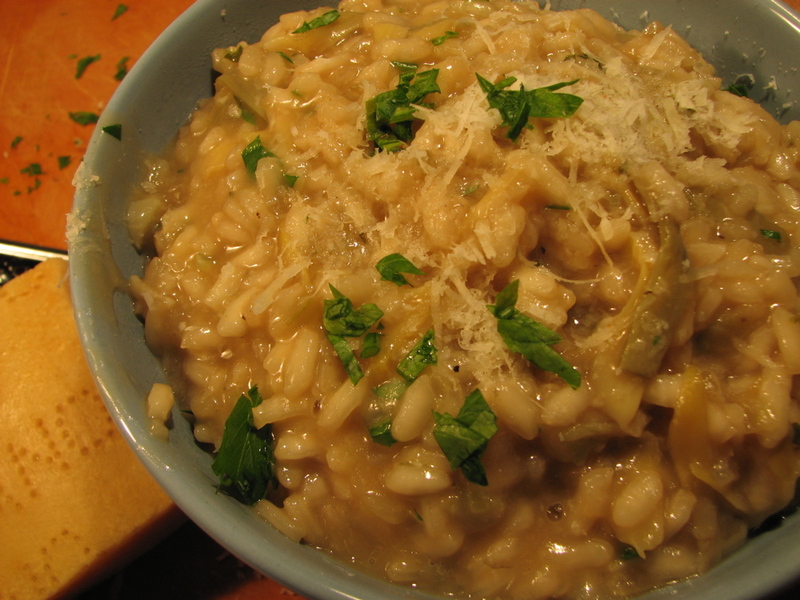 On Sunday night, I was subconsciously looking for a kind of willing-the-weather-to-change activity.  After a cool week of light sweaters and no sweating on the subway platform, Saturday and Sunday heralded the return of muggy weather, which was very unwelcome.  The threat of rain provided sufficient justification for me to hole up and read and watch movies all weekend (save a trip to Bensonhurst to nab some homemade ravioli and salamis)--in retrospect, it's possible that the weather wasn't so bad--since I barely left the house.  But by Sunday afternoon, I was stuffy and stir-crazy. Flipping through cookbook after cookbook, risotto after risotto caught my eye.  I was looking for something straightforward, comforting, a bit gourmet, autumn ingredients.  But I lacked the ambition to forage for squash, pancetta and chestnuts, as one Jamie Oliver project required (but it's going to happen soon enough, because the recipe looks and sounds ridiculously fantastic).  Then, Cucina Rustica , a book I keep returning to for these simple Italian combinations.  Something which actually called for frozen artichoke hearts, meaning I could count on grabbing those, beef broth, and parsley at the less-than-artisinal supermarket that's only a few blocks away.  The rest was on hand in the cabinets. I'm not sure how I feel about this recipe--it's very subtle and at first it tastes rather like a plain risotto.  Fresh, unfrozen artichokes would take it to another level, I'm certain, but that's also a world of effort, not to mention expense (speaking of, why are jarred/frozen artichokes so cheap?).  I've found with risotto that it tastes better once you let it cool off a little, and that was true in this instance. But the risotto technique mystique is really not so hard, as we've shown before .  Every recipe I read mentioned something about Americans' fear of risotto, our respect and admiration of it from a safe distance, the way we hesitate and get scared that we'll mess it up.  And every recipe said the Italians feel the opposite--risotto is an easy day. They can keep the heat on low and go do chores, hang the laundry, open the shutters, and return when their old-world instincts tells them to stir it around and add another ladle of broth. Risotto is also cheap.  It's a pile of rice.  So go enjoy it and mess up a couple times--the worst case scenario is that it's a little soupy.  It will still taste fine.  And look--the weather has cooled again.  So perhaps this whole thing sort of worked. Beef Broth Risotto with Artichoke Hearts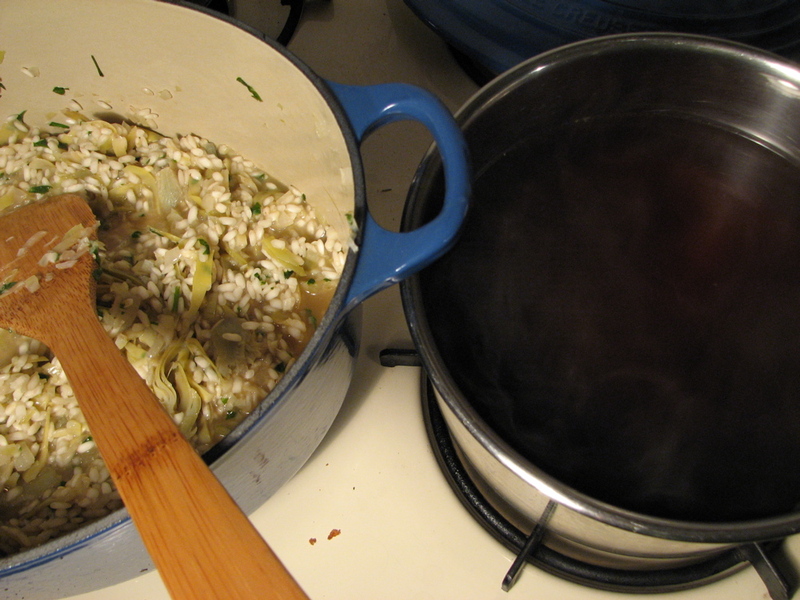 4 tablespoons unsalted butter, divided
3 tablespoons extra-virgin olive oil
1 medium onion, peeled and finely chopped
1 10-ounce package frozen artichoke hearts, defrosted and sliced thin lengthwise
4 garlic cloves, peeled and minced
Small handful chopped Italian flat-leaf parsley
2 cups Arborio rice
1/2 cup dry white wine
3 cups beef broth mixed with 3 cups water
salt and pepper to taste
Parmesan
Adapted from Cucina Rustica .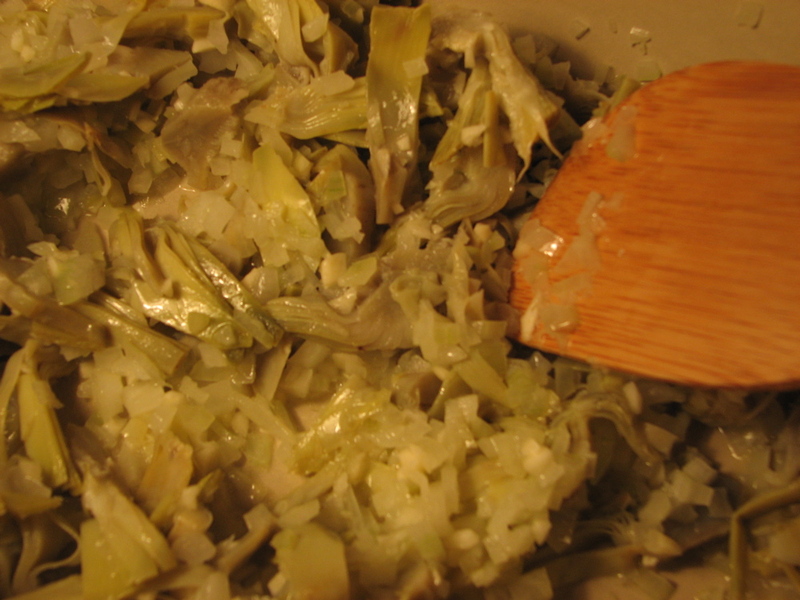 I love recipes that use butter and olive oil, which gives the buttery richness while keeping the smoking point higher.  Melt half the butter and the oil in a heavy pan, then saute the onion over low heat so it wilts but doesn't brown.  At this point, get your beef stock and water hot in a separate saucepan--your risotto-making setup looks like the picture above the ingredients list.  Toss in the sliced artichoke and garlic in with the butter and oil, until the bases of the artichoke, the toughest part, becomes tender (they're already going to be pretty tend since they're pre-cooked and frozen, so it won't take long).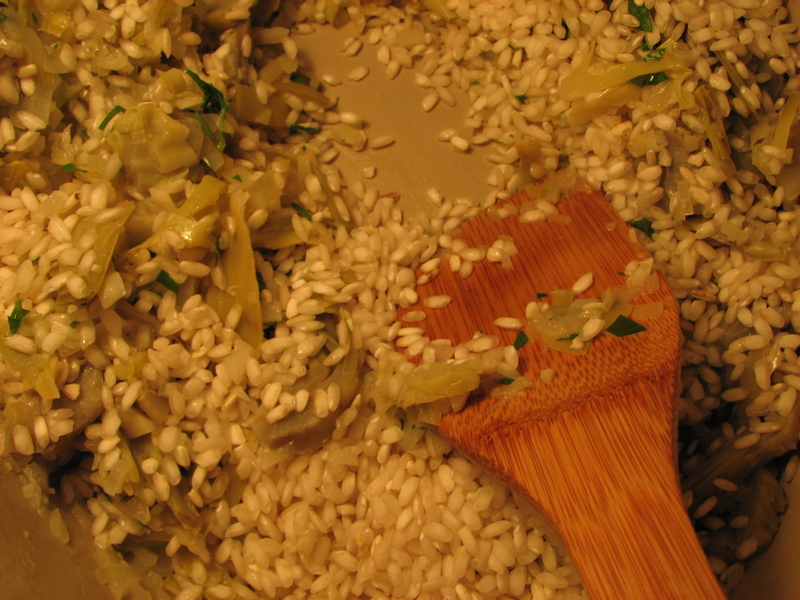 Next, add half the parsley and rice, stirring pretty constantly until the rice begins turning opaque.  While the cookbook recommended sauteing the rice "until it turns opaque and begins to make a clicking sound against the metal of the saucepan," I have no idea what they mean.  So I just did it for a few minutes until the rice had soaked up the moisture and cooking oil.  Next, add the wine and let the rice soak that up, and once it doesn, add a ladle of the warm stock.  Stirring consistently, let the rice absord the stock, waiting until it does so to add more.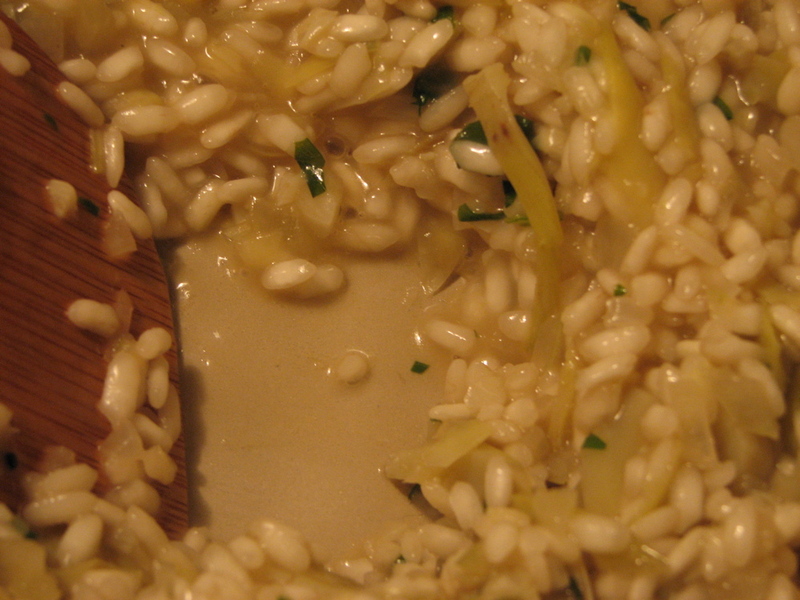 But how do you know what to add more?  Isn't that one of the tough calls in making risotto?  If you add too much you fear the rice will lose definition and become goopy, but too little and--well, I don't know what would happen, but it can't be right.  My rule is this: I drag the wooden spoon across the bottom, and watch for moisture to seep into the clean space I just made.  When it behaves like in the picture above, it's ready for more.  Risotto experts, feel free to berate me in the comments to say that I'm wrong.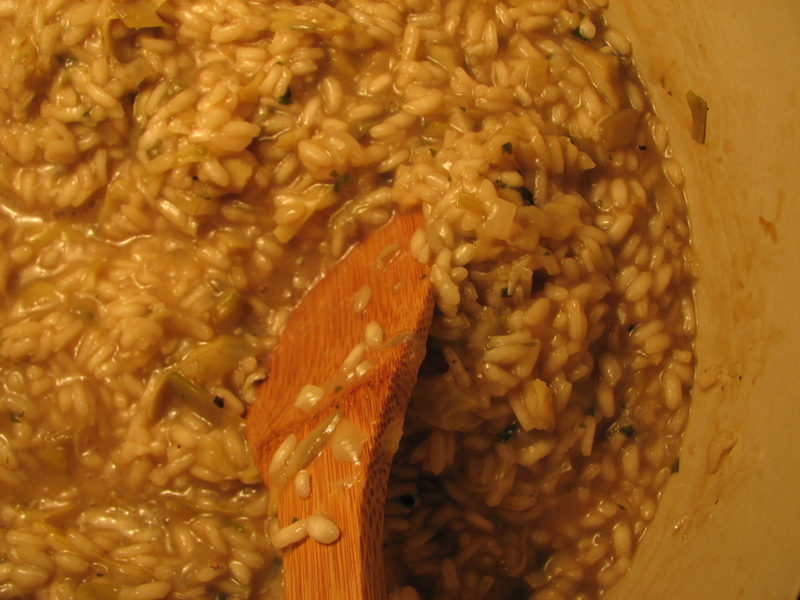 Then you just slowly add the stock, waiting until what you just added is absorbed, until it's gone or until the rice, which you should taste periodically, is done cooking--soft but only just tender, with a slight bite.  If you run really low on stock, add some hot water so you're not left with nothing to add and undercooked rice. When the rice is almost done, throw in the rest of the parsley, butter, and the Parmesan cheese--however much you want.  Stir vigorously, and put the top on the risotto after turning off the heat.  Let it "steep" for 2 minutes, then serve immediatly with more parsley and Parmesan on top.
Artichoke,
Risotto,
Uncategorized,
White Wine,
Wine