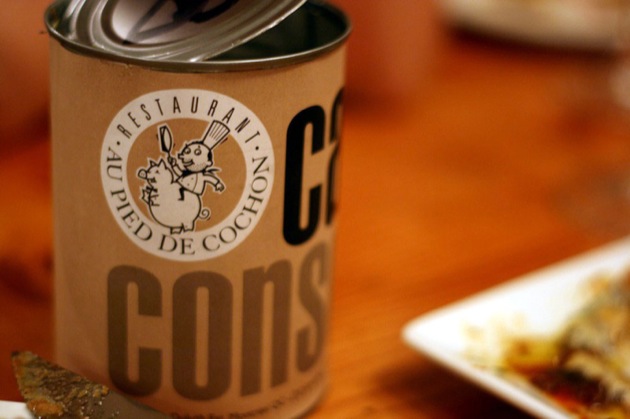 Montreal is famous for a dish called poutine, which we sampled heavily the weekend we visited, in which crispy frites are salted, tossed with pillowy, tender cheese curds, then smothered in rich brown gravy. A dish, suffice it to say, to be eaten with a fork.  At Au Pied de Cochon , Montreal's cult restaurant where gluttony and excess have become signature sins, they include all of those things--but then they top the shimmering pile with a warm lobe of seared, fat-dripping foie gras.  Just for good measure.  Just because they can.
Months ago, Elin and I bought tickets to Montreal with expiring frequent flier miles, and we immediately after booking, asked our lovely and fabulous friend Cat to make reservations for us at Au Pied de Cochon.  Eating at this restaurant was at the top of our list.

We arrived for our reservation right on time--8pm--and the restaurant was packed.  The current occupants of our table were still eating dessert, so we stood near the hostess station, which was just a little corner of the counter fighting for space with trays of seafood on ice and other elements of the raw bar.  We watched the many cooks amble about casually, all wearing what looked like a mechanic's overalls, joking and laughing, sliding things into a blazing wood-fired oven and preparing elephantine sushi rolls that would take at least 4 bites to put away.  Trays of oysters slid by; entire piling platters of seafood on ice were unloaded onto tables, some with a giant beef bone-- probably full of marrow -- stuffed into the center.  We did all that we could to dodge waiters and waitresses who hurried by from every which direction.

We were eventually seated about halfway back in the relatively narrow restaurant, one side of which is taken up by the bar and a large open kitchen with a huge rank of cooks.  Along the opposite side of the restaurant is a wall of mirrors festooned with orb light fixtures; the walls and floor and most everything else seems to be made of wooden planks.  At times, the decor felt like we were in the belly of a boat.  Paper napkin rings were decorated with sketched drawings of a man riding a pig, the restaurant's logo.  Most everyone was wearing jeans and talking loudly.  The restaurant is charmingly, insistently casual.
Though we were told to avoid ordering too much due to the portion size, upon seeing the menu we quickly decided not to make any choices at all, and order everything, taking up with the spirit of the restaurant, which is certainly excess.

For appetizers, we ordered a tomato tart, dressed market greens, poutine, and the cochinalles platter: three different rillettes (duck, chicken, and pork), head cheese, a kind of blood jelly, smoked sausage, pickled egg, venison tongue, and toasts to spread everything on.  For $6.50, it was a remarkable deal; if I lived in Montreal, I would regularly order it at the bar during my lunch hour, for a meal with a glass of white wine or a beer.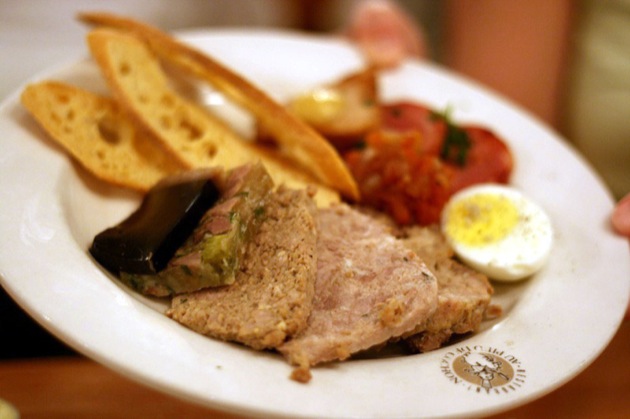 Though we had ordered the regular poutine (at $23, the foie gras poutine was a bit out of reach), the foie gras version showed up at our table.  We explained politely that we had ordered the regular poutine, and sadly watched as the gentleman bringing out the food began to withdraw the plate from our table.
That is, until our actual waiter showed up with the rest of the appetizers, caught wind of the misunderstanding, and quickly grabbed the plate from the bus boy's hands.  He slid it back onto the table and shrugged.  "A gift," he said.  We were ecstatic.  And it turns out, we learned upon seeing the check, that he didn't even charge us for the regular poutine.  This kind of generosity pervades the whole establishment -- beginning with the portions and filtering down to everything else.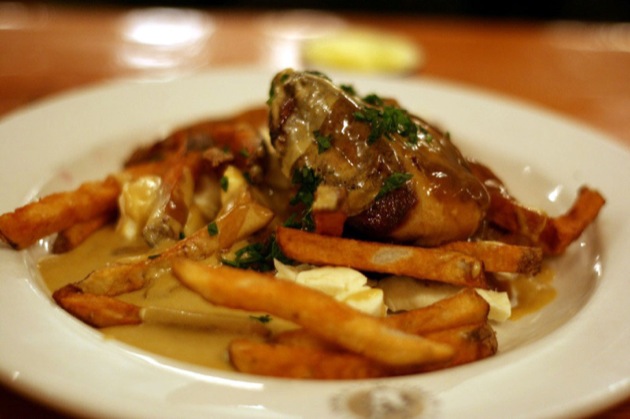 The poutine was among the top ten bites of my life.  (I just realized what fun it would be really fun to write down what those ten bites are--to keep a running list.)
So to be perfectly honest, we were no longer hungry at this point; we were more than halfway full, in fact.  Yet out came the mains, leaving us no time to even begin digesting.

I ordered the restaurant's gimmicky (but in a good way) "Duck in a Can," which is actually cooked in a can, served at your table in said can, then opened in front of you.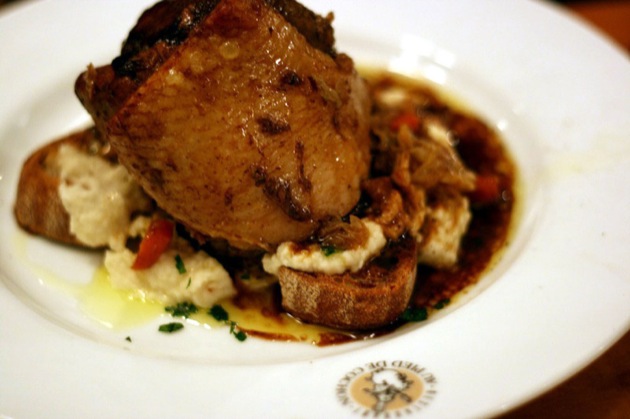 Inside is half a duck breast, which is at the center; they also manage to fit in a lobe a foie gras, roasted garlic, sprigs of thyme, braised cabbage, and venison demi-glace.  The whole thing cooks into a rich concoction, served over mammoth slabs of grilled toast which are covered in a celery root puree.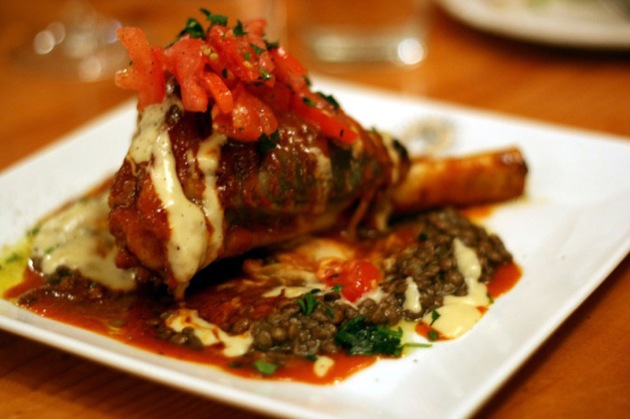 Cat ordered the lamb shank, which is confited--poached slowly, probably in goose or duck fat--and served with lentils and tomatoes.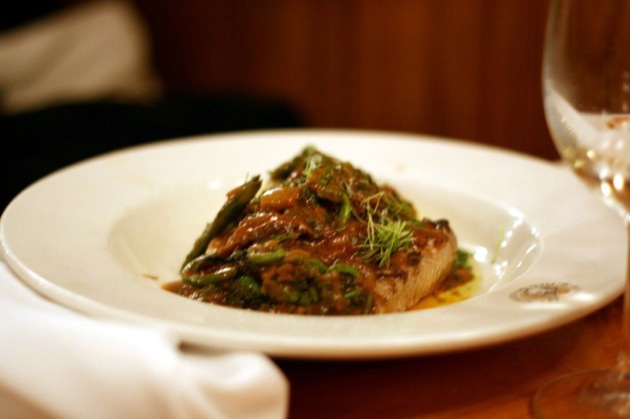 Elin succumbed to the special, a mahi-mahi fillet, which was accompanied with fiddlehead ferns. The fish was fresh and cooked perfectly.
Despite our lack of hunger, we dug in with abandon.  Everything was rich beyond belief, almost overpowering in its intensity.  The flavors were some of the deepest we'd ever tasted.   It's as if the restaurant has spent the last couple decades reducing everything in the kitchen--every sauce, condiment, and stock--until reaching a kind of syrupy ecstasy.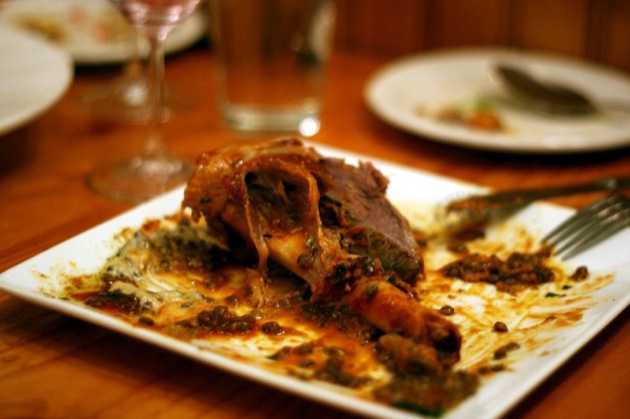 At one point during the meal -- probably when I was unpacking my canned dinner--I remarked to my dining companions that one could easily take all of our main courses, mash and mix them up together, redistribute them amongst our plates, and we might not recognize that anything changed.  At the time, I wasn't being critical, but it does speak to something about Au Pied de Cochon -- our only gentle complaint -- that excessive richness can muddle things.  The restaurant could never be complimented with the words "what a light touch." It was most apparent with the mahi-mahi, a light fish literally smothered by rich brown reduction, when something light and fresh was required.
Somehow, we found ourselves ordering dessert -- albeit a small tarte au citron to share between the three of us.  It was a respectable tart, full of lemon flavor; the torched meringue on top was the highlight.

We left the restaurant with many leftovers, including much of the appetizer plate of rilletes and pates, plus at least half of Cat's lamb shank.  The next evening for dinner we bought cheese and baguette and served it with the pates; the meat from the lamb shank, shredded into a ramekin, made a wonderful topping for bread.
Surprisingly, considering the restaurant's name translates as "Pig's Trotter," we ate little pork; just some rilletes and pates from the appetizer platter.  I consider this an oversight--and a reason to go back again.  What chef Martin Picard actually does with pied de cochon would, I expect, be a revelation over again.
Montreal, we'll see you again soon.
Au Pied de Cochon,
Duck,
Montreal,
Restaurants,
Travel