The best fried fish tacos we've ever had.
Our own version culled from a few different recipes, an emulation of the classic recipe of homemade tortillas, lightly fried tempura-style fish, a dairy-based white sauce, and fresh, crunchy, gently spicy cabbage.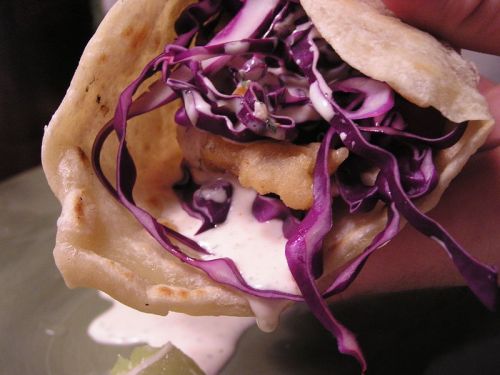 Real Baja fish tacos are nothing like what you're used to eating when it comes to Mexican food.  In fact, true Mexican cuisine might be our biggest missed chance.  Satisfied by the (admittedly tasty) Tex-Mex-style with its copious cheese, sour cream, pile-it-on technique, we are missing a world of subtlety shot through with spicy excitement, flavors that emphasize festivity and celebration, not fullness and indulgence--a rich tradition of indigenous techniques influences by European sensibilities, infused with a penchant for bold flavors.  Myself, I know very little, but Rick Bayless is on my list of people to absorb.  He has a few cookbooks and he's never let us down before.
There couldn't be a better example of anti-TexMex than fish tacos.  First, because they provide us a reference point: we all know what tacos are.  We have a general idea that you take a pile of meat, add fillings, eat.  Baja, the finger-peninsula over the border from California, is famous for its fish version, which has been rapidly spreading to California via the chain restaurants Baja Fresh , La Salsa , and Rubio's .   We set out, with the help of the esteemed Mr. Jeffrey Steingarten (via his essay "Crossing the Line"), to make our own version culled from a few different recipes, an emulation of the classic recipe of homemade tortillas, lightly fried fish, a dairy-based white sauce, and fresh, crunchy, gently spicy cabbage.  It was seriously one of the best things I've ever put my lips around.
PART I: TORTILLAS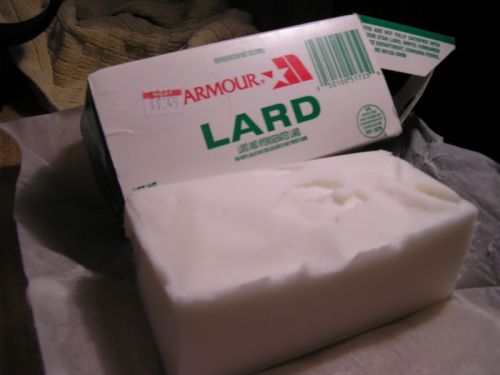 Yep, that's lard.  Kind of looks like a block of butter, except whiter.  Three grocery stores had no idea what to tell me when I asked, sheepishly, if they stocked "lard, please."  Finally I found it in the meat section, refrigerated.  Let it come to a cool room temperature and gather the following ingredients:
½ cup minus 1 tablespoon lard
3 cups flour
1 scant tablespoon salt
1 ¼ cup very warm water
First, you mix the flour and the salt in a mixing bowl, then add the lard in a big chunk.  Working with your hands, break the lard up into smaller and smaller chunks, coating each with flour, until they're around the size of, or a bit larger than, rice grains.  Adding the water in three stages, mix the ingredients into a large ball.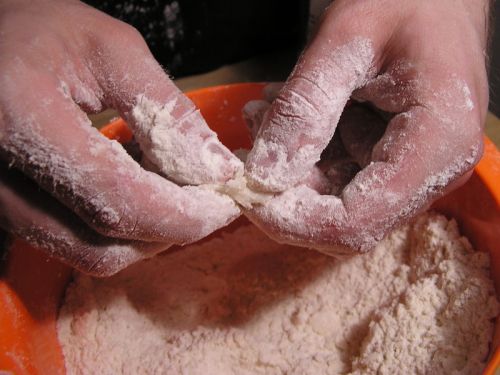 Next, roll the whole batter (if you're short on workspace, like we are, you can divide it in half now) into a long 3-inch-thick cylinder, then cut into pieces.  The idea here is to help you divide the dough into 16 equal balls of dough.  Once you do that, let them rest for around 15 minutes.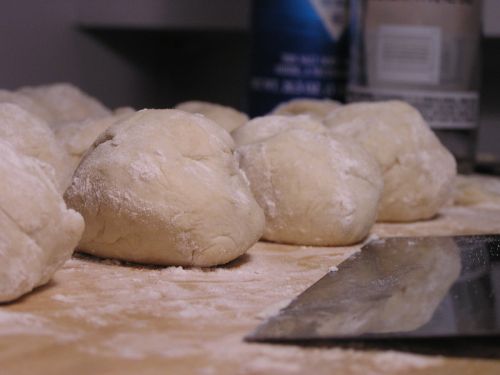 Now you're probably ready to roll out the tortillas.  Using a rolling pin or beer bottle (it's the perfect shape, actually, and less unwieldy than a pin), roll the dough with a little flour, turning 90 degrees and repeating until it makes a 6-inch circle.  You'll have to experiment a bit with the thickness--too thick and it's more like a pita, too thin and it turns into a cracker on the griddle.  Once you roll it out, toss it from palm to palm to coax it into a nice round shape.  Right before you cook it, stretch it gently here and there to even out the thickness.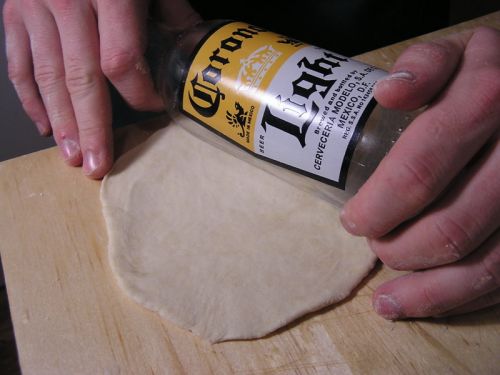 Heat the griddle to medium-low heat and cook for about a minute until bubbles start to form and it starts to become pliable.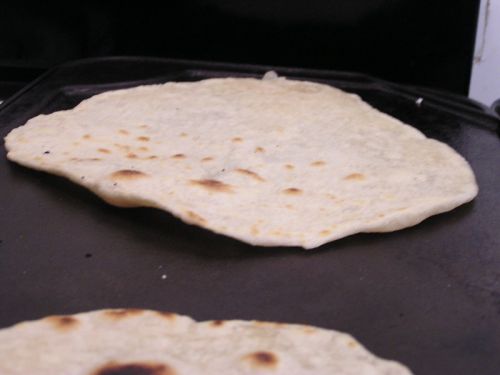 PART II: WHITE SAUCE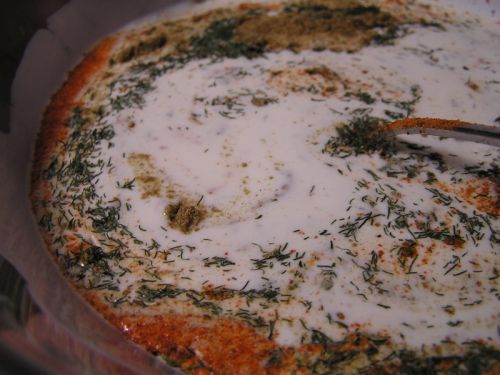 Adapted from "Rich's Spiced Yogurt and Mayo White Sauce," available online .
fresh lime juice
½ cup yogurt
½ mayonnaise
1 habenero chili (use a milder one if you wish)
½ teaspoon - crushed oregano
½ teaspoon - ground cumin
½ teaspoon - dried, crushed dill
½ teaspoon - ground cayenne chile
ground white pepper to taste
First mix the first three ingredients, aiming for a slightly runny consistency.  Dice the chili and finely as possible and add it along with the remaining ingredients.  Watch out for the habeneros, they can knock your tongue for a loop.  You're done.
PART III: THE FISH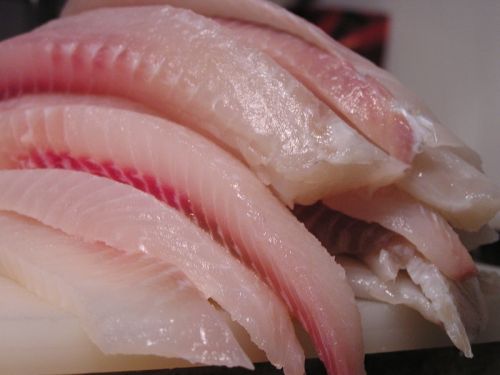 Many suggest using cod; we decided on the somewhat cheaper tilapia since it looked gorgeous at the store and it's a nice manageable size for our purposes.  Regardless, get it into 1-inch wide strips.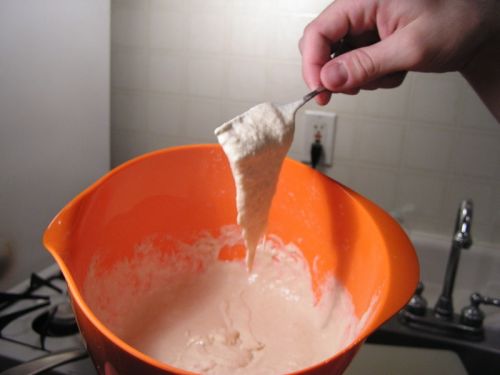 The batter for the fish is very straightforward and quite clever.  From Epicurious.com .
1 cup flour
2 teaspoons salt
1 beer, not dark
Combine flour and salt, then add beer.  Above you can get a sense of the consistency.  It's rather goopy, which was nice since the batter actually stayed on the fish when we fried it.
Get a big pan with a thick lip and put enough oil so it's about an inch thick.  Turn the heat up to medium-high.  All the recipes gave a specific temperature, but we don't have a thermometer, so it was just a guessing game.  Make sure it's not on high or it will start to smoke and all chaos will break out.  Do a test run with one piece of fish, and when it's ready the bubbling of the oil will look like this.
Turn the fish after about a minute.  Look for the color to decide when to remove.  Brown is bad; golden is okay.  What you're looking for is something a little less than golden.  Remove and place on a plate with a paper towel to drain.
Cut up the cabbage.  Slice as thinly as possible so the strands still stay together.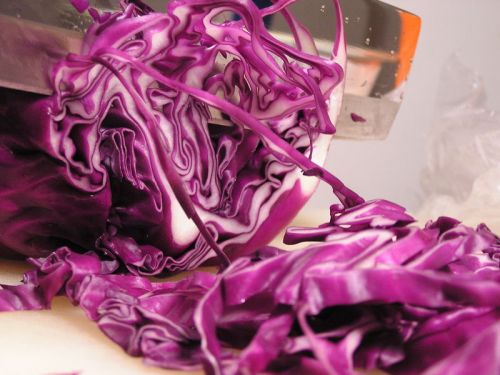 Take your freshly made tortillas and place the freshly fried fish and the cabbage inside and slather it with the sauce.  Squeeze some lime juice over it all.  It will be messy.  It will be spicy.  Chances are, you'll never have tasted a taco quite like this.  Make sure a beer is within arms reach and devour until all is gone.  The last part won't be too hard.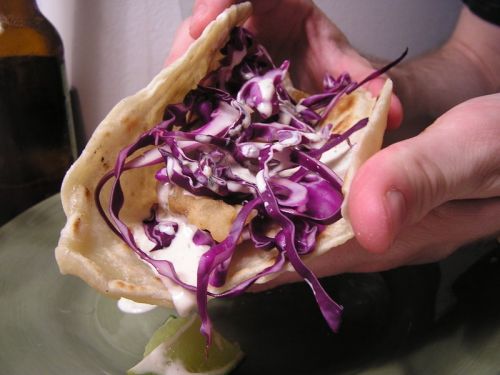 Food,
DIY,
Appetizers,
Baja,
Beer,
Cabbage,
California,
Corn tortilla,
Cuisine of the Southwestern United States,
Cuisine of the Western United States,
Fish,
Flatbreads,
Flour Tortillas,
food,
Food and drink,
Jeffrey Steingarten,
Lard,
Mexican,
Mexican,
Mexican cuisine,
Rick Bayless,
Sandwich,
Seafood,
Taco,
Tacos,
Tempura,
Tortilla