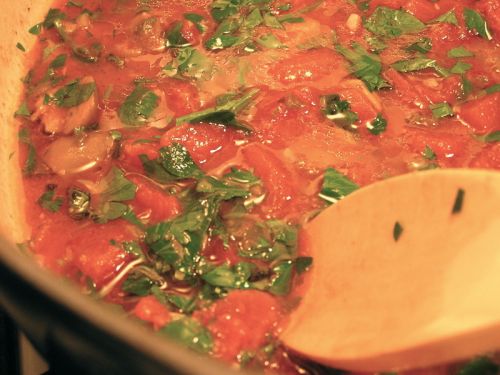 I'm tapping numbers into a junky-looking ATM in the back corner of some random bodega that hugs the BQE.  It's dropping those dollar bills down, one hundred, two hundred, as I get prepared to hand over some dear cash to the broker for a beautiful new apartment in Brooklyn, when I notice that I probably shouldn't probe the machine for any more.
I have thirty dollars.
Which is all well and fine, usually.  I was getting paid nicely in a couple of days, and I'd bum some off my friends.  But of course, Blake is out of town, champagne-loving roommate Max is making a movie upstate, my new Red Hook neighbor Jason is jet-setting across the country, and pizza critic Paul is rolling out the cash at Belmont.
And I'm looking for a feast, a celebratory gala for me and my new apartment, but my girlfriend isn't even in the same state and I've got a bank account that's screaming less about opulent French cuisine with Loire Valley wines, and more about potatoes and rice.  Maybe a little ramen is spoken.
But then King Henry IV started to talk to my broken ears, and I knew that I needed to continue my chicken-a-week challenge no matter what my account said.  I was going to squeeze every penny from that poor chicken's little bones, until every ounce of flavor was being crammed into my stomach and I was well-fed and happy.
So I cut it in half.  White meat for the next day, and dark meat for a rich feast for myself.   I opened up Rick Bayless's Everyday Mexican , and set my eyes on Chicken a la Veracruzana, which looked both cheap and absurdly flavorful.
And it was...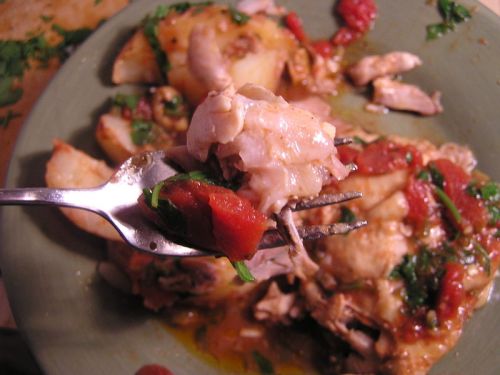 Braising is tough business, as we recently discovered with some wonderful looking short ribs that cooked for the proper time but didn't heed our call to fall off the bone in complete ecstacy.  But we were just inexperienced folk happy with a new toy .  Instead of cooking on the stove, I settled th Le Creuset nicely into the oven at 300 degrees and let it sit for a while. And while I didn't get to peak into the pot until almost midnight, the chicken and the sauce literally become one.  Braising had finally worked.
The flavors that pour out of this pot are complex and thick, with sharp jalapeno mixing with musky cinnamon and tomato.  And if anything, the meat fell off the bone too easily.  I could barely pick the pour thing up before all the meat dropped off back into pot.  It resulted in some messy-looking photographs, but messes are sometimes worth it, especially when they hit so hard.  The spice lingered on my lips and the flavorful meat tickled my stomach.   The
late game addition of parsley and olives really changes the structure of the dish, with the olives adding an earthiness.
If trying to politely fork the poor disseminated bird sounds a little difficult -it certainly is- then it's also perfectly acceptable to shred the chicken, mash the potatoes and have your way with a stack of corn tortillas beside you.  I'll explain this in the second recipe, below.
It's certainly a feast, and one that fed me for two huge meals, all for around $10 bucks.  And I didn't even use the top half of the chicken, which will come in handy during tomorrow's post.
Chicken a la Veracruzana
4 medium red-skin potatoes
3 pounds chicken legs and thighs
1 14-ounce can of diced tomatoes
2 jalapenos
2 cloves of garlic
1 tablespoons Worcestershire sauce
1/8 teaspoon dried thyme
1/4 ground cinnamon
1/4 cup olives
1/4 cup parsley
Serves 4
Adapted from Rick Bayless's Mexican Everyday
Part I
Preheat the oven to 300 degrees.  Cut each potato into 6 wedges.  Place
the legs and thighs in the dutch or an oven safe pot.  Top with
potatoes.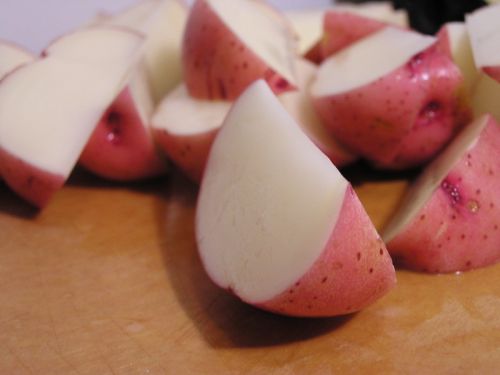 Mix together the tomatoes, jalapenos, garlic, Worcestershire, thyme, cinnamon, and the salt in a medium sized bowl.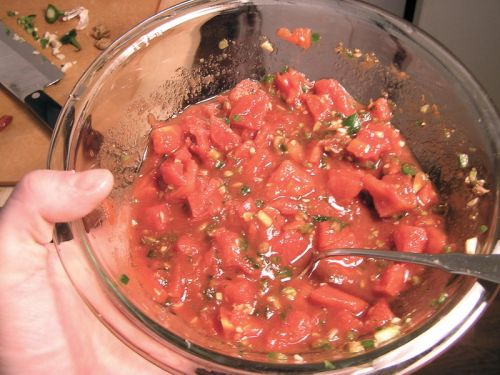 Once everything is mixed together, pour over the chicken and
potatoes.  Place the top on the pot and place in the oven for 2 1/2
hours.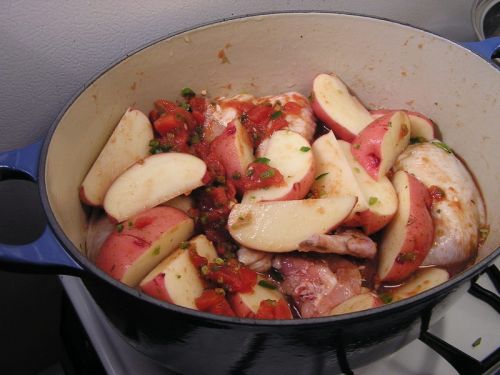 When it's all nice and done remove the chicken and potatoes from the pot, leaving the sauce behind.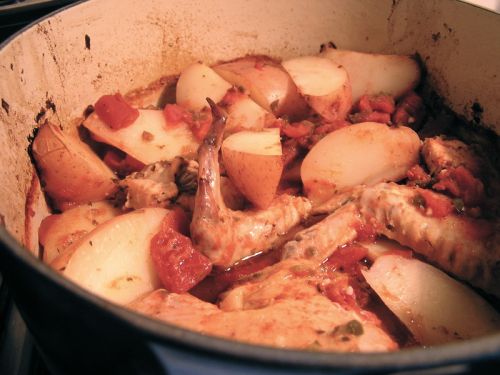 Throw in the parsley and the olives and mix well.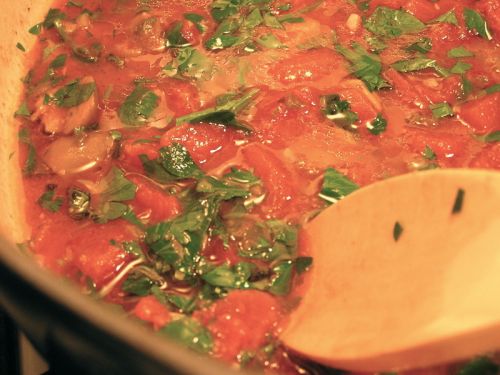 Pour the sauce over the chicken and potatoes, and devour.
Part II: Taco Time
Using two forks, shred the chicken and mash the potatoes.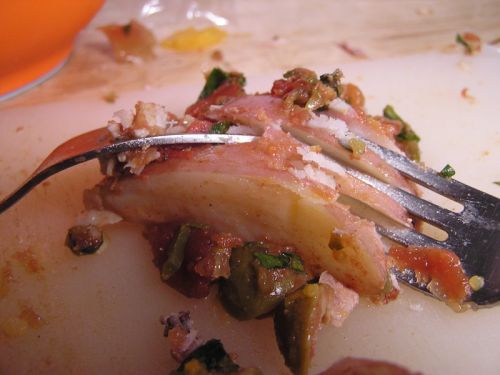 Heat the chicken and potatoes in a pan over medium heat.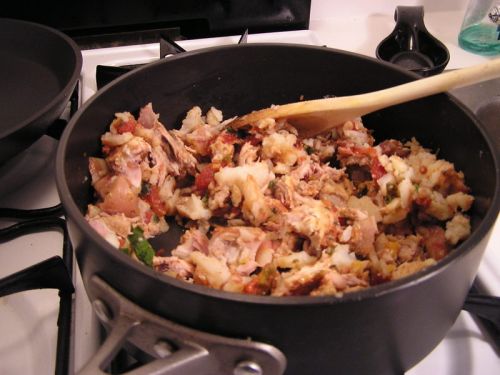 Heat a griddle over medium heat, and warm some corn tortillas for about a thirty seconds on each side.  Enjoy.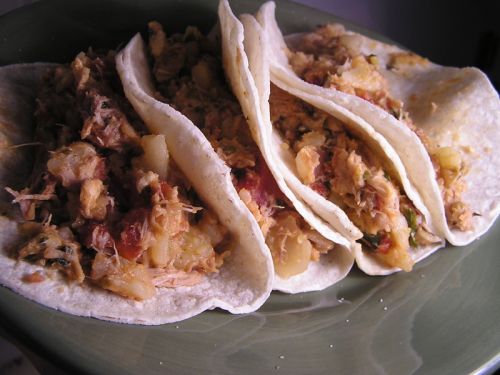 Chicken,
Chicken,
Mexican,
Potato,
Tacos,
Tomatoes