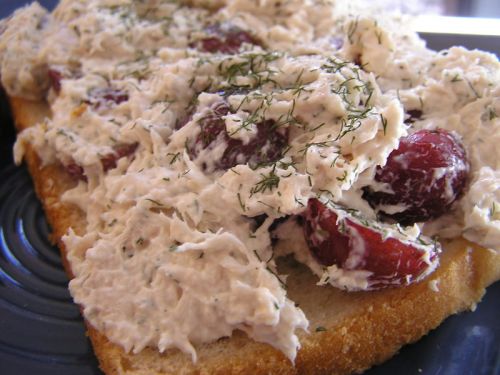 With half a chicken left and none of the dark meat in sight, I was left with two slabs of white meat and not one good idea.  Sure there are thousands of cookbooks dedicated to what to slap on boneless, skinless chicken breasts to give them some semblance of flavor, but I don't like lying to myself.  So instead of trying to figure out something creative, I decided to punt and completely destroy the meat and recreate it as my favorite snack.  My mom's chicken salad.
My mom won't go anywhere near a piece of dark meat, which as a kid always meant that I had lots of dark meat for myself.  But with this recipe she's completely warranted.  Three or four times a year when I was a teenager she'd get a pot of chicken breasts rumbling to make her famous dish.  She'd dish out whole Tupperware containers filled for her closest friends, colleagues, a little one for the family, and a lot for me.  I'd take my present and I'd gorge myself on chicken salad for breakfast, lunch, dinner, and late night snack.  It was a simpler time.
The addition of grapes makes this visually pleasing dish addictive like your favorite candy and the white meat makes you think it's twice as healthy as it actually is.  But just remember to tell yourself it's chicken breasts, fruit, and seasoning (even if that means dill weed and loads and loads of mayonnaise, but just leave the last part off the top of your brain), and you'll be better for it.
Mom likes to nicely place the chicken salad on little croissants, but I slop this onto plain pieces of bread because I don't want anything to come between me and the salad.  White bread lets the flavors stay focused and makes the grapes pop cleanly into the back of my mouth.  But when it's late I don't even bother with a piece of bread.  I bust out a fork and go to the bowl into I have to scrape the sides.  She also recommends throwing some nuts in, but I've never needed a reason to mess with this recipe.
Chicken Salad with Grapes and Dill
2 chicken breasts
1 large onion
2 celery stalks
1/4 pound of grapes
1/2 cup of mayonnaise
dill weed
bread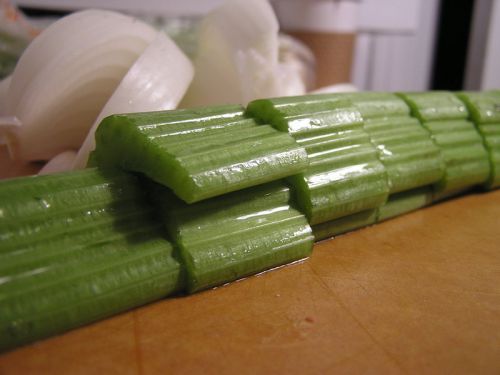 Bring a large pot of water to a boil.  Meanwhile, roughly chop the onion and the celery.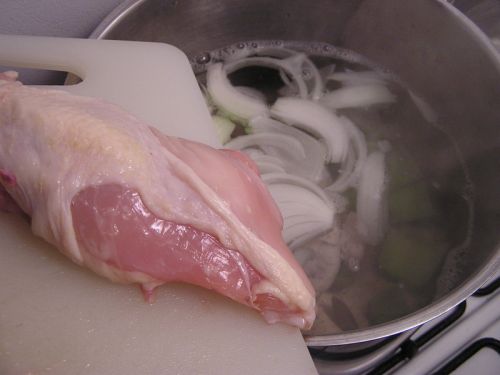 When the water is boiling, then throw the onion, celery, and the chicken breasts.  Reduce the heat to a simmer and cook 20 minutes.
Transfer the chicken, onion, celery, and the water into a bowl or a large ziplock bag and let it sit for 8 hours or overnight in the fridge.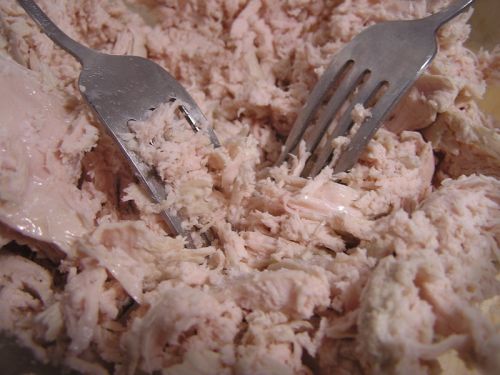 When it's ready, discard the onions and celery, and transfer the chicken to a medium sized bowl.  Shred the chicken using two forks.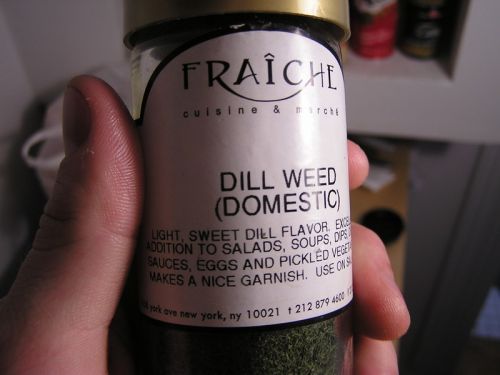 My mom's only instructions for how much dill was to "use a lot".  I think it works best to add more than you'd ever think you'll need, stir, and then add more than you'll ever think you'll need again.  You'll really never have enough in there.  She's always right!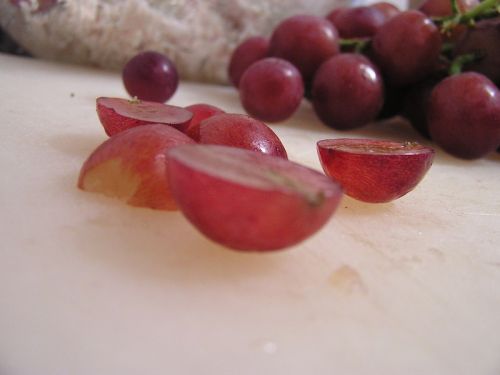 Cut the grapes in half length-wise and add them to the bowl.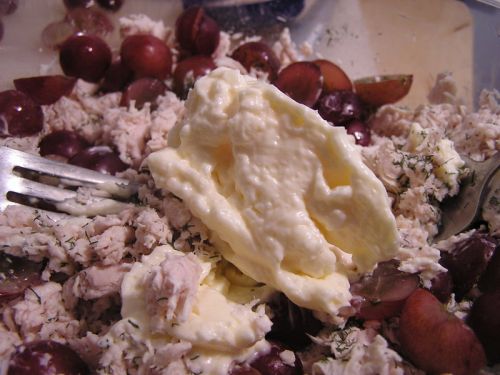 Add the 1/2 cup of mayonnaise and mix everything together well.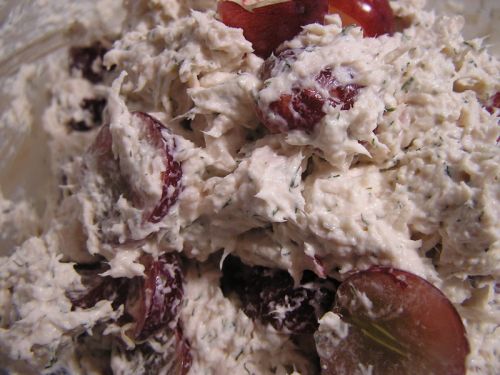 At this point you'll probably want to add more dill weed.  You always know when you need to add more when you can't see flecks of green on every centimeter of the chicken salad.  My mom would take one look at this picture and say "more dill weed!"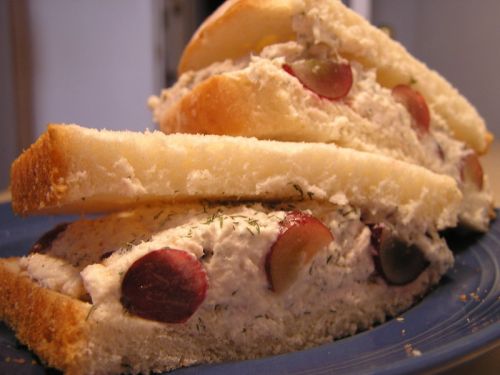 When the dill weed has been copiously applied, slather a couple slices of bread with mayonnaise and fork a full serving of the chicken salad on top.  Like I've said, white bread works best for me, but it's not the only route.  It does taste mighty fine on croissants, baguettes, or wraps.  But the simpler the better.
Chicken,
Chicken,
Dill,
Grapes,
Sandwich,
Sandwiches