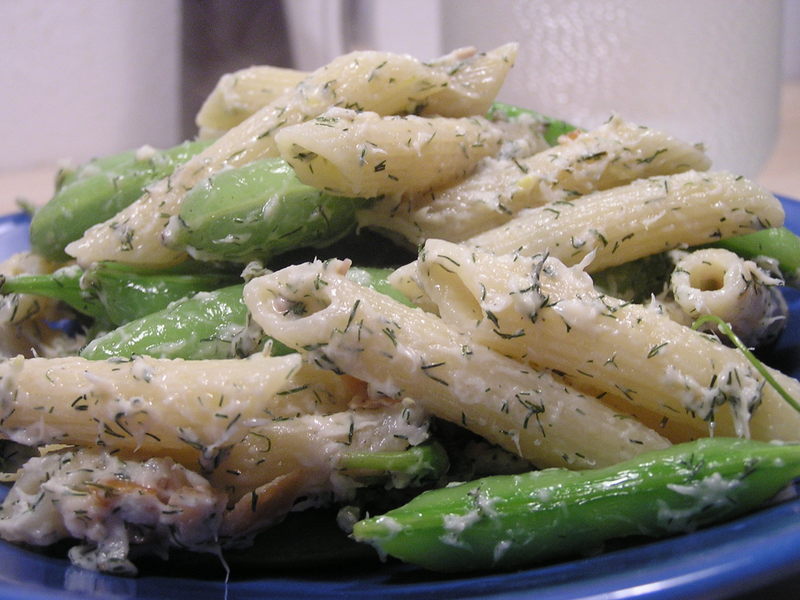 I'm a sucker for simple, easy-to-prepare pasta dishes that depend on an inspired combination of good, fresh ingredients.  The last revelation was from Diana Seed's The Top 100 Pasta Sauces and involved, similar to this dish, a smoked fish (salmon) and heavy cream.  The way cream binds everything together and lends a richness to envelope the smokey-yet-fresh taste of the fish--to this I can't say no. It was a jaunt through the Union Square Market that led me to this recipe--a pile of in-season sugar snap peas, in fact.  Every vegetable vendor was hocking them by the handful and, in a moment of abandon, I stuffed a bag full of two or three handfuls, without any recipe in mind .  You have to understand: this is new for me.  I have no idea how to prepare food in response to nature's seasons: I start with a recipe and hold it arms-length ahead, squinting down the aisles of the grocery store. To be fair, I still worked from a recipe, and since I only bought the peas there was no need to pair ingredients on the fly, sniffing unusual vegetables, with the pressure on.  But this recipe is still worth talking about, especially if you can grab some peas in season.  Smoked trout fillets you can hopefully find at a good grocer (by the smoked salmon, it comes sealed in thick plastic), or if you're lucky, you can get a whole smoked fish. It also takes just a few minutes longer than you need to cook your pasta.    I love the way the penne is the same size as the peas, making pasta an important ingredient in itself, while the trout turns into a kind of coating for the whole thing.  And the taste of dill is the closest thing I can imagine to summer. Penne with Smoked Trout and Sugar Snap Peas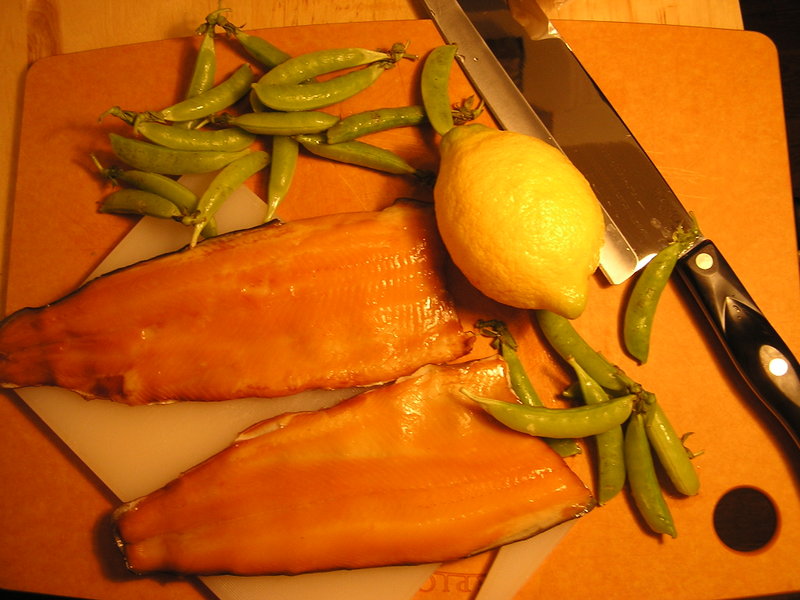 1 lb penne
¾ lb sugar snap peas, trimmed and halved diagonally
? cup heavy cream
½ lb whole smoked trout, flesh coarsely flaked
1 tablespoon finely grated fresh lemon zest
¼ cup chopped fresh dill
½ teaspoon salt
½ teaspoon black pepper
Adapted from Epicurious.com First, get a pot of water boiling, throw the peas in a colander, and give them a good rinse.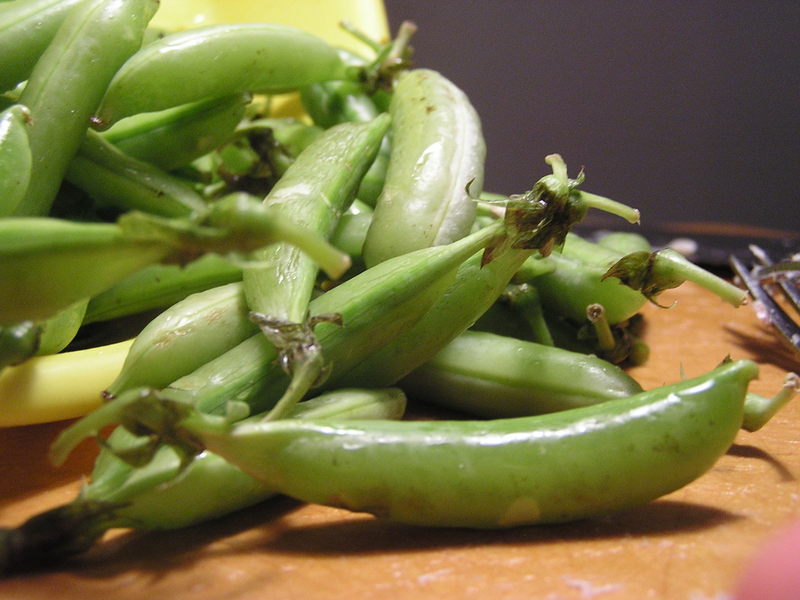 Flake the fish with two forks.  It behaves much like canned tuna.  When the water is boiling, throw the pasta in.  Pour the heavy cream into a saucepan and bring it to a boil.  With two minutes remaining for your pasta, add the snap peas to the pot.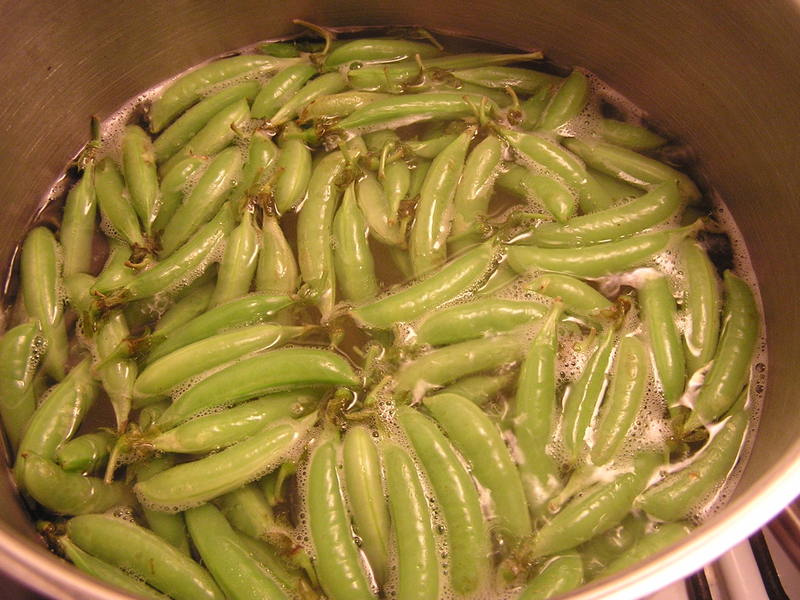 Once those are good and tender, reserve some pasta water and drain.  The cream should be boiling for a minute or two.  Return the pasta/peas to the pot, add the cream, dill, salt, pepper, and zest.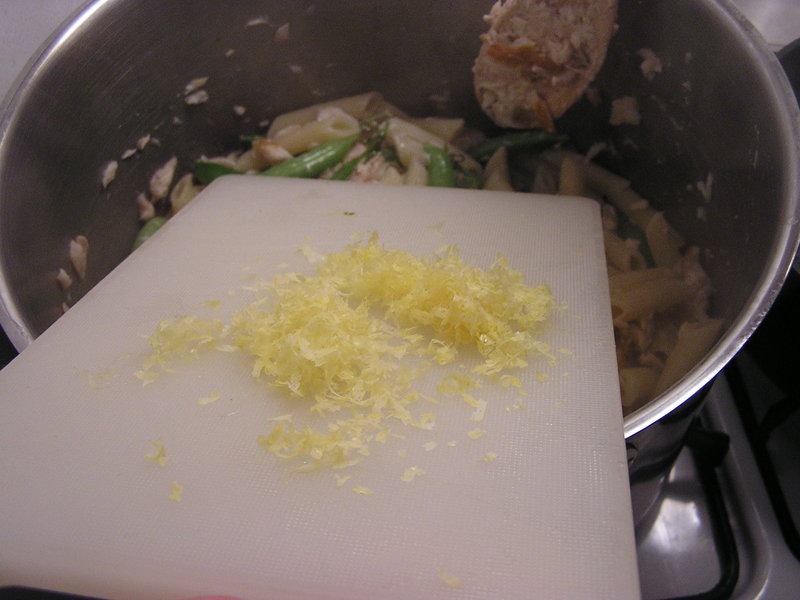 Toss everything gently till the pasta is coated and add a little pasta water if it's too dry.  Serve immediatly.
Fish,
Pasta,
Pasta,
Peas,
Seafood