It's my opinion that the secret to great biscuits and gravy is that there is no secret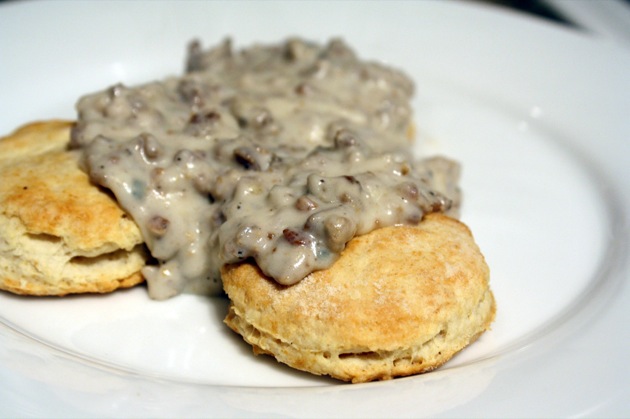 I know that biscuits and gravy together don't make sense. It's meat, thickened with flour and milk, ladled atop a starchy biscuit. There is no balance, no acid, and no spice. Compared to the dynamic Szechuan food I've been making lately, it can seem safe and boring. But that's not how I think of it. Perhaps it's something that needs to be injected to your blood as a child, because I have a fondness for this dish that nearly eclipses all other breakfast foods. Pancakes, waffles, eggs benedict, bagels, croissants--I'd trade them all for a overflowing plate of biscuits and gravy.
I know that Blake never had that childhood sausage infusion, and he questions me regularly how a dish so heavy and gray could possibly be good (he's even threatened to write a post called "Against Biscuits and Grav. Well, I'll give it my best shot. To me biscuits and gravy tastes like lazy Saturday mornings in a diner, the smell of coffee heavy in the air, and the promise of a very busy day. It's heavy but humble, and you don't have biscuits and gravy on a regular old Tuesday. It's a special event, and my best memories of the meal always had this as the start to some crazy hiking adventure or day spent playing three baseball games.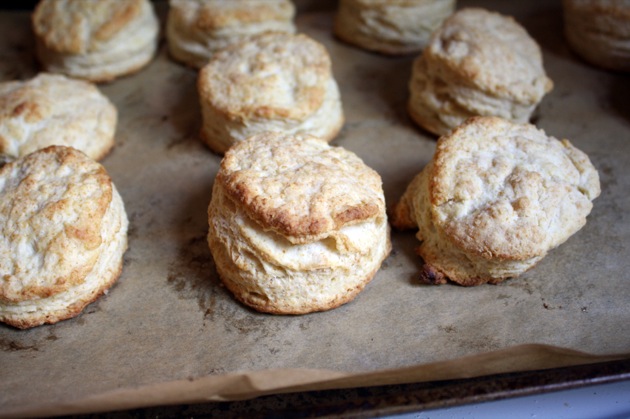 That's the nostalgic look, but what makes for a successful version of the dish? It's my opinion that the secret to great biscuits and gravy is that there is no secret. There is no technique or method that will convert some mediocre breakfast sausage into something special. The milk and flour may give it texture, and heaven knows that black pepper helps wake the whole thing up, but it essentially comes down to the breakfast sausage and the biscuits. If either of those are off, you might as well walk away.
You have to make your own sausage , and luckily I found an incredibly good source. Michael Ruhlman's recipe for breakfast sausage in Charcuterie is remarkably balanced, pitting a heavy handful of grated fresh ginger against freshly chopped sage, to create something that is far from the greasy ground meat of Jimmy Dean. Honestly, this stuff could make anything taste good.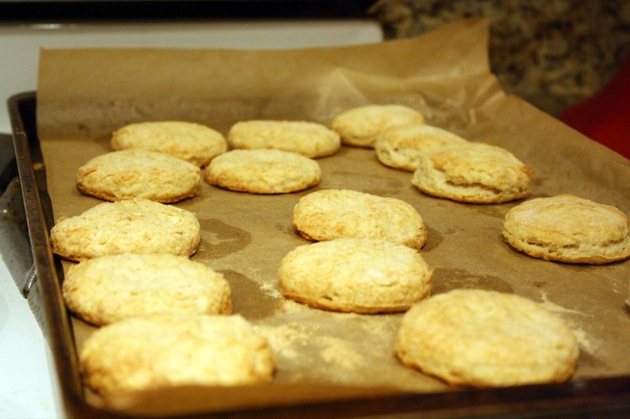 But the biscuits tripped me up at first. If the biscuits are too heavy or dry, they muck up the dish, weighing it down. As I detailed last week, my first round with biscuits didn't go to plan . They were tasty, and had a lovely buttermilk kick, but they didn't fluff up like biscuits should have. I had to figure those out before I could move forward.
I got a whole bunch of a great advice. I can't thank you all enough. Basically, I realized there are three things that could have tripped me up:
Fresh baking powder: My stash of baking powder had been with me since I lived in New York (almost four years ago!). I went out and got a sparkling new container.
A biscuit cutter: For my first round, I went all MacGyver and just used a drinking glass to cut out the biscuits from the dough. I didn't even realize that they had heavy, dull edges which helped seal the edges of the dough. Plus I twisted as I attempted to cut out the rounds. With a biscuit cutter I could simply press down and come out with cleanly cut biscuits.
Kneading: You want to work the dough as little as possible. But folding the dough over on itself three or four times helps create those wonderful layers.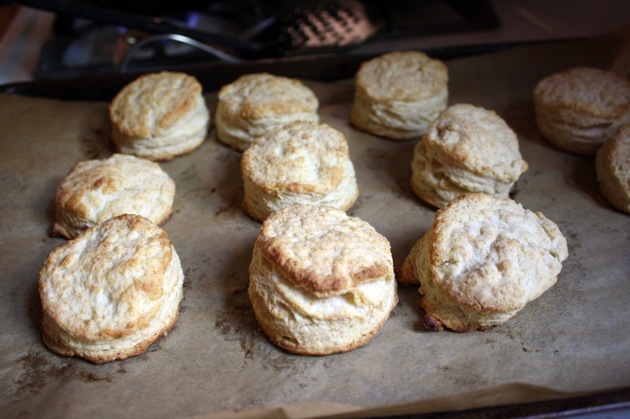 I used a recipe from Homesick Texan as a guide. As you can see, my biscuits perked up nicely.
And that's really it. You cook the sausage, make a roux with the sausage fat, whisk in the milk. The ginger in the sausage helps cut through the milk gravy, as does a healthy heap of black pepper.
If this doesn't change your mind on the dish, then nothing will.
Breakfast Sausage with Fresh Ginger and Sage
Adapted from Michael Ruhlman and Brian Polcyn's Charcuterie .
This makes a lot more sausage than you'll need for the recipe. But trust me, you'll want some of this stuff around.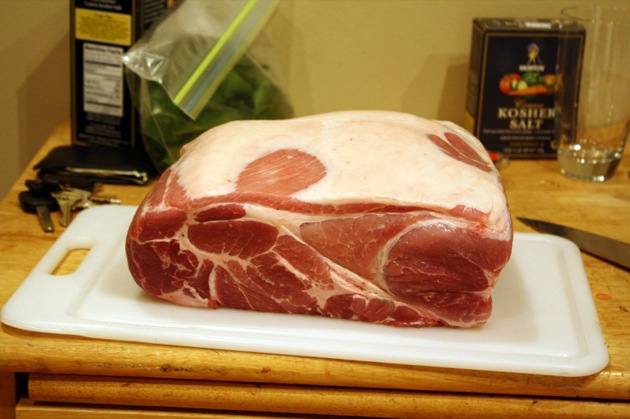 5 pounds pork shoulder, cut into 1-inch cubes
1 1/2 ounces kosher salt
5 tablespoons freshly grated ginger
5 tablespoons finely chopped fresh sage
1 tablespoon garlic, minced
2 teaspoons black pepper, ground
1 cup ice water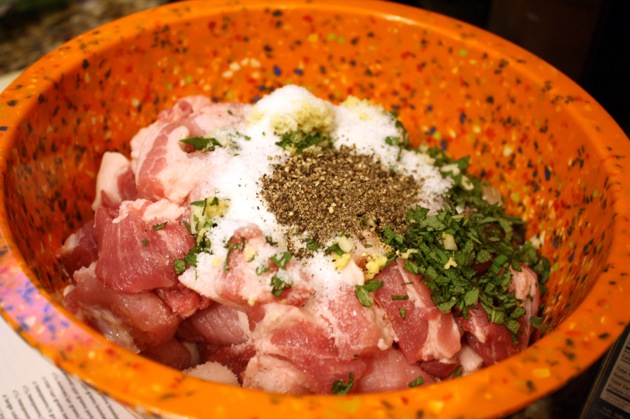 Toss all the ingredients but the water into a large bowl. Mix well.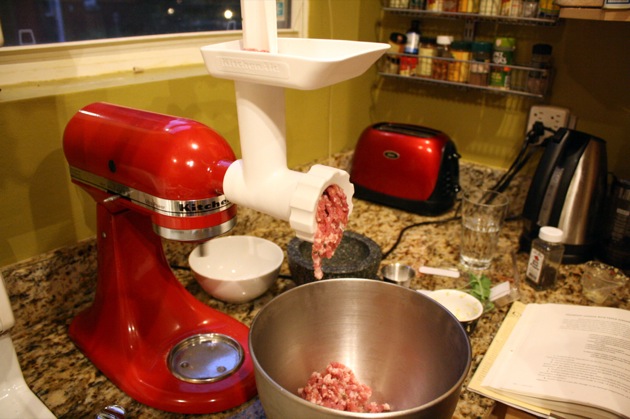 Grind through the smallest die of a meat grinder (you have a meat grinder, right?).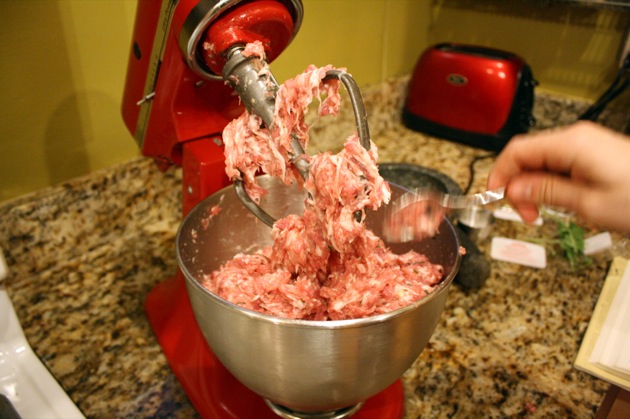 Pour in the water, and then transfer the meat to the bowl of a kitchen aid. Using the paddle attachment, process for a minute until the sausage is sticky. Transfer to the fridge until ready to use.
Buttermilk Biscuits
Adapted from Homesick Texan .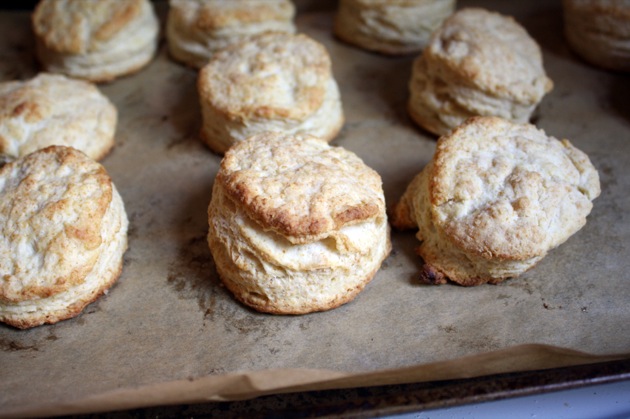 2 cups flour
1 tablespoon baking powder
1 teaspoon sugar
1/2 teaspoon salt
8 tablespoons butter, cold
3/4 cup buttermilk
Preheat the oven 450 degrees. Meanwhile, whisk together the flour, baking powder, sugar, and salt in a large bowl. Chop the butter into small pieces, and then add to the bowl. Using your finger, rub the butter and flour between your fingers until the flour looks like it has pea-sized crumbs.
Pour in the buttermilk. Stir until the mixture just comes together. Form the dough into a ball. Knead for just 30 seconds or so, folding it over to help create the layers. Roll the dough out until it's about 1/4 inch thick.
Cut out the biscuits with a 2-inch biscuit cutter. You should get about 10 to 12 biscuits. Place on a greased baking sheet and cook in the oven for 15 minutes.
Biscuits and Gravy
Adapted from Alton Brown .
1 pound breakfast sausage
1/4 cup flour
2 cups milk
salt and pepper
Add the sausage to an iron skillet set over medium heat. Cook, breaking up the chunks into small pieces, until completely cooked through. Remove the sausage, and all but 2 tablespoons of the fat.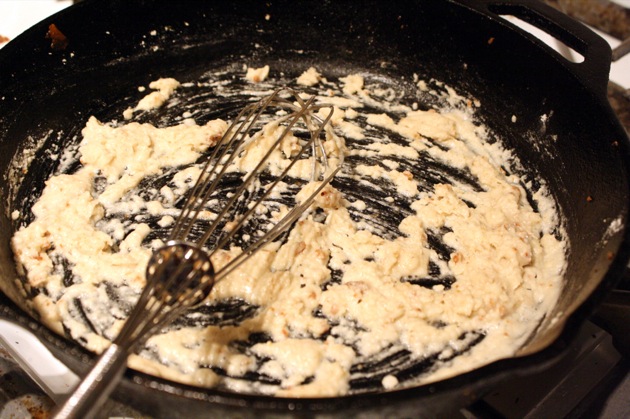 Whisk in the flour, and cook over low heat for 5 minutes. Turn off the heat, and let cool for a few seconds.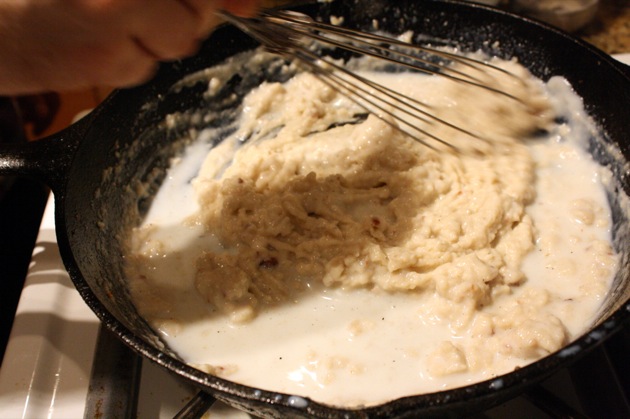 Then slowly whisk in the milk. Turn the heat to medium-high and cook until the gravy comes to a simmer and thickens.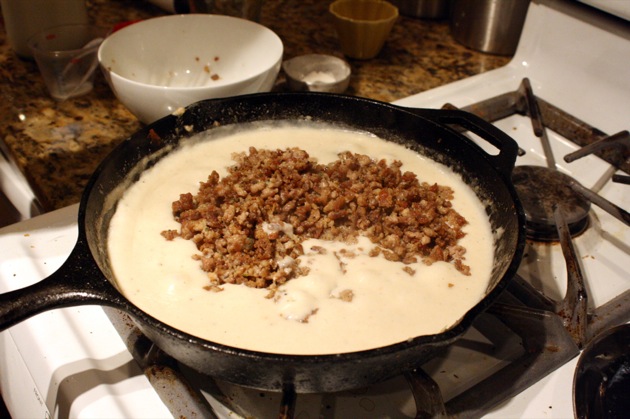 Return the sausage to the pan, and season with loads of black pepper, and salt to taste.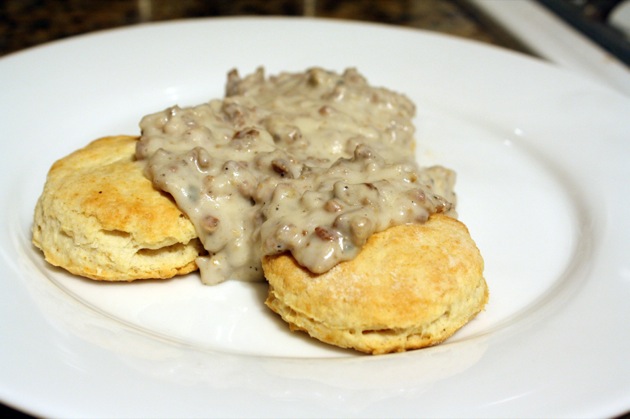 Serve over buttermilk biscuits.
Food,
American,
Biscuit,
biscuits,
biscuits and gravy,
Biscuits and gravy,
Breakfast,
Breakfast,
Breakfast foods,
Breakfast sausage,
British cuisine,
Cookies,
Cuisine of the Southern United States,
food,
Food and drink,
forward,
Gravy,
Gravy,
Jimmy Dean,
Michael Ruhlman,
Pork,
Sauces,
Sausage,
Sausage,
Sausage,
Sausages,
Breakfast