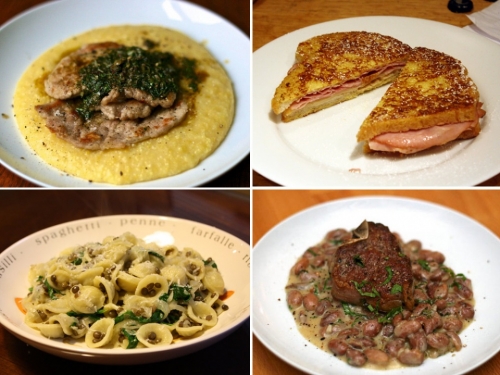 Our weekly roundup of what the two of us have written over on Serious Eats.
"Dinner Tonight" Column
QUICK MEALS TO YOUR TABLE FIVE DAYS A WEEK.
Monte Cristo
Essentially it's a ham sandwich that's been cooked like French toast. A mishmash of dinner, breakfast, and chaos, all on the same plate. Oh, and it's delicious.
Lamb Chops with Crème Fraîche Beans
Lamb chops need nothing more than high heat. It's the beans in this dish that steal the show, cooked with crème fraîche so they're incredibly creamy.
Cheese Flautas with Cilantro Pesto
Usually flautas are stuffed with ground beef and cheddar cheese; these feature pumpkin seeds which are ground with the garlic and cilantro to create a kind of pesto.
Pork Scaloppine with Brown Butter Salsa Verde
A plate of polenta topped with juicy cutlets of pork and a pan sauce made from brown butter and salsa verde—an Italian sauce of fresh herbs, capers, garlic, and anchovy.
Orecchiette with Lentils, Onions, and Spinach
The concept of adding a legume to a pasta dish doesn't sound like the best idea, but they provide an earthiness to the dish, and get lovingly stuck in the cups of the orecchiette.
Uncategorized