We need your help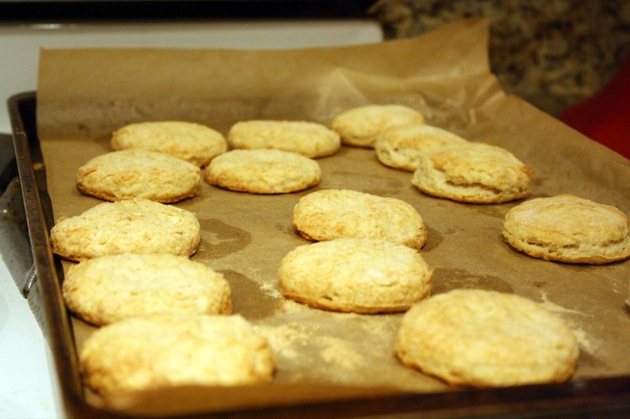 Last night I made the best batch of biscuits and gravy ever. That's not something I ever thought I'd say out loud, but I cannot tell a lie. I started with some homemade breakfast sausage, which formed the base of a sensational gravy. The buttermilk biscuits were baked from scratch. It was nearly perfect.
The problem? The biscuits didn't rise, or at least not enough. I followed a fairly well respected cookbook author, but my biscuits turned out thin and flat. The flavor was there--they had a real tart buttermilk tang to them. But they never fluffed up. Also, I didn't see those incredible layers that I usually associate with a perfect biscuit.
The method I used mixed cold butter with the flour, baking powder, salt, and sugar. I rubbed it together with my fingers, until it had a pebbly texture. Then I simply poured on the buttermilk, quickly turned it into a dough, and then rolled it out.
Like I said, the flavor was there, but they need to look better. Anyone know any perfect sources for help?
Food,
Idea Lab,
American,
author,
Baking,
Biscuit,
biscuits,
biscuits and gravy,
Breakfast,
Breakfast,
Breakfast foods,
British cuisine,
Cookies,
Cuisine of the Southern United States,
Entertainment,
Food and drink,
Gravy,
Baking