Forget hollandaise: this will blow your mind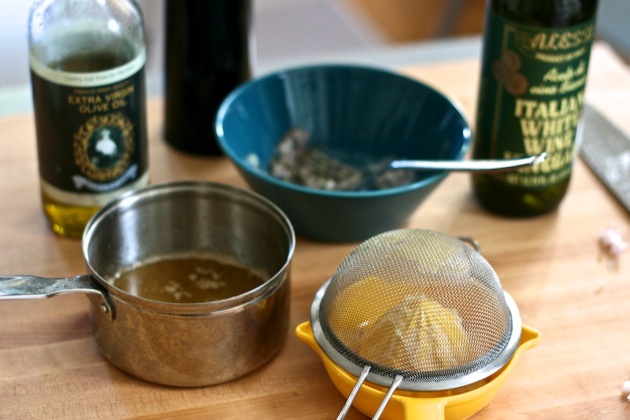 I recently stumbled on an essay called The Power of the Hot Vinaigrette in Michael Symon's new cookboo k. "Cold vinaigrettes are excellent," he writes, "but add one to the hot pan you've sauteed some shrimp in, and the blended acid and oil will pick up all the flavor of the bits of protein and sugars that have stuck to the pan." He advocates for pan sauces to be vinaigrette-based, rather than stock-based. "I don't tend to make a lot of stock at home. When saucing food, I almost always turn to vinaigrette."
First of all, huge props to a chef who admits that stock at home is a damn hassle and most people don't do it. The vinaigrette idea is brilliant. A technique to make sauces lighter, more balanced, and easier. Today's Dinner Tonight post (which will appear this afternoon) makes use of this technique: you brown the meat and then create a sauce in the pan out of brown butter, lemon and Italian salsa verde. The resulting sauce is rich, slightly tart, and packed with flavor. No veal stock in sight.
Food should be balanced. I can appreciate a classic French sauce--I've made plenty of them in culinary school--but it's rich for the average meal. How much more exciting is a flash-in-the-pan sauce that hits you with acidity and flavor?
I experienced that recently while making a sauce for asparagus. Asparagus is one of the vegetables that people never shut up about in the springtime--especially food bloggers--so I figured I'd just join the chorus. I hope you'll forgive the mountain of cliches that this post is sure to contain.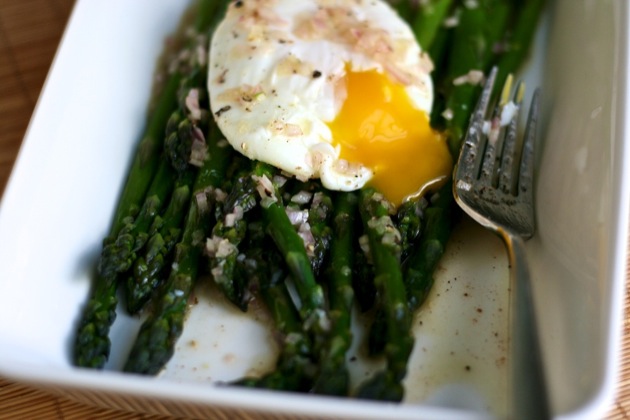 I couldn't resist the temptation of a poached egg
(But seriously, there's something about the first asparagus of the season that you buy from a farmer. It partly has to do with the earliness of the season--early vegetables are lavished with disproportionate attention because they're not another damn root vegetable--and the fact that asparagus is just plain delicious. It also doesn't travel or age well; just out of the ground it begins to lose sweetness. Ship it across the world and it arrives woody as the sugars turn to starch. Like fresh corn, best to buy it local and fresh from a bearded fellow on Saturday morning.)
I found the recipe in Weir Cooking in the City , from Joanne Weir, author, teacher, and former cook at Chez Panisse. Turns out, it was one of the most delicious sauces I've tasted in some time, and it kept my mind going long after I'd forgotten the asparagus. It was a vinaigrette, but half the fat was warm, caramelized butter, which turned it more into a sauce than a cold dressing.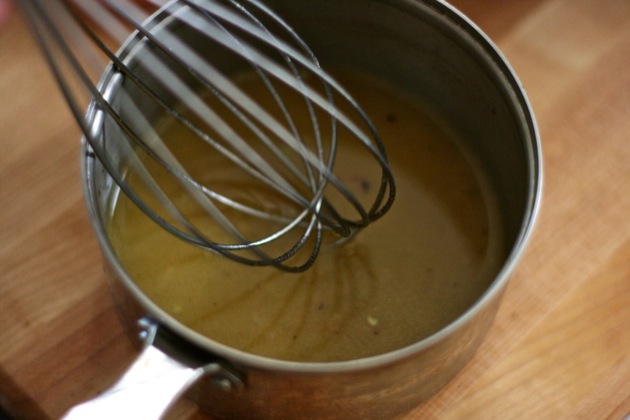 Wonderful as the flavors were, it was the temperature that most struck me. Hot vinaigrette again.
It had the acidity and balance of something that belonged on a salad, yet it was warm like a sauce. (Normally butter can't be in a salad, because it would be solid at that temperature.) The butter gave it the richness and mouthfeel of hollandaise, yet it wasn't as overwhelmingly rich.
Ever since my trout meuniere, which makes prominent use of brown butter, I've been hooked on the stuff. I've seriously made like 5 or 6 dinners in the last week and somehow incorporated brown butter into the process. It's a magical transformation, taking an already delicious thing like butter and deepening its flavor in a matter of moments.
So of course, my asparagus sauce has brown butter in it. But the real story is that it's a hot vinaigrette. Call it a dressing, call it a sauce, this is really, really delicious.
Asparagus with Brown Butter Vinaigrette
3 tablespoons unsalted butter
2 tablespoons good olive oil
2 tablespoons Meyer or regular lemon juice
1 tablespoon white wine vinegar
1 shallot, minced
salt and pepper to taste
1 1/2 pounds fresh asparagus
Combine the shallot and white wine vinegar in a small bowl and allow the shallot to sit, which will mellow it a little.
Snap off the woody ends of the asparagus and wash them. Bring a pot of water with a steaming basket insert to boil and steam the asparagus until just tender but still with a gentle bite, just a few minutes.
In the meantime, in a small saucepan melt the butter over medium heat until it begins to foam.  Stir and watch the butter carefully, scraping up any milk solids that stick to the bottom of the pan (they will look a bit like sand) until the butter becomes nutty and golden brown. Do not let it turn black and bitter.
Once the butter is the right color, add the olive oil then lemon juice directly to the pan, which will drastically lower the temperature and halt the butter from going too far.  Whisk vigorously to create an emulsion, then whisk in the shallot/vinegar combination. Season to taste with salt and pepper.
Serve the asparagus with the vinaigrette.
Food,
Vegetarian,
Side dish,
Asparagus,
Asparagus,
brown butter,
Butter,
Chef,
Condiments,
Entertainment,
food,
Food and drink,
French cuisine,
Hollandaise sauce,
Joanne Weir,
Meuniere sauce,
Meyer Lemons,
Michael Symon,
Nature,
oil,
Person Career,
Salad dressings,
Sauces,
Structure,
Vegetables,
Vegetables,
Vinaigrette,
Vinaigrette