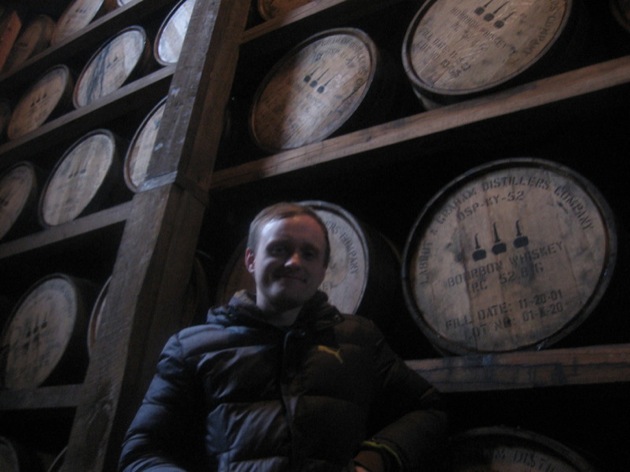 I took a little break from food this past weekend, turning my back on all the pieces of meat curing in my stairwell (I'll get to those later in the week), and set off for the rolling hills of Kentucky to sip the best bourbon I could.  I'd been blabbering on and on to my brother-in-law about the stuff for well over six months now and it was about time to actually see where it all came from.  What started as a simple trip turned into an ambitious plan consisting of four guys, two days, and an itinerary of around seven distilleries to wet our collective whistle.  This educational excursion doubled as a guy's weekend for a bunch of men that desperately needed to de-stress.  I was also hoping for a little trouble.
We set out without any idea how we'd be able to see all of these distilleries, where we were going to sleep, or who'd be the poor sap stuck with being the DD.  Our schedule quickly downgraded from seven to two, as we decided to take it easy and enjoy the slow crawl.  Along the way we got seriously lost about three times, drank in one of the most beautiful bars on earth, and even managed to learn a few things about my favorite drink.  It was a grand time.

Buffalo Trace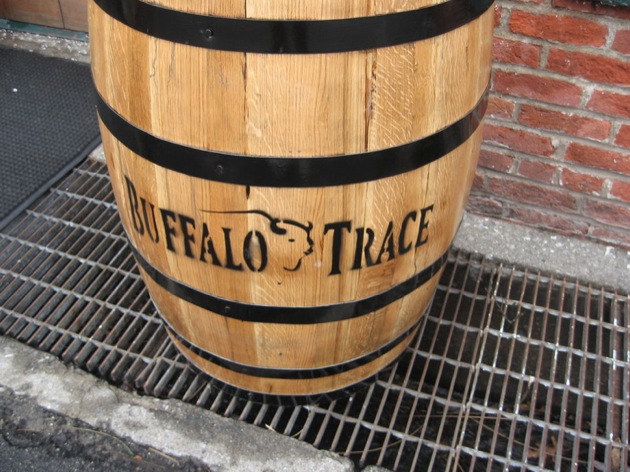 The first distillery was Buffalo Trace in Kentucky's humble capital of Frankfort.  I wasn't quite sure what to expect.  It had won the whisky distillery of the year from none other than Whisky Magazine .  Would it be just an old factory along a creek, or would it be some sterilized building set up for the modern age?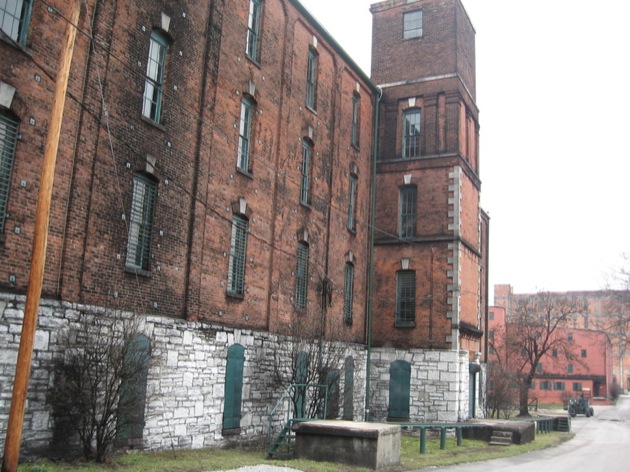 Luckily, it was more of the former than the latter.  It does feel like you're stepping back about a hundred years (or more), mainly because of the old brick warehouses, but it also has a well-kept memorial garden in front, a fancy little visitors shop, and a sculpture of a buffalo that gave the distillery its name.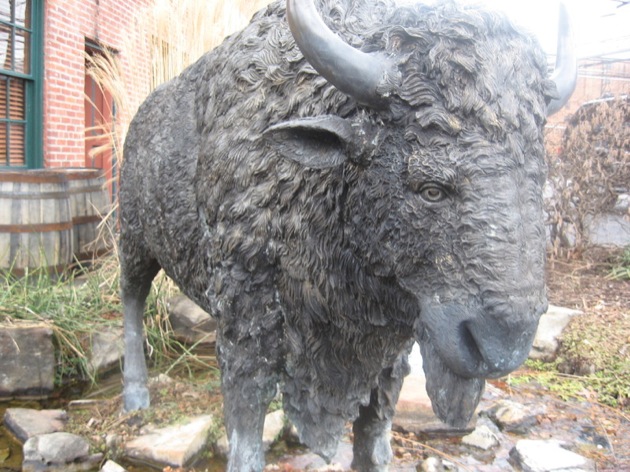 The settlers founded the town after following the trails left by migrating buffaloes.  This is the only one I saw.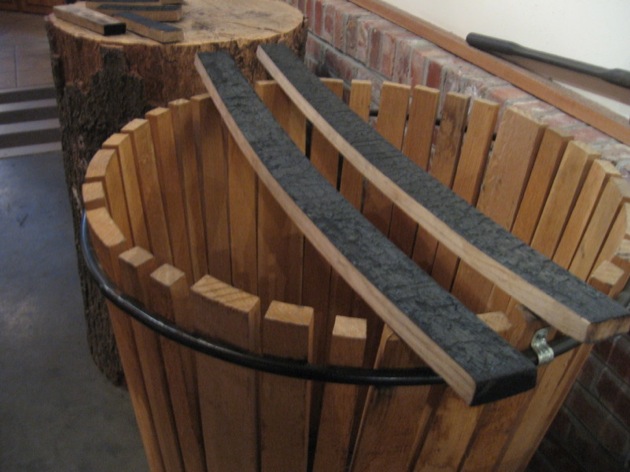 What makes bourbon so distinctive is the charred oak barrels that the clear spirit goes into.  It was fascinating to actually see some examples of those barrels, how they were constructed and what the charred boards end up looking like.  All that holds the barrels together are metal rings; there is no glue or nails.
The tour began in a little side building where they show a self-aggrandizing video that was a little hokey if still fun.  We then headed for the whiskey warehouse.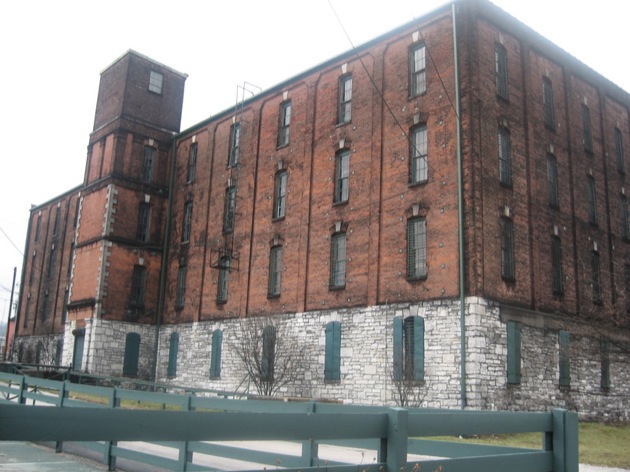 The buildings that house the whiskey look old and dilapidated.  Most of them are covered in a black mold making them look more like an 18th century industrial town than a gorgeous country establishment on the Kentucky River.  Even the trees around the building were jet black.  Ends up the black mold is caused by the active yeasts in the brewing process and are cleaned up every few years.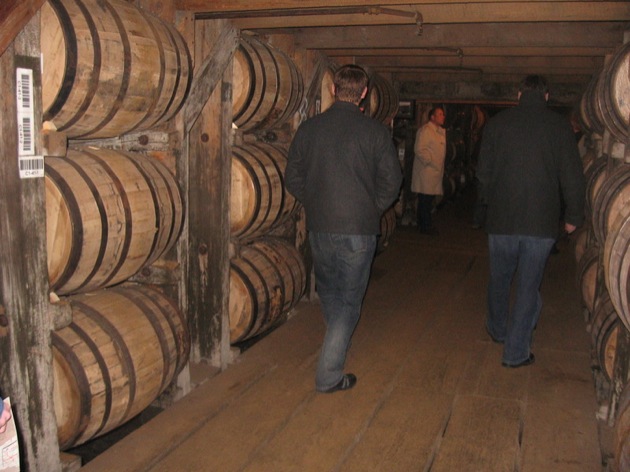 I was expecting the ancient facade of the warehouse to mask a modern facility, or at least one that could handle a forklift or two.  But that just wasn't the case.  The inside was constructed entirely of aging wood and held thousands upon thousands of barrels stacked closely together.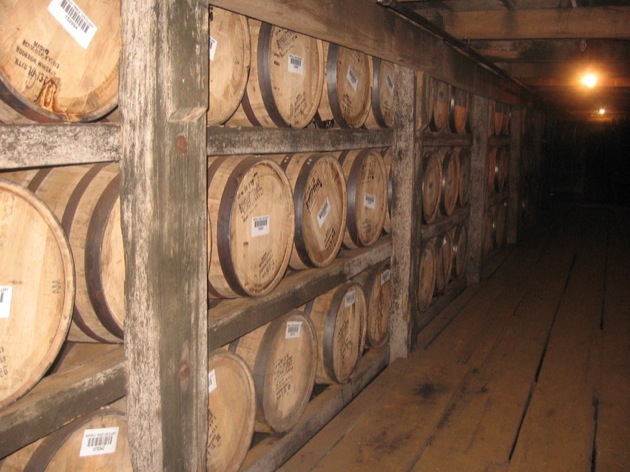 Since the barrels aren't air-tight containers (remember, no glue), over the course of 9 years or so of aging nearly half of the liquid evaporates.  The gaseous bourbon (which distillers call "angel's share") drifts around the warehouse haunting every crevice.  But rather than feeling like I had walked into a frat after a long night of sloppy undergrads, the glorious smell feels oddly empowering and, yes, intoxicating.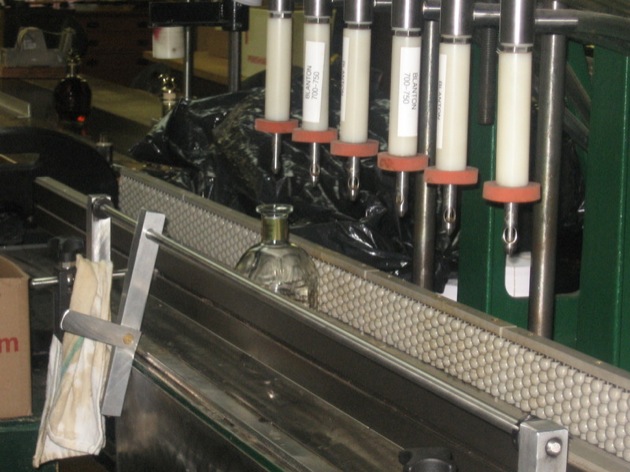 From there we moved to the bottling room, a surprisingly small operation.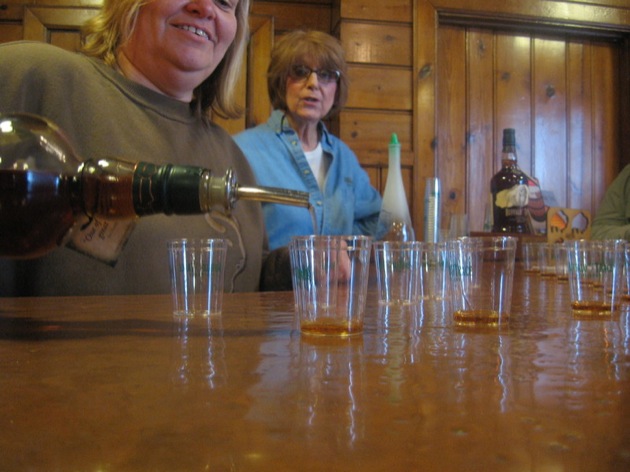 And then the bourbon.  I was itching to finally drink some of the stuff after all that talk, and it was a little disconcerting when she pulled out a vodka first that the plant also made.  But once that was downed we finally got to the good stuff.  We sampled the distilleries namesake and then Eagle Rare.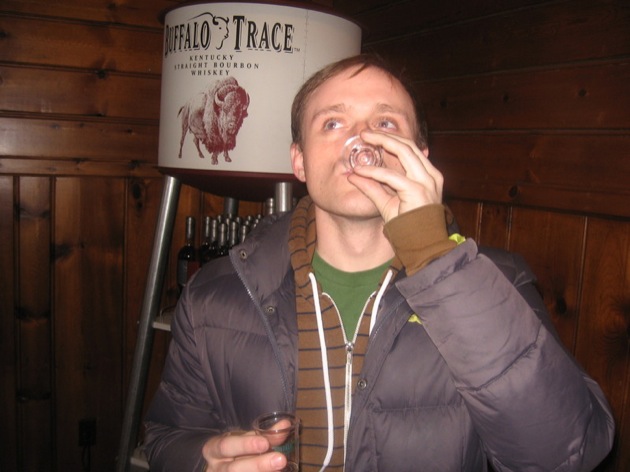 I love both products, but, as you can notice, the samples weren't very big.  Perhaps I'm used to the wine pour, which at least lets you swirl some liquid around.  The biggest irony about visiting a bourbon distillery is that you'll leave really hankering to actually drink something.
Woodford Reserve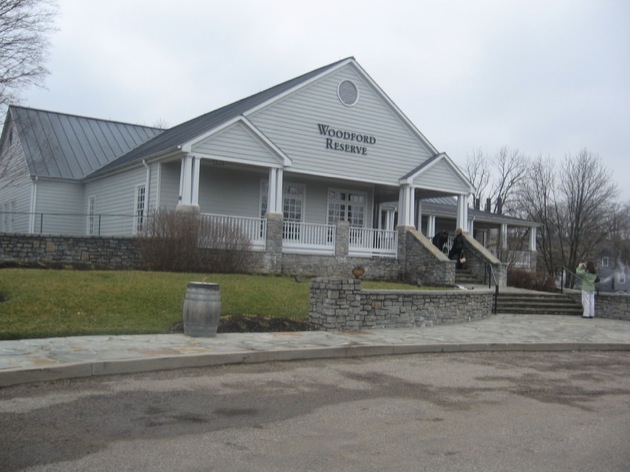 As we pulled in I noticed it looked exactly like what I had originally feared.  The visitor's center was a stale modern addition obviously meant to shuffle guests in and out as quickly as possible.  They even had a tour bus to take you around the minuscule compound.  It felt slick and inauthentic.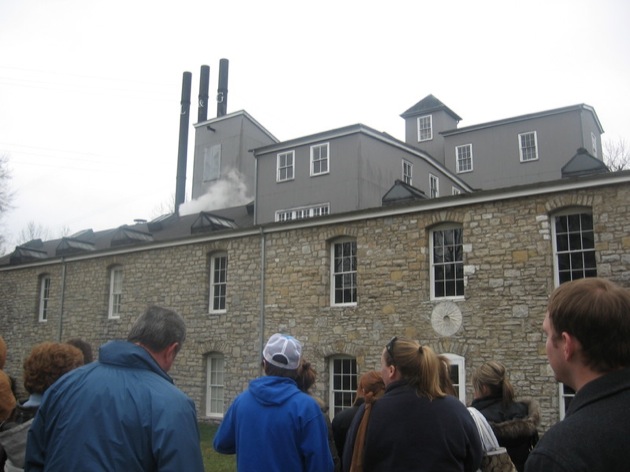 But I couldn't have been more wrong once the tour started.  Unlike Buffalo Trace, they only make one bourbon, so the whole operation is much smaller and that meant a much more intimate tour.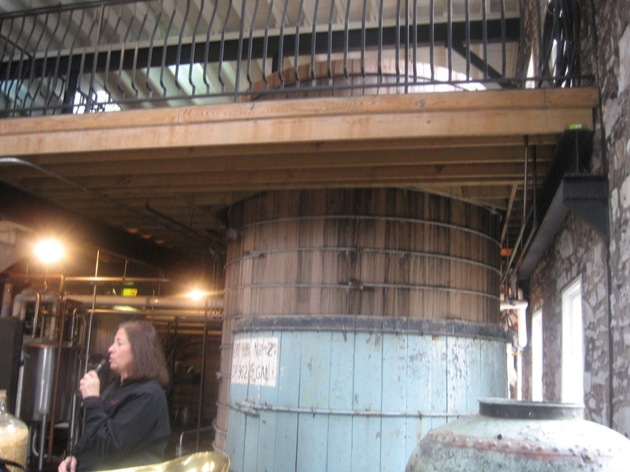 The first stop was the fermentation room.  There, standing some 20 feet tall, were a few tanks made of cyprus wood.  They apparently last a hundred years, which means these specimens have nearly fifty years to go.  They were completely filled with the brew destined to become bourbon.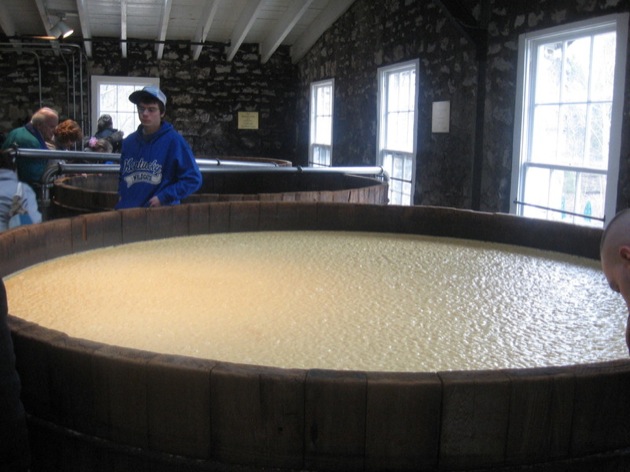 We climbed the platform and peeked inside the tank and watched it bubbling before our eyes.   This is really just a simple mixture of ground corn, rye, and barley mixed with water and yeast.   Somehow all this craziness occurs.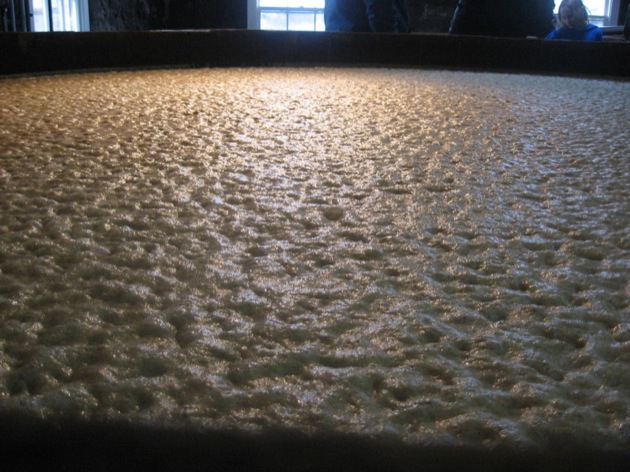 That was one of the odder things I've ever seen.  I've read much about the distillation process, but seeing the natural process take place was eerie.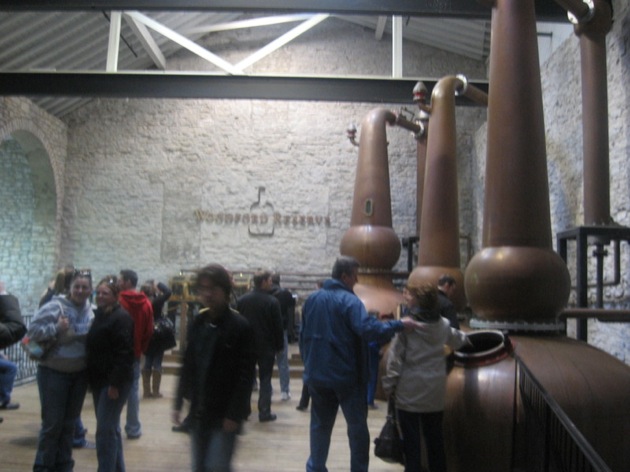 The liquid is then transfered to the first of three stills that tower in the next room.  They honestly look even bigger in person.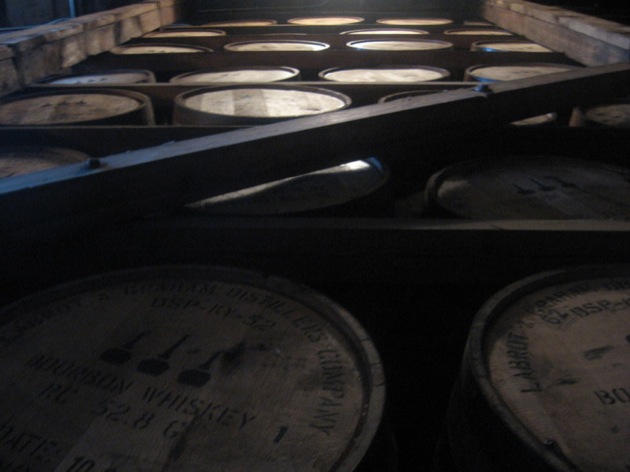 And then it was another euphoric ten minutes spent amongst the barrels inhaling as much of the angel's share as possible.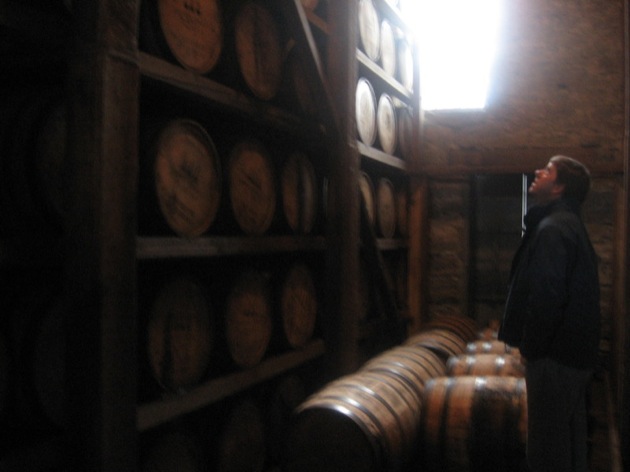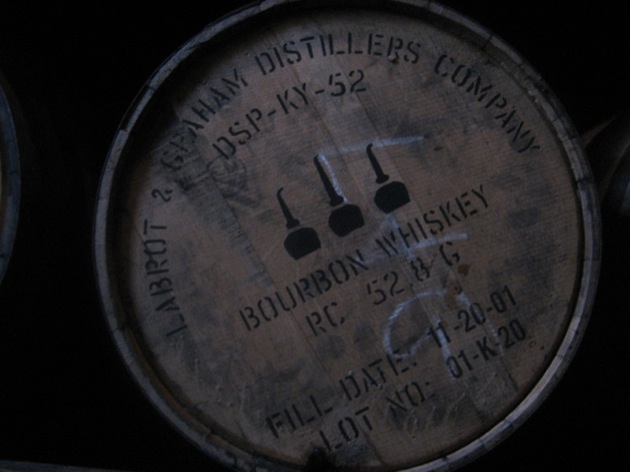 We had one small sip of the Woodford and then set off for Louisville for the night.  One of the guys suggested the Seelbach Bar, a place I'd never heard.  But he insisted it was a nice hotel bar that'd be a great place to relax.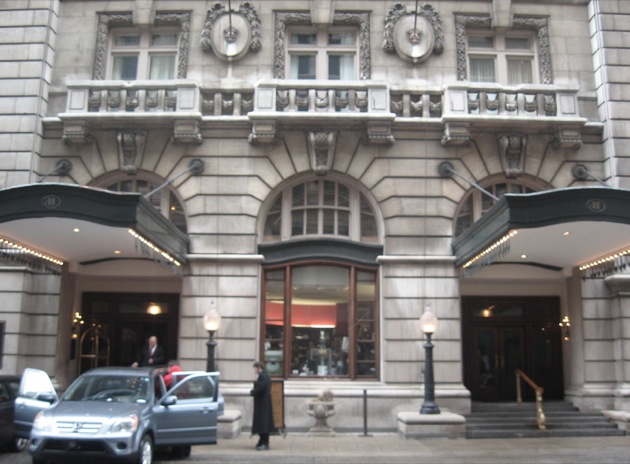 I had no idea where we were going until we showed up on the steps of this place.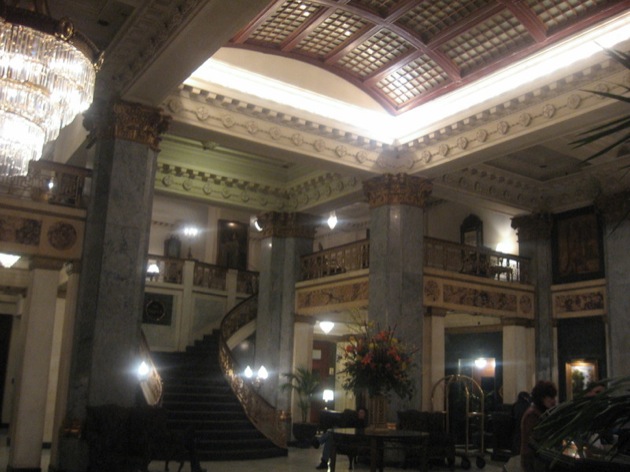 I'm still dressed in my hoody and over-sized Puma jacket as I wander through the grand lobby.  What on earth were we doing?  Luckily we ducked through a little doorway, and into the Seelbach Bar and got a drink as soon as possible.
And slowly, little facts about the place started popping up.  It was voted by the British Newspaper The Independent as one of the 50 best bars in the world. Noted cocktail historian Gary Regan is quoted outside. Esquire loves it .  Quiet rumors of F. Scott Fitzgerald started appearing (though in all fairness, he drank a lot).
Of course, the dim lighting made for some worthless photos, and all I could find was one pic on flickr and a hilarious shot of Gary Regan shaking up a cocktail at the place (at least that story is true).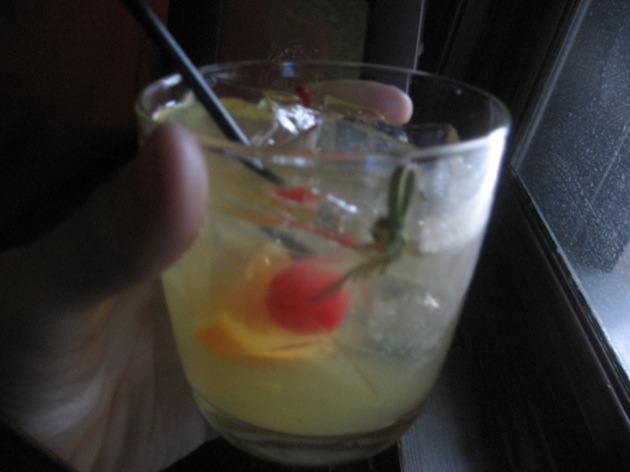 But by the windows I was able to capture a glimpse of a fantastic whiskey sour.  It was rather inspiring that something so perfectly balanced and refined had been created from some folk doing honest work on an old river.
If I had to pick a favorite of the two tours, I'd probably suggest visiting Woodford Reserve, though you can get a more personalized tour in Buffalo Trace if you have to make a reservation.  That said, I probably do prefer Buffalo Trace and their fine line of products.  But really, both were incredibly fun.
It was unfortunate we couldn't see more, but that's all the more reason to head back.
Bourbon,
Bourbon,
Cocktail,
Cocktails,
Drinks,
Kentucky,
Louisville,
Seelbach Bar,
Travel,
Whiskey