Tackling the art of braising
When I got to the grocery store I had no idea what short ribs look like, so I simply asked for 2 pounds of them, and that amounted to 4 short ribs.  Thankfully the butcher didn't look at me funny or say "They're right in front of you, bub" (which they were).  They were only about 6 dollars a pound, amounting to 12 dollars of meat feeding four people.  This was looking good. It was time to learn how to braise. Definition: I'm not really sure.  What's the difference between stewing and braising?  Here's what I knew going in: you need a really heavy pot of some kind, and you start by getting it super hot and searing the outside of whatever cut of meat you're using.  This develops a lovely brown/golden texture and gets some rich flavors happening.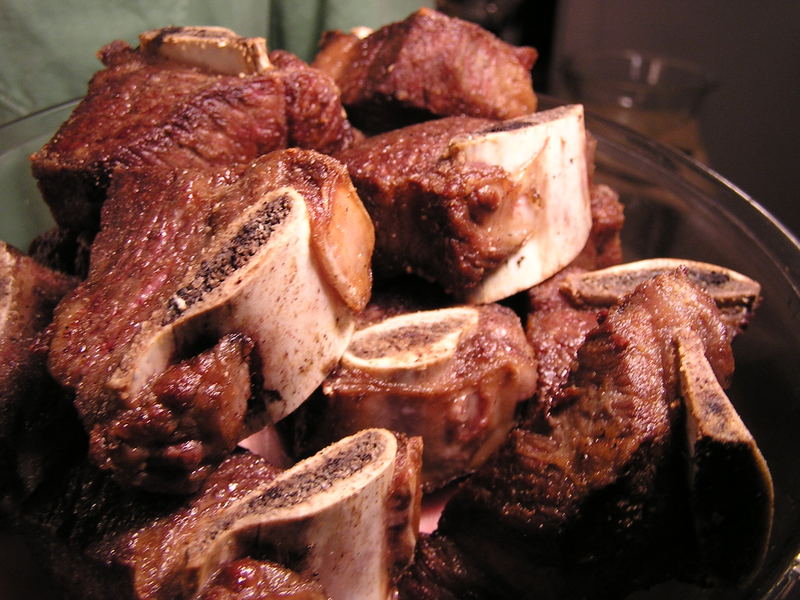 Sometimes you take the meat out and saute the vegetables, and sometimes it goes in at the same time.  Then you scrape up the little caramelized bits of meat that are stuck to the bottom (the lovely Frenchmen who crafted my Le Creuset pot would call it the fond (the French have cool words for all things food--how about "the soft interior of bread," la mie ?) and you add liquid, like a wine or stock, and once that's all mixed up and happy, you turn the heat as low as it can go, and you put the meat back in to get fall-off-the-bone-tender. Alternatively, you can stick it in the oven. Batali provides this recipe, which calls for Barolo red wine and seems to be similar to the one from his Babbo cookbook. ( Side note : according to Bill Buford, while an "apprentice" in Mario's restaurant, he discovered that the Short Ribs in Barolo is actually braised in cheap Merlot . N.B. Our wine guy , who is excellent at finding complex and surprising Italian wines that are rarely over twenty bucks, recommended a region just outside of Barolo, because they used the same grape - though they call the Nebbiola grape Spanna there - and it's much less expensive than the Barolo bottles.  Or, apparently, you can use cheap Merlot). Short Ribs in Barolo Serves 4.  Available online at MarioBatali.com . 6 tablespoons EXTRA VIRGIN OLIVE OIL 2 pounds boneless BEEF SHORT RIBS, cut into 3-inch cubes SALT and freshly ground BLACK PEPPER 2 large Spanish ONIONS, cut into 1/2-inch dice 1 medium CARROT, sliced into 1/2-inch-thick rounds 2 ribs CELERY, cut into 1/2-inch-thick slices 4 ounces PANCETTA, cut into 1/4-inch dice 2 cups Barolo or other HEARTY RED WINE 2 cups Basic Tomato Sauce Lacking the time, we bought some nice tomato sauce from Citarella.  However, we've made his sauce before and it's so friggin' good.  You can make loads of it and it freezes well. First, heat the oil in your dutch oven or other heavy-bottomed pan, until it's smoking (that's really hot).  Cut the short ribs into three pieces (there should be three bones in each cut of meat you've bought, one for each chunk) and brown them for awhile in the oil, around 10-12 minutes.  Don't overcrowd the pan as you want the heat to stay really high, and if it's too crowded the moisture won't evaporate quickly enough and they'll begin to steam.  In my 5-qt. Dutch oven, I did two batches.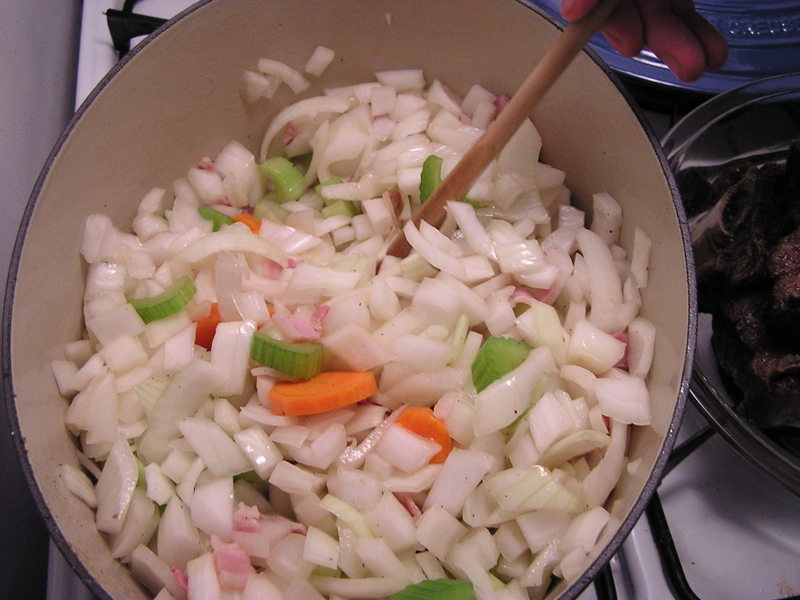 Next, remove the meat to a platter and put all the vegetables and the pancetta into the pot.  The recipe says to drain the excess fat but considering the ridiculous amount of vegetables, we bypassed that step.  At this point I started getting worried about the inexact instructions from Mr. Batali to use a "large" dutch oven.  They're all large.  Large has a different definition when you're discussing dutch ovens.  I thought mine was large, but I think I got the 2nd-smallest one available.  How are these vegetables going to cook when they're in the pot 8 inches deep?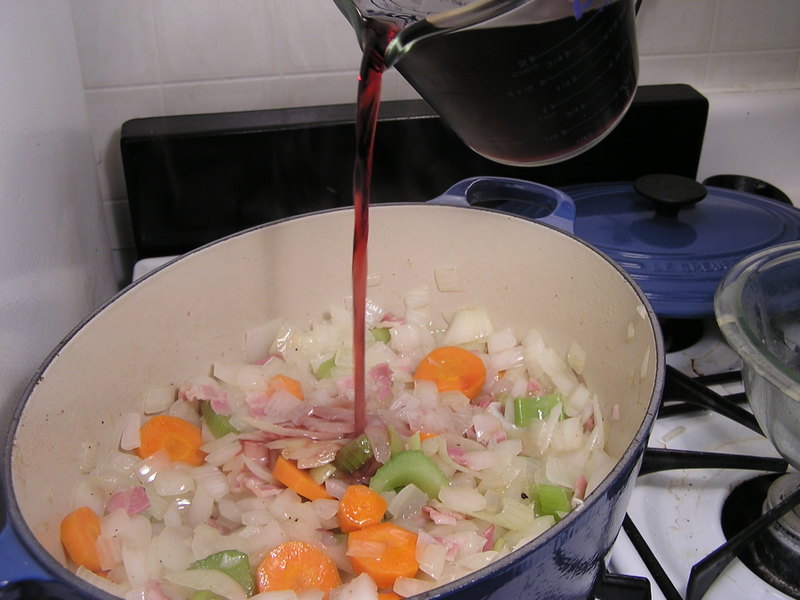 When the vegetables are soft and have begun to brown slightly, add the tomato sauce and the red wine.   Bring to a boil, then add the meat to the pot, turning the heat as low as it can go to a simmer.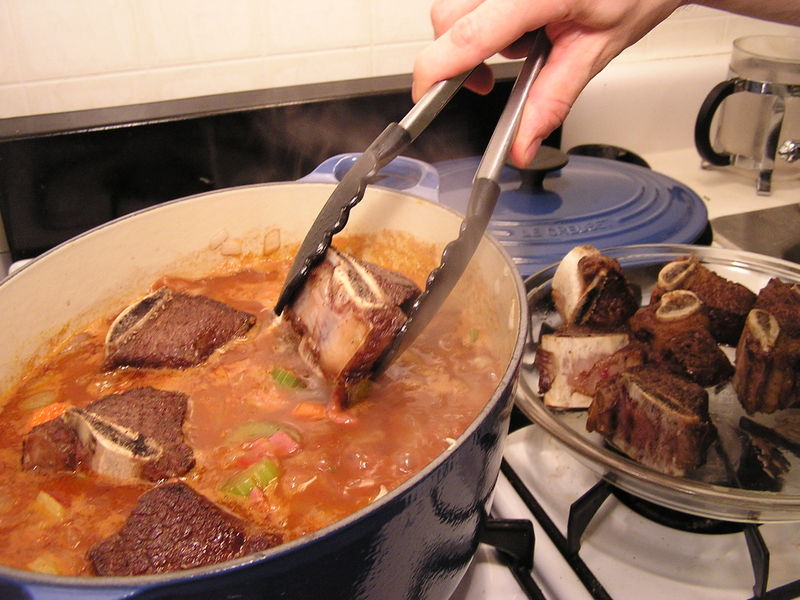 So is this looking like beef stew to anyone else?  I thought there was supposed to be just a little liquid in the pot.  Was I supposed to use a dutch oven three times this size? 2 hours of fretful wondering late, the recipe asks you to remove the ribs to a platter, then crank up the heat and reduce the sauce to 2 1/2 cups.  In the meantime we whipped up a Pasta with Parmesan and Nutmeg as the wonderful, flavorful sauce began filling the apartment.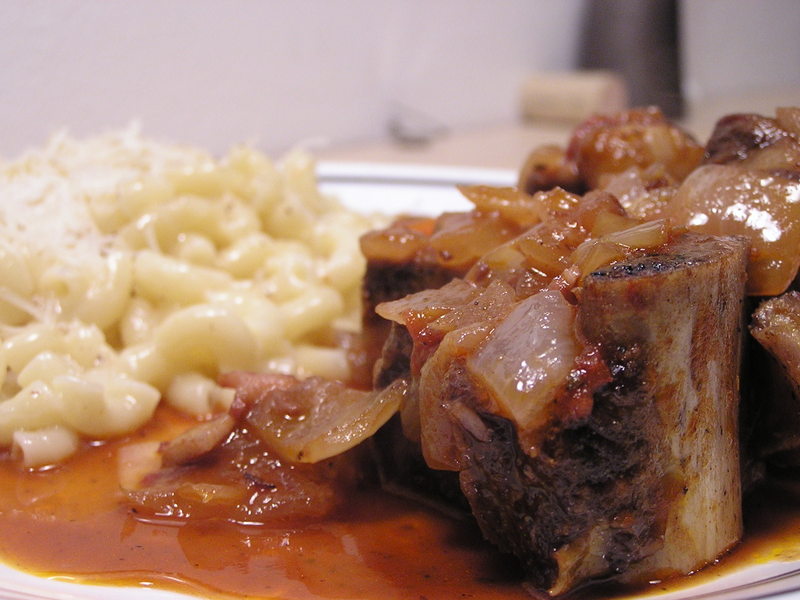 Yep, it looks a little like beef stew.  I'll admit: the flavors were outstanding, really remarkably rich and complex.  But the meat just wasn't quite right.  It's wasn't tender enough, it was slightly sinewy still, and it was just too wet .  Tasty, but not transporting.  This one, obviously, can't be blamed on bad cookware.  What had gone wrong?  Not cooked long enough, slowly enough?  Should have gone in the oven instead of the stove top?  Butcher was laughing all the way to the meat slicer as he sold me the wrong cut of meat to make me look stupid? More adventures in braising with my Le Creuset, hopefully to more success, will follow. Update: A later attempt at short ribs , with renewed enthusiasm and a lot more education, was very successful.