Those on a diet should click away now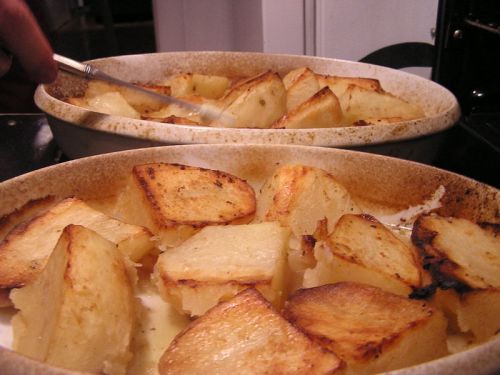 Those on a diet should click away now.  Those left will have their heart beat just a few ticks faster when these are finally removed from the oven, and even faster once the oil starts pumping through your system...
Barbara Kafka loves these, and we love her from creating them.  They are horrible for your health, use just a little less butter than a hollandaise, and look like burnt, mushy, home fries.  But don't be decieved.  These are crunchy, hearty, and filled with more flavor per square inch than any potato you can imagine.
We had these with Kafka's Herb-Roasted Chicken .
Melting Potatoes
4 tablespoons butter
3 tablespoons olive oil
6 potatoes
2 cups chicken stock
salt
Adapted from Barbara Kafka's Roasting: A Simple Art
Preheat oven to 500 degrees.
Peel the potatoes and cut in half length ways then cross ways.  It doesn't really matter how they are cut as long as they are uniform and are large enough pieces to stick above all the stock.
Cut 3 tablespoons of the butter into small pieces and place in a roasting pan.  Over medium high heat, melt the butter quickly and then remove the pan from the heat.  Add the olive oil.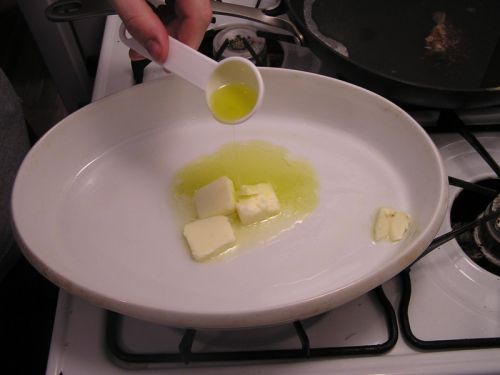 Put the potatoes in the roasting pan and cover with the oil and butter.  Lay out so there is only one layer of potatoes and then sprinkle with salt and pepper.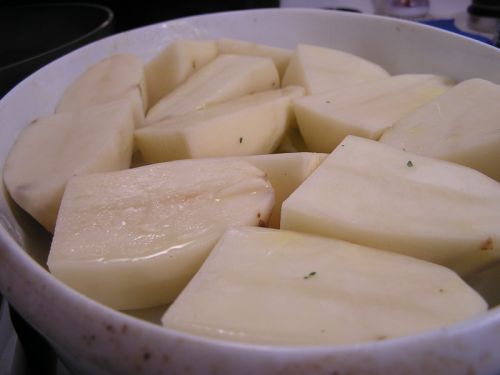 Now begins round after round of roasting, removing, and returning, so it's important to have the directions close or you'll get lost.  Just to keep things clear, these steps will be numbered:
1. Roast for 15 minutes, remove and turn the potatoes pieces in the pan.
2. Roast for 10 minutes, remove and flip the potatoes so the white part is face up.  Add the chicken stock.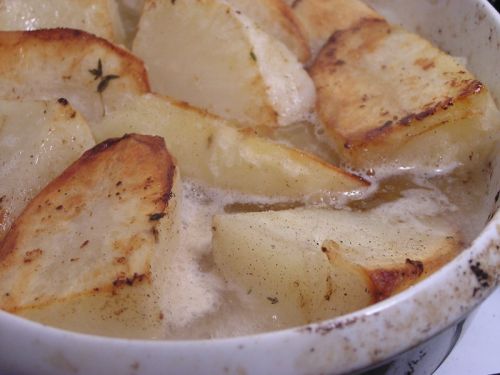 3. Roast for 15 minutes, remove and using the remaining tablespoon of butter, place a little bit of butter on each of the potatoes.
4. Roast for 5 minutes, remove, and finally, finally, finally serve.
It's tough, but that enormous roar breaking out across your apartment is your friend's celebratory cheers.

Food,
Agriculture,
American cuisine,
Barbara Kafka,
Barbara Kafka,
British cuisine,
Chicken Stock,
Cooking,
Food and drink,
Herb-Roasted Chicken,
Home fries,
oil,
Potato,
Potato,
Potatoes,
Roasting,
Sklandrausis,
Staple foods