There's more than one way to grill a chicken.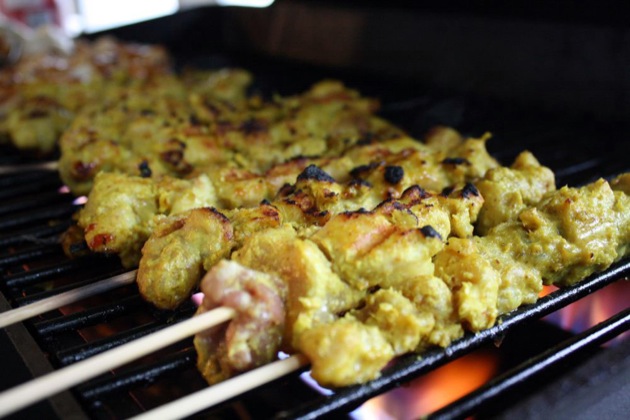 Cooking chicken satay at a July 4th cookout is, I admit, a little odd.  It's especially so if you consider that my wife and I subjected our parents and grandparents to the ordeal.  While everyone else around the country casually flipped hamburgers and hot dogs, I rounded up everyone available to help me skewer tiny pieces of highly marinated chicken onto wooden skewers.  That marinade also happened to have loads of turmeric in it, which dutifully dyed all of our hands yellow.  And that's not the half of it.
Though a tad nontraditional, I figured this meat-on-a-stick meal would make a nearly perfect mobile eating device, allowing people to walk around, snack a bite, and have free hand for beer or firecrackers.  Everything was going just fine until we placed the chicken satay on the grill.  Quickly, and without much warning, the wooden skewers began to catch fire and burn.  I attempted to blow the dozen little fires out, but they just reignited with renewed vigor.  Within a minute the skewers were gone, leaving just the chicken behind.  So...I guess I really should have soaked the skewers for the full thirty minutes...
Check out these burnt ends, along with the usual July 4th sides of baked beans and macaroni and cheese: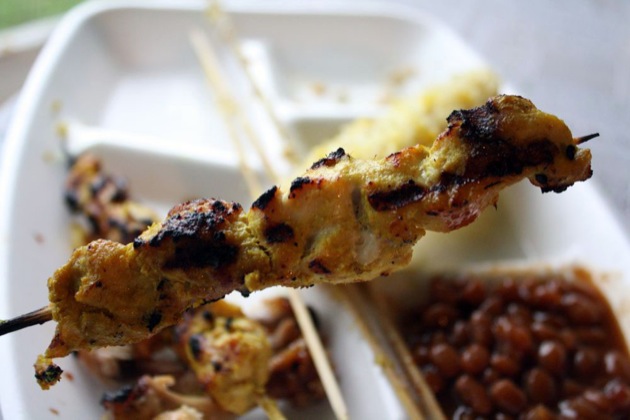 All this for a chicken satay, which I don't think I've ever given much thought to.  The only version of the dish I've ever eaten has been bland and tough.  Its only saving grace was the side of peanut sauce that usually accompanied it.  The creamy sauce coated the chicken, and managed to add a decent amount of the missing flavor.
But it was my wife's birthday, and she wanted something different than the usual cookout fodder.  She wanted chicken satay.  First I had to figure out how to make it, and then I had to make sure that the whole family would enjoy it, too.
Like I often do, I checked Saveur first.  There I gazed upon a delicious looking marinade made from coriander, fennel, lemongrass, garlic, turmeric, and ginger.  I was sold when they mentioned that this satay was so good that it didn't even need a dipping sauce.  Talk about gumption.  I checked dozens of other recipes, but I kept coming back to the Saveur recipe (which they have oddly taken down since I made this recipe).  And though many things went wrong, the end result was certainly the best satay I've ever had and perhaps the best grilled chicken.
Obviously, the flaming skewers were my fault.  They were supposed to soak for at least 30 minutes, but I pulled them out after 15 minutes because people were getting hungry.  Never again.  I was also intrigued by the use of chicken thighs instead of chicken breasts.  The latter tend to dry out on the grill without some sort of protection.  In fact, there isn't much in life I dislike more than boneless, skinless chicken breasts cooked quickly over a grill.  The thighs, on the other hand, I figured could withstand the barrage of the grill with some flavor left.
I couldn't have been more right.  I cooked both breast and thigh meat, and the thigh meat remained remarkable juicy and tender while the breast meat was a tad drier.  The thigh meat also seemed to carry the flavors of the marinade better.
And what a marinade that was.  It had a complex flavor thanks to the multitude of spices, and yet it wasn't the least bit spicy.  I loved the haunting aroma, and delicately layered spice.  It was exceptional grilled chicken.  But what surprised me most is that everyone else agreed.  My wife sure loved it, but so did her Grandma.
Chicken Satay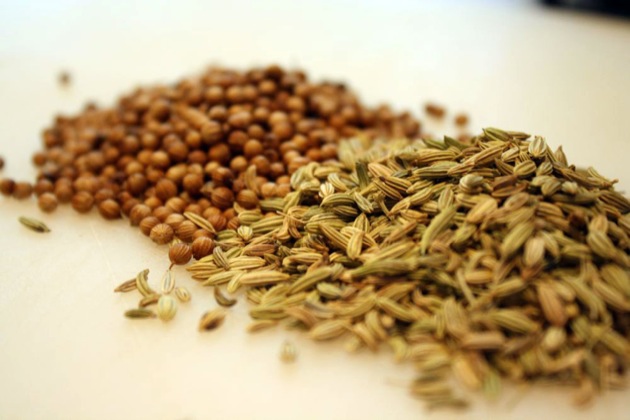 2 tablespoons coriander seeds
2 tablespoons fennel seeds
12 tablespoons peanut oil
8 tablespoons dark brown sugar
2 tablespoons ground turmeric
1 tablespoon kosher salt
10 shallots, peeled and chopped
6 cloves garlic
4 stalks fresh lemongrass, tough outer leaves removed and roughly chopped
4" ginger, peeled and thinly sliced
2 chickens or 6 pounds of boneless, skinless chicken thighs
20-30 skewers
Dump the corinader and fennel seeds into a food processor and grind them to a powder.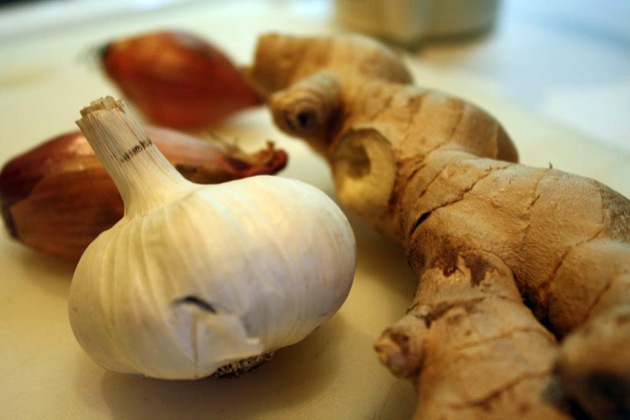 Add 4 tablespoons of the oil, 4 tablespoons of water, and all of the sugar, turmeric, salt, shallots, garlic, lemongrass, ginger.  Process until smooth.  Pour the marinade into a bowl.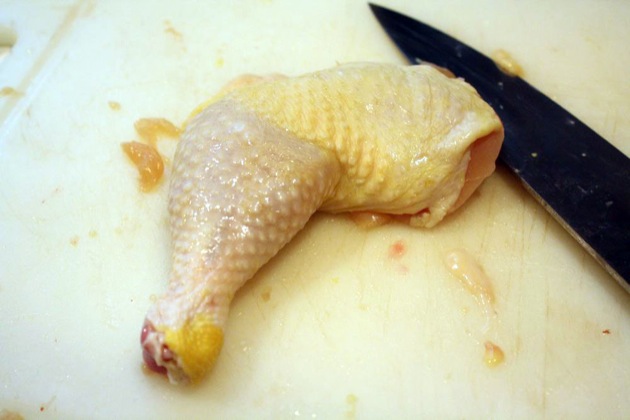 Now it's time for the meat.  I'd recommend buying all boneless, skinless chicken thighs.  They cook better and are easier to chop up.  But I did it the hard way, taking two whole chickens and removing the breasts, legs, and thighs.  Then I pulled off the skin and carefully removed the meat from the bones.  The technique that worked for me was to lightly scrape the meat away from the bone using quick cutting motions.  This took me a long time.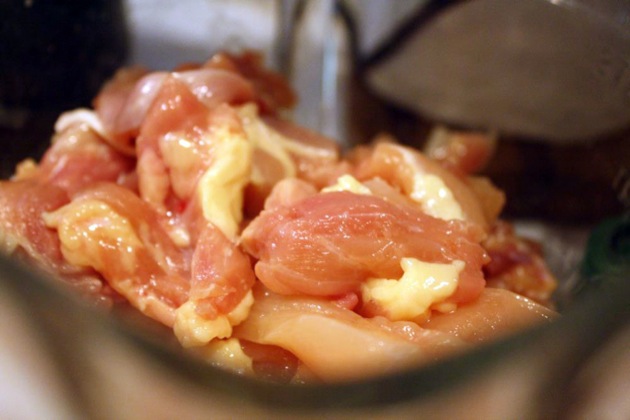 Once the meat is skinless and off the bone, chop into 1" by 1/4" pieces.  Toss them in the bowl with the marinade, and let them hang out in the fridge for 2 hours.
Soak skewers in water for at least 30 minutes so they don't burn like mine did.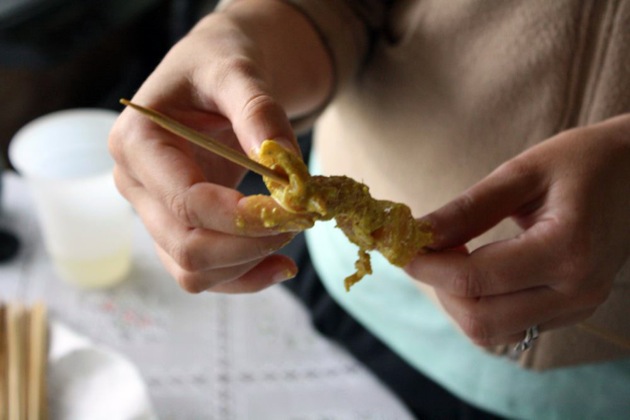 All that's left is to skewer the chicken.  Take a piece of chicken and weave the skewer through about every half inch.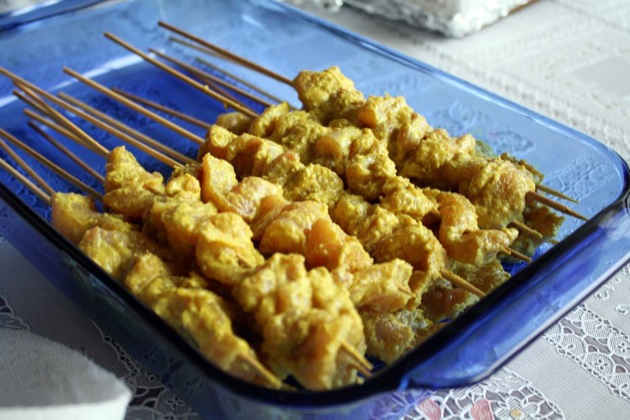 Each skewer can fit about three to four pieces of chicken.  If you are using both breast and thigh meat, it's best to keep a skewer with only one kind of cut.  I found that the breast and thigh hunks were done cooking at different times.   Meanwhile, fire up the grill.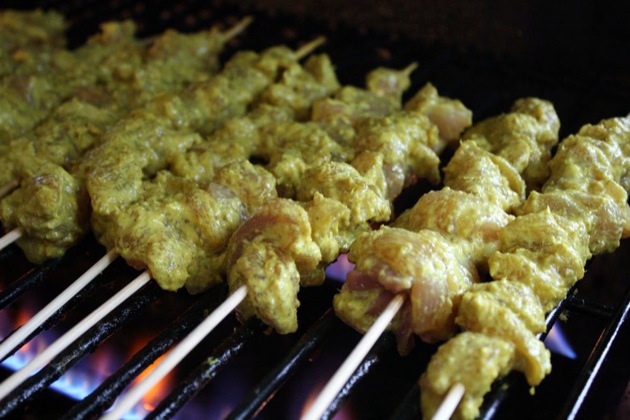 Grill the skewers for about 5 to 7 minutes on each side.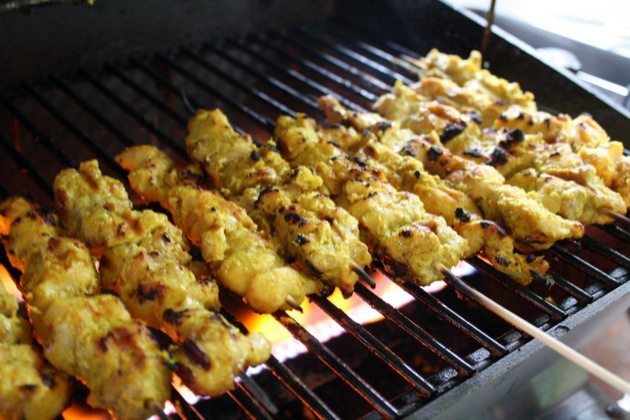 As you can tell, all my skewers were destroyed.  I had planned on flipping them only using the skewers, but I had to find a pair of tongs to help me out.
If you plan ahead and soak the skewers, enjoy picking them up the handle.  Otherwise, remove the chicken and enjoy with a fork.  Either way is delicious.
Food,
Main Course,
Grilling,
4th of July,
Asian,
Chicken,
Chicken,
Chicken,
Cooking,
Cuisine,
Filipino cuisine,
Food and drink,
Grill,
Grilling,
Indonesian,
Indonesian cuisine,
Malaysian cuisine,
Marinade,
Meat,
oil,
Peanut sauce,
Satay,
Singaporean cuisine,
Skewer,
Skewers