If that means eating 5 lunches in one day, so be it.
Honestly, there's a real need for these signs.  When we were venturing around the mercado square in San Antonio, a land of slightly schlocky and catchpenny Mexican crafts, every third vendor warned against this practice, where gringo , giggling tourists pretended to experience Mexican culture by putting on outrageous hats and saying " Arriba, Arriba " like Speedy Gonzalez. How to avoid this tomfoolery?
With a Saturday to spend in San Antonio, in town for a wedding, a big empty hole in our souls due to lack of good Mexican food in New York City (those Pace Picante sauce commercials , way back when, were strangely right), we set off to eat tacos all day.  An article in Texas Monthly , which is an excellent magazine, led the way. The 63 Greatest Tacos You Must Eat Before You Die was the headline splashed on the cover, and I suddenly, unmistakably, had a purpose.
As the editor of the magazine offers, "The fate of the world might not hinge on the pork al pastor from Fonda San Miguel in Austin, but it's definitely a service to our readers to bring said tasty taco to their attention.  And yes, it's journalism." Glossy mag in hand, about 5 hours of time to spare, without a cab or a rented car, my girlfriend and I hit the streets of San Antonio at 11am.  What follows are photos and thoughts for our journey.  It was an honorable performance from both of us, full of endurance and enthusiasm, and though I can't compare myself to the writer of the Texas Monthly article--she ate no less than 80 tacos in a four-day period in San Antonio alone--I will say that I've never managed to eat with quite that amount of stamina before.  A sense of purpose gives you allowance to do just about anything.  If that means eating 5 lunches in one day, so be it.
Part 1: El Mercado
It didn't take long for our cab driver from the airport to begin suggesting which Mexican restaurants are, in fact, the best in San Antonio, as well as the ones which we should avoid at all costs.  Mi Tierra, located in the Market Square just west of downtown, was near the top of his list.  It was also, coincidentally, #16 on the Texas Monthly list, which suggested the fajita taco.  One of the most touristy options available, it's also considered one of the consistently best. Inside, it looks like there are fireworks going off all 24 hours per day that the restaurant is open.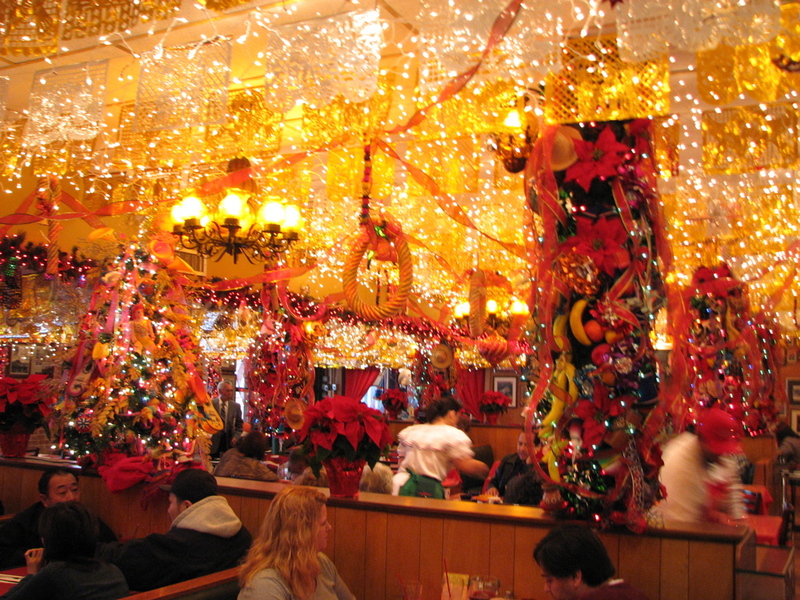 We passed row after row of Mexican pastries on the way to putting our name in and receiving our flashing square pager.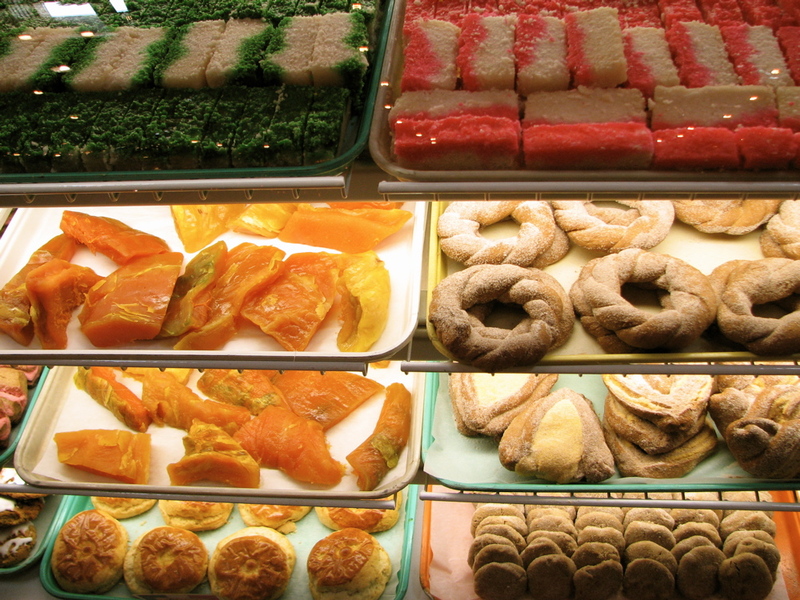 The orange chunks are sweet potatoes that have been boiled in sugar.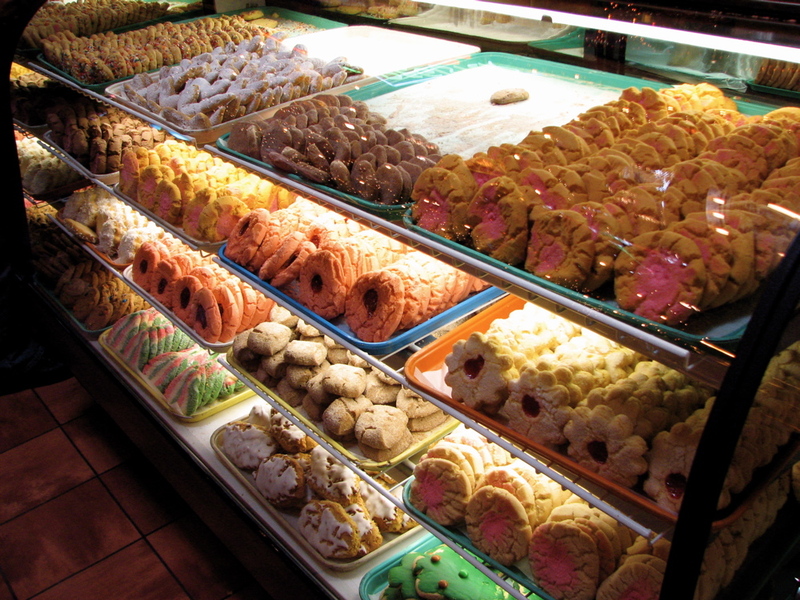 We were waiting outside when we noticed two unassuming shacks on the sidewalk with giant nylon signs proclaiming GORDITAS and FAJITA TACOS.  Personally, I always trust street food.  Just think about the Red Hook Ballfields .
We had a bean and cheese "gordita" which was an example of the San Antonio specialty, ~~ also called ~~ similar to a "puffed taco", a corn tortilla deep fried until it puffs up a golden hue. [ Correction: I've been informed by in-the-know San Antonio experts that "gordita" and "puffed taco" are not interchangeable: "They are both made with corn masa, but puffy tacos are always fried, while gorditas are generally cooked on a griddle or skillet as flat, thick pieces which are then cut almost in half and filled with meat, beans, guacamole, etc." Thanks, Terry!]  Next, a beef fajita in a homemade flour tortilla.
Both were so remarkable (were we biased because it was our first?) that we profusely and inappropriately began thanking the Gordita ladies, who looked at us nervously and did their best to smile.  The fajita guy seemed surprised at our enthusiasm as well.  But it was truly good food--the gordita beans were flavorful and "meaty"; the fajita meat, which was topped with tomatoes, lettuce, and a mixture of diced onion, jalapeno, and cilantro plus a fiery, deep red salsa, was perfectly shredded and flavored.  When our pager went off for Mi Tierra, we were almost reluctant to go in.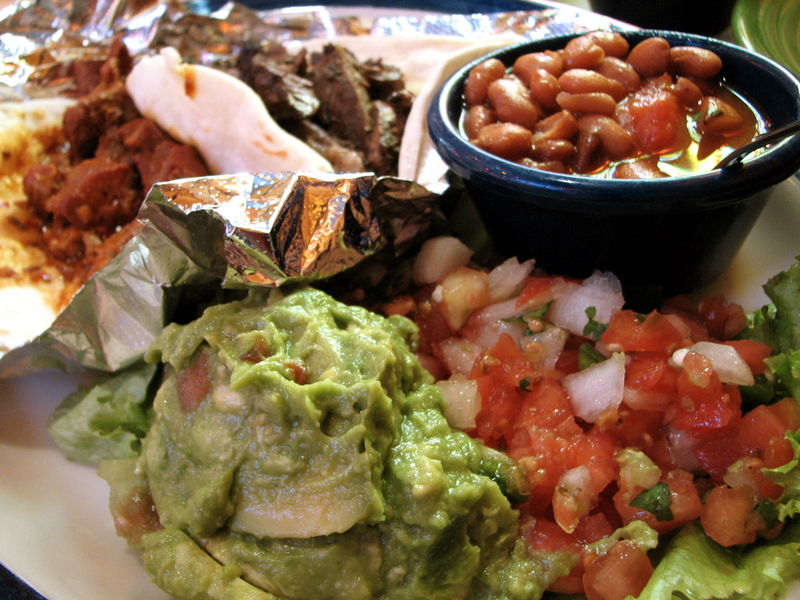 In Mi Tierra, as the Mariacha players serenaded the tourists around us, we devoured this, the duo of pork and beef fajita tacos, the former marinated in an orange-based glaze, the latter grilled to taste like a pretty traditional fajitia.  The verdict?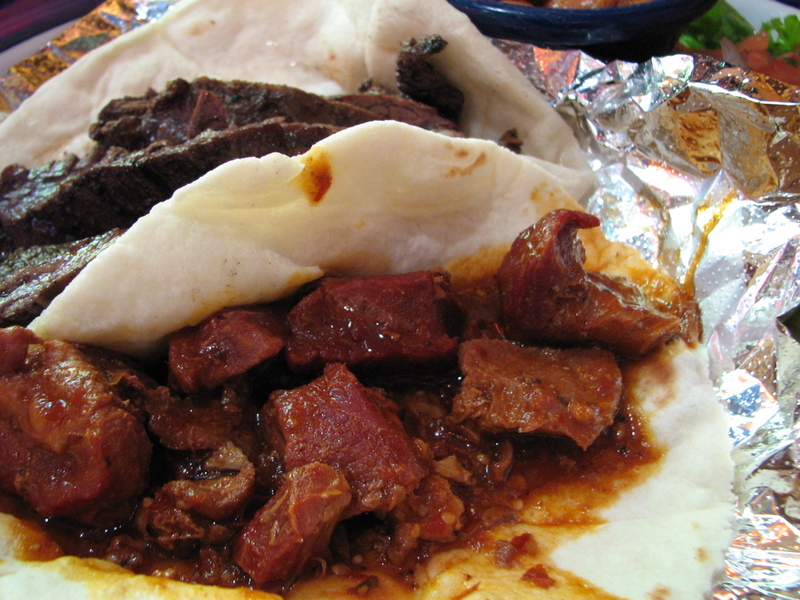 Very well-prepared, without a doubt.  The beef was pliable and not cooked from skirt or flank steak, which provided a great tenderness and texture, but which, I think, sacrificed some of the great flavor from those other cuts.  The pork was good but could have used about twice as much spicy heat.  In the end, Mi Tierra is superb at what it does: making the food that tourists expect to taste, and doing it very, very well.  The drawback in catering to the crowd is lack of invention and originality.
Part II: We hop the trolley
Around the downtown area, half of San Antonio's buses are decked out with fanciful wooden outfits, making them look like trolleys without tracks, replete with faux-gold lettering and good-humored bus drivers.  Our Blue-line driver immediately recognized Rosario's as an "authentic" Mexican restaurant, and said he'd let us know when to get off the trolley.  We left the compact downtown area and things began to spread out.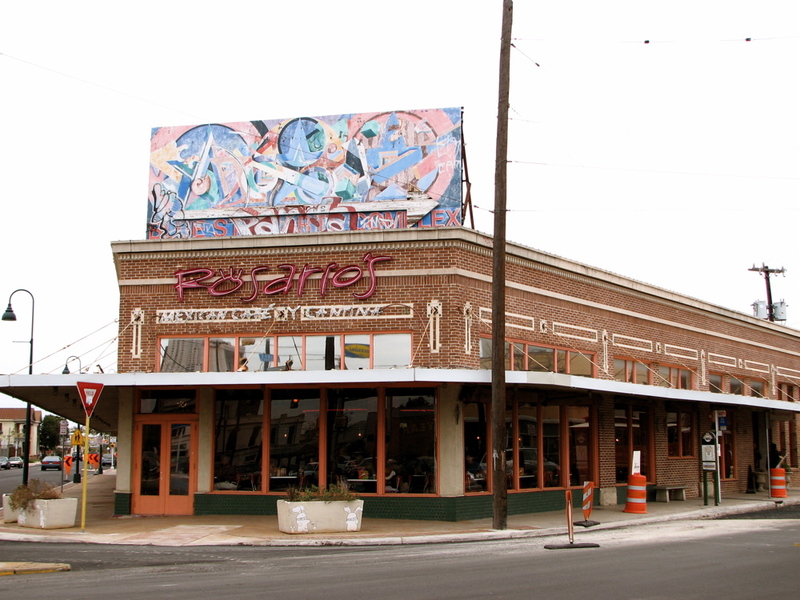 It's worth nothing that the Rosario's fish taco, made up of grilled tilapia, chipotle mayo, and cilantro-cabbage slaw, was declared the second best taco in Texas by Texas Monthly--within these brick walls it lay.  Thankful for the 3pm hour (hence no wait for a table--but the place was still just about full), we sat down in the airy, light-filled space and tasted some of the best salsa I've ever had.
Made from roasted-until-black tomatoes and jalapenos, but without any acrid char taste.  I don't understand how they do it.  The appetizer, a beans-with-chorizo atop little bready disks with queso fresca, was good but not great.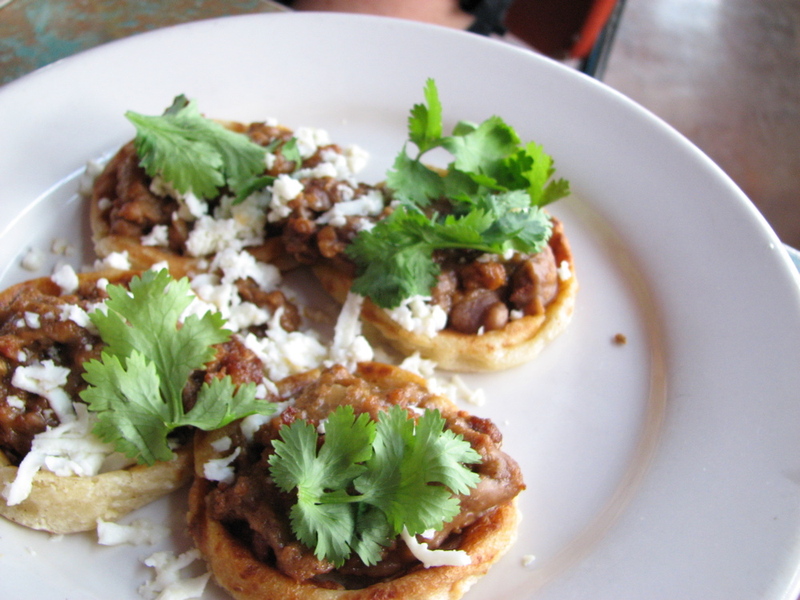 Undeterred, we ordered the tilapia tacos, as well as the grilled shrimp version that comes with the same accoutrements.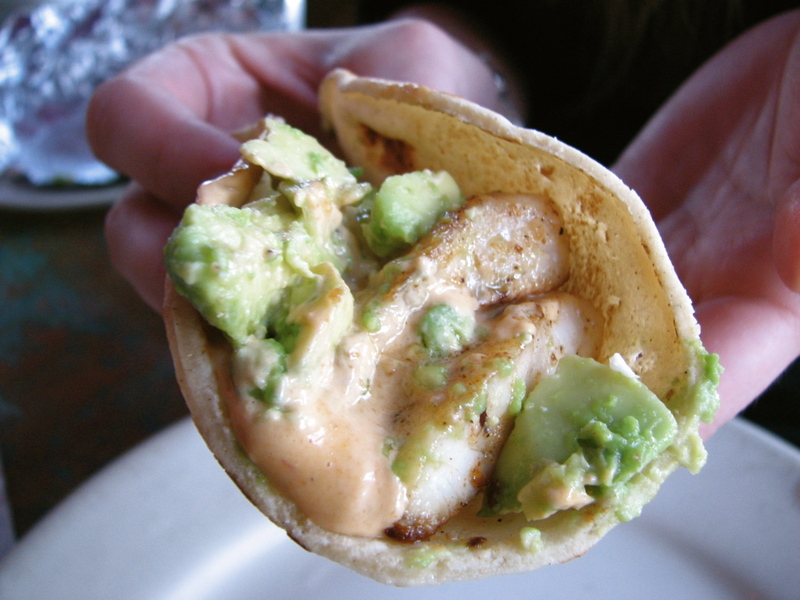 Oh. Dear. God.  Chunks of perfectly-ripe avocado, expertly seasoned tilapia, a slaw of cabbage and cilantro, plenty-of-heat chipotle mayo, liberating amounts of lime juice over the whole bundle.  Fresh, light, but not boring.
I'm torn between our own fish tacos , which use battered and lightly-fried tilapia a la the Baja peninsula style, and this creation you see above.  Both operate on the principle of a spicy mayo-based sauce, some crunch from the cabbage, and the use of tilapia.  Either way, this is one of the best tacos I've ever eaten. What could possible follow such exaltation?  We walked down the street to another recommended spot, Titos Mexican Restaurant, where the tacos are way too cheap for anybody's good.  The vibe is very informal, anything-goes, where there are endless items on the menu which combine beans, meat, and cheese in various and sundry ways.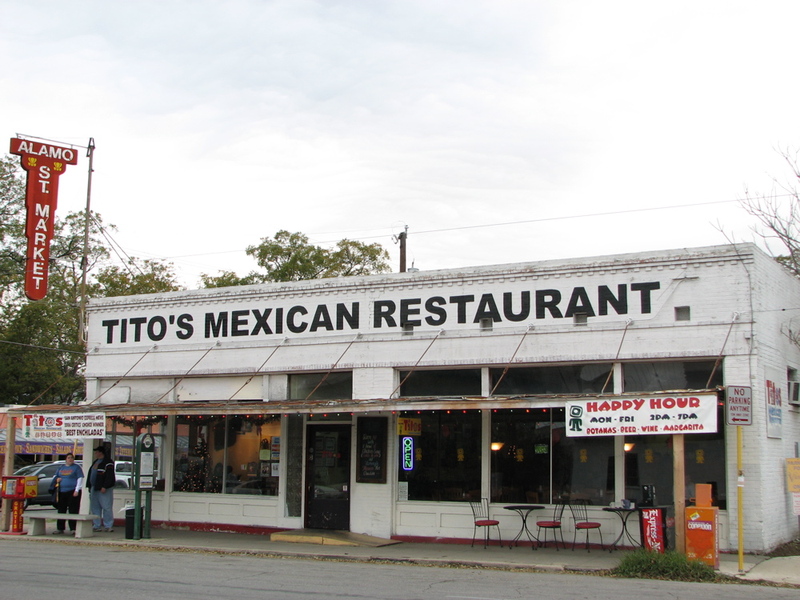 At this point, we were exhausted.  The thought of eating anything more was just about unbearable.  But we dutifully ordered a bean taco and encountered this.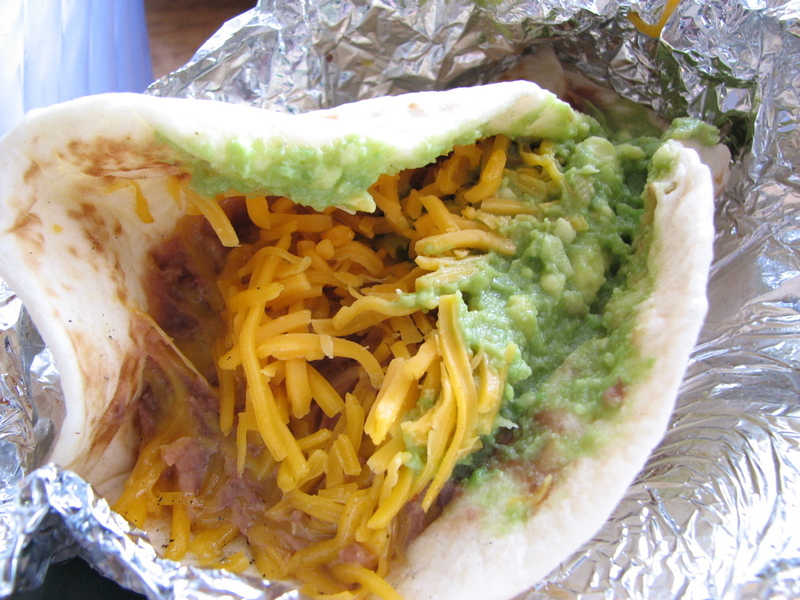 Was it because we had reached the end of our rope?  We weren't crazy about this at all.  The beans were suitably tasty, the guacamole pretty standard, but the tortilla was thick and too floury.  Perhaps we should have followed the advice of Texas Monthly, which suggests taking advantage of Tito's sprawling, rambling menu and ordering both a chicken and guacamole taco, then smashing them together to create your own culinary delight.
But there was no way we were ordering two tacos.  Instead, we ordered a Mexican hot chocolate and Mexican coffee, which were both very tasty, finding that subtle flavor place where chile powder and rich chocolate meet and become friends, and then holding a raucous party there.
We rolled back to the hotel, tired and satisfied.  With the prospect of a wedding buffet to eat in just a couple hours, we had to pass up another tempting option, the fried oyster tacos at Acenar, a hip spot on the river walk, San Antonio's picturesque promenade along the river downtown.  And there were many more options that, had we rented a car, would have kept us busy getting fatter well into the night.  But as often happens, the exploration and adventure for good food gave us reason to trek all over the city and get a real sense of the place.
Food,
Al pastor,
Austin,
Beans,
Corn tortilla,
Cuisine of the Southwestern United States,
Cuisine of the Western United States,
editor,
Entertainment,
Fajita,
Fonda San Miguel,
food,
Food and drink,
Gordita,
Gordita,
Mexican cuisine,
New York City,
Pace Picante,
San Antonio,
San Antonio,
San Antonio,
Taco,
Tacos,
Tex-Mex cuisine,
Texas Monthly,
Texas Monthly,
the Texas Monthly,
Tortilla,
Travel,
writer