Just a little love for laborious cooking projects.
The older I get, the more I appreciate the un-simple things. Sure, I admire the shining brilliance of singularly perfect foods — like the best summer tomatoes or a properly aged steak — but I'm far more interested in dishes that combine dozens of components into a complex and bewildering whole. I speak of Mexican moles, feisty Thai salads, balanced Indian curries, and, of course, a certain Creole dish I've been in love with for a while now: gumbo.
Gumbo is a passion of mine, even if I only seem to get around to it once a year or so. Part of the problem is that I live too far away from the source for it to worth ordering at restaurants (as I once learned the hard way ). But the main issue is that gumbo is an all day cooking process that absolutely can't be rushed. It is not easy or, if we could return quickly to the main thesis here, simple. Fortunately, there is much to love.
While obviously rich and filling, gumbo is also hauntingly complex — two attributes that may sound easy to pull off, but which are actually quite difficult to do effectively. After most stews simmer for a few hours, they come out flavorful and delicious, but usually an individual ingredient's character has been sacrificed for the greater good. But not gumbo; each spoonful revels in some harmonious combination of distinct flavors, which are still hard to exactly pinpoint and identify.
Gumbo's brilliance isn't based on one ingredient or component. Even the chocolate-brown roux, which is one of the most distinctive elements of the dish, is just one part. You also have to account for a few pounds of sausage, mounds of different vegetables, and a whole chicken. (Even the fat from the chicken is used to make the roux.) This doesn't even account for the eight different spices in the Creole Spice blend.
But — much like the dishes listed in the first paragraph — for all of gumbo's complexities and long ingredient list, it is essentially made from a collection of some of the humblest and cheapest ingredients out there.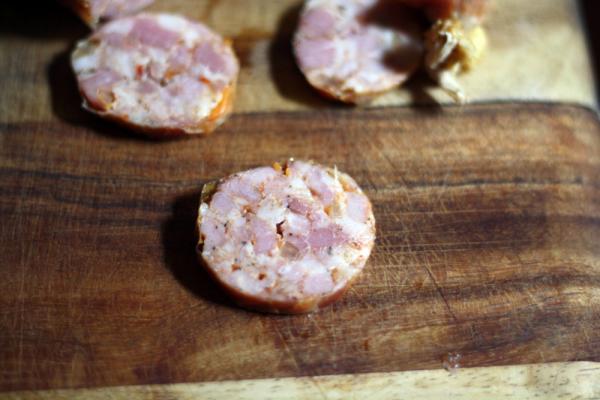 But let's back up for second, and explain how I got here. This post began with an attempt to make andouille at home — a process which wasn't exactly difficult, but did require me to hand chop meat, stuff it into beef casings, let it hang overnight, and then smoke it for a few hours. After the time-consuming process, I wanted to use it in some mad recipe that would really show it off. A gumbo seemed like the natural choice.
But gumbo isn't just about andouille, as I found out the hard way. In fact, many recipes didn't use it at all. (It really would have been good if I had figured this out before I started the process, but whatever.) Luckily, I was able to find a recipe from John Besh's _ My New Orleans _ that did use some, even if it was only a paltry six ounces.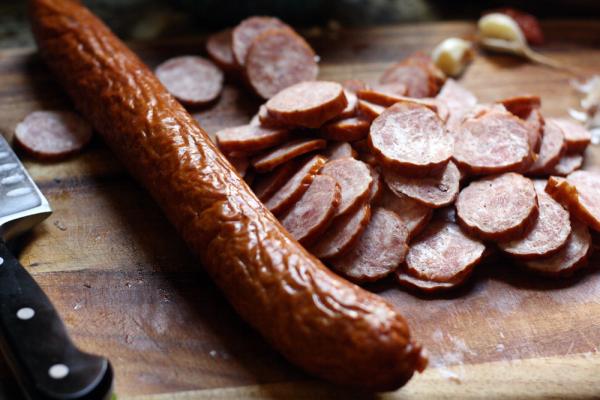 Which isn't to say there isn't A LOT of sauasage here, because there most definitely is. It's just that the andouille is used more as a flavoring, while a full two pounds of smoked sausage is used to bulk things out. I really didn't want to have to make that too, so I cheated a little and checked out Gephardt's Meat Market, where I was able to score a bunch of Polish-style garlic sausage. It's not as spicy as its New Orleans counterpart, but it would have to do.
Of course, having a whole bunch of ingredients doesn't make a dish complex. (Remember that stew?) But I knew I was in good hands with John Besh, especially when reading this sentence in the introduction: "I believe that overcooking is the enemy of flavor and texture, so you'll discover in my recipes that I suggest adding ingredients in stages to preserve both."
And it plays out here. Most of the vegetables aren't added until the meat has been cooked in the roux, helping to preserve their character and flavor. The okra and file don't go in until much later. (Note: I'm not going anywhere near the argument about whether you should exclusively use one or the other.) The result is a stunning bowl, where the individual components combine to create a new dish, but which still manage to retain their essential character.
Creole Spices
Makes 2 cups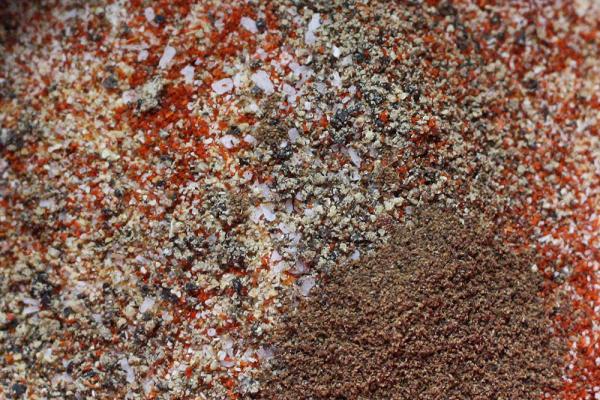 2 tablespoons celery salt
1 tablespoon sweet paprika
1 tablespoon sea salt
1 tablespoon freshly ground black pepper
1 tablespoon garlic powder
1 tablespoon onion powder
2 teaspoons cayenne pepper
1/2 teaspoon ground allspice
Mix everything together. You'll only need two tablespoons for the actual recipe, but it's worth having around. Store in a container with a tight fitting lid.
The Roux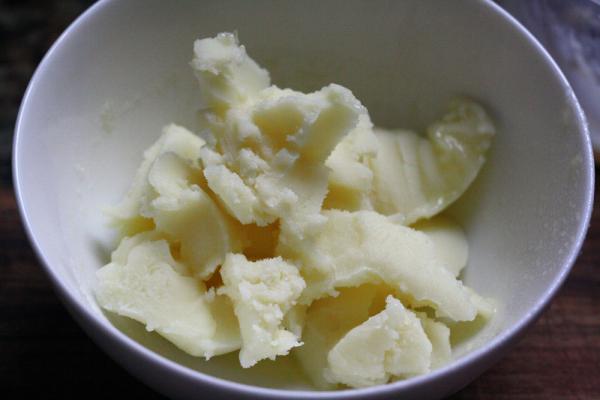 1 cup chicken fat or canola oil
1 cup flour
2 large onions, diced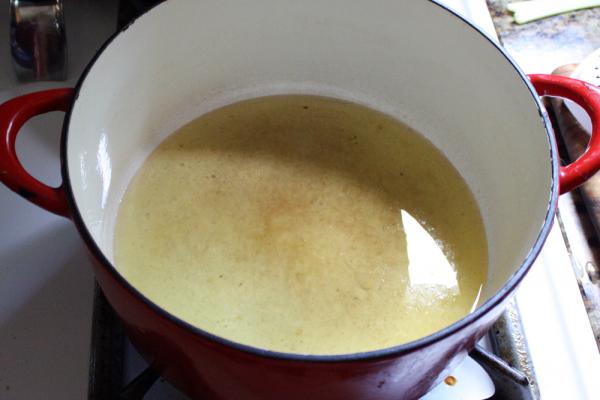 Heat the chicken fat or canola oil in a large Dutch oven or heavy-bottomed pot over high heat.
When shimmering, whisk in the flour. Stir well, and then reduce heat to medium.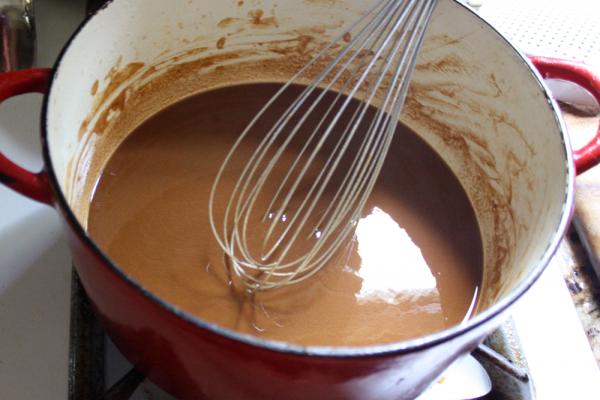 Continue whisking until the roux turns a dark brown, about 15 minutes. This is surprisingly easy, as long you make sure to keep stirring. The flour will quickly burn if you forget.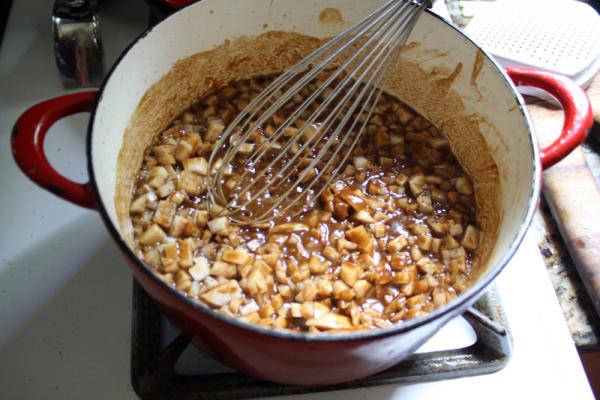 Add the onions to the roux, switch to stirring with a wooden spoon, and reduce heat to medium-low.
Continue to stir often, and cook until the roux turns glossy, about ten minutes.
Chicken and Sausage Gumbo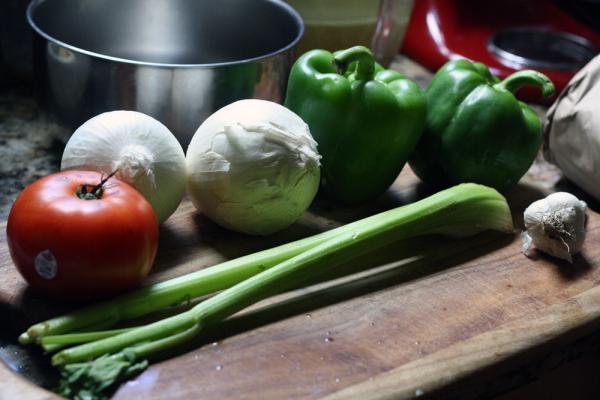 1 large chicken, cut into 12 pieces
2 tablespoons of the Creole spices
2 pounds spicy smoked sausage, cut into ½-inch pieces
2 celery stalks, diced
2 green bell peppers, stemmed, seeded, and diced
1 tomato, seeded and chopped
2 garlic cloves, minced
2 sprigs fresh thyme, stems discarded, leaves chopped
3 quarts chicken stock
2 bay leaves
6 ounces andouille, chopped
2 cups fresh okra, stems removed, chopped
1 tablespoon Worcestershire
salt
black pepper
file powder
Tabasco sauce
4 to 6 cups cooked white rice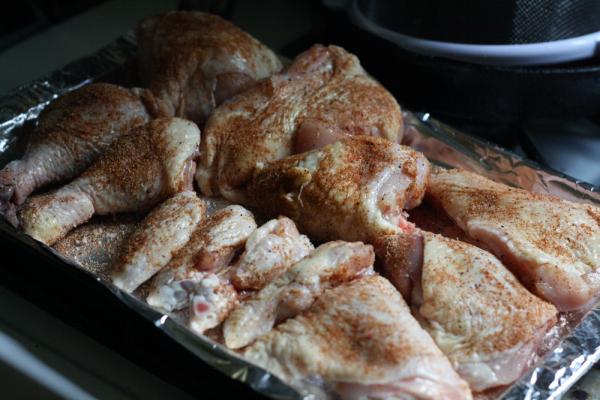 Sprinkle the Creole spices on the chicken pieces.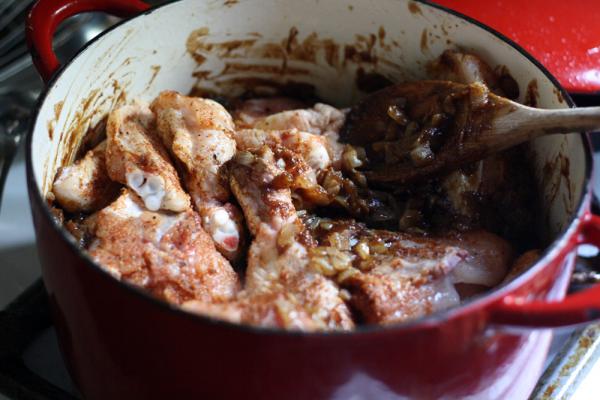 Then add the chicken pieces to the roux. Turn the heat back up to medium, and cook until the pieces have browned, about 10 minutes. Make sure to stir often. (Note: This was the exact moment when I realized I needed a bigger pot.)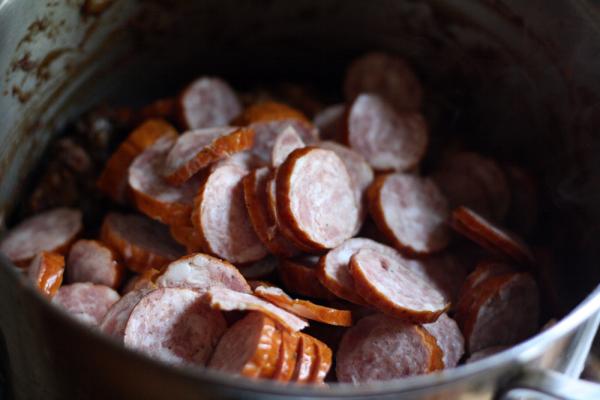 Add the smoked sausage, and cook for a minute.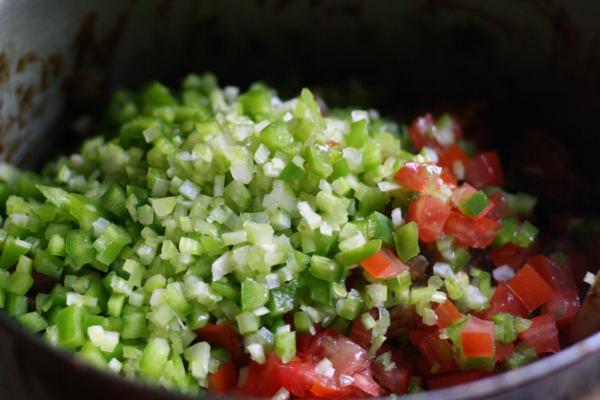 Then add the celery, bell peppers, tomatoes, and garlic. Stir well, and cook for three minutes. Pour in the chicken stock and stir well. Add the thyme and bay leaves, and bring to a boil. Then reduce the heat to medium-low and simmer for 45 minutes. Stir the pot occasionally, spooning off any fat that comes up to the surface.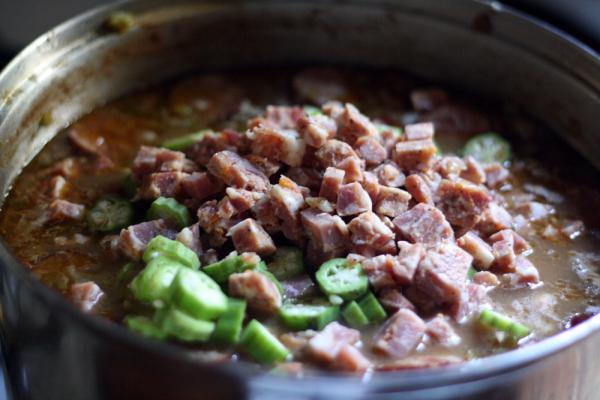 Add the andouille, okra, and Worcestershire sauce. Season with salt and pepper to taste. Add a pinch of file powder and a couple dashes of hot sauce. Simmer for 45 minutes. Continue to spoon off any fat on the surface. Stir occasionally.

Remove the bay leaves, and ladle the gumbo into bowls with rice. Serve with more file powder and hot sauce to taste.
Food,
Soup-Stew,
American cuisine,
Andouille,
Cajun-Creole,
Cuisine,
Curry,
Food and drink,
Gumbo,
John Besh,
Malaysian cuisine,
New Orleans,
Okra,
Roux,
Sausage,
Sausages,
Soups,
Thai cuisine