An Argument for Grains and Vegetables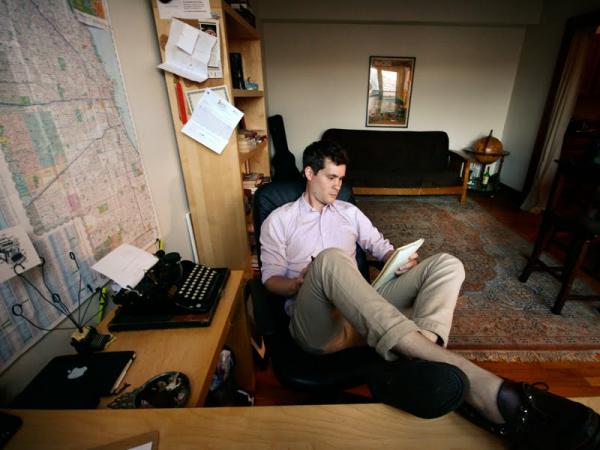 I've worked enough days in my life, from my desk at home to mind-numbing office temp gigs, to have developed some theories on lunch. To me, the working lunch is a series of balances: it should be fast, yet not fast-food; it should be a break from work, but not so indulgent you can't get moving again; it should be fulfilling, but not a cause of sluggishness. Lunch should work for you, but so often it's the other way around.
Here's the idea: Work ahead, do a little bit of planning, and go vegetarian. And above all keep in mind: Healthy doesn't have to mean it tastes like cardboard.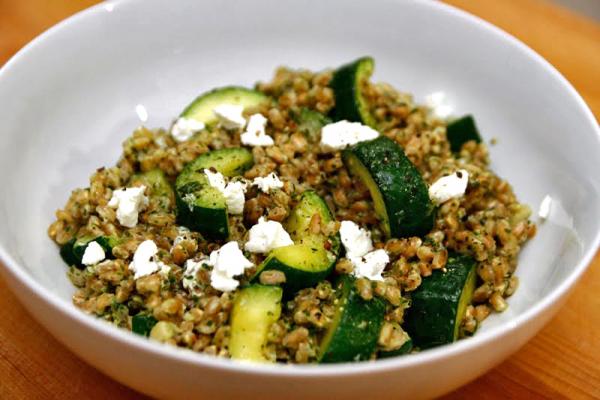 Start with a hearty grain, ideally with a high protein content—like farro, brown rice, or quinoa—and pair it with a vegetable, a touch of olive oil for slickness, and some kind of dressing. Sometimes just lemon juice works. Other times I rely on my stash of homemade vinaigrette that keeps for weeks in the fridge (speaking of, you should never buy salad dressing again after learning that recipe). But I'm most proud of my secret two-punch you see here: soft goat cheese and homemade pesto.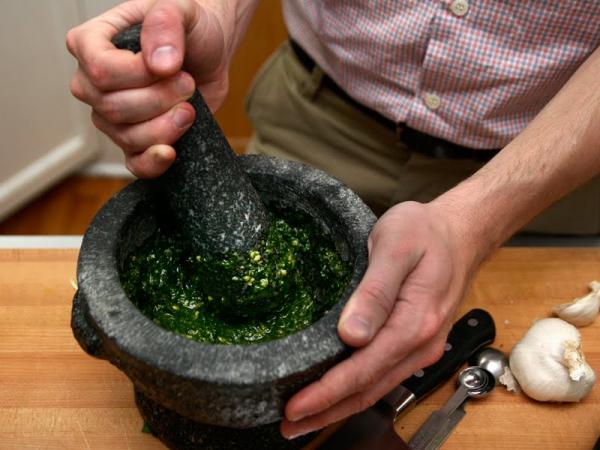 A few tips that make this a breeze:
Cook all the grain at once on Sunday, and stock up your fridge with a bunch of vegetables for the week. This recipe uses zucchini, but anything will work. Whatever you choose, it can be sauteed or roasted with salt, pepper, and garlic.
Make tons of pesto ahead of time and freeze it in ice cube trays. It'll keep for at least a few months and be on hand whenever you need to whip it out (for tossing with hot pasta, for stirring into a soup, or spreading on some toast for a snack).
Have goat cheese in the fridge. It stays fresh for a while.
Delicious, nutritious lunch is never more than ten minutes away.
Now get back to work.
This is the second installment of a collaboration with menswear blog The Midwestyle . If you're just joining us: The idea was born over drinks at a tucked-away Chicago bar with the idea that, in addition to knowing how to dress, a man should master a couple of go-to recipes. We're preparing one for each meal of the day: breakfast, lunch, dinner and dessert. The recipes will be constrained by situation (e.g. lunch while working from home), budget (e.g. $5, or maybe what you've got in the fridge) and time (e.g. you've got 10 minutes to throw an elegant breakfast together before heading to work.)
First, we did breakfast . Now: Lunch.
Farro with Pesto and Goat Cheese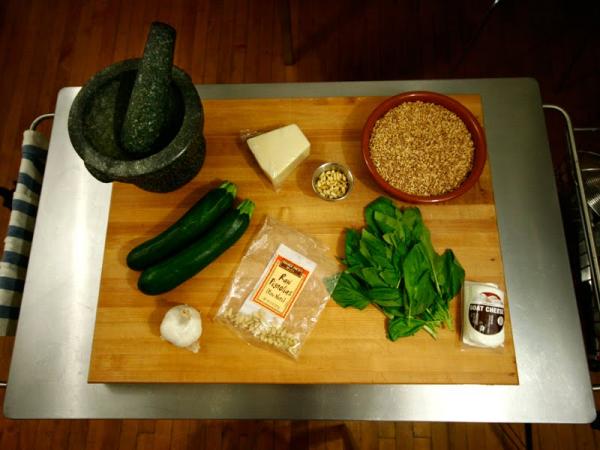 1/4 pound farro
2 tablespoons olive oil
1 clove garlic, peeled and roughly chopped
2 zucchini
1 ounce fresh goat cheese, crumbled
3 tablespoons pesto (recipe follows)
Cost: $2.15
Makes: One serving
Prep time: 10 minutes (plus 30 minutes or so the Sunday before)
In a pot large enough to comfortably hold it, cover the farro (or other grain) with cold water. Bring to a boil and season the water with salt; it should be pleasantly briny but not overly salty. Cook until tender but still chewy, 20-30 minutes. Drain well.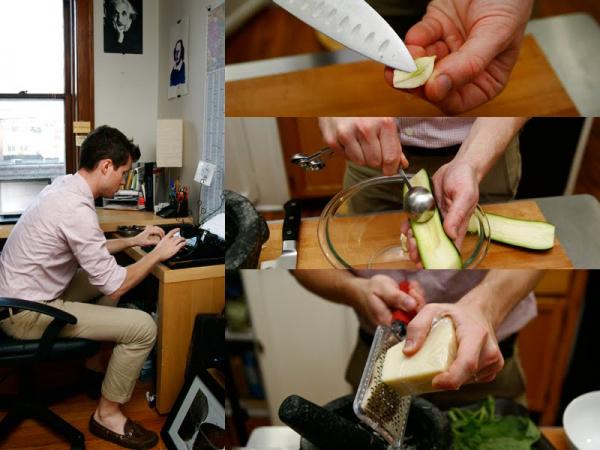 While the farro is cooking, halve the zucchini lengthwise and use a spoon to scrape out the seeds. Cut into half-moons.
Heat the olive oil in a medium skillet until it shimmers. Add the zucchini pieces and garlic and sauté, stirring often, until the garlic is golden and the zucchini is tender but not mushy, 3-5 minutes.
In a bowl, combine the hot farro, pesto, half the goat cheese, and the zucchini. Toss to combine—the heat of the farro should gently melt the goat cheese. Top with the remaining goat cheese and eat.
Homemade Pesto
1 clove garlic
1/4 teaspoon salt
A heaping handful of fresh basil
Olive oil as needed
2 tablespoons pine nuts
1/4 cup grated hard cheese (such as Parmesan or Pecorino)
Combine one of the garlic cloves with the salt in a mortar and pestle. Mash the garlic into a paste with the salt. Roughly chop the basil leaves and add them to the mixture, pounding them into a smooth-ish paste, then pound in the olive oil a little at a time to bring everything together into a sauce. Continue with the pine nuts and cheese and pound until smooth. Taste and season with salt, if needed.
NOTES ON PESTO
Alternatively, you could do this whole process in a small food processor, or quadruple the recipe and do it in a blender. But if you do that much (which we recommend), leave out the pine nuts and cheese before freezing in small quantities. When the time comes, defrost and mix in the cheese and pine nuts fresh.
Food,
Vegetarian,
Main Course,
American,
Botany,
Chicago,
Chicago bar,
Condiments,
farro,
food,
Food and drink,
Garlic,
Goat's milk cheese,
Grains,
lunch,
Midwestyle,
oil,
Pesto,
Pesto,
whip,
Zucchini,
Zucchini