Forget about the hallucinations; one needs to dish this thing out in drops.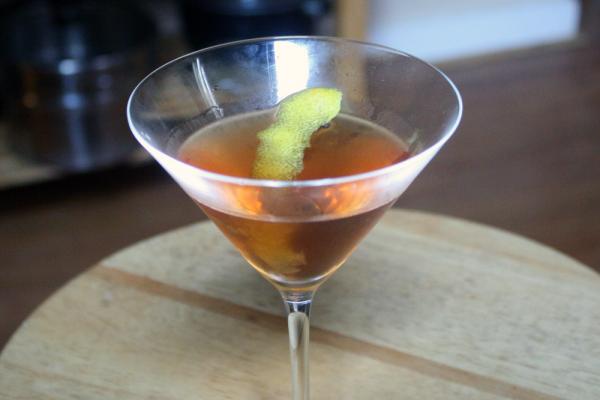 I'm not sure if there is a better drink to write about for the launch of an improved website design than my favorite cocktail of the moment — a drink so good it's literally called an "Improved Cocktail." (If only modern drinks had enough courage to pronounce their worth.) Think of it as a relaunched product's "new and improved" guarantee, except that this one was made back in 1876 and is alcoholic. Sounds great, huh?
But wait! What makes it improved?
The standard mix of bitters, liquor, and sugar is a perfectly fine combination as it is. In _ Imbibe _ , David Wondrich refers to that mixture as The Original Cocktail. But people like to tinker, and somewhere along the line bartenders started adding little drops of this and that in order to alter the flavor. A few drops of curaçao made it a Plain Cocktail, and the addition of further fruit garnishes made for a Fancy Cocktail.
By the time the Improved Cocktail rolled around, the curaçao had been replaced by a little Maraschino liqueur. But the real breakthrough was absinthe. As Wondrich explains it, the green liquor sounds a bit like the way today's bartenders are so fond of elderflower liqueur: drops of it found its way into just about every drink they could think of.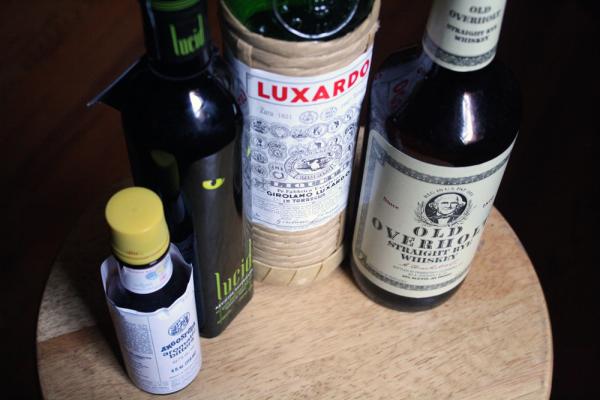 And why not? When dished out in drops it adds an indescribable element to each sip (though too much easily overpowers everything else.) Of course, we all know why the drink disappeared. In 1915 absinthe was banned in the U.S.A. — followed by alcohol in general a few years later — effectively ending its run in legal joints.
The ban was overturned in 2007, and I remember tasting some of the first legal drops when I worked at a liquor shop in Brooklyn. I was mesmerized by the depth of each sip, and how even a little bit could awaken just about every drink. Though rumors of its psychoactive properties are exaggerated, it's still a hell a drink. You'd think that I'd have quickly stocked up on the green spirit.
Unfortunately, absinthe remains prohibitively expensive, easily costing $60 or more for a regular bottle. In fact, it wasn't until a few weeks ago that I purchased my very first bottle, albeit a 375ml one. Needless to say, I'm not about to go about drinking pure absinthe cocktails every night, however much I want to (but if you're curious, here's how it's done ). No, this bottle of absinthe will be dished out in minuscule drops like the the rarefied liquor it is.
Which probably explains why I've been mixing up Improved Cocktails nightly for the past week. Only a few drops of absinthe are needed for each drink, yet they totally transform each sip. The result is a more complex and tempered drink. It's missing the razor sharp edge of the Original Cocktail, but it's easier to linger over and enjoy. Sometimes I need that.
Improved Whiskey Cocktail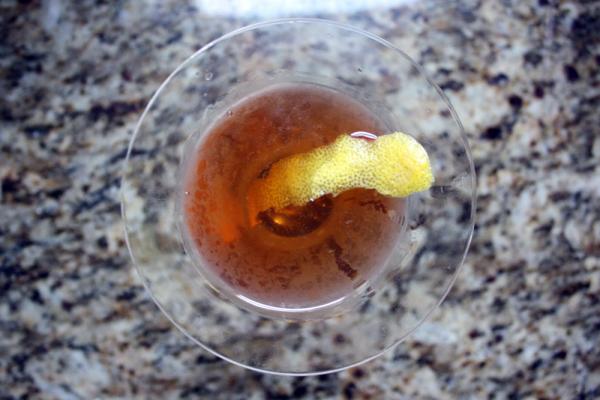 2 ounces rye whiskey (gin or cognac also work)
2 dashes Angostura bitters
1 teaspoon simple syrup (1:1 sugar and water)
½ teaspoon Maraschino liqueur
⅛ teaspoon Absinthe
1 lemon peel
In a shaker, combine everything except the lemon peel, and stir with ice until very cold — approximately 30 seconds or so. Strain into a cocktail glass. Rub the edge of the glass with the lemon peel and then drop into the drink. Serve.
Drinks,
Absinthe,
Absinthe,
Angostura bitters,
Bitters,
Cocktails,
Cocktails,
Culinary Heritage of Switzerland,
Dave Wondrich,
David Wondrich,
Distillation,
Drink,
Herbsaint,
Marischino Liqueur,
Sazerac,
Technology,
Whiskey,
Whiskey