Start a holiday morning tradition with delicious coffee cake.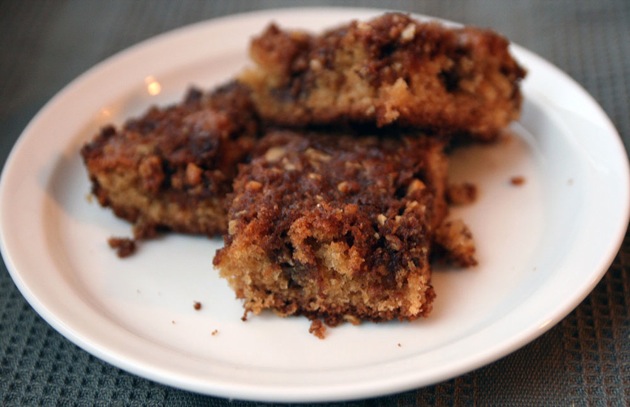 The holidays are incredibly food-centric times.  From the Thanksgiving turkey all the way until the Christmas ham, it seems like the whole country is suddenly swept up into mass foodie-ism.  Grandmothers start talking about their recipes.  Aunts compete with casseroles.  Somebody's got their secret, "this-will-change-your-life" salad, as if life-changing experiences didn't seem all that important any other time of year.
Most holiday recipes vie for a place on the table of the main event--the big family dinner that everyone sits down to.  After all, this is where a dish has the best chance to star.
But there's another holiday time meal that's often overlooked: breakfast.  And it's no less important than dinner.  Picture it: suddenly the house is full of step-cousins and long lost great aunts, people sleeping on couches and air mattresses in every corner of the living room.  These people are grumpy, displaced, and hardly know each other.  The problem presents itself: who is going to feed this army?
While the china comes out for meals later in the day, and every male has to eventually tie that tie, breakfast is all socks and PJs, lopsided hair, slippers, and bleary eyes looking for a coffee cup.  Getting this rag-tag crew into any sort of routine is nearly impossible, so breakfast is usually just laid out in the kitchen, buffet-style, and ready for the picking.
Coffee cake was invented for this conundrum.  Cook up a bunch of eggs, and they're bound to get cold and claggy.  Old toast gets stiff.  Cold bacon's pretty good--because any bacon at any time of day in any form will always be good.  But you'd need a short-order cook to flip pancakes for a full house.
Coffee cake just sits there in its baking dish: crumbly, buttery, sweet, and tempting.  It tastes as great piping hot from the oven as it does when it's room temperature and you're on your third slice.  It also takes incredibly well to the microwave--but there's really no need.  And this recipe, from Blake's great grandmother "GG," is as good as they come.
Coffee cakes come in two types--leavened by baking powder and/or soda, or by yeast.  The first is what most Americans would call a coffee cake, that tender, cakey variety which is often made with sour cream.  The other kind is more recognizable as cinnamon rolls.
This is the sour-cream variety and really couldn't be easier. Inexperienced bakers--that's us--should have no trouble with it.  The result has a tender crumb and is nice and buttery -- there is almost as much topping as batter, so it melds in the heat into a caramelized, sweet, crunchy goodness.  One could easily double the batter-to-topping ratio to make it a little more cakey.
GG's Coffee Cake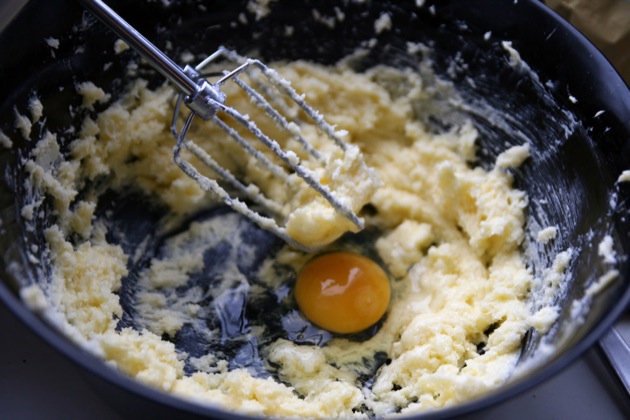 For the batter
1 cup butter
1 cup sugar
2 eggs
1 cup sour cream
2 cups flour
1 teaspoon baking soda
1 teaspoon baking powder
1 teaspoon salt
For the topping
3 tablespoons flour
1 cup brown sugar
1 cup chopped pecans
3 tablespoons butter, cold, cut into pieces
2 teaspoons cinnamon
Note: Photos reflect a half-recipe preparation.
In a large bowl, cream the butter with the sugar using a hand mixer (or use a stand mixer like a KitchenAid).  Add the eggs and blend in, then add the sour cream and mix until well-combined.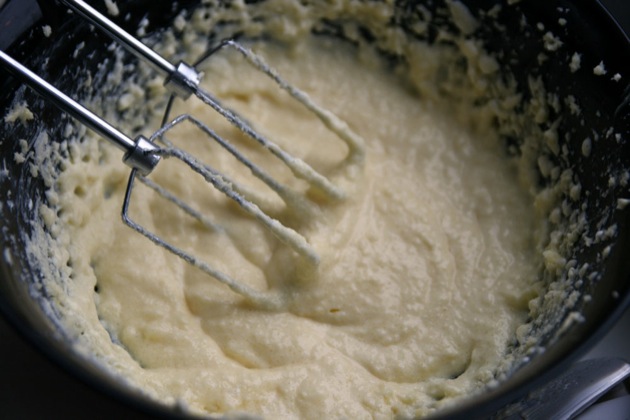 Sift together the dry batter ingredients (or place in a bowl and fluff together with a fork until well-combined), then add to the sour cream mixture.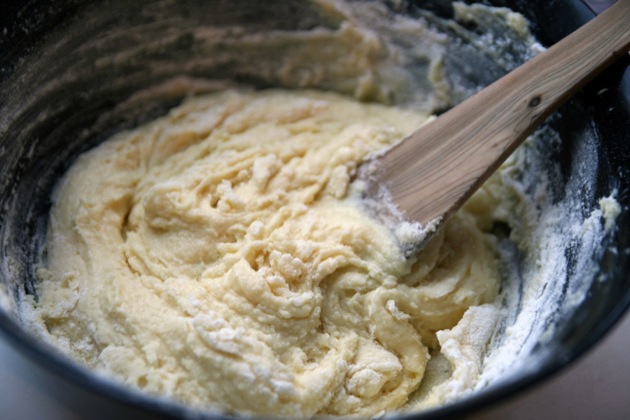 Grease a 9x13 pan, and sprinkle a little flour over it.  Pour the batter in and smooth over.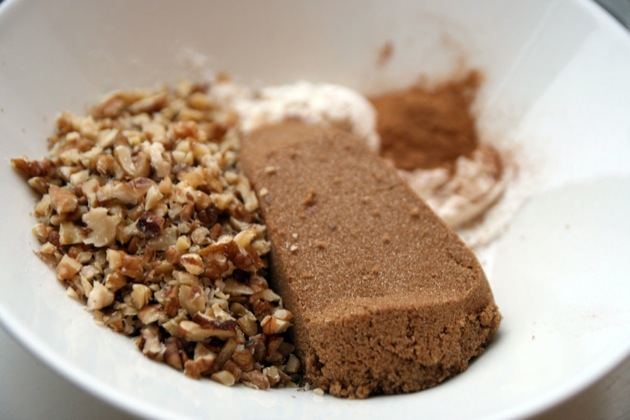 Combine the topping ingredients, cutting the butter with the other ingredients until no large chunks of butter remain.  Sprinkle the topping over all of the batter, then use a butter knife to haphazardly slice into wet batter, incorporating some of the topping mixture.
Bake at 350 for 40-45 minutes, until very well-browned.
Food,
Christmas,
American,
Baking,
Breakfast,
Coffee Cake,
Eggs,
Grains,
Breakfast