Grilled chicken breasts are the obligatory un-hamburger.  They tend to grace all backyard cookouts because someone ultimately didn't want red meat.  And even though most chicken breasts lack flavor, cook unevenly, and will undoubtedly be dry, they, like burgers, can be easily pressed between two pieces of bread.  They keep the cookout rolling, but they're essentially a cop out.
So when it came time to approach chicken for grill week- I guess it had to be done- I had to think of a different way to approach grilled chicken, one that wouldn't seem unappetizing from the onset.  And that was hard.
Because whole chickens don't lie flat on a surface, it would seem that a whole chicken would be out of question.  But two things can change all that and one man showed me the way.  That man is Rick Bayless, aka, Everyday Mexican messiah.  He suggests cutting the chicken along the backbone so it will lay flat on the grill as well as cooking the bird by indirect heat.
This whole indirect cooking method is news to me.  Maybe it was ingrained as a little kid when I was shown the age old way to cook smores, maybe it's all those horribly cooked hamburgers (flame-broiled right?), or maybe just my own pyro-centric view, but I thought to grill meant to scorch needlessly with flame.  That's one reason why I never grilled much before because things got dry before they got done.
So imagine my bewilderment when I figured out that the flames never needed to touch the meat and a whole chicken could be cooked perfectly and sealed with smoky flavor.  What kind of grilling is that?
After some research -Wikipedia and Alton Brown- I realized that most grilling should actually be indirect.  Soot doesn't taste that good.  This recipe attests to the truth of that statement.  The key to this recipe is to keep the chicken away from the coals, which is hard when the chicken takes up almost three fourths of the grill.  I'd assume most people won't have any problem.
The ingredient list looks mighty, but most of the items are for the marinade and should be found in any honest kitchen.
Grilled Roadside Whole Chicken with Knob Onions
Marinade
1 1/2 tablespoons ground ancho chile powder
1 teaspoon dried oregano
1/2 teaspoon ground clove
1/4 teaspoon ground cinnamon
2 garlic cloves, minced
3 tablespoons apple cider vinegar
1/4 cup orange juice
1 teaspoon salt
Chicken
1 chicken (3-4 pounds)
2 bunches green onions
1 tablespoon oil
Salsa
4 medium tomatillos
2 garlic cloves
2 serranos
1/3 cup cilantro
1/2 small white onion
1 teaspoon salt
Adapted from Everyday Mexican by Rick Bayless.
Combine all the marinade ingredients and stir well.  Set aside.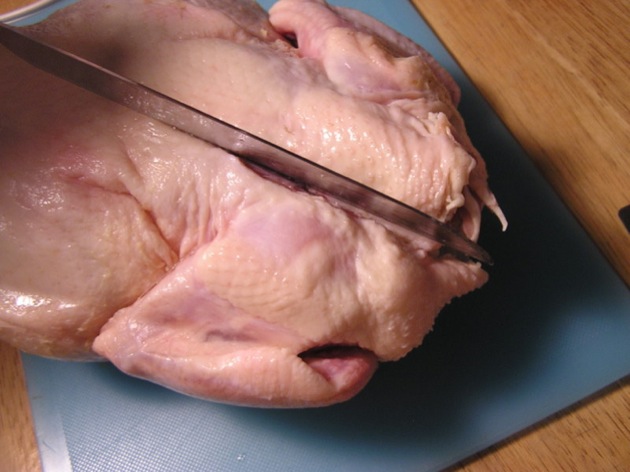 The chicken's backbone needs to be removed so it can lay flat on the grill.  Make an incision with a large knife on both sides of the back one from from to back.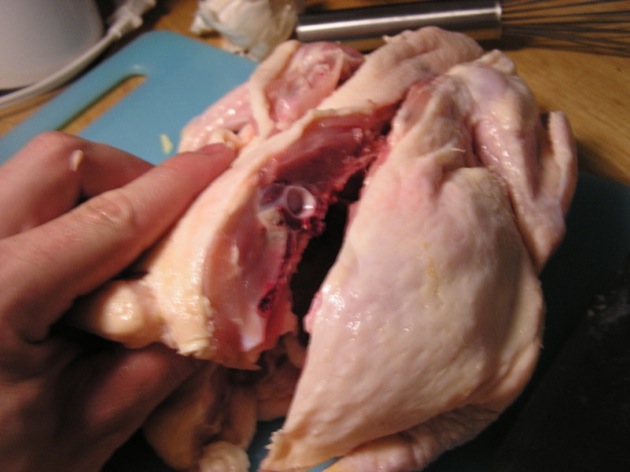 Remove the back bone and discard, or use for stock, or pretend to use for stock now and throw away later.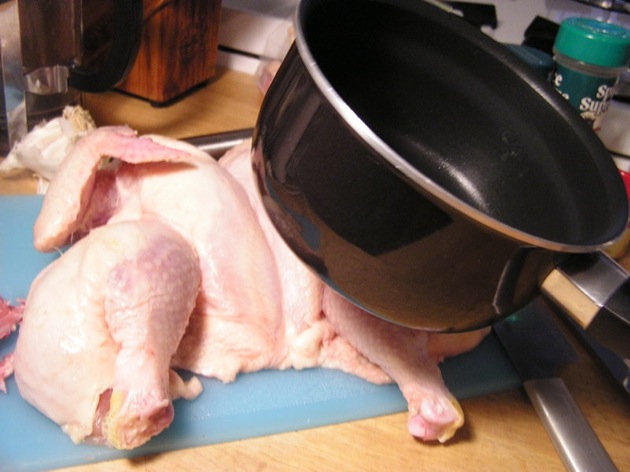 Lay the chicken flat on a surface and beat mercilessly.  Well, until it looks like a little more flat.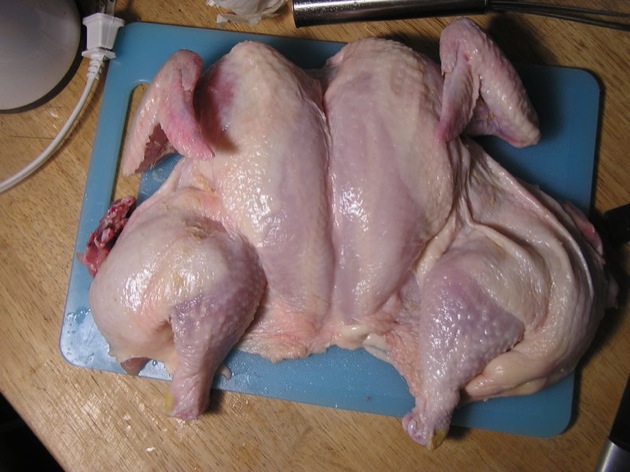 Rather like this.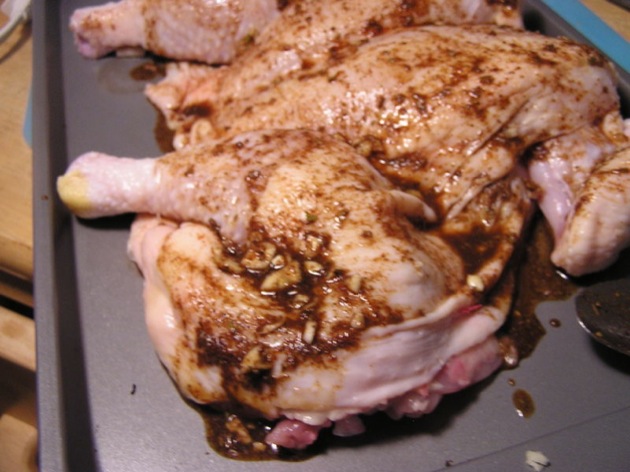 Coat with the chicken with the marinade.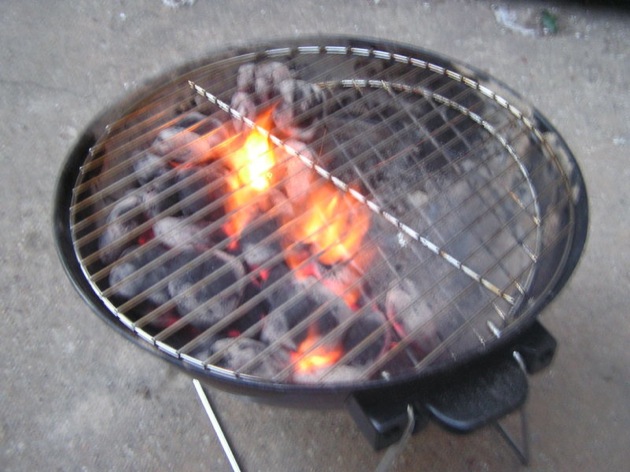 Start the grill.  When the flames have died down, move all the charcoal to one side .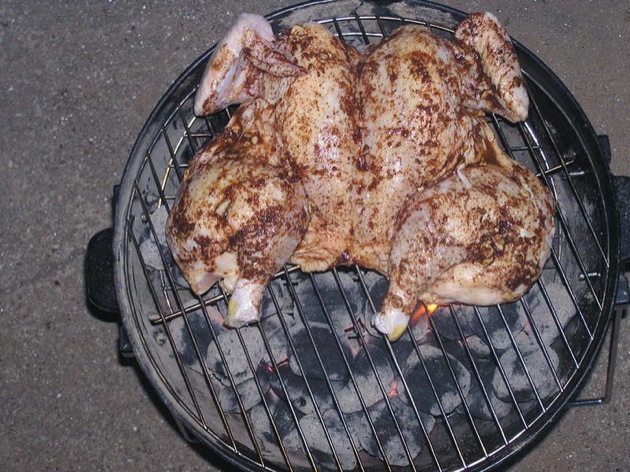 Place the chicken on the other side and let it cook for about 45 minutes.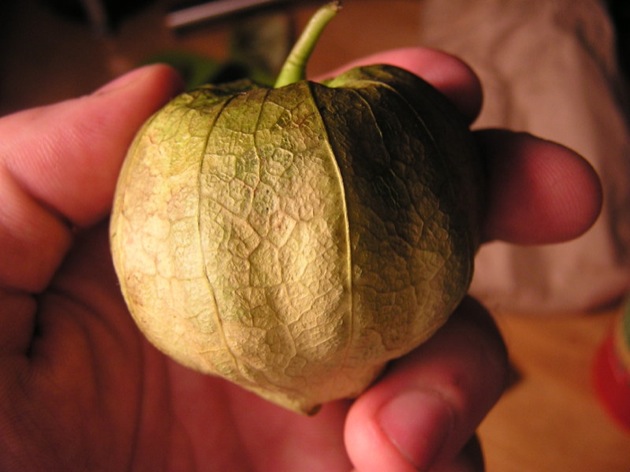 Which is plenty of time to prep the sauce.  Remove the husks from the tomatillos.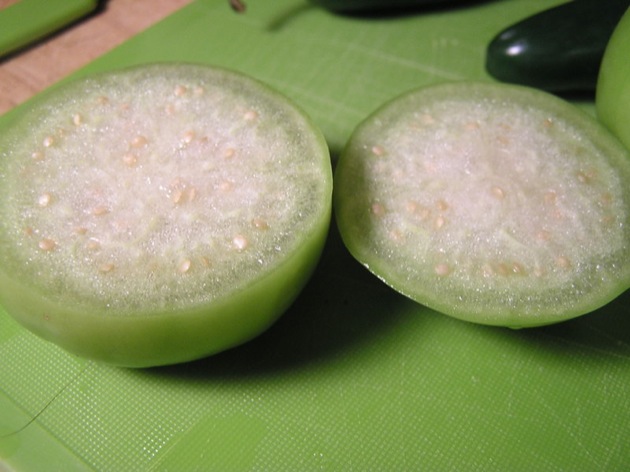 Cut them in half.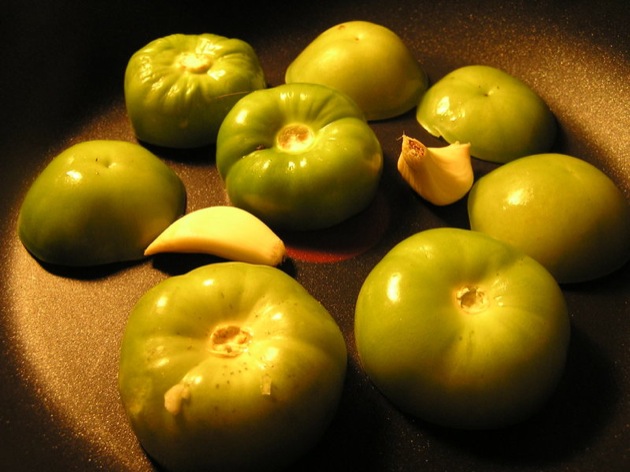 Saute them in a non-stick pan with the garlic.  No oil is really needed.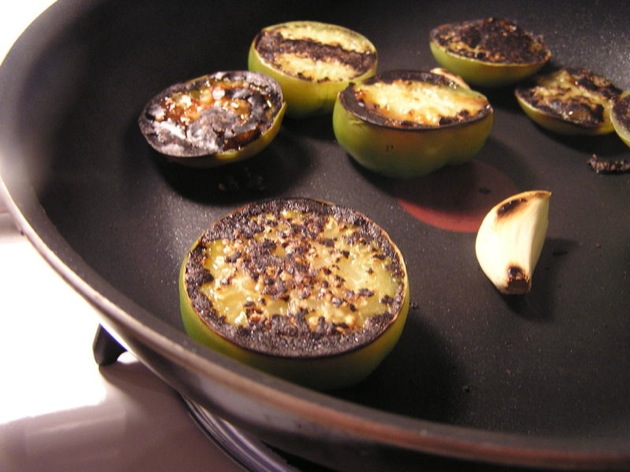 Saute until they have browned, or blacked slightly and place in the blender.  Add the roughly chopped cilantro and onion.  Puree the sauce until look like a green and smooth.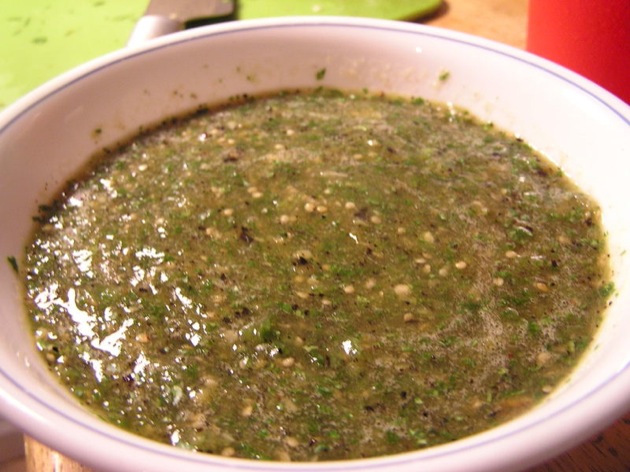 Rather like this.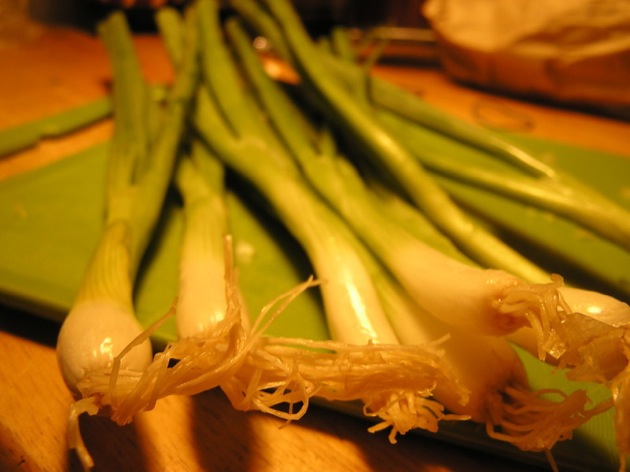 Remove the green onions, coat them in a little olive oil and salt and bring them out to the grill area, which is hopefully outside.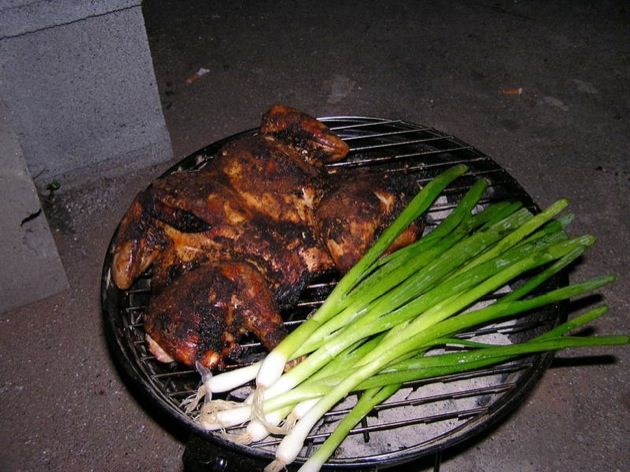 The onions only need 10 minutes or so, so just throw them on when the chicken is nearing completion.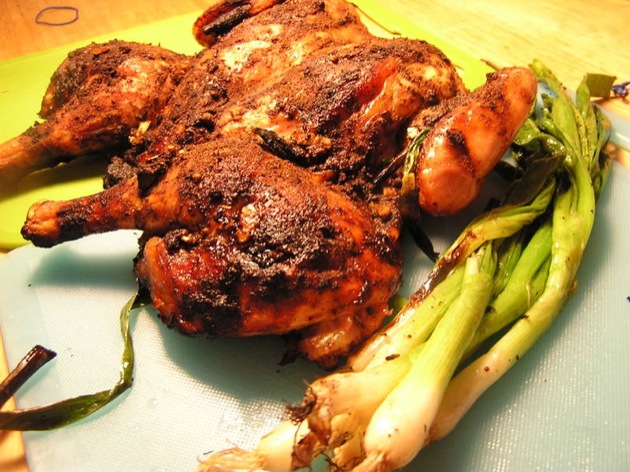 When the chicken is done, remove and let it sit for about 10 minutes.  If you start cutting through now the juices with spread out everywhere.  So wait. When ready, cut the chicken into legs, thighs, and breasts, and dish up.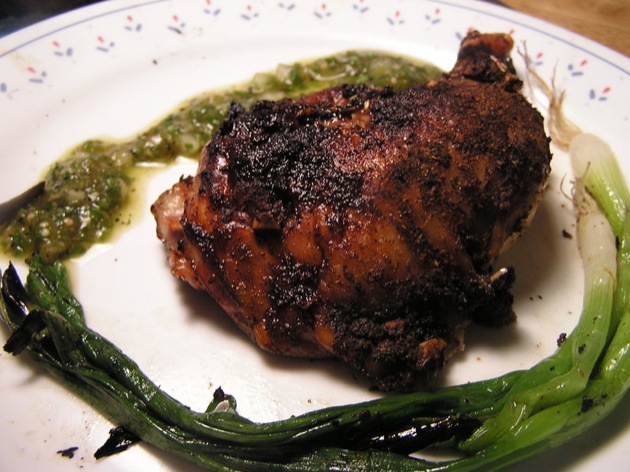 Serve with the tomatillo salsa and a couple of the green onions.
Chicken,
Chicken,
Grill Week,
Mexican,
Salsa