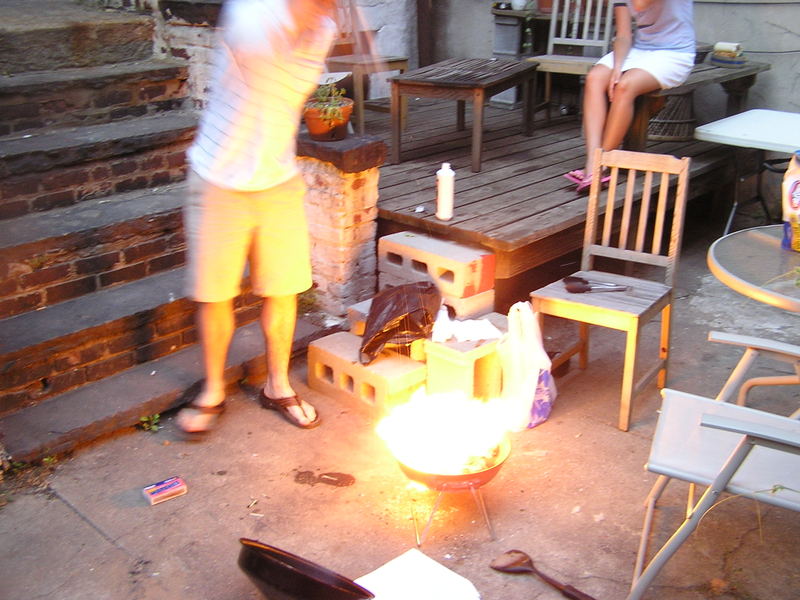 Back in the days of heroicism and yore, legends and lore, shish kebab was invented.  In between bouts of maiden-rescuing, treasure-finding, and windmill-attacking, the roaming horseman of the world's countryside decided that they hadn't done enough for mankind.  One evening, as the stars shone brightly and the last few vagabonds were settling lazily against rocks for a pipe and a night's sleep, one awoke with a start.  In a (literal) stroke of genius, he lopped off a piece of animal flesh from the night's hunt and plunged the end of his sword into it, swinging it around, over his companion's head, and toward the white-hot smoldering coals of the fire.  With a look of wild invention on his face, he turned and twisted the sword and the gamey smell of cooked flesh began wafting and rousing the just-sleeping horseman.  Following suit, they all had a midnight snack and smiled knowingly at the culinary contribution they had made to the world.  Shish kebab was invented. Kind of a true story , no joke.  At some point along the way, everyone agreed that lamb was the best animal for the job, and it was quickly acknowledged that Indian, Middle Eastern, and Greek cuisines had the death grip on spicing this particular animal's meat.  People started stuffing them into pitas with vegetables, and when I was travelling around Europe I remember every country had a different ingredient list and a different spelling. We decided that Jim Botsacos' New Greek Cuisine had the right idea, and were also swayed by the opportunity to make tzazki sauce, that gloriously cool and garlicky white sauce that everyone remembers from their childhood neighborhood gyro shack.  With a crisp green salad to freshen things up along with some boxed cous-cous, it ended up being a pretty great night.  We also learned some secrets about cooking lamb--namely that there's a sweet spot between medium-rare and too tough where the lamb explodes with flavor, has the perfect texture, and there's a general sense that magic is happening. Souvlaki with Yogurt Garlic Sauce 1 1/4 cups extra virgin olive oil 2 tablespoons finely chopped garlic 1 tablespoon dried oregano 2 pounds leg of lamb cut into 1 1/2 inch cubes 3 yellow peppers 5 red onions 25 cherry tomatoes Yogurt-Garlic Sauce 1 cucumber 3 garlic cloves, chopped 3/4 cup Greek yogurt salt and pepper Shredded Romaine Salad 1 large head of romaine 1 bunch scallions 1 bunch fresh dill 1/3 cup of extra virgin olive oil 1 lemon salt and pepper Adapted from New Greek Cuisine by Jim Botsacos.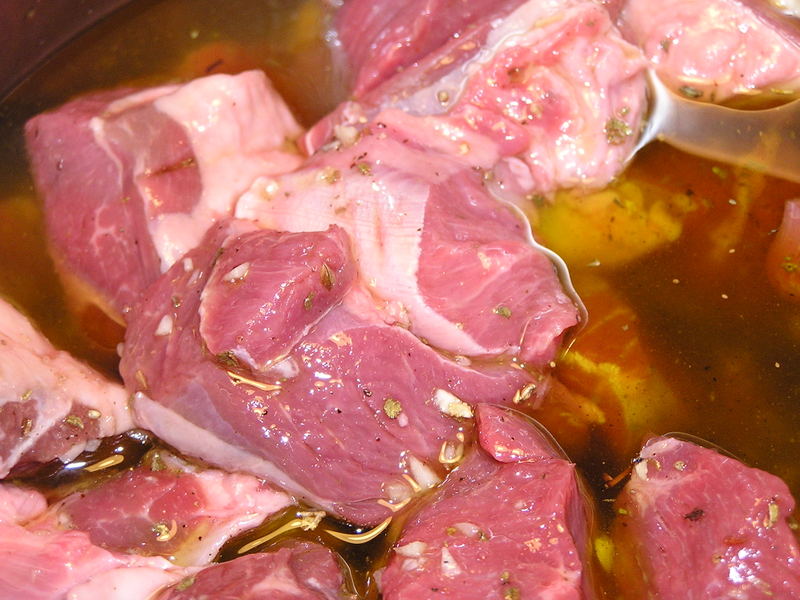 Souvlaki In a small mixing bowl, combine the garlic, oregano, a teaspoon of salt and pepper, all but 1/4 cup of the oil.  Toss the meat in and let it marinate for an hour.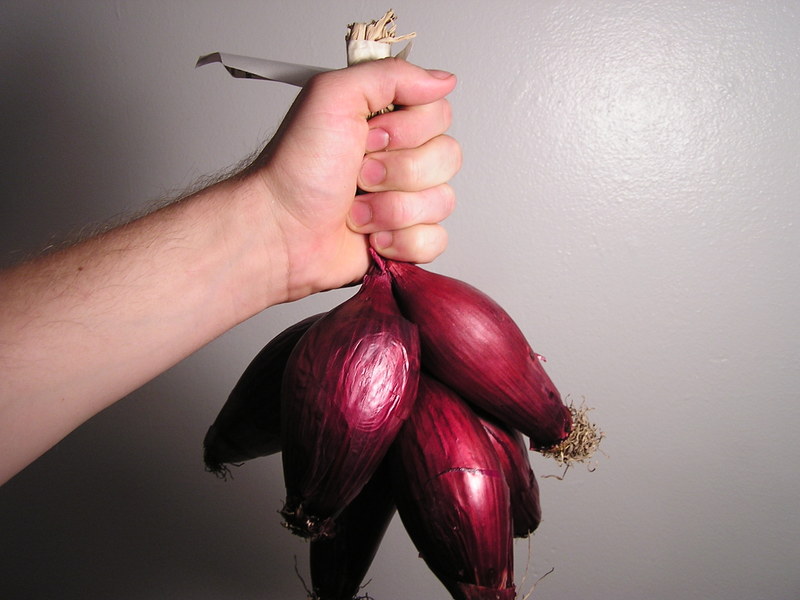 We found these crazy french onions at Fairway and bought them right up before we even looked at the price.  They didn't have any nice small minis to skewer on the kebab, and these were so cool-looking.  They have a nifty carrying rope.  They cost a small fortune.  But can you hold up your red onions like so?  Cut the onion to a manageble skewering size.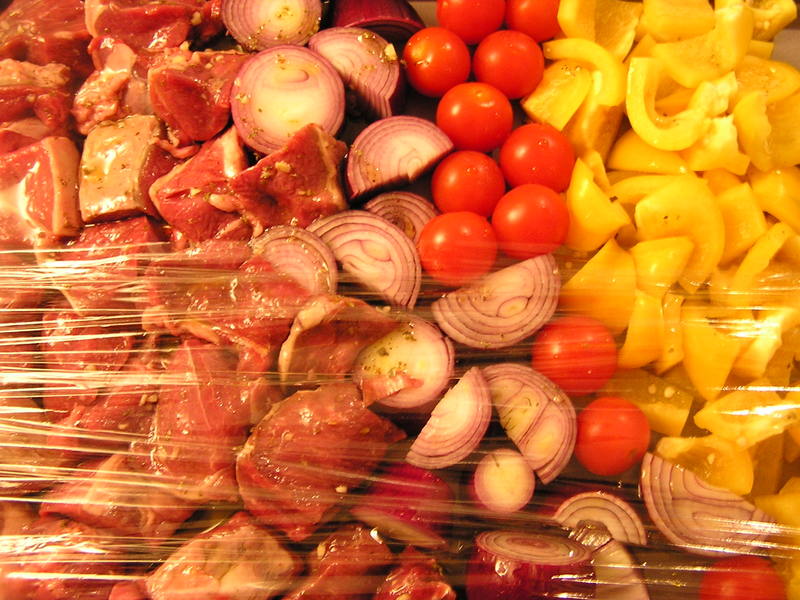 Remove the meat from the refrigerator.  They suggested to go ahead and skewer the meat, but we'd forgotten to get the skewers, so we didn't.  Lay the meat and vegetables on a large baking sheet and pour the reserved oil over everything.  Place in the refrigerator for another 8 hours.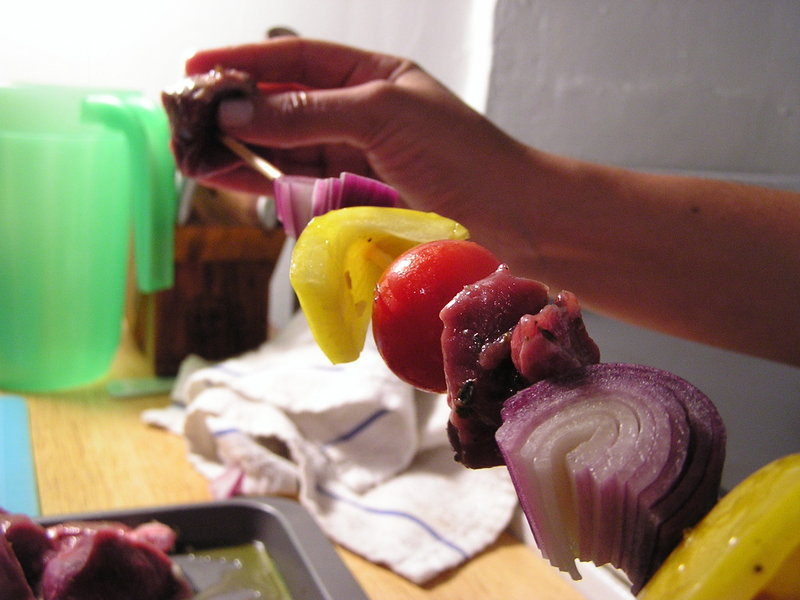 Skewer the pieces, alternating between lamb, tomato, pepper and onion.   These vegetables work well because they taste pretty decent along the kinda-cooked to well-done spectrum, so you can focus on getting the meat just right.  And the colors are nice.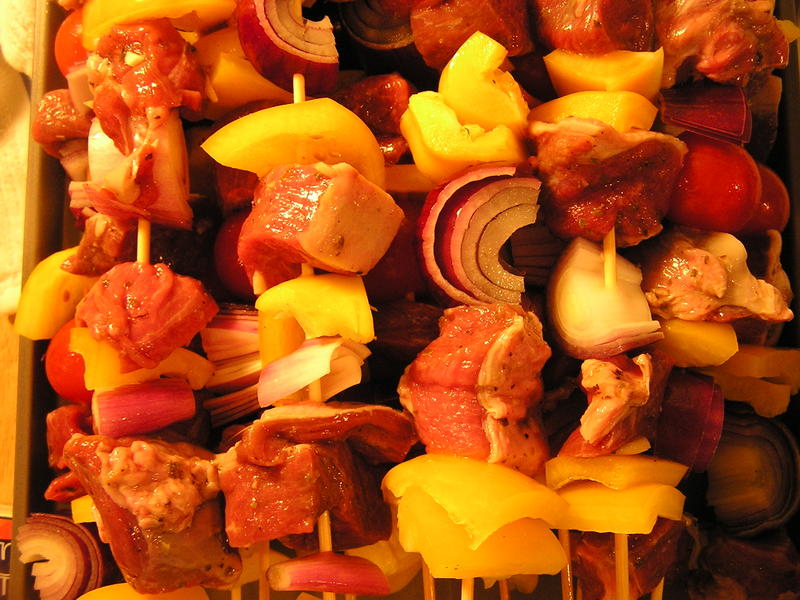 When done skewering them all, set aside. Yogurt-Garlic Sauce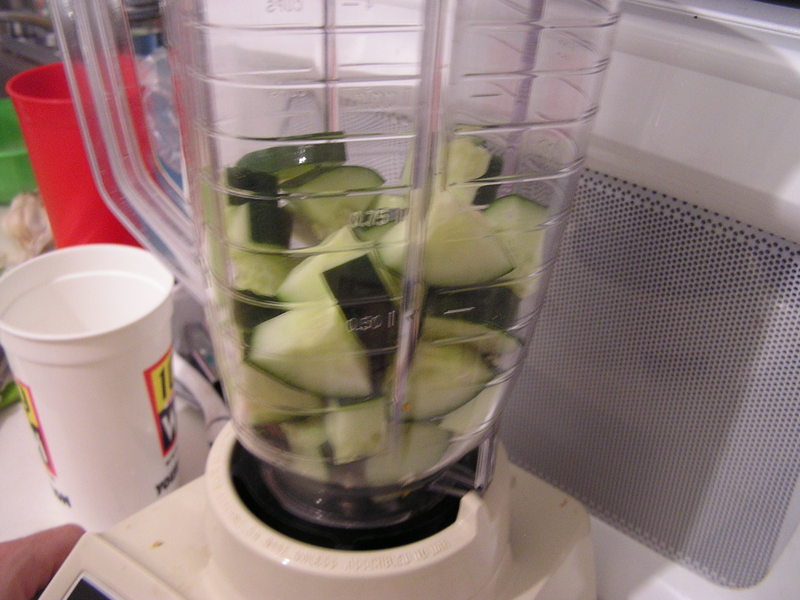 Roughly chop the cucumber and 2 of the cloves of garlic.  Place them in a blender and process until finely chopped.  This is different from other recipes I've done, many of which involve onions, often grated.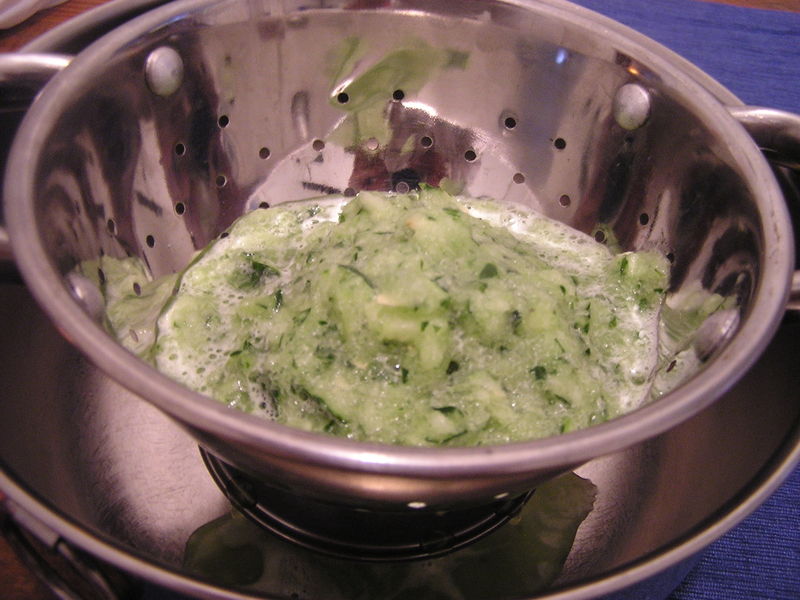 If you have some cheese cloth you're a well-stocked kitchen wizard.  We only had an old colander which we placed inside a larger bowl.  Toss the mixture in and let it slowly drain out, helping it a little bit by pushing on it with a spatula.  When most of the liquid has dripped out, add the yogurt, lemon, garlic, and mix to combine.  Discard the cucumber pulp.  Season with some salt and pepper. Shredded Romaine Salad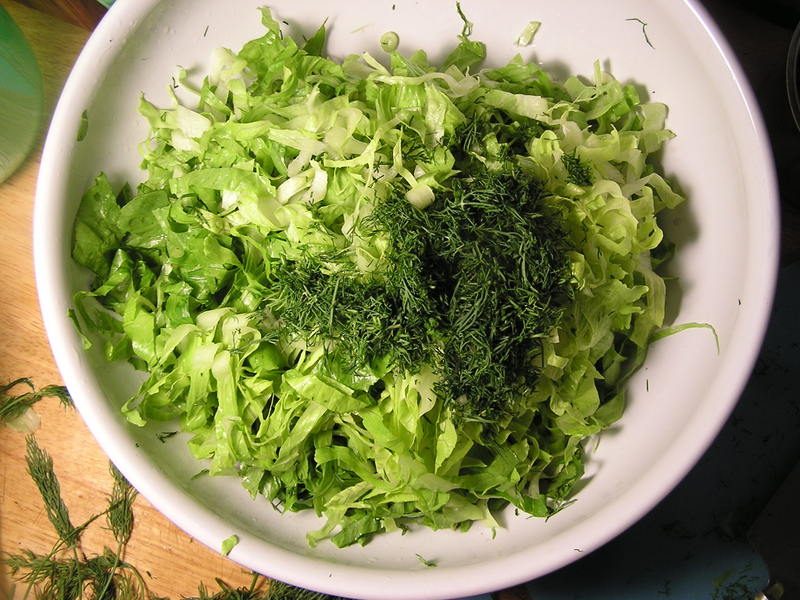 Thinly slice the romaine.  This is accomplished by stacking the leaves on top of each other and slicing.  It makes for this wonderful confetti result, kind of like the iceburg lettuce at a deli.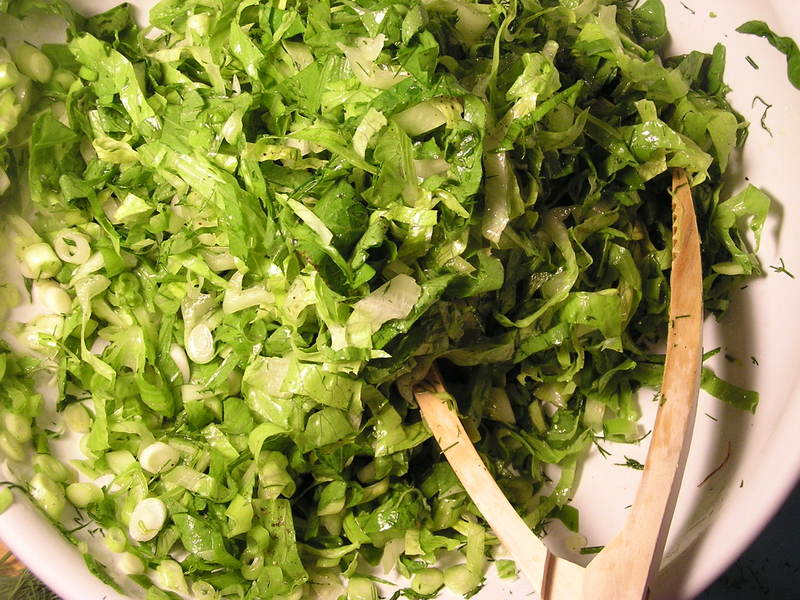 Cut up the scallions, and chop the fresh dill.  Add them to the bowl along with the lemon juice and some salt and pepper.  Toss to combine and season as needed.  So simple, so fresh.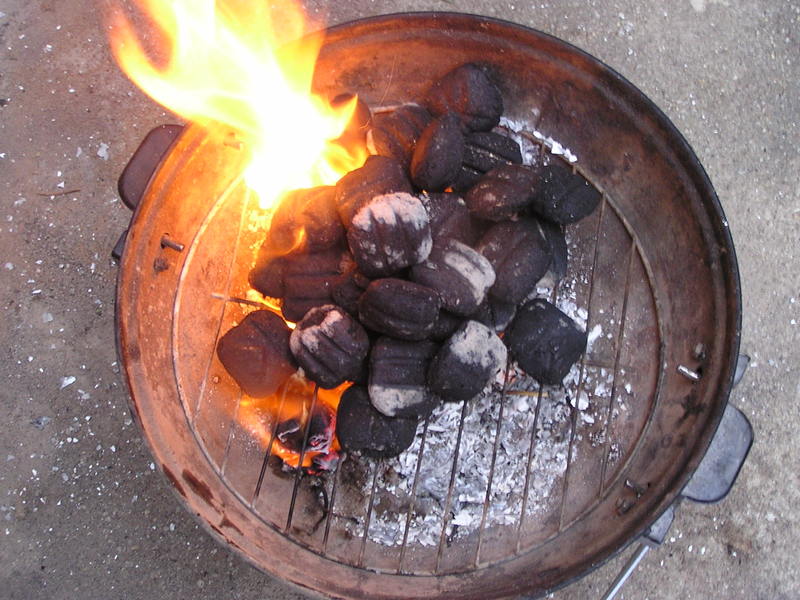 Fire up the grill.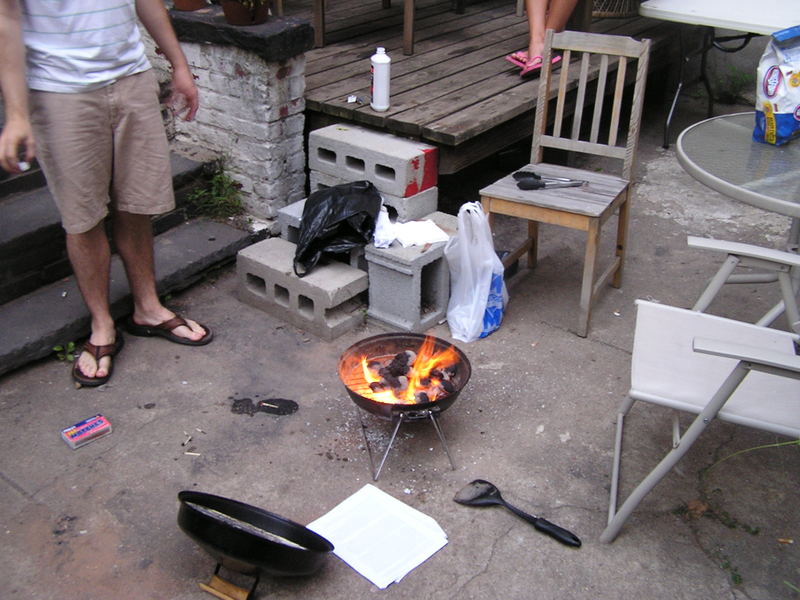 There needs to be some decent heat, so we made sure there were enough coals to cover the bottom.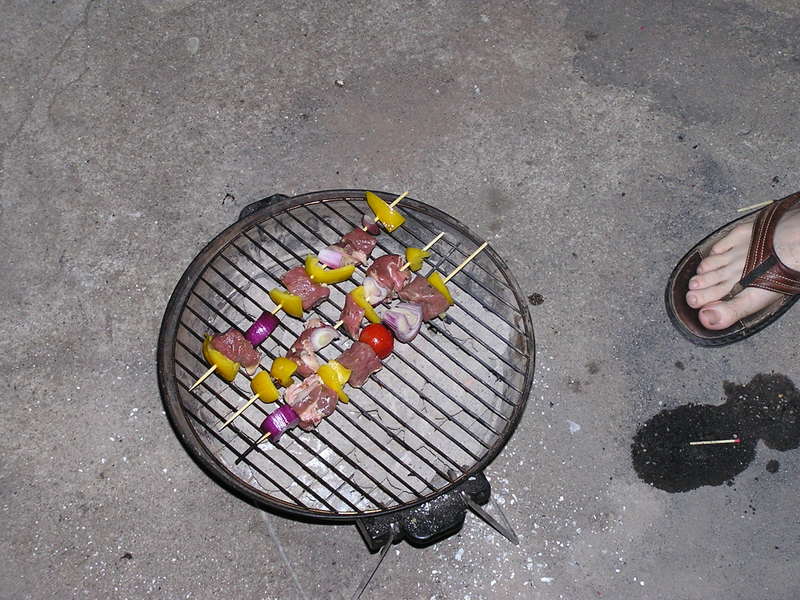 Place the a few of the skewers on the grill at a time.  Cook for about 5 minutes per side.  So, here's the secret about cooking the meat: they amazingly get more tender as they cook.  At first were were so worried about chewy, dried-out meat, so we took them off quickly when they were medium-rare and even totally rare.  But they weren't tender.  If you let them stay on there and trust, there's this point where the fat gets hot and melts, when you get the really wonderful gamey smell, and it softens the meat like magic.  So don't worry about going beyond medium rare.  About 5 minutes per side is right.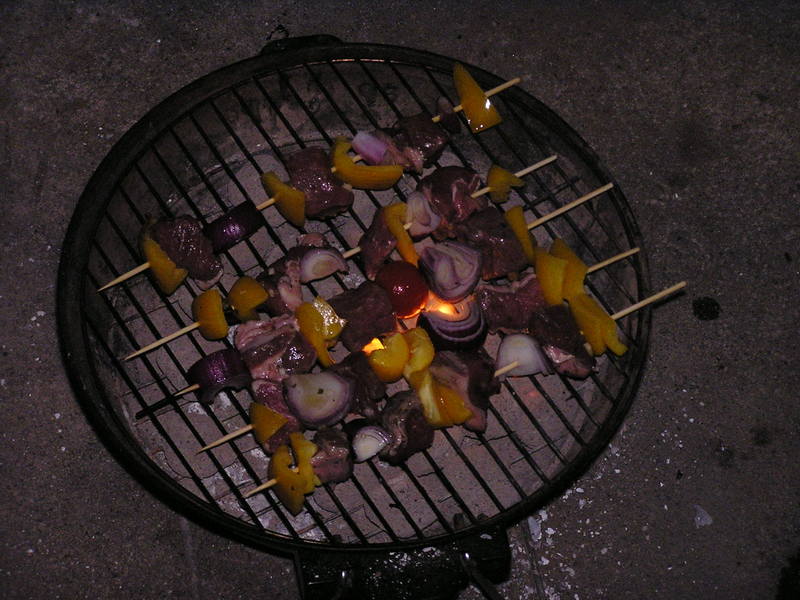 Serve with the salad and sauce and cous cous, or pull them off the bamboo and stuff into a pita.  Land some crisp Greek white wine.   Enjoy!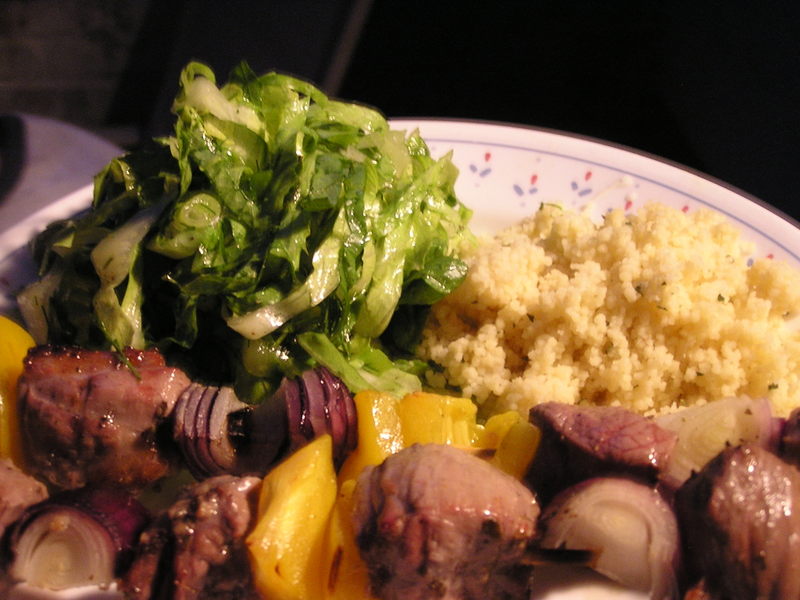 Greek,
Grill Week,
Kebabs,
Lamb,
Salad,
Tomatoes,
Uncategorized