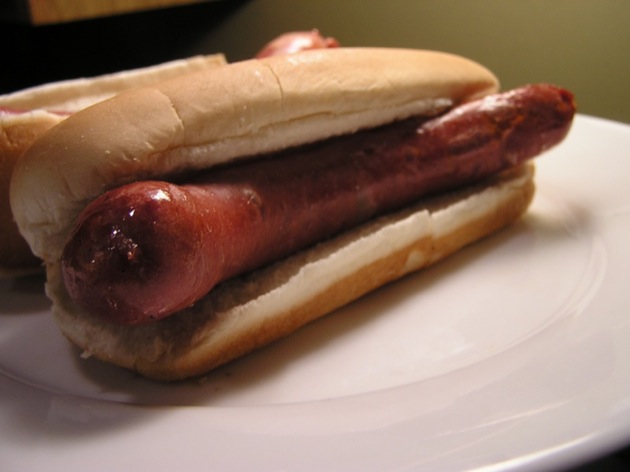 Well, just look at that!  After all my anxiety and the lack of sausage stuffer before I started this adventure , on the third day I ate hot dogs.  They looked like hot dogs, smelled like hot dogs, and tasted like that perfect hot dog you always dream about (well, at least I dream about hot dogs).  Unbelievably beefy and with a hard snap from the sheep intestine, this was a truly wonderful dog.
Too bad it was such a pain to make them.
The night before had been a train wreck.  Everything that I feared about making sausages turned out to be true.  Casings were slippery and broke easily, stuffing was time consuming and messy, and the end product looked dull and gray and far from appetizing.  I had started the last part of the project at 9 p.m., and didn't get to bed until well after midnight.  By that time I never wanted to see another sausage again.  What was the problem?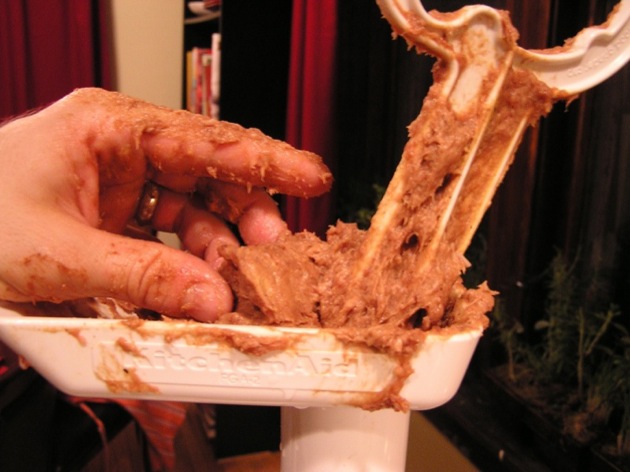 First of all, I figured out why people don't recommend the Kitchen Aid sausage stuffer attachment.  Though it was cheap (about 10 bucks), it is awful at stuffing sausage, especially when the meat is a paste.  The meat sticks to everything and won't go down the hole.  It took me nearly an hour and a half to stuff 10 hot dogs.  Never has anyone in humanity slaved over a hot dog more than I did.  I will never do this again until I get a nice, shiny sausage stuffer that can do the work.  That is a promise.
It is also a little discouraging to have to wait three days to have a hot dog, but that's just the way Michael Ruhlman and his book Charcuterie likes to do it.  I have no reason to question his judgment.  And, after tasting one of these incredible dogs, its hard to think about eating any other hot dog and feeling anywhere as satisfied.
Hot Dogs Part 2 ( click here for Part 1 )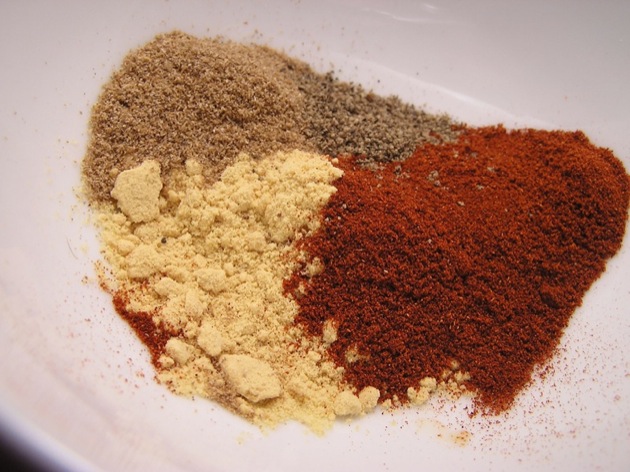 1 tablespoon dry mustard
2 teaspoons paprika
1 teaspoon ground coriander
1/4 teaspoon pepper
1 tablespoon garlic, minced
2 tablespoons light corn syrup
Mix together the spices.
Remove the ground meat from the fridge ( catch up here ), dump in the spices, and pour in the corn syrup.  The best way to mix everything together is with your hands.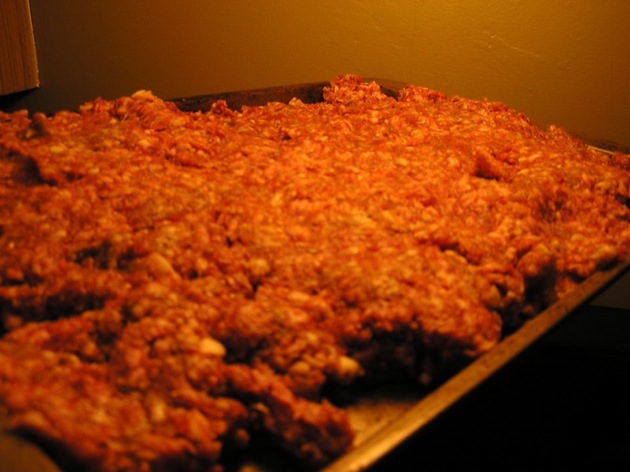 Spread the mixture on a baking tray until it is relatively flat and then place it in the freezer for 30 minutes.
While that is cooling down, get out the sheep intestines.  I had mine stashed in a little plastic baggy .  Soak them in lukewarm water for 30 minutes, changing the water halfway through.
Ruhlman talks about washing out the insides of the intestines after the 30 minute soak, and I tried my hardest, but I just couldn't figure out the best way to do it.  I got a little water in, but then letting that water flow through 10 feet of intestines turned out to be an enormous ordeal.  Anyone have a better way to do it?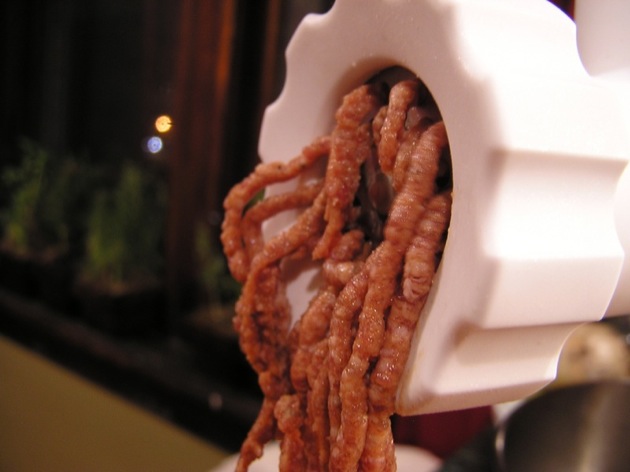 Remove the meat from the freezer and regrind it through the small die.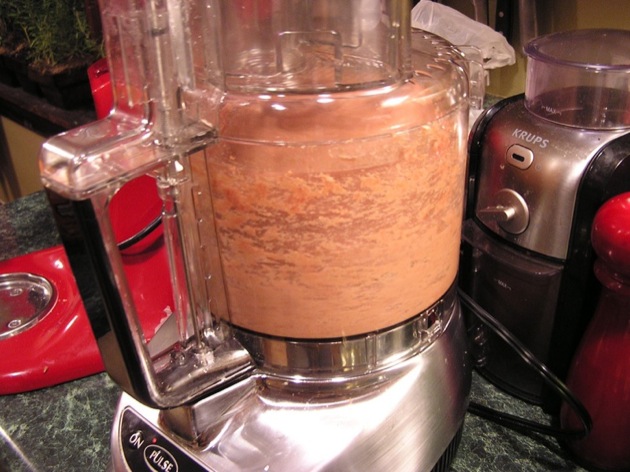 Puree the mixture in a food processor.  I probably put too much in at one time, as it had trouble starting at first, and then only really pureed at the bottom half of the mixture.  I had to keep scraping the sides.  Next time I'll do this in batches.  It should be a paste.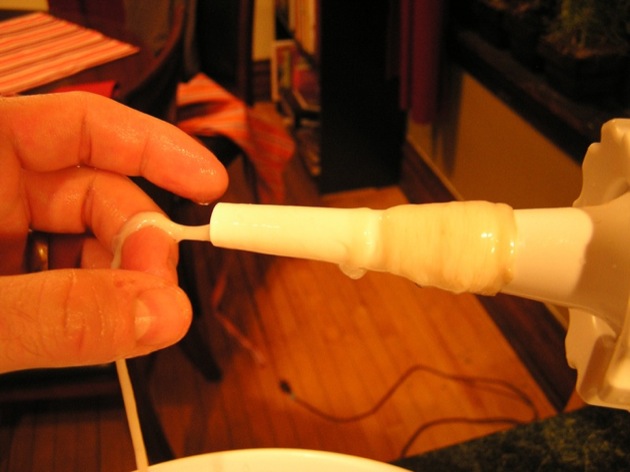 Finally, the tricky part.  I wasn't sure exactly how to get this done, so I had to go back to some old River Cottage episodes to remember how to begin the stuffing process.  Slide the entire 10 feet It  sheep intestines onto the nozzle.  It should fit, thought it needs a lot of water to keep it from sticking to the nozzle.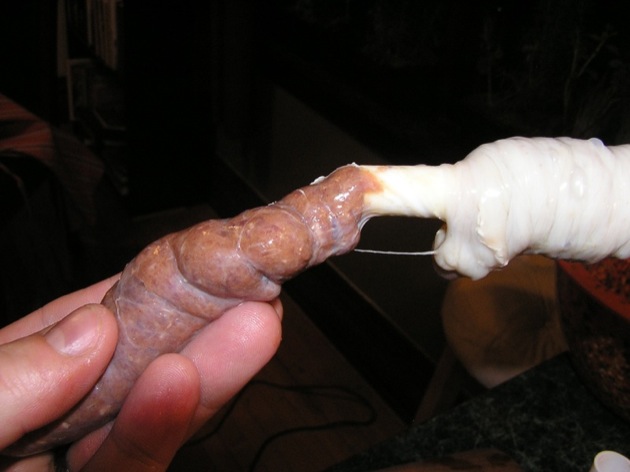 Now it is time to stuff.  Load the machine with the meat, and then wait for some meat to come out.  then slide the casing over the meat.
As you can see by this really horrible looking photo, it's not as easy as it sounds.  I realized quickly that the casings needed to be completely stuffed, not just partially filled.  To fix this, I clamped down one end and filled the casing until looked completely full, and then slid a little more of the casing out.  These looked a lot thicker than I thought they would be.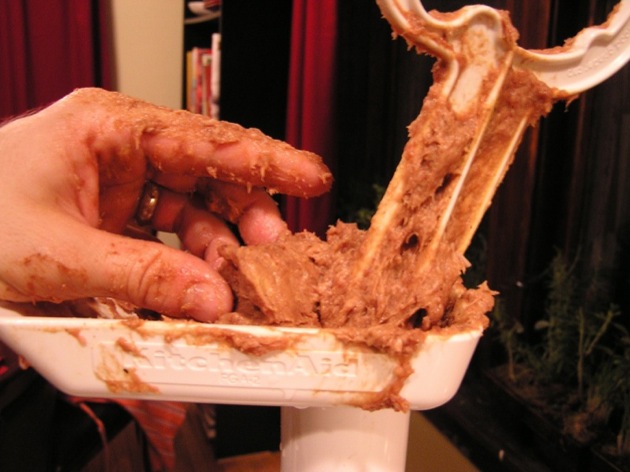 But that wasn't even close to the biggest problem.  Like I mentioned above, the Kitchen Aid isn't very good at this, and it took me ages to stuff the meat down the hole.  I would recommend not doing this unless you have a real sausage stuffer.  If anyone has any other tricks or products to recommend, please let me know.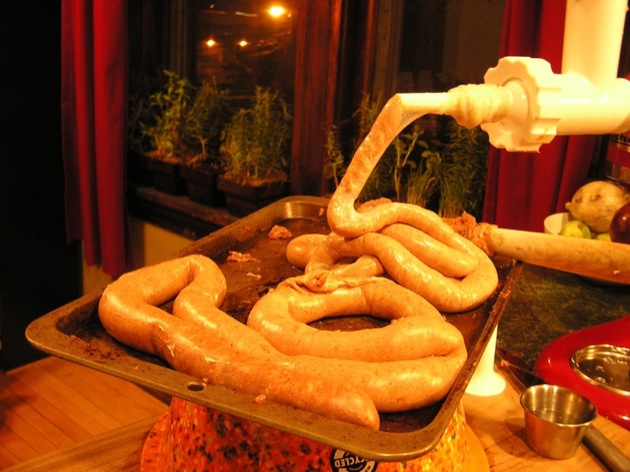 Somehow, I managed to get most of the meat stuffed into casings.  I'm not sure why it called for 10 feet of casings, because I didn't come anywhere close to using it all.  Maybe it's because the casings were thicker than normal hot dogs.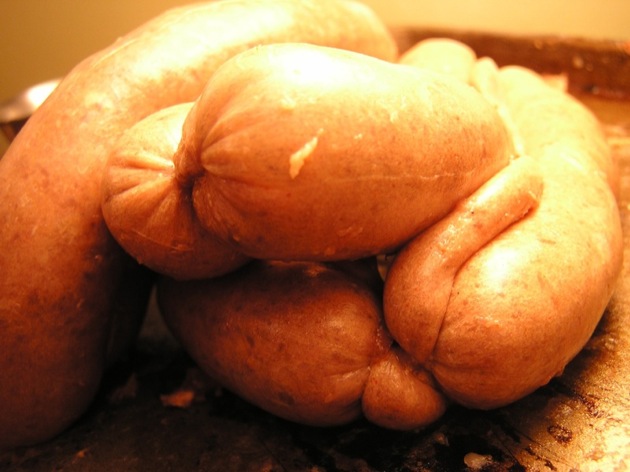 Portion them off into six inch pieces by twisting them.  I ended up with 10 hot dogs.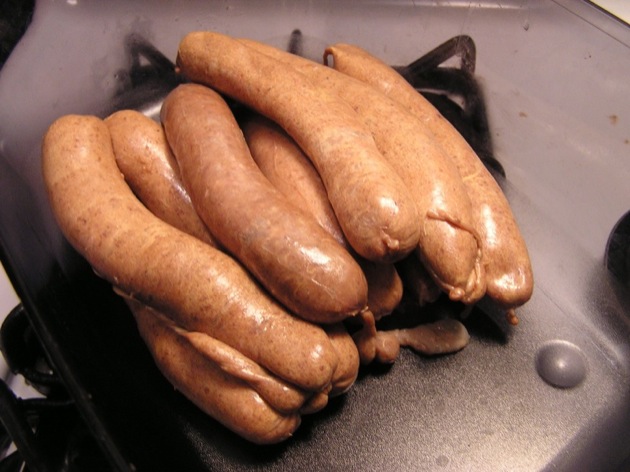 Since it was about midnight, I stashed them in the fridge and waited to cook them the next day.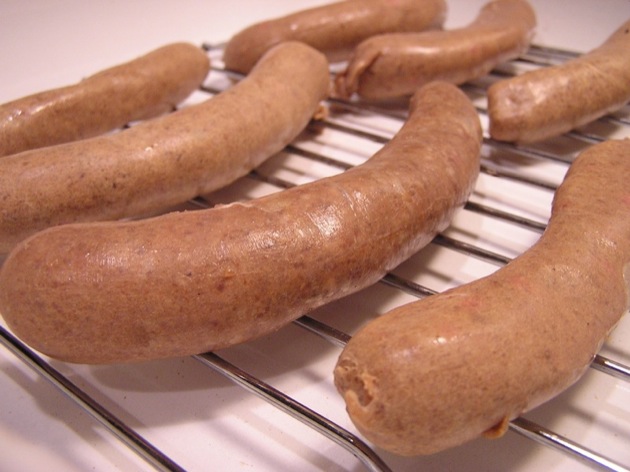 Michael Ruhlman suggests hot smoking the dogs at this point, and I have no reason to fault his advice, especially since I was using his recipe.  But I just wasn't prepared.  So I used another technique had advocated for different sausages, and cooked them in an oven set at 200 degrees.  Cook until they register 150 degrees inside.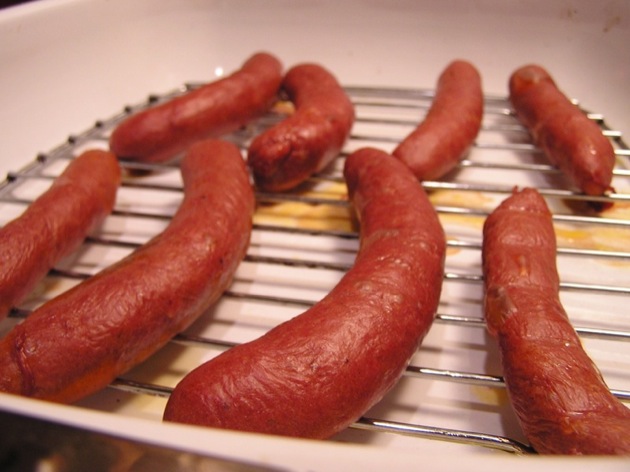 They came out a little wrinkled and disgusting looking.  Transfer them to a bowl of ice water, and let them cool off.  I stashed most of them in the fridge for later use, and pulled out four to cook right then.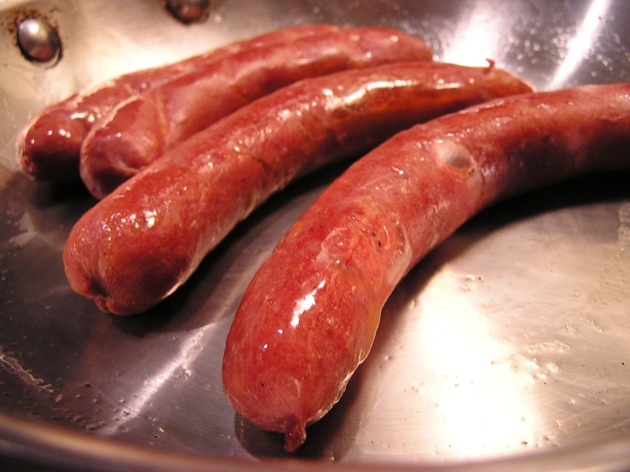 Cook in a large skillet over medium low heat with a teaspoon of oil.  It will take 10 minutes or so for them to crisp up.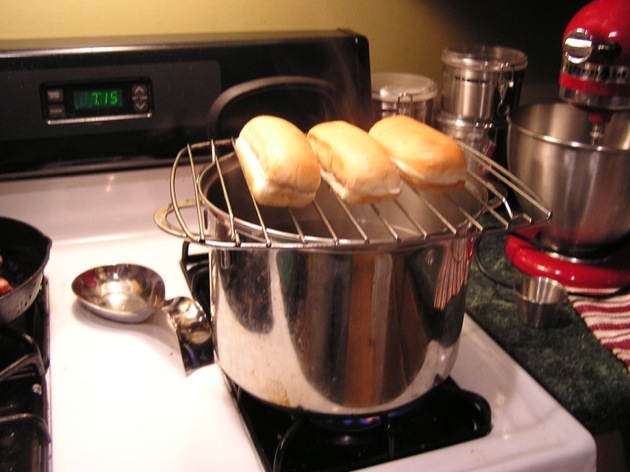 I decided to steam my hot dog buns, and this really couldn't be simpler.  Just place them on a wire wrack above a pot of boiling water.  It only takes a few minutes.  They had a great fluffy texture.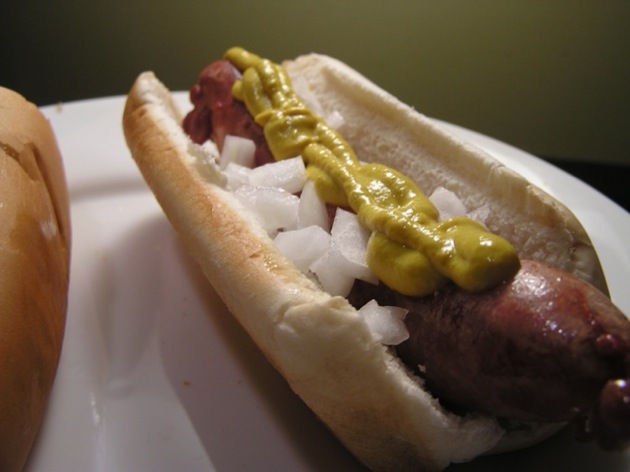 Then it's all about how you like your dog.  I do love my Chicago dogs , but I didn't have the laundry list of ingredients.  So I settled on the simple mustard and raw onion.  These dogs don't need much to impress.
Beef,
Casings,
Charcuterie,
Charcuterie,
Hot Dogs,
Kitchen Aid,
Michael Ruhlman,
Sausage,
Sausage,
Sheep Intestines,
Stuffing