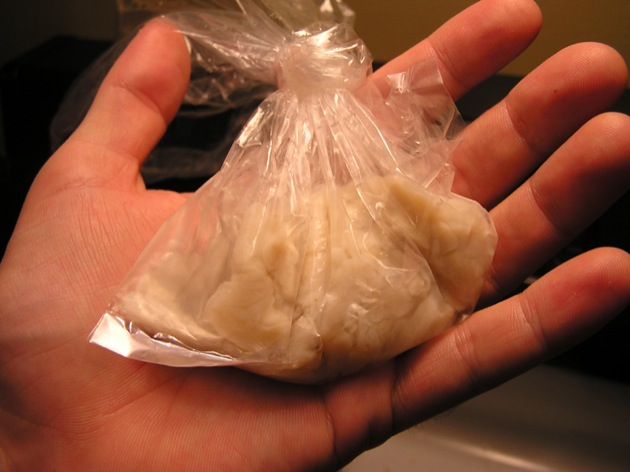 (Scene at the Paulina Meat Market in Chicago)
Butcher: "Number 37!"
Me: "Yeah, that's me."
Butcher: "What can I get for you?"
Me: "Yeah, I'll take 10 feet of sheep casings."
I don't say that often enough in life, and up until this Saturday it had never crossed my mind.  But here I was at Paulina Meat Market ordering sheep intestines from butchers that make their own fine sausages.  The butcher, god bless him, even asked me what size of the sheep intestine I wanted.  "Whatever I'd use for a hot dog," I told him.  He then shuffled into the back, and a few minutes latter came out with a little plastic baggy filled with about a golf ball sized white mass.  "Don't you worry.  It doesn't look like much, but that's ten feet."
What had I just done?  I had only jokingly thought about making hot dogs the night before after a few drinks, and now I had sheep intestines in my hands.  The intestines were always my issue with sausages, and the reason I never jumped in.  I mean, I couldn't possibly make hot dogs unless I could find the sheep intestines that I'd stuff the meat into but you can't just buy this stuff at the local market.  Only good butchers have them, and now that I had located one I actually had to go through with this plan.  I lacked ingredients, not to mentioned the necessary equipment, like a sausage stuffer.  But it was a multi-day project, and hopefully I'd be able to get everything I needed in time.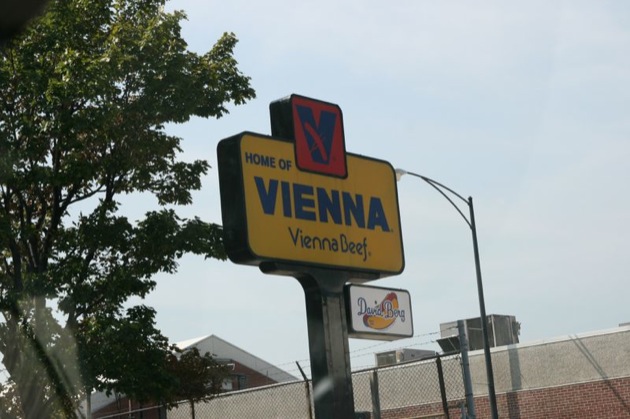 I should preface this all with the simple fact that I live approximately 1/2 mile from the Vienna Beef Factory , which supplies Chicago with most of their mighty fine dogs.  This project, therefore, has nothing really to do with convenience and comfort, and all with pure fascination.  Up until a couple days ago I couldn't even tell you what was in a hot dog.  I thought that was one of those things I just didn't need or want to know.
But as I've lived in Chicago for a few months now, and eaten at least one hot dog every week, if not many more, I've become much more interested in what exactly was in the thing.
Turns out, it's not as scary as I had worried.  I can't vouch for Ball-Park Franks or crap like that, but Vienna Beef Hot Dogs, which most of the stands around here use, is actually a legitimate product.  I was surprised that no pork came anywhere near it.  It's just a mix of beef and flavorings like corn syrup, garlic, paprika, and just a few long unpronounceable ingredients.  And if I made it, I could control every ounce of beef that entered those casings.  Perhaps, I could create the perfect dog.
The last straw was when I opened up Ruhlman's Charcuterie and noticed his recipe for hot dogs was all-beef, and that it looked downright simple.  Best part, instead of using scraps and trimmings, Ruhlman uses short ribs. Can you imagine a hot dog made with that?  And since the meat is so fatty to begin with, I wouldn't need to add any more fat to the mix.
The only issue I ran into at Paulina Meat Market was that while casings were relatively cheap, about $5 for 10 feet, the short ribs were just too pricey.  At about $10 a pound, it would have cost me nearly 50 bucks to make 10 hot dogs.  I love hot dogs, but come on.  I had to visit the local grocery store for the meat.  I'm a little upset about this, but I felt justified because I don't know whether I'm going to be able to find the sausage stuffer or not.  Nothing like a good deadline to get me going.
So, okay, the first day:
All Beef Hot Dogs
---
5 pounds short ribs, bone-in or 2 1/2 pounds without bones
1 tablespoon kosher salt
1 teaspoon pink curing salt
1 cup ice water
Remove the short rib meat from the bones, and chop into 1 inch squares.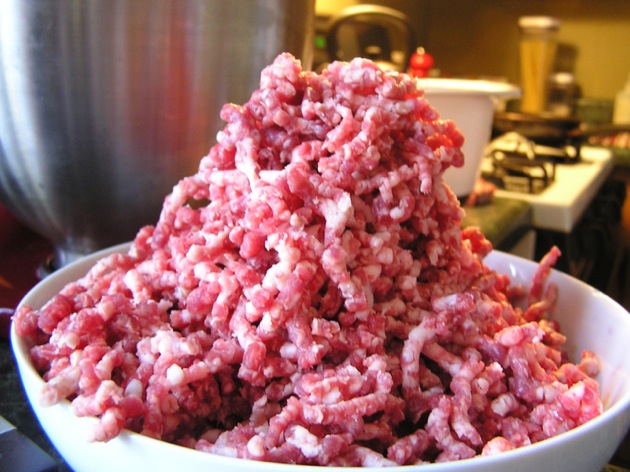 Grind the meat through the small die of a meat grinder, perhaps the Kitchen Aid .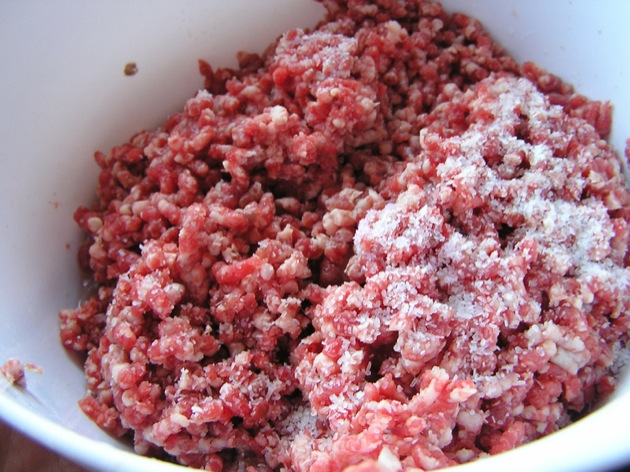 Add the salt, pink salt, and water.  Mix the mess with your hands until incorporated.
Cover with plastic wrap and let sit in the fridge for 1 to 2 days.
Turns out, I'm using both days.  Because, well, I've run into a problem: finding this sausage stuffer is harder than I thought.
Beef,
Beef,
Charcuterie,
Chicago,
Chicago,
Hot Dogs,
Intestines,
Kitchen Aid,
Michael Ruhlman,
Pink Salt,
Sheep,
Sheep Intestines,
Short Ribs,
Vienna Beef Factory