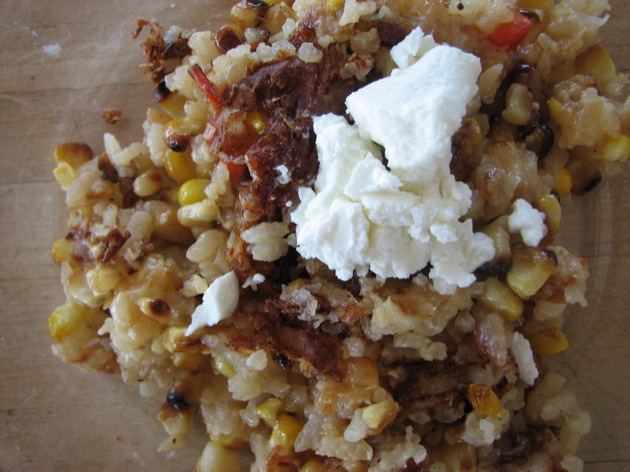 The other day I was watching Iron Chef and Lidia Bastianich was a judge on the show.  I'd never seen her in this role, and, frankly, it was scary.  The woman is a strange blend of passion and unsmiling seriousness.  Generally people who love food are laid back and groovy, and enthusiasm is usually tempered with a good dollop of sheepish self-consciousness: "I know I'm obsessed, and it makes me a dork, but I'm so excited I simply can't help telling you all about putting pickles in butter ."  Not Lydia.  She's straight up hard.  Sometimes, on her own show, she cooks with her daughter.  The tension is palpable as she instructs her to "stir faster" and "don't turn the heat so high."  You can tell that this daughter has been shown a relentless standard of perfection her entire life.
But I've found that I learn a lot when I watch her in any context: above all, she's one of the most dedicated and knowledgeable people out there about the specifics of regional cuisine and how to get things perfectly authentic.  On this particular Iron Chef episode, she was criticizing someone's dish.  Out of the blue, she off-handedly mentioned the way someone can saute risotto after cooking in the pan to get it all crispy.  It's apparently a great way to serve the leftovers to counteract the tendency for soggy or mealy results--risotto is great when it's molten and creamy right after cooking; once that moment passes it'll never be the same.   I literally stood up, ran to my desk, and wrote it down.  "fry leftover risotto in the pan for crunch."
I did some searching around the Internet and quickly learned that this technique isn't something so secret; lots of people fry up leftover risotto into pancakes, or pack it into balls and deep-fry it in oil.  But that's why I'm a food dork and Lidia isn't.
Nevertheless, it was the perfect thing for a risotto I made last weekend--a recipe which I made up myself.  Taking advantage of the dwindling corn season, I put a few ears under a broiler with a red pepper and roasted them all until black while the risotto was cooking.  I cut the kernels off the cob, peeled and sliced the pepper, then mixed it all together at the very end; each serving was topped with a dollop of goat cheese.  My favorite part was the way each corn kernel was similar in size to the rice, providing a great contrast of textures between the two; a charred, sweet flavor throughout countered with the rich, tangy goat cheese.
And the next day at lunch: stir-fried risotto.  Yes, I tried to make a single risotto pancake.  Some recipes recommended an egg to bind the ingredients, but I tried it without.  That pancake hope died quickly once I tried to flip the whole concoction in the pan.  No matter.  It ended up being an Italian version of fried rice, which wasn't a bad thing at all.
Roasted Corn and Pepper Risotto with Leftovers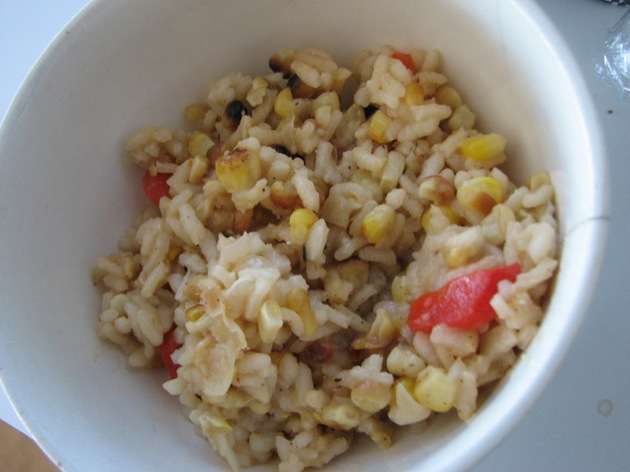 2 tablespoons olive oil
4 tablespoon butter
1 onion, chopped
3 cloves garlic, chopped
3 ears corn, shucked
1 red pepper
2 cups Arborio rice
1/2 cup white wine
5 cups vegetable stock
Large handful grated Parmesan cheese
Goat cheese
Melt 3 tablespoons of the butter and the olive oil over medium heat and saute the onion and garlic until soft.  Add the rice and stir as it become translucent, about 2 minutes.  Add the wine and stir until absorbed.  Season with salt and pepper.  Add a ladle of broth and do the risotto routine, stirring when you feel inclined and adding stock little-by-little until it's absorbed.
In the meantime, shuck the corn and put it under the broiler on a rack on a sheet pan, along with the pepper.  Turn with tongs as it blackens until charred all over.  (You can also cook the pepper right on the stovetop over an open flame--turn on the exhaust).  One the pepper is fully charred, put in a bowl and cover for 5 minutes or so to loosen the skin, then remove it and cut the pepper into strips.  When the corn is done, stand it up on a cutting board and cut off the kernels.
One the risotto has absorbed all the stock, taste for seasoning, then add the corn and pepper strips.  Turn off the heat and add the Parmesan plus last tablespoon of butter.  Cover and let it "steep" for a minute or so.
Serve immediately with a dollop of goat cheese.
And the leftovers.
Not much to this really.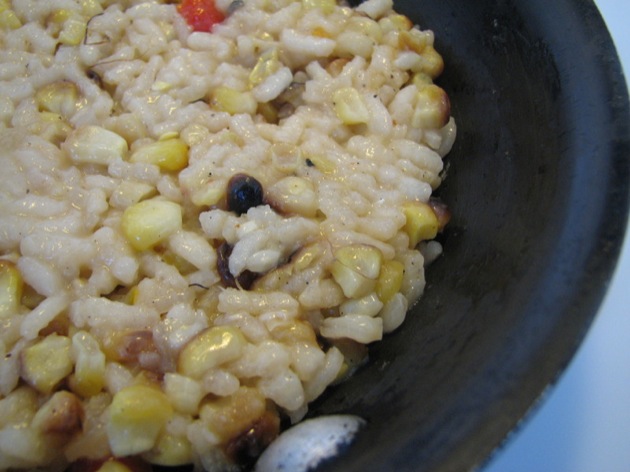 Put the risotto into a skillet with a bit of butter.  Cook over medium-high heat until it begins to brown on the bottom.  I didn't, but you could try mixing an egg beforehand to bind everything together.  This might help the whole thing stay as a pancake.
Using a spatula, flip the pancake or simply stir it with a wooden spoon fried-rice-style.
Serve with a dollop of goat cheese.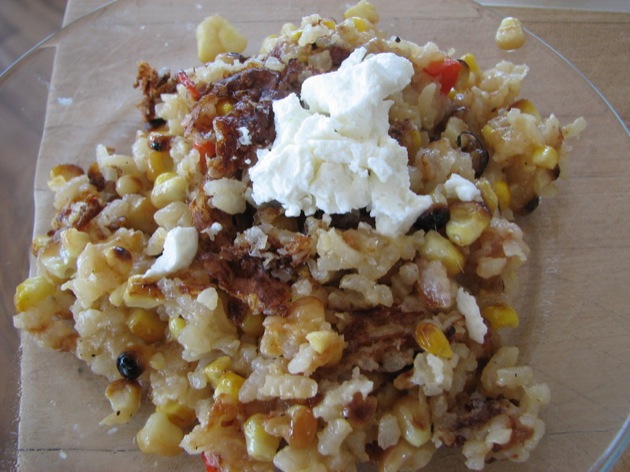 Bell Pepper,
Cheese,
Corn,
Goat Cheese,
Parmesan,
Risotto,
Uncategorized,
White Wine,
Wine