I should apologize before I begin, because what I write about Portland is no doubt going to sound like a tourist ad.  After just a few days spent there, it became one of my favorite cities.  It has a number of things on its side: proximity to the water; an industrial, scruffy charm; a relaxed, West Coast vibe; and above all, more than a couple world-class restaurants.
Hugo's , for example, is steered by a chef named Rob Evans, who came from the French Laundry. Five-Fifty-Five is a co-effort by another ex-French Laundry chef, Michelle Corry; the other half is Steve Corry, formerly at Domaine Chardon in Napa Valley.  In 2002, Gourmet Magazine rated Fore St. as the 16th best restaurant in the United States.
With only so much time and money to spare, we decided on Fore St . as the must-visit.  We also went to Duck Fat , an offshoot soup and sandwich spot by the chef at Hugo's , giving us a chance to sample some of this cooking.  It has a menu based, of course, on duck fat.  Putting aside Mr. Evans former-French-Laundry pedigree, there's no way in the world I wouldn't visit a place called Duck Fat.
We arrived just after lunchtime.  The front of the restaurant has a kind of French bistro look, with gold lettering on the windows and two tables outside.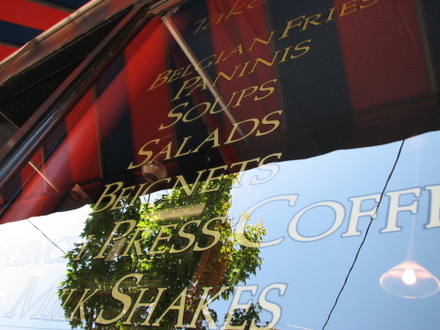 A little stand holding menus sits at the entrance.  At one table was a couple finishing lunch; the other table seated a gentleman with a giant black beard reading the paper, and his bookish-looking daughter of, say, 11 years old, who was frowning over a novel. We picked up a menu to peruse, as if we hadn't already convinced ourselves to eat there.  After a moment, the bearded man's hand began to nonchalantly, lazily creep towards us.  He hands me a golden-brown french fry, saying nothing.  We say "thanks," and he nods, barely looking way from his paper.  We bite in, murmur.  He returns to reading without a word.
Just then, the other couple leaves their table.  Still reeling from the taste of a duck fat frite, I immediately sit down at the table. Minutes later, Elin returns having ordered, of course, the frites fried in duck fat (with truffle ketchup and curry mayo dipping sauces)...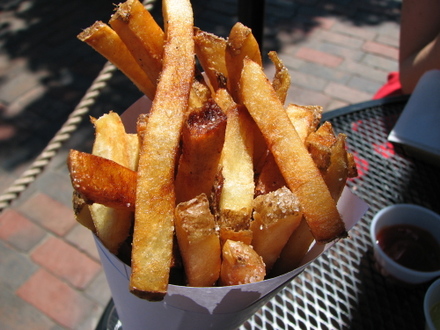 ..a cucumber gazpacho...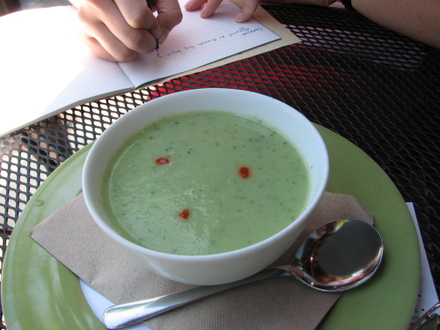 ...and two paninis: one with sauerkraut, spicy mustard and sliced hot dog...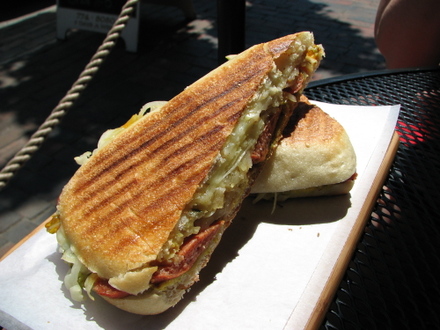 ...the other with duck confit, boursin cheese, and blueberry compote.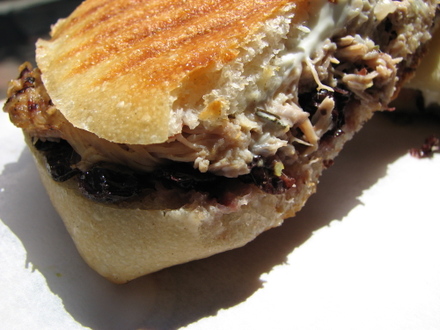 These absurdly fancy sandwiches with fries and soup cost less than $20.  The fries were well-done and crispy, just how I like them, but still soft and fluffy in the center.  The duck fat lent them a rich flavor.  Possibly the best fries I've ever eaten.  The hot dog panini was stuffed with some sort of artisinal hot dog, sauerkraut that still had some snap, and spicy mustard.  My duck confit sandwich was extremely rich with the cheese, almost too much so, though the blueberry compote cut through the richness with a light sweetness.
We finished with an order of beignet doughnuts, covered in sugar and spices.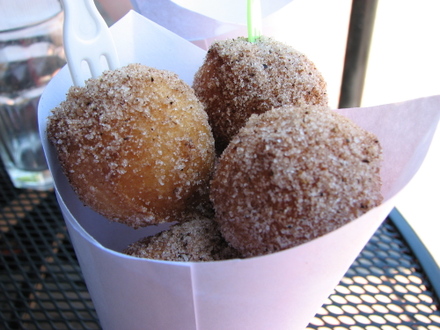 As our donuts arrived, the bearded sage gave us a nod and just a hint of smile as he left with his daughter.  With our mouths full, all we could do was nod back.   We were so full that we couldn't finish our last three donuts, but just at that moment a group of three girls took the other outdoor table.  We said hello, and they said hello back. They gladly accepted our three donuts as an apertif to their meal.
Duck,
Duck,
Duck Fat,
Fries,
Maine,
Portland,
Travel,
Travel