After some disappointing lobster rolls , the raw beauty of a national park was just what we needed.  We drove into Acadia after dark, paid for a campsite, pitched our tent, and fell asleep immediately.  The sun rose hot and early, and I woke up squinting.  For a few minutes I thought we were going to start the day at 5 in the morning, but then I was able to pull the hood from the sweatshirt I was using as a pillow to enclose my face, and we slept in until ten--long after most people had left the campsite.  Slightly embarrassed, and with trails to hike, seafood shacks to eat, towns to blow through, and a hotel waiting for us back down in Portland, we strapped on shoes, packed up the tent, and hit the trails.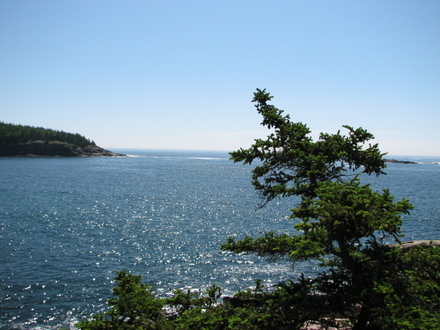 The best I can say is that the Maine coast is as beautiful as they tell you it is.  It's a happy combination of rocky outcroppings and smooth beaches, trees that belong in forests growing next to the ocean, the bluest water and the palest sky.  At least this far north, it's a very soulful part of the earth.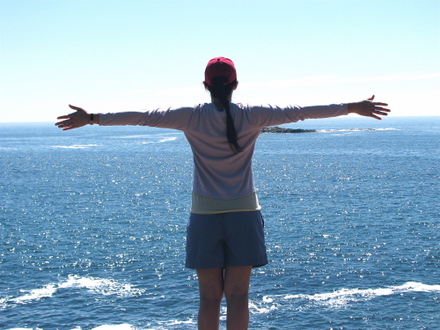 We also stood at the furthest east tip of the continental United States (then it struck me why the sun rose so early).  On our way back to the car, we came across some kind of Mini Cooper convention (Acadia National Park has a road that allows you to drive through much of it).  There were at least 35 Minis, one after another.
On our way back south towards Portland, our first stop was at Blue Hill, the town where E.B. White used to spend summers.  It's a cute place with a tiny town center which boasts two bookstores and a great food coop--and in a summer house, that's about all you need, really.  The food coop had some beautiful produce and prepared food, and we bought a book of White's essays at the bookstore.
But what you probably want to hear about is the food.
Near Blue Hill there's another seafood shack that's more well known for their crab rolls, called Bayview Market.  We saw this sign and knew we'd made it.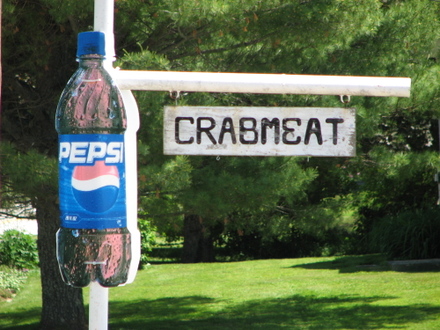 At the window a friendly teenager took our order of one crab roll.  The menu also offered typical fare like hot dogs, burgers, and soft serve.  It's a very unassuming storefront.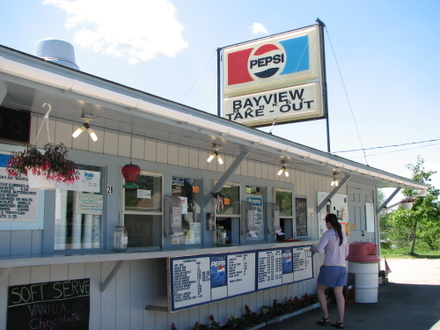 Behind the restaurant there was a handful of locals sitting at picnic tables and a large green yard on the water. For $8 we were handed a toasted hot dog bun nicely-packed with crab meat that had been mixed with mayonaisse.   We took it out to the picnic table on the edge of the water and made quick work of it.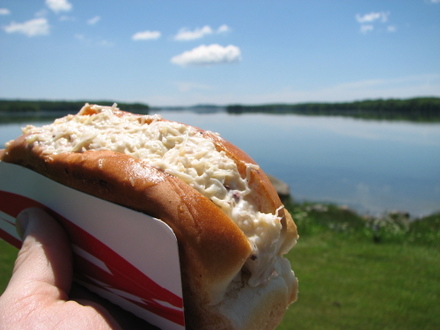 This was getting closer to what I had in mind for a seafood roll--the salad-style filling, more than just a bun and some meat.  Perhaps it was the setting on calm water and the shining sun, but this was very good--the bun just a touch crispy from the toasting, the filling barely sweet from the crab meat, secret seasoning giving it a subtle flavor.  We were quite satisfied sitting there in the sun.
With the afternoon slipping away, we hit the road again for a town called Belfast.  Belfast was a charming place on the water with a beautiful old red brick downtown.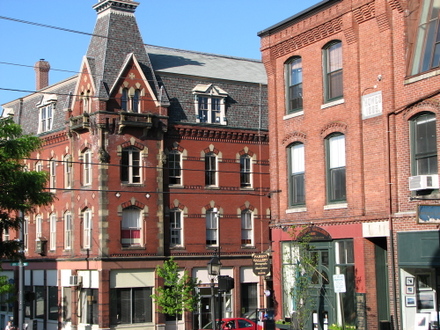 It also boasts what is apparently the oldest shoe store in the country.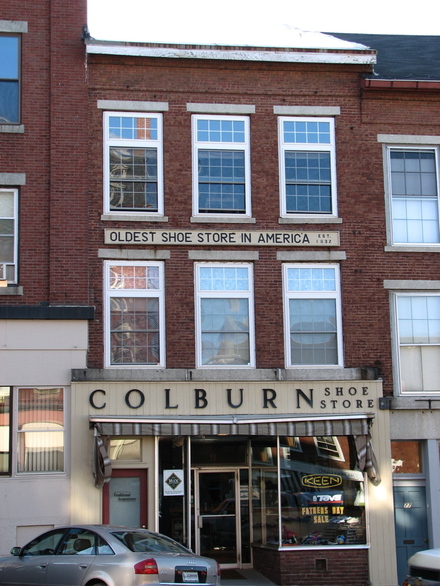 But what we'd really come for was a restaurant called Chase's Daily.  It's a restaurant/farm combo; the restaurant is in Belfast and is run by a family who owns a farm in nearby Freedom, Maine (that's seriously what it's called), where they grow the vegetables for the restaurant.  Appropriately, the menu is vegetarian.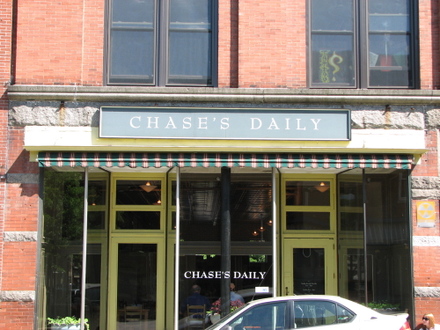 The room itself is very airy and open, with tall tin ceilings and richly colored wide-plank wood floors, like a giant loft that they've built a kitchen into.  As you walk towards the back of the restaurant there is a bakery counter, then the back opens out again into a mini greenmarket where the family sells produce on benches lined up against the wall--arugula, cilantro, all kinds of lettuce.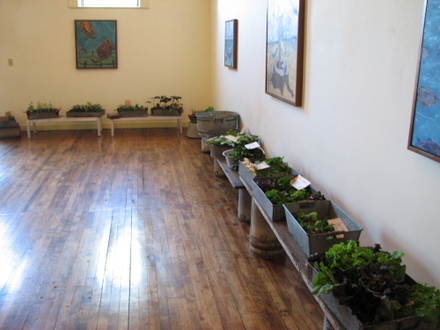 The restaurant itself was buzzing, though not loud.  The tables are wooden and simple, and the service was friendly, if distracted.
We ordered a white bean puree appetizer with grilled onion rounds, basic ice and beans, and a peanut noodle salad with grilled squares of tofu topped with Asian greens.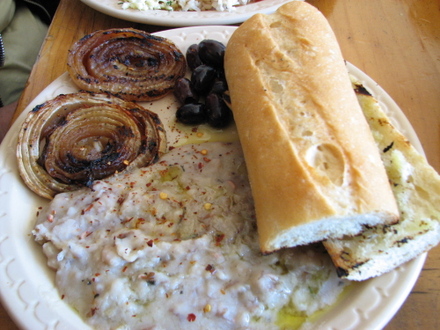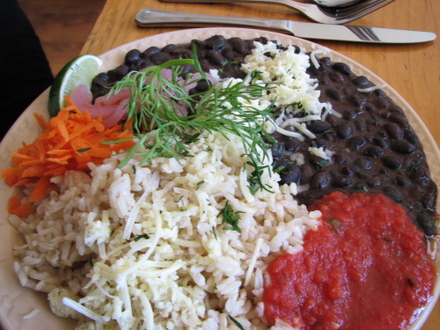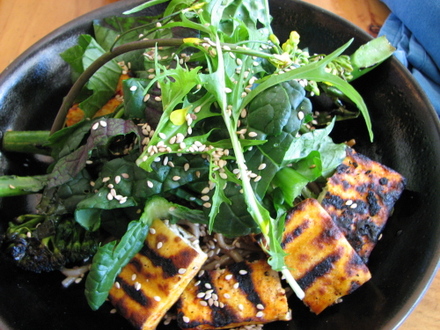 The food was the epitome of simple elegance.  Nothing was overseasoned or done up, and you could always taste the freshness of the ingredients, yet the combinations were still inspired and creative.  Balancing simplicity and ambition in cooking is something I admire.  We also tried some greens that I'd never heard of, including a variety of cilantro (on top of the rice and beans, above) that tasted even more heady than traditional cilantro, and looked like dill.  In my greens, a kind of Asian version of the mesclun salad, there were even little flowers.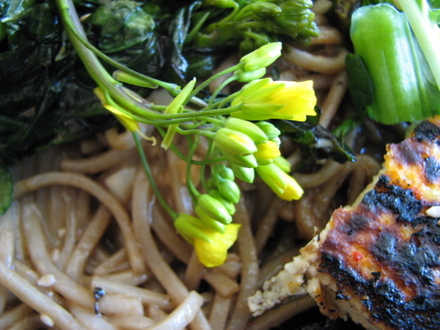 We never expected to come to Maine and have our best lunch at a crunchy vegetarian restaurant, but alas, we did.  Even if the traditional Maine cliche of the lobster roll wasn't living up to the hype, places like Chase's Daily are doing other interesting things with food.
And it wasn't until the next day, back in Portland, that things really got interesting.  That's in my next, and final, Maine post.  Stay tuned!
Maine,
Seafood,
Travel,
Travel