After we left Portland , we didn't have much of a plan.  We knew we needed to arrive at Acadia National Park, about 150 miles away, by nightfall.  On the list was, of course, lobster.  We also wanted to see the famed L.L. Bean store.  A friend had insisted we see a place called Popham beach, and we also wanted to visit Blue Hill, where E.B. White used to spend summers.
Armed with page after page of recommendations for lobster rolls from magazine articles, blogs, and Chowhound.com, we headed for the shack that seems to be mentioned in everyone's list: Red's Eats .  It's impossible to miss--right on the corner of Route 1 as you pass through Wiscasset, ME.  This would be Elin's first taste of lobster.
Sure enough, when we got to the strip of road that is Wiscasset, Red's was right there.  We pulled off, parked, and approached.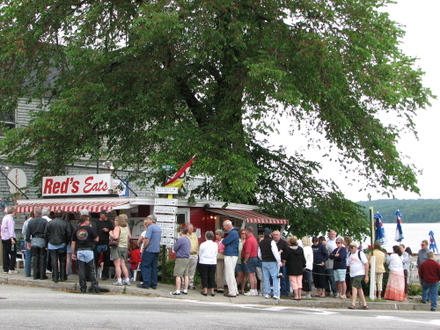 Suddenly, I had the distinct déjà vu that I was looking at Shake Shack in Madison Square Park.  Granted, not the sleek metal aesthetic, but nonetheless: little hut, long line of hungry, grumpy people, the promise of a "worth it" culinary revelation.
I also noticed that the mean age of line participant seemed to be about 40 year my future.  Did we arrive right after a tour group?  But none of them seemed to know each other.  It was odd.  There was also a trio of middle age men wearing tight leather chaps (see picture above; click to see it larger).
As you get closer, you see a list of publications on the wall next to the order window that have featured Red's Eats: it's probably 50 entries long.  The New York Times, Gourmet, even Vogue magazine.  This place is not hurting for press.  A very chipper woman was taking orders, moving at super-nice, super-high speed.  She was ready with an answer to any question anybody could ever ask, but she didn't seem to be looking people in the eye.   "Hello!" "Lobster roll and fish sticks, okay!"  "Here we are, your napkins!" "Melted Butter or Mayo?!" It was almost robotic.
Of course, we ordered a lobster roll, market price, which was sitting pretty at $17.  We also ordered the crab cakes, and two waters.  Knowing we had more lobster rolls ahead, we didn't want to overeat.
The food came out quickly, and we nabbed a table behind the restaurant overlooking the river.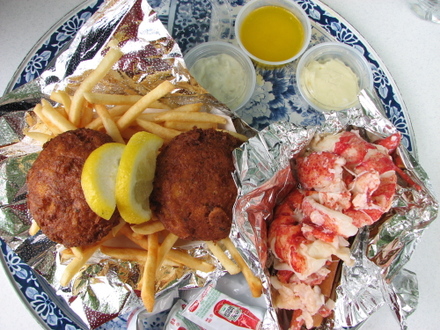 I should say that my experience with lobster rolls has been limited to New York City, specifically the Pearl Oyster Bar and subsequent Mary's Fish Camp school of thought, which takes cooked lobster and mixes it with mayonaisse, spices, perhaps celery, and makes a kind of salad out of it.  This is then served on a good, sturdy, toasted bun.
Red's Eats, and most of Maine, is different.  You get the bun toasted and lobster, but the mayo or butter is on the side, and they don't seem to use any spices.  So what did we get for $17?  A whole heaping load of lobster meat, sure, and a very normal-looking hot dog bun.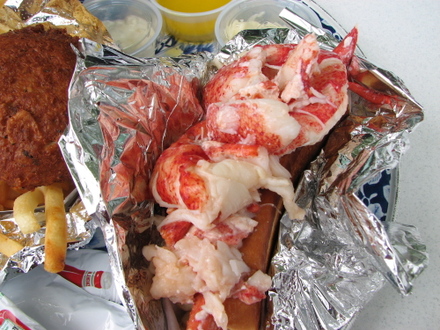 I took the first bite.  Cold.  Another thing they do in Maine--they serve the lobster meat at refrigerator temperature.  Elin, anticipation boiling, took the next bite with  a slather of mayo.  Her first bite of lobster ever.
There was a bit of silence.  Finally, she said "That's it?"  I acted enthusiastic, hoping my energy would rub off on her.  But she knows when I'm faking.
It was…a little bit disappointing.  An overwhelming amount of lobster, too much to fit in the bun so you couldn't make a nice sandwich out of it, and it was ice cold.  Also, it was tough, meaning it was probably cooked just a bit too long.  And I'm not even going to talk about the crab cakes.  They were lousy.  More breading than crab, tasting frozen.  Limp fries.
I was astounded.  With all the enthusiastic press this place receives, including the absurd claim by CNN that it's the best in the world.  Is anyone actually tasting the lobster rolls?  Is it just a hype machine? People want to hear about that quintessential lobster shack off Route 1, and Red's Eats has been tagged as the place to write about?  I was absolutely mystified.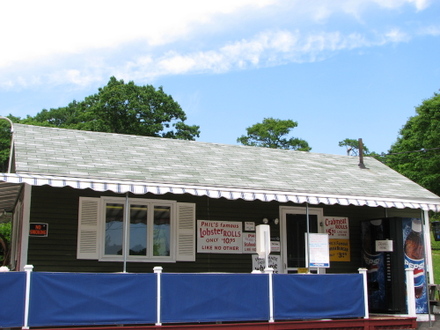 Our next stop was a place called Phil's, an easy-to-miss shack off the road that's nowhere near as charming as Red's. (Officially, it's called Phil's Route 27 Lobster Shop , it's on the way to Boothbay Harbor). But we'd heard good things, and Phil himself runs the place, an old gentleman who communicates with a minimum of words.  On the countertop he has the menu for the day.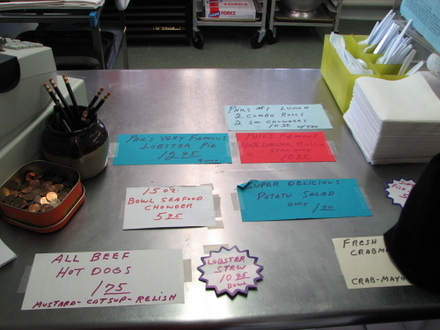 We ordered a lobster roll. He walked over to the refrigerator, pulled out a Ziploc bag which contained a bun with some lobster meat in it, and placed it lobster-side-down on a panini-style sandwich press.  It sizzled for a minute or two, then he scooped it off and served it to us.
There was substantially less lobster meat, but that wasn't a bad thing since it was in good ratio to the bun.  Underneath the lobster (which had thankfully lost some of its chill in the sandwich press) was a slather of mayo.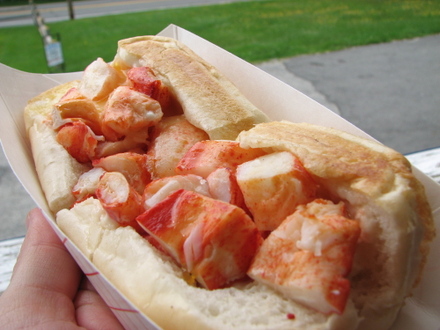 I liked this more than Red's Eats, definitely.  It seemed like a simple, reasonable thing to eat.  But it was about 1/8 as good as the lobster roll in my mind.
Culinary effort.  I think that was my problem with Red's and even Phil's.  What made Red's Eats so famous was that they used a helluva lot of lobster meat, reportedly more than one lobster's worth (and it's not like you don't pay for it, at $17 for a sandwich).  But otherwise? Storebought buns.  Definitely not homemade mayo.  Even the lobster wasn't expertly cooked, as it was too chewy.  Just chunks of lobster, storebought mayo, regular hot dog bun. What's the big deal? Where's the skill, the special touch that sets it apart?  How about a little lemon juice, something?  It could be the location, the ambiance, the idea of a seafood shack on Route 1.  It's certainly not the food.
Just before we reached Acadia National Park, we stopped off at one of Maine's famous traditions, the lobster pound.  At these establishments they have live lobsters hanging out in bins, and you pick one you'd like.  They weigh it, then bring it out into a wood-fired stove with huge vats of boiling seawater.  When it's done, they serve you the lobster on a tray and you take it out to a picnic table and tear into it.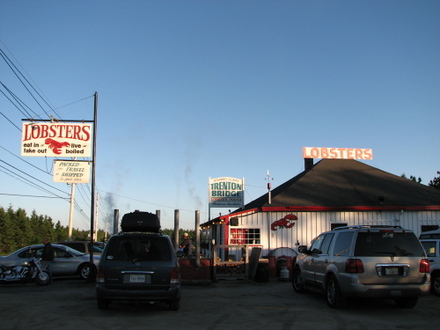 This one was in Trenton, just before Acadia National Park, called Trenton Bridge Lobster Pound .  We arrived at 6:55 and ordered just one lobster, a lobster chowder, and some corn on the cob.  Six minutes later, a tourist family with a couple kids came into the restaurant and asked for a few lobsters and some ears of corn.  It was 7:01.  "I'm sorry, but we only allow people to order before 7pm if they want to eat here.  It's after 7.  We'll cook your lobster but you have to take it somewhere else to eat it."  The eager kids looked up at their parents, who looked dejected. They left.  For some reason, this bothered me to no end.
Nevertheless, I loved the idea of this place.  Fresh lobster, cooked in seawater, very simple and unadorned.  On the wall, a faded New York Times article from the 1980s was in a dusty frame.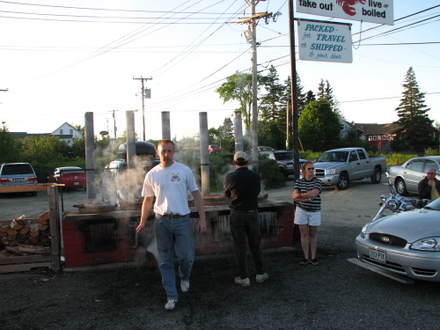 We sat outside on the stoop and watched a couple cooks ferrying lobster to and fro from the restaurant.  The mosquitoes began to bite us.  I looked at my watch.  Our 3 pound lobster had been cooking for 12 minutes.  Then 18 minutes.  Then 22 minutes.
In no position to say anything (for fear that they'd tell me to take a hike and eat my lobster somewhere else, too), I kept quiet.  Finally, after 24 minutes they pull our lobster and waterlogged corn out of the water, brought it inside, and put it on a metal tray with a Styrofoam cup of the chowder.  "Butter?" "Yes, please."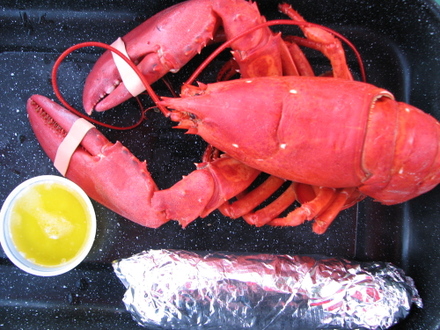 While we let the lobster cool, we sipped the chowder, which was a bowl of milk that had some dried herbs floating in it, and a couple bits of lobster meat sunk in the bottom.  Okay, so maybe the chowder isn't their specialty.
Finally, we cracked the claws and removed the tail from its casing.
It was as I feared: cooked beyond all reason.  A new definition of rubbery.  The claws had even become a little spongy, like a dense foam.
"I guess I just don't like lobster," Elin said.  I didn't have much to say back.  This is Maine, after all.  Shouldn't these people know how to cook a lobster?
We climbed back into the car and camped the night in Acadia, eager for the next day: some hiking, a trip to Blue Hill, where E.B. White used to spend summers, more roadside seafood rolls, and a visit to a restaurant we'd heard wonderful things about, in a town called Belfast, called Chase's Daily, where they source all the ingredients locally, often from their own farm, and cook them simply.
The next day, I promise, had some eating worth recommending.
Lobster,
Maine,
Seafood,
Travel,
Travel