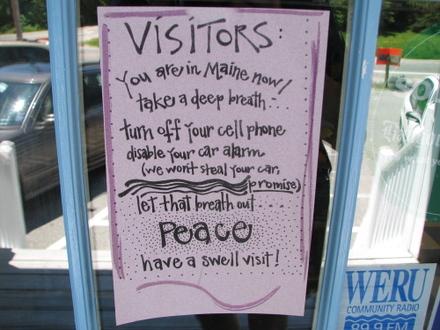 Elin and I decided to go to Maine because the fate of our relationship hung in the balance.  She had never tasted lobster, ever , having made an admirable promise in early high school to keep it that way until she got to Maine.  For her, the first experience of something is infinitely important.  It should be carefully orchestrated, fully appreciated, the best it can be.
Of course, Maine didn't seem too far off at the time this promise was made, ten years ago.  And she is a stubborn woman of her word.  After ten years of turning down lobsters left and right, the situation was approaching collapse.  I, for one, wanted to buy the lobsters at Fairway in Red Hook, the ones they were hocking at $8.99 a pound.  I also wanted to try my hand at cooking a lobster bisque.  And I really wanted to see the look on her face after she tasted a lobster roll at Pearl Oyster Bar.   This gaping hole in my food life was beginning to wear on both of us.  "My first lobster will be in Maine," she was prone to repeat.
As the weather got warmer, we made plane ticket reservations in desperation;  New York to Portland, just over 100 dollars round trip.  The same for a rental car for the week.  We planned out an itinerary beginning and ending in Portland, Maine's largest city at 64,000 (though they see over 3.5 million tourists a year), with a two day drive up the coast in between.  There was this romantic idea of driving up Route 1, munching on lobster rolls, slurping on oysters, admiring the rocky outcroppings and meeting reclusive-but-charmingly-so locals.
Was the trip all this cliche promised?  Yes and no.  We did have one of the best long weekends we've ever spent together.  We did eat some stunningly good food , though not exactly when and where we expected it.
All this week I'll be posting about our trip, which, as usual, is guided by every meal we ate.  After the jump is our first meal in Portland, breakfast at the Porthole Restaurant right on the water.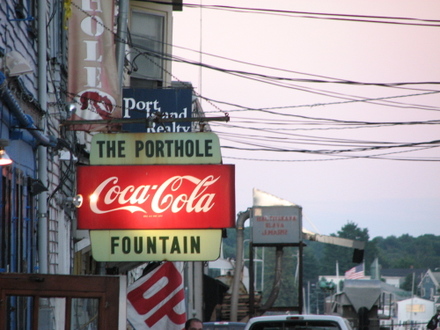 Our flight, delayed of course, arrived after dark.  The hotel was only five minutes drive away.  "There it is!" I yelled, when we approached it from the highway.  A Days Inn, close to the airport, good enough for a quick night's sleep before we rose early to tackle Portland and hit the road upstate.
You know those experiences where you see the place you're trying to go from the highway, but once you get off at the exit, despite the fact that you can see it, there seems to be no possible way to reach your destination?  Every single sign is a one-way point in the direction you do not want to go?  Yes, we experienced this delightful situation.  I take full credit, as navigator, for the many circles we drove in.  But alas, we made eventually made it.  The free wifi advertised only worked if I stood on the bedside table, hoisting my laptop into the corner of the room's ceiling.  Forearms aching, we found the strength to type in "breakfast in Portland, Oregon" into Chowhound.com and, after reading some varying and dissenting opinions , decided on the Porthole.  It sounded like our kind of place, after reading this: "My impression of Porthole is that it can vary wildly depending on who shows up to cook breakfast and whether the staff was out partying the night before."
It's right on the wharf off the center of downtown.  The smell of fish, pleasant somehow, hung in the air.  The streets were strangely deserted.  We walked into a big, empty dive.  It had that morning-after, grimy look that a bar gets when the daylight hits it.  It seemed like nobody was awake yet.   We took a table in the back by the window, which looks onto the deck and the water.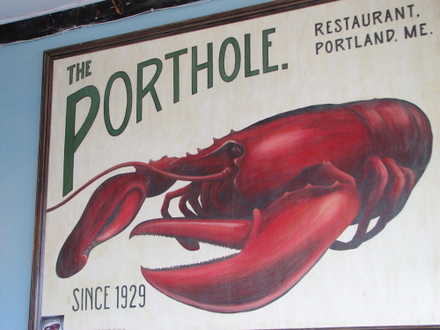 A pleasant but decidedly sleepy waitress came by and offered to bring coffee and tea.  Then I noticed they served corn beef hash, a dish I am utterly unable to resist ordering.  I really couldn't say why.  It's definitely a part of my childhood--I used to eat it at the Walker Brothers Pancake House in Wilmette as a kid, all mixed up with yolks from a poached egg, hash browns, and Heinz ketchup.  I still do pretty much the same thing.  Aren't we all allowed a few uncultured things we like to eat, which we shouldn't be made to feel guilty about?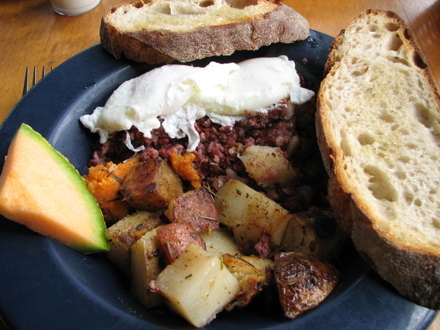 Elin ordered the house-made Italian sausage with a poached egg, breakfast potatoes, and toast.  But the sausage is kind of hiding behind the little white bowl with the eggs in it.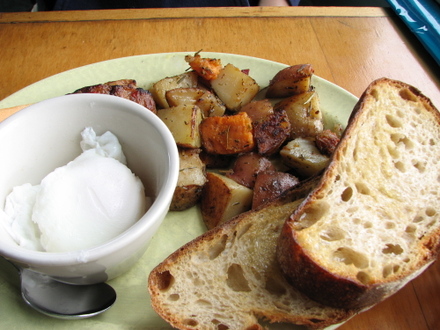 Our food was extremely hearty and wonderfully un-greasy.  The potatoes had sweet potatoes roasted in with them, and my hash was crumbly and well-seasoned.  But it was the housemade sausage that won the contest.  Like everything you always hope breakfast sausage will taste like, without the premade, processed taste.  Perfectly soft-poached eggs.  Apparently, the cooks were having a good morning.  The bread, as you can see, was sturdy and crispy with a wonderful crumb.  We asked about it, and they get it from a bakery in town, called the Standard Baking Company.  We decided to go there next.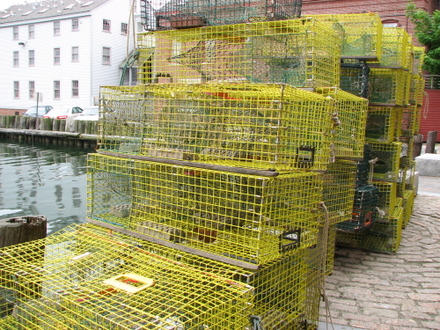 On the way we meandered on the wharf.  These are some of the cages they catch lobsters in, and below is a seafood market across from the Porthole.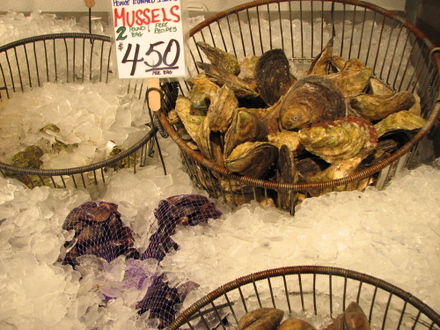 I felt a little strange taking pictures, but there was also a massive, wall-sized take of lobsters bubbling with filters and tubes and lively lobsters.  Not the kind of lethargic ones you see languishing in the grocery tank.  These things were very much alive.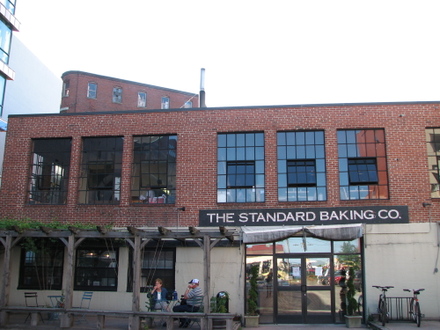 The Standard Baking Company wasn't far way.  Inside, you can watch them making all kinds of breads and pastries through the windows.  They have a whole lineup of baguettes, loafs, focaccias, croissants, muffins, you name it.  Two pain au chocolat later, we were ready to hit the road, ready to return after a lobster quest up the coast.  So far, Portland was turning out to be quite a foodie-friendly city.  As we turned around to get in our rental car, I looked up and saw a sign with my name on it.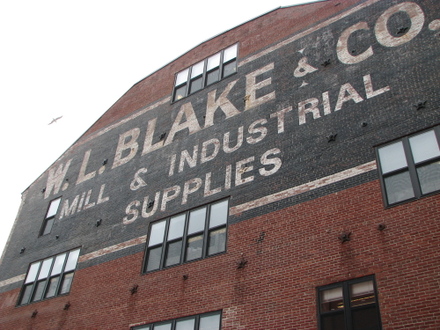 Maine,
Travel,
Travel