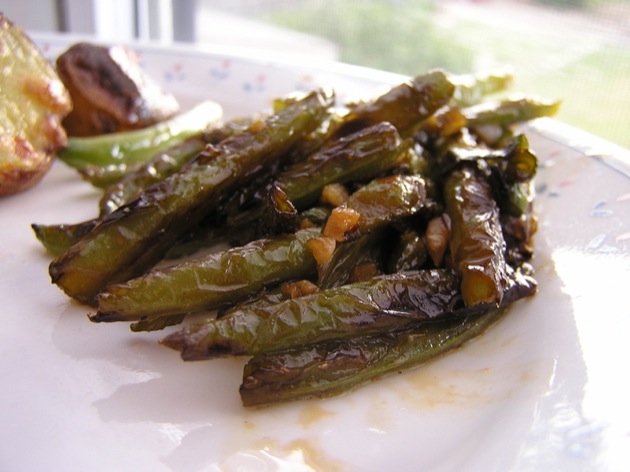 Before beginning even the most basic of recipes, I usually consult a few dozen cookbooks and online sources to make sure I'm not missing some essential technique I'd skipped the previous dozen or so times I made the meal.  It's a compulsory action, one that drives other people nuts, and very often myself.  But I just want to make absolutely positively sure that I'm doing something that right way.  Among the many texts I peruse is Cooks Illustrated .  What happens when I get there is a different beast.
It began as a search for decent roasted green beans.  I'd been loving the way they'd caramelize and take in the flavor of whatever I was roasting in that specific pan (usually a chicken).  But they would come out all mangled and gnarly, and I was hoping that with a little help and guidance I could make some delicious beans--and look upon them without feeling a deep sense of shame.
When I searched for roasted green beans I quickly got distracted, and found a little link for "Spicy Stir-Fried Green Beans and Scallions."  Though I had a perfectly hot oven--and a chicken--ready to go for roasting, this new recipe sounded even better than the old plan.  So, I pulled out my iron skillet, turned the heat to high, and let it warm up for a good 10 minutes until smoke started to sprout up, and I had lost any sort of coherent theme for the dinner.  Classic roast chicken with potatoes and...stir-fried greens beans.  Anyway.
I had no real idea how these beans would look like when they come out--but I didn't think they'd look this bad.  Which all means that the recipe that I had looked for to create more appealing green beans ended up making them look even worse.  I'm not talking about a few spots, but brown beans shriveled beyond recognition.
But just like my previous ugly roasted beans, these stir-fried ones soaked up all the goodness--this time a mixture of soy sauce, sugar, and vinegar--and ended up tasting fantastic.  These sweet and spicy Asian inspired beans might have one-upped the roasted beans in the wrong category, but they provided a simple and quick alternative to those bland boiled ones.
Spicy Stir-Fried Green Beans and Scallions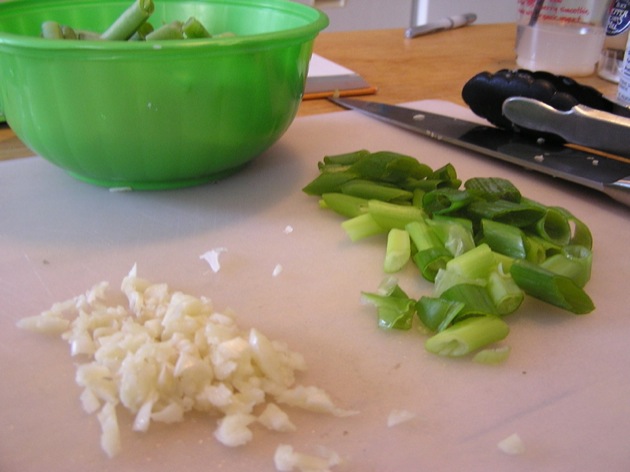 2 tablespoons soy sauce
1 tablespoon white vinegar
2 teaspoons sugar
1/2 teaspoon red pepper flakes
2 tablespoons canola oil
3/4 pound green beans
4 scallions
3 medium cloves of garlic
Adapted from Cooks Illustrated .
Make sure everything is prepped and ready to go before tossing anything in the pan.  It will take just a few minutes to cook everything.  It will go by quickly.
Combine the soy sauce, white vinegar, sugar, and red pepper flakes in a bowl and whisk until combined.
Mince the garlic, and cut the scallions however you see fit.  I like the diagonal cut, but that's just me.
Place the iron skillet over high heat for at least 5 minutes.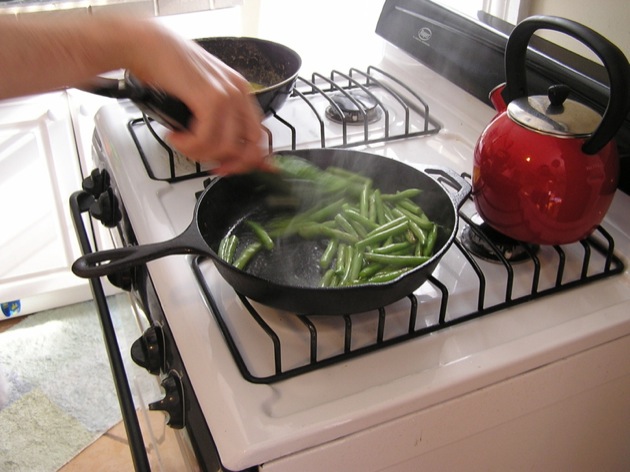 When everything is chopped and ready, toss in the oil, swirl until it coats the bottom of the skillet, and add the green beans.  Cook until they are tender, about 4 minutes, stirring every 30 seconds or so.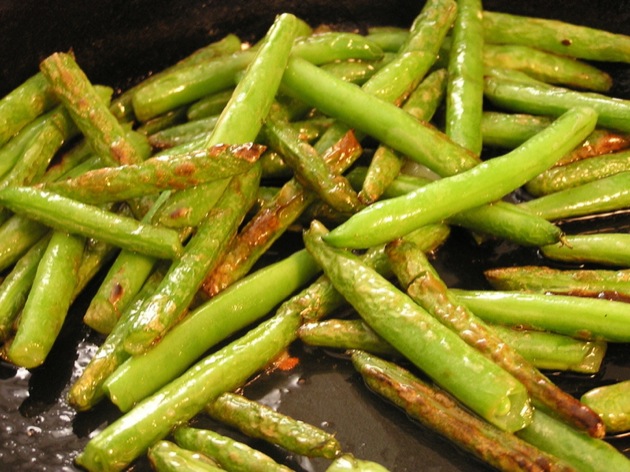 It will look like you're murdering them, but be patient.  It will work.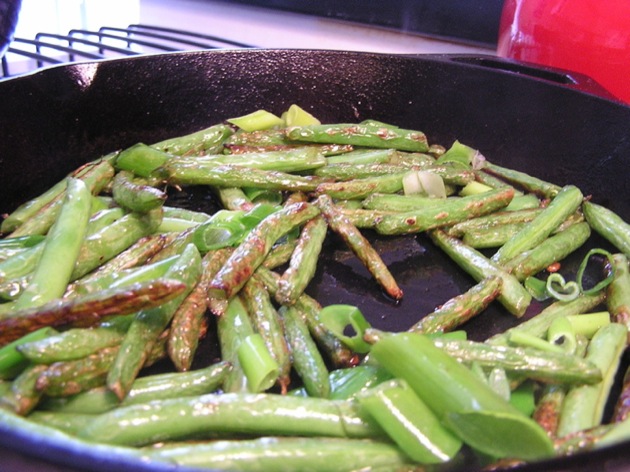 Dump in those neatly cut scallions and cook until they are gnarly.  About another 4 minutes, stirring every 30 seconds.
Add the garlic and cook just until it becomes fragrant, about 5 to 10 seconds.  Then add the soy sauce mixture.  Cook for another 20 seconds or so, and then turn off the heat, and plate.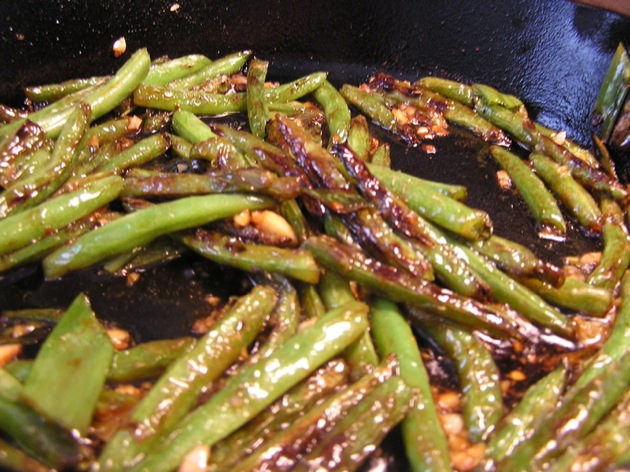 Asian,
Green Beans,
Stir-Fry,
Vegetables