From his memoir Heat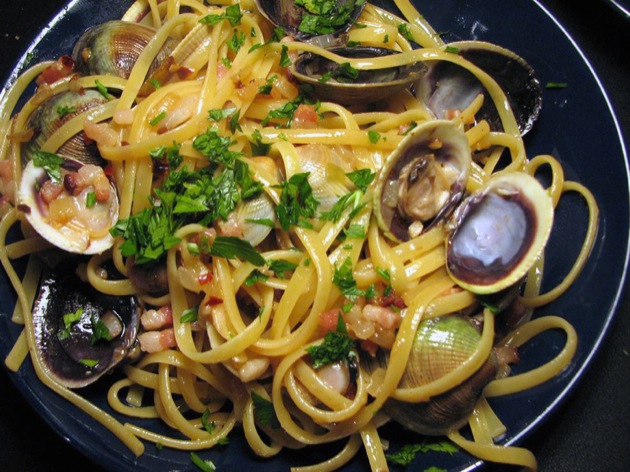 My favorite passages from Bill Buford's Heat are set in the Babbo kitchen, when he describes with fear and awe the wonder that is a busy restaurant kitchen at dinnertime-- tickets flying, steam vaporizing, oil popping. Orders arrive faster than they can be made; you are perpetually behind. The heat, of course, is unbearable-- like a shimmering wall when you enter the kitchen. Sweat pours down. Timing is everything.  A mistakes can ruin the highly calibrated rhythm of an entire table's entrees, prepared to arrive simultaneously. Three pasta recipes start with pancetta, but one moves on to white wine with a pad of butter, the other white wine but with stock instead, and the third olive oil and chili flakes. You have to keep them all straight while you have no time to think. It's all instinct. An almost spiritual energy enters into the air, or at the very least a sixth sense, that begins to dictate when the pasta should go into the water, when the grilled whole fish needs to be flipped, when the braised dish should be reheated. Everyone is so connected, so in rhythm, so well-timed, that every movement seems like an orchestrated dance.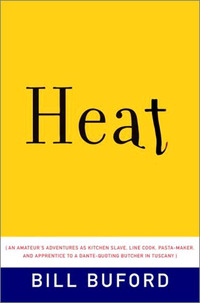 Poetic embellishment, I imagine, has a lot to do with the descriptions in Heat. Who knows what the Babbo kitchen is actually like.  However, Heat is not only a memoir; it's also, at times, a tutorial.  Buford puts himself through the ringer so that we can live vicariously; we can learn the tricks to working in the most interesting Italian restaurant in New York.  And those tricks include recipes: After reading Heat we know, for example, how the line cooks make their Spaghetti Carbonara , which is now a staple in my repertoire.  And now we know how they cook their clams with linguine , a hallmark dish of that great marriage between pork and shellfish--a delicious alliance Buford returns to throughout the book.
If you're tempted to make it according to the kitchen's preparation, "ignore the Babbo cookbook ," Buford warns, to the chagrin of the publisher.  A restaurant-branded cookbook is disconnected from the restaurant's actual kitchen; the recipes are tamed and altered by a freelance writer/chef.  "The only thing that's measured is the pasta. (A serving is four ounces.)  Everything else is what you pick up with your fingertips, and it's either a small pinch or a large pinch or something in between: not helpful, but that, alas, is the way quantities are determined in a restaurant."  Elsewhere, Buford reveals that Batali's famed Short Ribs in Barolo from the Babbo cookbook, certainly some kind of signature dish, are not braised in the pricey Barolo of their name, but instead in cheap Merlot.
Despite the "pinches of this and that," Buford employs great detail in describing how the clams and linguine dish is made.  Turns out it's a high-wire, high-heat, high-butter affair that leaves you with a messy, briny, bacony mess of pasta with the sharp freshness of parsley and the sweet chewiness of clams throughout.  What it leaves you with is one of the best plates of pasta I've eaten from my own kitchen.
The rumored ubiquitous use of butter in restaurant kitchens is quite true here--even after the pancetta is cooked in olive oil (as if bacon doesn't render enough fat on its own), that oil is poured away and replaced with butter.  This is not a diet dish.
However, if you have all your ingredients chopped, divided, ready-at-arms-length and plant yourself at the stove with a hot, shimmering skillet in front of you--the recipe typed out and taped to the hood at eye-level--cooking this is exhilarating.
Linguine with Clams from Babbo, via Bill Buford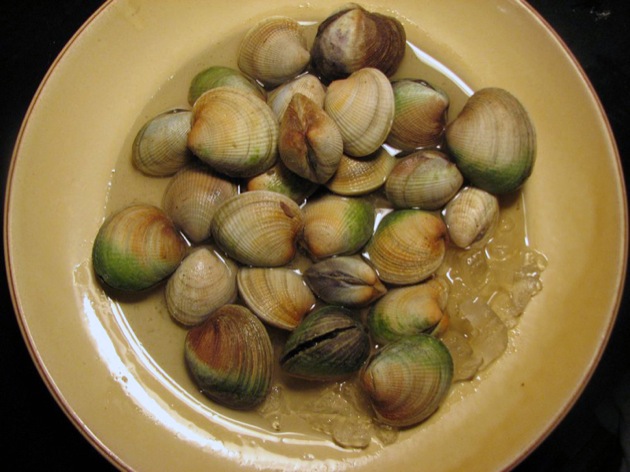 Serves 1
olive oil
small pinch chopped garlic
small pinch red chili flakes
medium pinch finely chopped onion
medium pinch pancetta
"slap of butter" (a couple tablespoons)
"splash of white wine" (1/4, perhaps)
4 ounces pasta
1 big handfuls clams (cockles, the little ones, are preferred)
From Heat :
...begin by roasting small pinches of garlic and chili flakes and medium pinches of onion and pancetta in a hot pan with olive oil.  Hot oil accelerates the cooking process, and the moment everything gets soft you pour it away (holding back the contents with your tongs) and add a slap of butter and a splash of white wine, which stops the cooking.  This is stage one.

[...]

In Stage two, you drop the pasta in boiling water and take your messy buttery pan and fill it with a big handful of clams and put it on the highest possible flame.  The objective is to cook them fast--they'll start opening after three or four minutes, when you give the pan a swirl, mixing the shellfish juice with the buttery porky white wine emulsion.  At six minutes and thirty
seconds, use your tongs to pull your noodles out and drop them into your pan--all that starchy pasta water slopping in with them is still a good thing; give the pan another swirl; flip it; swirl it again to ensure the pasta is covered by the sauce.  If it looks dry, add another splash of pasta water; if too wet, pour some out.  You let the whole thing cook away for another half minute or so, swirling, swirling, until the sauce streaks across the bottom of the pan, splash with olive
oil and sprinkle with parsley: dinner.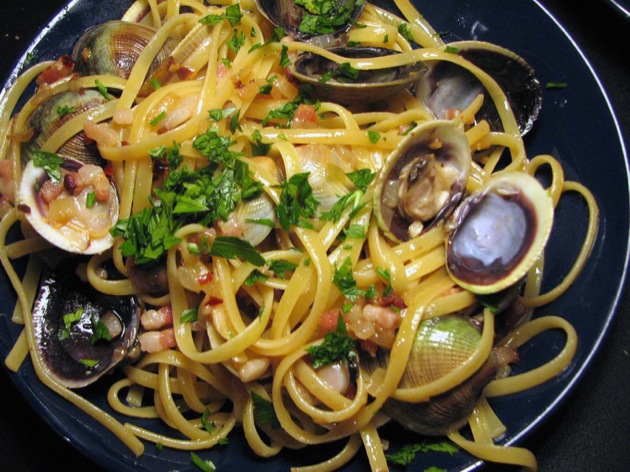 Food,
Bacon,
Bill Buford,
Bill Buford,
Carbonara,
Clams,
Cuisine,
energy,
Food and drink,
Italian,
Italian cuisine,
Italian restaurant,
Linguine,
Linguine,
New York,
oil,
Pancetta,
Pancetta,
Pasta,
Pasta,
Pasta,
Quick Dinner,
Seafood,
White Wine,
Wine