The last couple weeks have been slow posting around here, and that's because we've been doing some much needed housekeeping--as you can probably see.  We've started from scratch with a brand-new design that we hope will prove to be cleaner, more pleasant, and above all, functional.
With only an XHTML/CSS learning book , a text-editing program, and a wonderful little thing called Blueprint which gave us a head start, we've coded this entire site by hand.  We're very proud of our accomplishment as amateur web designers, even if what would probably take a normal web designer a few days has taken us weeks.  But hey, it was free this way.
We'd also like to direct your attention (actually, your attention is probably already directed there) to the wonderful sketches throughout the site, drawn by Elizabeth Zechel .  Way back when, she drew the original Paupered Chef figure for us, and we're thrilled that she's returned to help us out (aren't they amazing?).
In the next few weeks we will be going back and tagging all our old posts so that they are more easily accessible from a nice, big, still-evolving archives page .   We only have some bare-bones stuff on there now, but we'd like to keep adding to it.  Please, send us your suggestions and criticisms.  We're a bit in over our head and some fresh perspective would be nice.  pauperedchef [at ] gmail dot com.  Along those same lines, we'd appreciate it if you found any glitches or bugs in the site, to send us an email and let us know. Like we said, we're not professionals at this.
On the far right you'll also notice a cool new feature that Raphael over at Serious Eats helped us develop: a feed for our latest posts on the "Dinner Tonight" column .  Every weekday we post a simple, interesting meal to cook in about an hour over on Serious Eats, so you can see what those dishes are right from here.  We're really proud of the work were doing over there, so check it out.
But the Serious Eats thing has also meant that we have less time to write traditional recipe posts that we've been doing for two years.  We have to find another outlet for what goes on at The Paupered Chef.  But we have some new ideas for this blog.  We're more excited than ever, actually.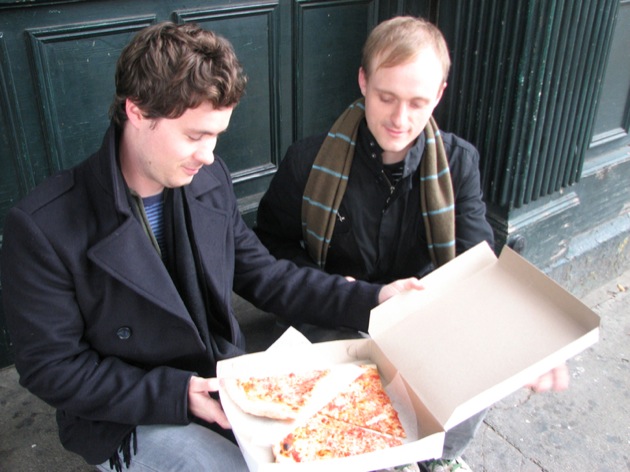 See, it all began at the Brooklyn Inn --our favorite bar.  We'd just spent the afternoon indulging in the best that New York had to offer during Gorgefest Saturday , and then the next four hours recuperating with some episodes of River Cottage .  It was Nick's first time seeing Hugh Fearnley-Whittingstall and his idyllic little Dorset farm where he grew his own vegetables, raised his own livestock, and scavenged the seas for the rest.  Perhaps it was the bar's golden, nostalgic lighting, or the few pints, or Hugh's influence, or just the fact that we were together once again after Nick's move to Ohio --but we got really inspired.  We wanted Hugh's pastoral lifestyle, that unspoiled arcadian dream of rustic culinary paradise, and Welly boots .  But we wanted it in Brooklyn, NY and Columbus, Ohio.
It may not work.  We expect failures.  But we really want to try.  We want to start doing more intensive investigations of cooking topics, things that take a lot of research, patience, and time.  Slow-cooking.  Like curing meat.  Like preserving and canning.  Like making cheese.  And hopefully, making these artisinal products ourselves, we'll save some money along the way.  We want to become a resource for people like us, rural folk trapped in urbanite skin--and skin-tight jeans. Are you out there?
We couldn't be more excited.  Nick is going to kick it off with a post tomorrow.
Announcements