This fishy roe is a meal in itself.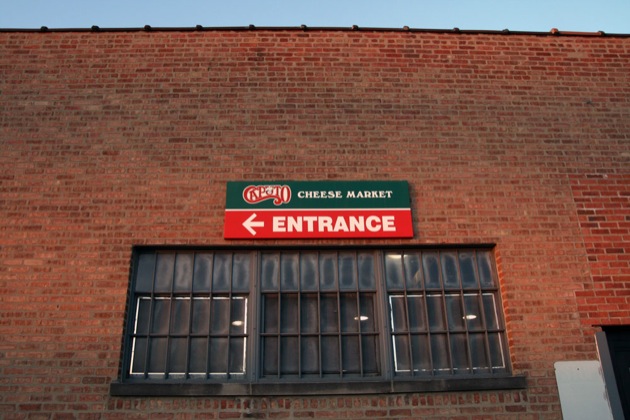 My Chicago is about life as a cooks and eaters in our home city. Markets, restaurants, secret finds, really tasty bites--or just a great story. We're lucky to live here.
Bottarga would handily win the award for "foodstuff with least correlation between attractiveness and deliciousness," if such a thing existed.  It is a brown, firm lobe, and, poor thing, really quite ugly. A cured, pressed, and dried fish egg sack. How good does that sound? Hungry yet? That be why it has never taken the food world by storm.
But grated over pasta, bottarga's magical properties come alive. It transforms a simple bowl of noodles dressed with some breadcrumbs and a knob of butter into a umami-rich, nutty, remarkably complex experience. Bottarga is grate-able magic dust. It's the Italians' answer to MSG.
Since I moved here, I've been searching for this product in Chicago, which has led me to read about its best Italian grocers, including the famous Bari Foods down on Grand ave, where, over their famed Italian sub, I inquired about the fish roe sack in detail to the owner. He was polite, considering, but hadn't heard of it, saying that Chicago always got the short end of the stick when it came to imports from Europe (I used to buy it in New York at a wonderful Italian importer in the Chelsea Market, where I first fell in love with good pasta ).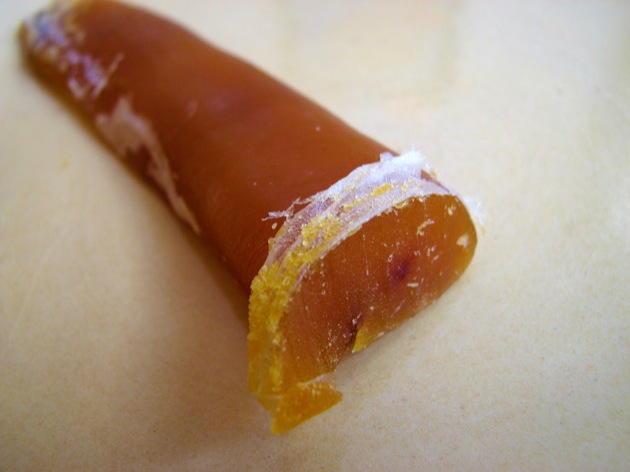 So then I tweeted about my quest a couple weeks ago, and @saucissonmac recommended a place called Caputo's. I looked it up and saw it on a map--officially known as Caputo Cheese Market--way out in the suburbs. Yelp reviewers promised an emporium of Italian goods at cheap prices.
Essentially, Caputo's is a large bare-bones warehouse, where the aisles are makeshift, informally created by towering racks of canned goods, dried pastas, tins of olive oil, sacks of flour. When Elin and I arrived at 5pm on a weekday evening, it was practically empty. A capacious interior held all the dried and preserved goods, and off the main room we found a massive cheese room full of a vast selection of both imported and domestic cheeses.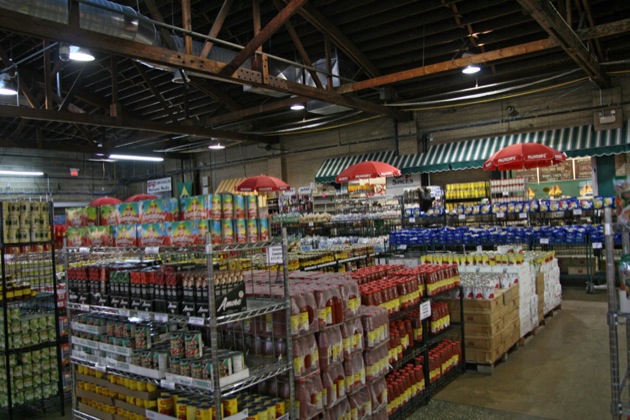 The emphasis at Caputo's seems to be on "cheap." Hunks of Sicilian Pecorino went for $3.98/pound and the wonderful in-house mozzarella for $3.49/pound, tender and pillowy like refrigerated mozzarella never is.
Many of the cheeses are cheaper, domestic imitations of European classics, made in Wisconsin, but there were some amazing deals to be found on imports as well. The whole place seems to be some kind of retail arm of a much larger direct-import business, with lots of house-brand canned goods, pastas, and raviolis.
But.  No bottarga, or even a glimmer of recognition from anyone I asked.Why is bottarga so difficult to find in Chicago? My hunch is that it's a very region-specific product (Sardinian and Sicilian, mainly) and the Italian communities here don't count it as part of their cooking.
But bottarga aside, Caputo's is a wonderful place.  It stocks 28-ounce cans of whole peeled Italian tomatoes for $1.09, "00" Italian flour for $1.89, and 1 gallon jugs of great olive oil for $19.99. It's going into my rotation of regular shopping trips.  Seeing our bulging cart and hearing it was our first time, the checkout lady smiled knowingly, and said "you'll be back."
When I do find bottarga and tell you about it--or if you live somewhere it's easy enough to find--the recipe below highlights its very unique qualities.  Hardly a recipe at all, it's just bottarga grated over buttered pasta with crisped breadcrumbs. But it's sublime.
Chitarra with Bottarga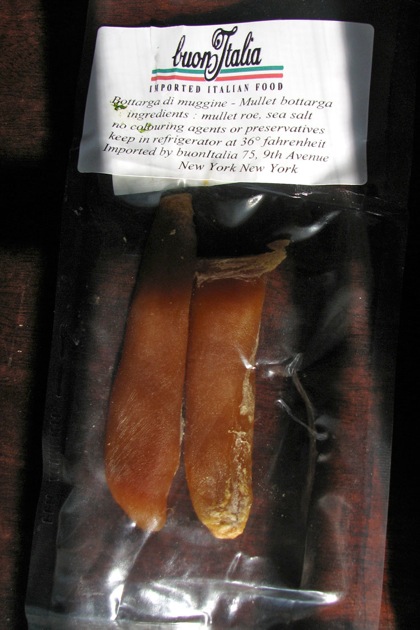 1/4 pound chitarra pasta (or any long shape such as linguine)
1 tablespoon butter
1/4 cup breadcrumbs or panko
1 tablespoon grated bottarga
salt to taste
Boil the pasta in salty water until al dente.
In the meantime, heat half the butter in a small saucepan over medium-low heat. When it begins to foam, add the breadcrumbs and cook gently until they turn golden and crisp. Scrape them out of the saucepan and set them aside.
Drain the pasta, reserving 1/4 cup of its cooking water. Add the pasta to the saucepan with the remaining butter and toss well to coat with a little bit of the pasta. Cook over low heat until the butter and pasta water meld into a viscous sauce. Season to taste.
Turn out into a warmed pasta bowl and top with the breadcrumbs and grated bottarga.
Food,
Main Course,
Bottarga,
Caputo's,
Cheese,
Chicago,
Chicago,
food,
Food and drink,
Italian,
Italian language,
Languages of Italy,
Mediterranean cuisine,
Mozzarella,
My Chicago,
Noodles,
oil,
Pasta,
Pasta,
Quick Dinner,
Seafood