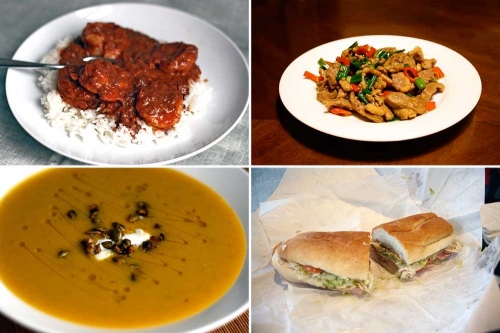 Our weekly roundup of what the two of us have written over on Serious Eats.
"Dinner Tonight" Column
Quick meals to your table five days a week.
Shrimp Tikka Masala
Martha Stewart Approved shrimp curry that's pungent, rich, and easy.
Squash and Fennel Soup with Candied Pumpkin Seeds
Blake could really "go on for paragraphs about this soup," but advises you to just "please cook it as soon as you can."
Dongting Stir-Fried Duck Breast
A quick stir-fry recipe showcasing a new bottle of Shaoxing wine for a recipe from Fuschia Dunlop's Revolutionary Chinese Cookbook .
Orecchiette with Broccoli Rabe and Goat Cheese
An odd orecchiette recipe that replaces the usual sausage with goat cheese.
Coriander-Orange-Scented Red Lentil Soup
This "fragrant and enveloping" lentil soup, is jazzed up with a lot of citrus juice.
Standing Room Only
A column about the best of Chicago's restaurants--with no seats.
This handmade sub is the kind that most neighborhoods would dream of having. It's the anti-Subway.
Duck,
Italian Sub,
Lentils,
Quinoa,
Serious Eats Roundup,
Shrimp,
Soup,
Stir-Fry