Some sandwiches don't need a top.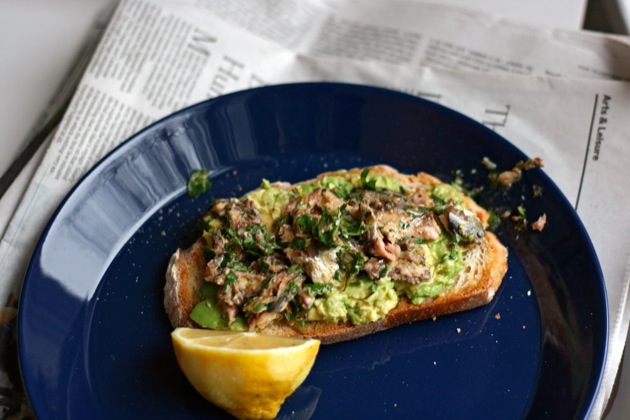 Personally, I didn't need any convincing, but after seeing the above picture, I can see why you might. It's the same reason Alton Brown went to great lengths on a recent episode of Good Eats to hide a central ingredient in his recipe. Something small, something oily, something canned, something with a rather poor reputation. This particular foodstuff was apart of a puzzling, yet intriguing little sandwich that was the centerpiece of a diet that dropped him 50 pounds.
I speak of sardines.
Alton was in fact so afraid of people dismissing the sandwich immediately that he referred to his sardines for most of the episode not by their well-known name, but instead as "brisling."  It was only after extolling their economy, health benefits, and tastiness that he let the truth out.
Yet the sandwich--a slice of bread, smeared avocado, and a healthy helping of sardines--is delicious. The avocado and sardine complement each other beautifully; the buttery richness of avocado tampers the fishiness, while the nutty taste of sardines bring a whole new complexity. A sprinkling of lemon juice brightens the whole thing.
But even more than how good the sandwich tastes is the way this confession of Alton's made me feel. See, I haven't talked about it much. But I've been nursing a love for tiny little fish for awhile now. The sprats, herring, sardines, and anchovies of the world, the bottom of the food chain.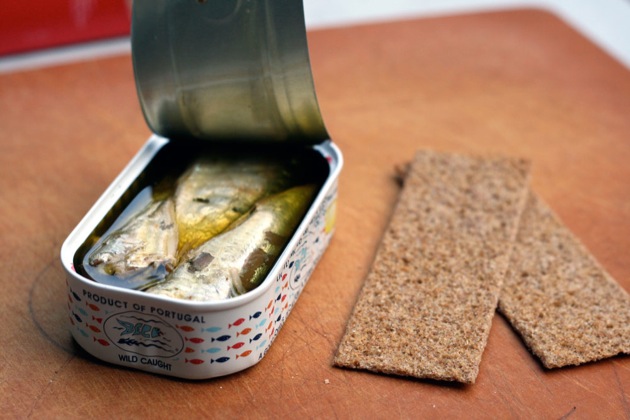 With Alton Brown going public, I feel like maybe I can step out into the light, too.
Finn Crisp crackers are one of my favorite vehicles for sardines.
All of it started with my first trip to Estonia in 2006 , when I really understood the beauty not only of little fish, but of the open-faced sandwich in general. Largely influenced by Scandinavian and Northern European tradition, Estonians serve open-faced sandwiches constantly, sometimes for all three meals in a day. The idea is lovely: baskets of bread are set out on the table, along with various condiments (mayonnaise, butter, mustard, etc.) and things you can put on top: sliced ham, hard-boiled egg, cucumbers, pickles, tomato, fresh dill, cheese, and a splendid variety of little bitty fish. The packages and bowls come out for breakfast, then lunch, then dinner, as they slowly dwindle away and are then replaced with new options.
That first morning, we woke up in my wife's relatives' house, sleepily downed some coffee, and were presented with the whole array of possibilities. The mental energy required to figure out what you'd like to have on your sandwich is just challenging enough to draw you out of a sleepy stupor and into the day.
Since then, the open-faced sandwich has become my perfect snack. The concept is rather brilliant, and once you lose the second piece of bread, you don't really miss it. In my fridge there is now always good slices of rosemary ham, or roasted turkey, or this highly-addicting bologna by Gurmans that Whole Foods sells. A smear of mayonnaise and a few slices of meat--keep it minimal--and you have something delicious and satisfying but not a whole commitment. A sandwich is inevitably a whole meal, but I'll consume three or four open-facers over the Sunday paper.
In this style sandwich, the ingredients and their delicate combinations play a more prominent role. You can taste each element, see each bite, and it doesn't all get smashed together into a bready mouthful. Though the bread is still very important. Estonia is full of hearty brown bread, but the authentic stuff isn't easy to find, and I am just as enamored of good crusty white stuff.  But your average pre-sliced sandwich bread won't really do the trick. It should be crusty and lightly toasted.
Here are my top five favorite open-faced sandwiches to get you started. Drop a line in the comments if you've discovered your own particularly delicious combination.  I'm always looking for additions to the repertoire.
-mayonnaise, rosemary ham, sliced English cucumber, fresh dill
-cream cheese, sliced tomato, black pepper
-butter, thinly sliced funky salami
-sardines/herring/anchovies, hard-boiled egg
-Toasted sourdough, butter, sliced avocado, few drops of lemon juice, flaky salt...a masterpiece.
Food,
Alton Brown,
Alton Brown,
American,
Avocado,
Avocado,
Cuisine,
Estonia,
Estonian,
European cuisine,
Food and drink,
Ham and cheese sandwich,
Open sandwich,
Quick Dinner,
Sandwiches,
Sandwiches,
Sardine,
Sardines,
Seafood