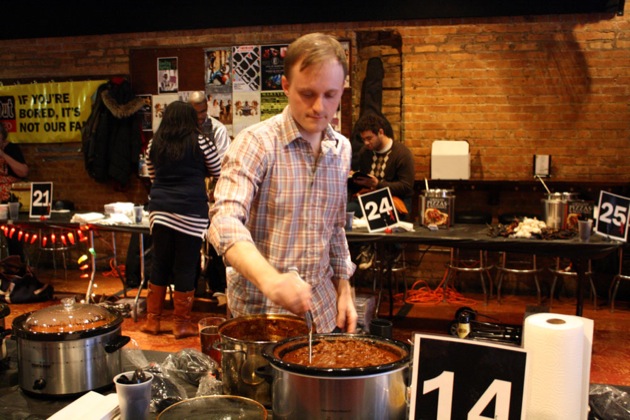 Alas, I didn't take home the top prize, but I did have an amazing time at the 2009 Time Out Chili Cook-off.  There were some quite good chilies there, including a smoked brisket one that happened to be stationed right next to mine made by some firemen.  I can't believe theirs didn't win!
As I promised people who liked my chili at the event, here is the recipe that I used for my Drunken Texas Chili.  In the next couple of days I'll have a more in depth post about how I developed the recipe and why so many steps are involved.  But just wanted to thank Time Out again and the contestants; it was a great afternoon.
Drunken Texas Chili
Ingredients:
2 pounds whole chuck beef
1 tablespoon lard
8 ounce can tomato sauce
1/2 cup bourbon
1 cup beer
1 cup wine
1 cup beef stock
6 tablespoons chili powder (recipe below)
1 tablespoon Onion Powder
2 teaspoons garlic powder
1 package Sazon Goya
4 teaspoons ground cumin
1 tablespoon paprkia
1/2 teaspoon cayenne
1 jalapeno
1 habanero
salt and pepper
Procedure:
Dice the meat into 1/2 inch cubes.
Melt the lard in a large pot over medium high heat.  Add the beef and cook until it is no longer red.  Remove the meat and drain on paper towels.  Turn off the heat.
Pour any juices or fat out of the pot.  Return the meat to the pot, pour in the beef stock, beer, wine, and then the bourbon.  Bring to a boil and then simmer for 25 minutes.
Stir in spice dump 1.  Add the whole jalapeno and habanero.  They will just float on top.  Simmer for 1 hour.
Stir in spice dump 2.  Simmer for 45 minutes.
Stir in spice dump 3.  Simmer for 20 minutes.  Remove jalapeno and habanero.
Season with salt and pepper to taste.
Spice Dump 1
garlic powder
onion powder
2 teaspoons paprika
1 tablespoon Chili Powder
Sazon Goya
black pepper
whole jalapeno and habanero
Spice Dump 2
4 1/2 tablespoons Chili powder
cayenne pepper
1 teaspoon cumin
Spice Dump 3
1/2 tablespoon chili powder
1 teaspoon paprika
1 tablespoon Cumin
Nick's Chili Powder Recipe:
3 ancho chiles, stems and seeds removed
3 pasilla chilies, stems and seeds removed
4 morita chilies, stems and seeds removed
3 mulato chilies, stems and seeds removed
2 tablespoons whole cumin seed
1 tablespoon garlic powder
1/2 tablespoon dried oregano

1 teaspoon paprkia

Preheat an oven to 300 degrees.  Place some aluminum foil on a baking sheet.  Toss on the chilies and the cumin seed.  Transfer to the oven and cook for 5 minutes.  Remove and let cool.
Add everything to a blender.  Process until it is a fine powder.
Beef,
Bourbon,
Chili,
Chilis